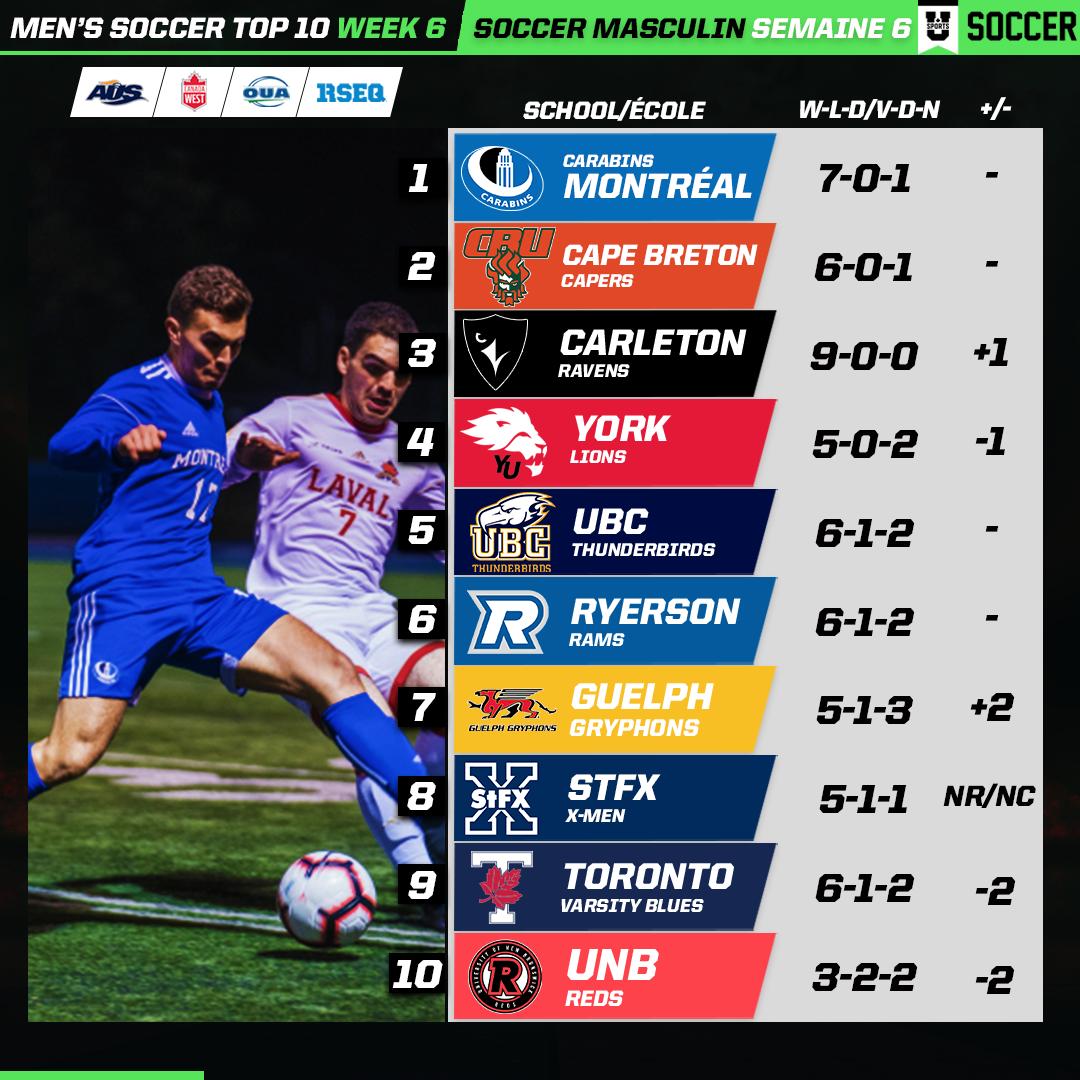 With week six finishing up, we can talk about the changes in the U Sports Men's Soccer National Rankings. Just a couple of changes happened this week.  A quick swap in the top four and a couple of switches in the bottom four.

As the Carleton University Ravens remained perfect with a record of nine wins and zero losses, they moved into the vacant third spot in the rankings left by the York University Lions. The Ravens hosted the Onterio Tech Ridgebacks in Ottawa and beat them soundly by a score of 3-0. On the other hand, The Lions from York traveled all the way to Guelph to play the University of Guelph Gryphons. York was only able to come back with a 2-2 draw which saw them fall into the fourth position which was recently held by the Ravens.

The biggest move in the rankings had to be awarded to St. Francis Xavier University. St. Francis had two home games and with that, they wanted to give the home fans a good set of games. First, they played the Saint Mary's University Huskies and beat them 3-0. Next, St. Francis was up against the Université de Moncton and defeated them easily also by a score of 3-0. With these results, STFX moved out of the not ranked column and jumped all the way up to the eighth position.

Some mild moves were the switches of University of Toronto Varsity Blues, the University of New Brunswick Reds and Guelph University Gryphons. The Varsity Blues, who were formerly in sixth dropped down to ninth after only being able to capture one win out of a possible two. U of T first went to Downsview Park and played the Ryerson University Rams, their city rivals, which they lost 2-1. The next day they travelled to Peterborough to play Trent University Excalibur. At Trent, the Varsity Blues were able to get the result they wanted and left with a 3-1 win in their back pockets.

Guelph played back-to back days at home against the Wilfrid Laurier University Golden Hawks and the aforementioned York Lions. The game against the Golden Hawks was a blowout as Guelph dismantled them with a 6-0 victory, as stated above the Gryphons tied the Lions 2-2.
UNB fell two spots in the rankings after playing two games on the road. The first match was with the Dalhousie University Tigers, the Tigers beat the Reds at home by a score of 2-1. With a loss on their minds and looking for a win to bring back home, UNB went up against the Huskies from Saint Mary's University. There the Reds beat the Huskies with little difficulty 4-1.

As week six wraps itself up nicely, we wait to see for expected movements in the National Rankings.