A Thursday night mismatch was the game on display at the former Maple Leaf Gardens, between the OUA leading Ryerson Rams and the lowly Laurier Golden Hawks.
On home ice, Ryerson got off to a hot start opening the scoring less than four minutes into the night, with a goal from last season's OUA rookie of the year, Erika Crouse. That total was quickly expanded upon thanks to contributions from Olivia Giardetti, and the other a second tally for Crouse. It only took one period for Crouse to take over the OUA lead for both points and goals, a spot where she has never sat before. With the two goals, she passes Waterloo forward Taytum Clairmont, who also didn't crack the top five in scoring last year.
All those first period goals proved to be enough, as the Rams locked up shop for the last 40 minutes en-route to their fifth straight victory.
This year has been a changing of the guard of sorts in the division, as many of the leading players have graduated, opening the door for younger players such as Crouse to take the reigns of their team.
It was also an important night for Ram's starting goaltender Rachel Seely, who is having her second-best ever OUA season. The fourth-year sociology student has been a steady presence for the Rams this year, playing an important role in the Rams league-leading defence, for the second year in a row.
Erika Crouse has also been stellar for Ryerson this year, picking up right where she left off from last season and has actually improved, scoring at a higher rate than she did last year. Her five-game multi-point streak is the best of her career and shows that she is fully capable of leading the Rams deep into the OUA playoffs this season.
On the Golden Hawks side of things, they have not had the season they planned. Their leading goalscorer is nowhere to be found on the OUA leaderboard, but that's not to say that Aynsley Harrison has not had a good season. She has fully taken over as the head of the Hawk's offence, and already topped her points record with five this season. Her contributions, alongside those of Emily Visser who has the same number, have been helpful, but not enough to put them in a playoff position. Neither of them was able to add to their total, or aid the Golden Hawks in their loss Wednesday night.
After her teams's 3-0 win, Ryerson head coach Lisa Hayley spoke about her team's effort after going up so early in the first period and not scoring more, saying "We always speak about keeping our effort up, but there is also that subconscious voice that is so hard to shut up. We try, but we definitely took our foot off the gas tonight." The one worry with this is the fact that goal differential can be a crucial factor in late-season tiebreakers, however, that is not something that the players on coaching staff worry about at this part of the season.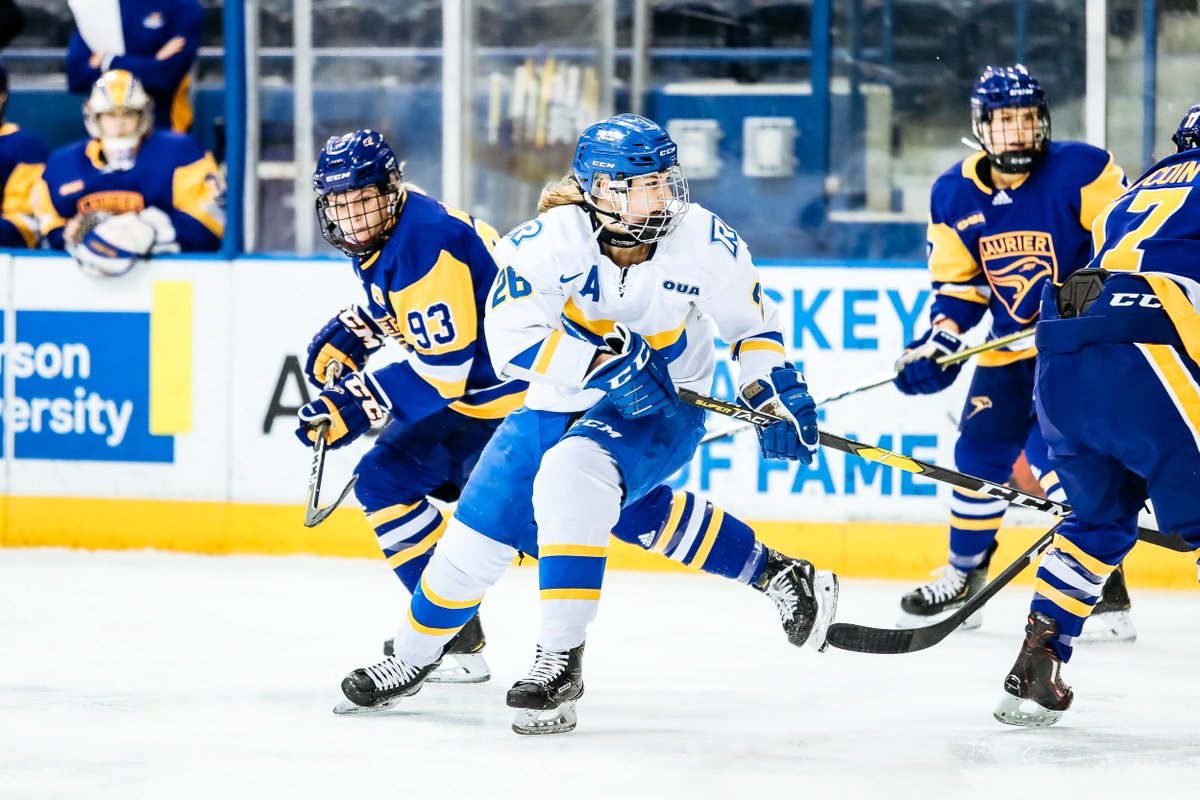 Looking ahead, Laurier will have to wait an entire week before they can right their ship after tonight's loss, which crushed their spirits after their rare win Wednesday night over the Windsor Lancers.
The Rams, on the other hand, have a very tough test coming up against the York Lions. The Lions fell in crushing fashion too the number one ranked Toronto Varsity Blues on Thursday night, and with that loss fall behind Ryerson in the OUA standings.
Cover Photo: Alex D'Adesse