Ottawa,ON- It is the most wonderful time of the year as it is March; which means nationals is only three days away, the eight best teams in the country will be taking over our nation capital for four days

This year's field is a talented one and features only three schools from last year's tournament: the Ryerson Rams, last season's runner-up, Laval Rouge et Or and the Saskatchewan Huskies. The other five schools are the Brock Badgers, the Alberta Pandas, the University of Prince Edward Island Panthers, the Calgary Dinos and this year's host, the Carleton Ravens.
Here at 49, we will bring you through every team. in the. tournament. Today we start off with the top four, and will move on to the second half of the field tomorrow.
1. Saskatchewan Huskies:
The Huskies are the odds on favourite to win the Bronze Baby for the second- time in five- years. The Huskies made it to nationals after winning their second- straight CW title and fourth one in five- seasons.
The Huskies finished the CW with 18-2 record and marched into the playoffs as second- seed , they beat Victoria Vikes in quarterfinals; they beat University of British Columbia Thunderbirds in semi-finals and then beat Alberta Pandas in CW Championship game,62-51 on
Friday night.

Offense: 83.0 pts/ game and 1,660 (1st in CW).

Defense: 49.5 pts/ game allowed (1st), opponents FG% : 29.4 (1st in CW) and 14.6 turnovers/game (1st in CW).

Interesting stat: The Huskies led the conference in 3-PT averaging 8.2 made/ game.

Key player: Fourth-year forward, Summer Masikewich was named first- team all- star averaged 17.4 points/ game,349 points + 9.1 rbs/ game and 181 rebounds. She led the conference in offensive rebounds with 80.
2 Brock Badgers :
The Badgers grabbed the number- two seed after winning the OUA crown for the first time since 1983. The Badgers finished the regular season with a 17-5 record and enter the OUA playoffs as the fourth- seed which earned them bye into quarterfinals. They beat Windsor Lancers in a comeback in their quarterfinals and then beat number- one seed, Western Mustangs in semi- finals with yet another comeback. The Badgers upset the Ryerson Rams,84-71 in Toronto to win OUA Critelli Cup.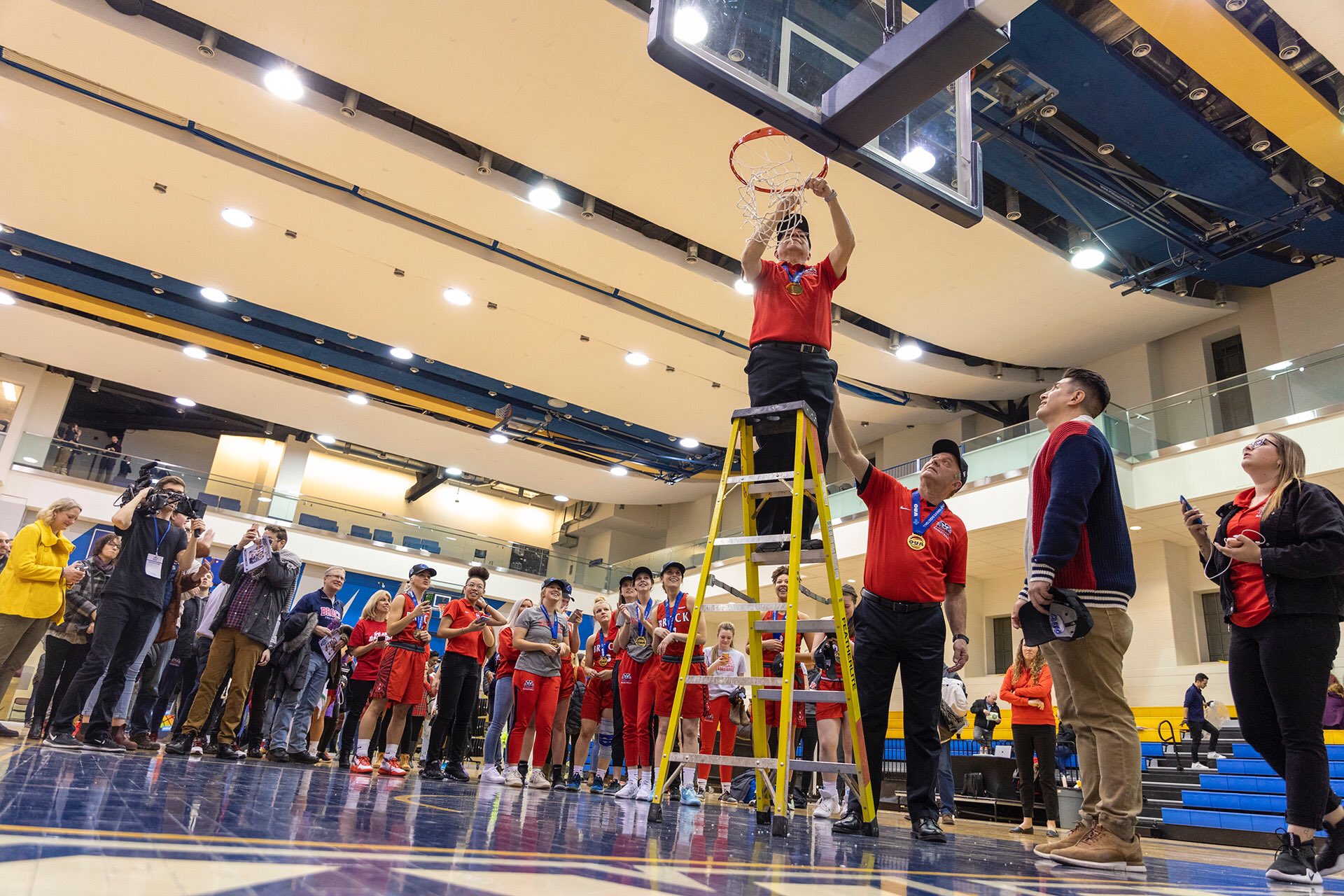 The OUA championship trophy is named after Brock's former athletic director, Chris Critelli.

Offense: 70.9 pts/ games and 1,560 points.

Defense: 61.0 pts/ allowed . Opponents FG% allowed: 33.4% and 13.1 turnovers/ game (1st in OUA).

Interesting stat: They finished second in opponents 3PT % with 24.7%.

Key player: Senior point- guard, Melissa Tatti. Tatti was named OUA MVP after finishing the season averaging 18.5 points/ game,407 points along with 105 rebounds and 145 assists which led the OUA. She also had 55 steals.
3 Ryerson Rams:
The Rams are heading to nationals as the OUA silver- medalists after losing to the Badgers in OUA championship game.
They finished the OUA regular season with an 18-4 record and enter the OUA playoffs as the third- seed, they beat Queen's in quarterfinals and then number- two seed, Ottawa Gee- Gees in semi-finals.

Offense: 76.2 pts/ game and 1,677 points.

Defense: 57.6 pts/ allowed (2nd in OUA), opponents FG% :32.0 (2nd in OUA) and 14.8 turnovers/ game (3rd in OUA).

Interesting stat: The Rams averaged 45.5 rebounds/ game which was second in OUA. They led the conference in defensive rebounds with 30.7 / game.
Key player: third- year guard, Marin Scotten. Scotten was named an second- team OUA all- star after averaging 17.0 pts/ game,375 points along with 161 rebounds including 71 offensive rebounds which led the league. She also had 57 3PT which led the league.
4 Laval Rouge et Or:
Laval enters nationals for the second- straight season as the Réseau du sport étudiant du Québec (RSEQ) champions. Last season at nationals, they won with a silver medal for the second-time in four years. They finished RSEQ season with an 12-4 record.

They beat McGill Martlets,55-51 in semi-finals and then they beat University of Quebec at Montreal ( UQAM) Citadins in the Championship game,62-54.

Offense: 61.2 points/game and 979 points.

Defense: 57.8 points/ game (1st in RSEQ), opponents FG % : .316 and averaged 16.7 turnovers/ game.

Interesting stat: Laval led the conference in assists averaging 13,5 per a game.

Key player: Khaleann Caron-Goudreau. Goudreau was named RSEQ defense player of the year after 100 defensive rebounds and 20 blocks. She also averaged 11.2 points/ game and 145 points. She also led the conference in FG% hitting 63/ 119 shots for .529.