Vancouver,BC- "We want to make sure they're guys that are going to add to our culture and help us improve." Those were the words spoken by Trinity Western University's men's hockey coach Barret Korpf to the Estevan Mercury, when talking about players he is looking for ahead of the Spartans inaugural U SPORTS season.
The Spartans have been competing in the collegiate level BCIHL alongside schools such as Simon Fraser and Victoria, but having achieved all they can in the BCIHL, the Spartans are moving up to U SPORTS, Canada's top flight of university hockey. While on the surface one may expect this team to be swept away by the jump in competition, their older roster and recruiting class suggest they may be more than a show horse in Canada West.
Only five Spartans players from the COVID-19 shortened season are graduating, so it's not like the team based out of the Langley Events Centre is icing a rookie roster against higher competition, rather they are putting an experienced group of men on the ice who could very well battle their way through the Canada West. However, despite finishing atop the BCIHL at the time of cancellation, the school is bringing in more talent to strengthen their roster before their inaugural U SPORTS matchup, and as Korpf said, they're looking for people who will add to their team culture, and not only their skill. So one would assume that the players who they have brought in so far would fit that bill.
Let's take a look at who has committed to the Trinity Western Spartans ahead of their inaugural U SPORTS men's hockey season.
Landon Fuller: Vernon Vipers/BCHL
Formerly of the BCHL's Vernon Vipers, Landon fuller is bringing a wealth of high-level junior experience to Trinity Western. When he hits the ice under the bright lights of U SPORTS and the Langely Events Centre, it will hardly be his first time. The native of 100 Mile House, BC has skated at the LEC many times, whether in his five games with the WHL's Vancovuer Giants or the countless times she would have faced the Langely rivermen in BCHL action. Needless to say, his surroundings will be familiar when he dawns Spartans colours.
During his time playing junior, Fuller never put up exceptional offensive numbers, but he exploded in his overage season with the Vernon Vipers of the BCHL, where he scored 24 points, more than four times his career-high ton that point. According to a scout and data tracker involved in the WHL, Fuller has become known for his physical forecheck and has built his career to this point in a power forward type of role, however, success with the Spartans is very much possible, considering that physical play is something that comes useful against U SPORTS competition.
Josh Boelma: Briercrest College/ACAC
He may only be 19 years old, but Josh Boelma has collegiate experience which most recruits don't have. The Lower Mainland native has spent the last two seasons competing in the ACAC, the Alberta equivalent of the BCIHL, and has already found succcess playing collegiate level hockey. In his latest season, he scored at a near point per game pace with Briercrest College. Although Briercrest was nowhere near the strongest team in the league, the experience which Boelema picked up playing against older and often faster talent is invaluable as he makes the transition to U SPORTS.
Aiding his transition will be the fact that he is moving back to the area where he grew up, and even the locale where he once played midget hockey for the Langley Trappers of the PJHL. His name may not be familiar to fans of major junior hockey, but the combination of collegiate experience and homecoming could very well set up a successful season for Boelema with the Spartans. 
Aiden Steinke: Melville Millionaires/SJHL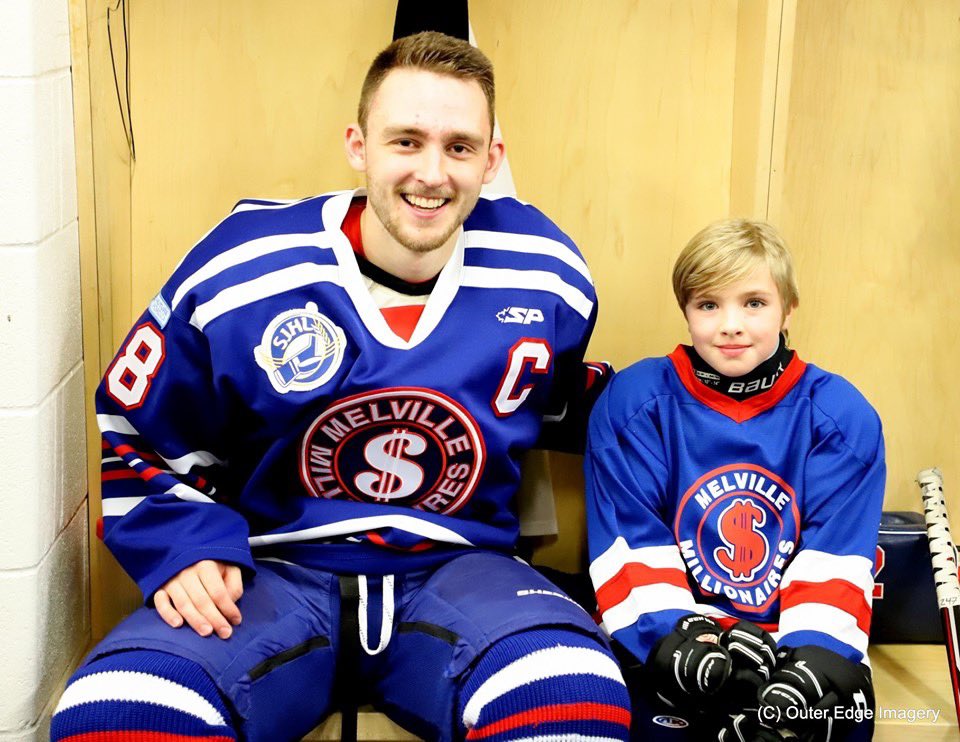 For the first time since 2017, Aiden Steinke will be playing hockey somewhere other than Melville, a town that welcomed him into the community over the past three years. The 20-year-old forward has spent the last three seasons playing junior hockey in the Saskatchewan Junior League, where he played a prominent role with the Melville Millionaires. The SJHL is a league that is widely considered a step down from the BCHL, where fellow recruit Fuller played but is still one of the stronger junior leagues in Canada. Steinke captained the Millionaires in his final season, albeit a one that was cut short by the global pandemic, however, he continues the trend of junior captains choosing to pursue an education while also continuing to play the game they love.

If it weren't for the pandemic, Steinke likely would have eclipsed his career-high in points, which came last year with 28, however, before the 2020 cancellation, he already sat on 27. With Steinke, the Spartans are bringing in a leader who can help them adjust to a new level of competition, as well as someone who is known for helping out in the community, a major pillar of all university sports teams.
Jake Jurgeneit: Yarmouth Mariners/MJAHL
Of all four recruits so far, the recruitment of Jurgeneit is most perplexing. It's not because of his hockey-playing abilities, but rather the fact that he is coming from the other side of Canada. He spent the majority of last season playing in the Maritime Junior Hockey League with the Yarmouth Mariners and is now moving all the way out to the country's west coast for U SPORTS hockey. Born and raised in Simcoe, Ontario, the defensemen spent the majority of his junior career playing in the Central Canadian Hockey League, before moving to the Maritimes.
He has never been a contributor offensively but is giving the Spartans a sizeable stay-at-home blueliner, who certainly is not afraid to throw his body around. He played 54 games in 2019-20 and averaged over three minutes in penalties, however, in those situations, he was playing against junior players, some of whom were as young as 15. The difference when it comes to U SPORTS, is that there will be less size discrepancy, likely leading to fewer penalties. While his location is odd, he is bringing a lot of positives to the Spartans for their first Canada West campaign.
Conclusion:
The Spartans have a decent recruiting class, but their success or lack thereof will heavily rely upon the performance of their older, more experienced BCIHL roster. Age has often shown to be a major factor in U SPORTS hockey, and the fact that these players have already played with men could be a major role in the Spartans season. Another component is that these players have been meticulously selected by the school, and as coach Korpf mentioned, the most important thing is what these guys are bringing to the culture. After analyzing this year's recruitment class, I can see what Korpf was getting at, and he has done a good job of bringing in locker room leaders, as well as skilled hockey players.