Toronto, ON- A few weeks ago 49 Sports took a look at the OUA West recruiting scene in men's hockey up to that point. Today. we shift to the east and examine the new players who will hit the ice in U SPORTS hockey this fall.
Carleton Ravens:
When I was deciding whether to make this list alphabetically or by seeding from last year, it didn't matter on this position, Carleton was always going to be first.
Last season the Ravens dominated the eastern conference and finished in first place by eight-points, however, they're fate ended in the second round of the playoffs. Although the Ravens had to watch the Gee-Gees gallop to the final, they're not going to let that affect them heading into next season.
The team has been fairly quiet to this point in terms of recruits, having only announced defenceman Jeremy Masella. What makes this an interesting recruit is that Masella is American, even though he has played his major junior career north of the 49th parallel. He is coming off of a season in which he was an alternate captain with the Prince Albert Raiders, a team he has been with since 2017. In his latest campaign, he scored 13 points through 64 games, but it's his defensive game he is known for rather than points production. Through his time in junior, he became known as one of the WHL's smartest but toughest defenseman, certainly a welcome combination. At 6'5", he will be the tallest player by five inches in his new locker room, meaning his presence will be big regardless of what he brings to the ice. For a team that has already found a recipe for success, it will be interesting how much they will rely on the American.
UQTR Patriotes:
As you can tell, we are going with last season's standings for this list. The Patriotes have quietly gone about their business this offseason, and brought in two recruits from the QMJHL. After a points deduction in 2018-19, last season was all about redemption for UQTR and they did just that, finishing second in the conference.
There were a lot of bright spots in the Patriotes season, many of which came throughout a trio of four-game win-streaks, but with the graduates leaving the team, they have had to re-tool. Thus far, UQTR has announced Jordan Lepage and Thomas Ethier, coming from the Shawinigan Cataracts and Victoriaville Tigers.
Lepage's claim to fame comes through his time with the Rimouski Oceanic, where he played alongside NHL prospect and likely first overall pick Alexis Lafrenière, however, Lepage also has skillsets of his own that will help the Patriotes. He is an offensive defenseman who has put up 20+ points in the last two seasons and is effectively replacing graduated captain Guillaume Beaudoin, who is now playing professionally.
The other recruit is Thomas Ethier, who joins the Patriotes after a five year, three-team journey through the QMJHL. In his last season, he spent time between Baie-Comeau and Victoriaville and had to adjust to that mid-season trade. The left-winger scored only 15 points through 50 games, but it was his forechecking, hard-hitting playing style that has earned him a spot with UQTR. At 6'4", he's always been more of a physical player, and that's the exact role he will continue to play when he dawns UQTR orange and green.
Ottawa Gee-Gees:
Ok, this is a massive recruiting class. When the program was suspended four years ago, they had to bring in an entirely new roster once they came back. This means the Gee-Gees have a larger overhaul than anyone else and will go from having one of the oldest teams to the youngest with just one off-season. So far, the program has announced the commitments of Anthony Poulin, Keenan MacIsaac, Bradley Chenier, Jérôme Gravel all coming from the CHL. The level of these recruits shows just how important it was for the team to find success this past season, as it's well known that a winning program attracts talent.
Other than Chenier, they are all comitting from the QMJHL, while Chenier is coming from the OHL's Sudbury Wolves. The University of Ottawa has put an emphasis on bringing leaders into their locker room, and it's no different this time around. Poulin is coming to the Gee-Gees following a season wearing the "C" for the Victorville Tigers, while MacIsaac and Gravel both were associate captains with their respective teams. Character is something that I've heard a lot of the people within that program speak about, and even just hearing the players throughout the last Queen's Cup final, you can tell that they build the team around good hockey players and high-quality people.
There will definitely be some more names announced by the Gee-Gees before puck drop, but the group they have brought in is yet another shining light on a great reborn hockey program.
McGill Hockey Team:
There has not been much in the way of recruiting for McGill, as their only recruit comes from the BCHL. They have put pen to paper with William Poirrier, who is coming from the Salmon Arm Silverbacks and is one of nine players committing from the BCHL to U SPORTS. Although he is coming from out west, he is no stranger to Quebec, having grown up in the province and played in the QMJHL.
He is a tall and decently fast right-winger who has put up points wherever he has gone. He scored 31 points in his final QMJHL season, where he served as an associate captain with the St.John's Sea Dogs, and improved that total by ten points this year in the BCHL. McGill was outscored by two teams who finished below them in the standings, so bringing in a proven point-getter is a positive sign for the Montreal school.
Concordia Stingers:
The Stingers were a surprise this season. They may not have garnered the attention of SMU, Western and UBC, but they were impressive. Similar to their Montreal counterparts, the Stingers have only brought in a single recruit so far.
Yan Aucoin joins the Stingers after captaining Acadie-Bathurst in the QMJHL last season. The Quebec born defenseman has played 60+ games in all five years in junior, and only missed the 20 point mark twice. Alongside his OHL experience, he has also represented Team Canada at the U17 World Hockey Challenge, where he played alongside future NHL'ers Owen Tippet and Gabe Vilardi. The Stingers may have been quiet up to this point, but the under the radar recruitment of Poirier could seriously affect them for years to come.
Ontario Tech Ridgebacks:
Ontario Tech has undergone a bit of a rebirth over the past few seasons. Last year, the entire university rebranded and now have some of the nicest jerseys in all of U SPORTS, however, they've also got one new player coming to the Oshawa campus. Defenceman Evan White has spent the majority of his career playing Junior "A" hockey in the Maritimes, save for 10 games in the QMJHL. There are not many standout aspects about his game, but according to one scout I spoke to, he is decent at finding space on the blueline, and is more than competent at completing breakout passes. He has scored at exactly a point per game over the last two seasons with the MJHL's Edmundston Blizzard, and although U SPORTS will be a step up, aspects of his offensive skill will carry over.
Queen's Gaels:
The cyclical nature of university hockey caught up with the Gaels this year, as they were unable to replicate their championship season the year prior. They still made the playoffs, and with their recruits this year, they've hit the reset button and could begin to make an impact once again. The Gaels are bringing five OHL'ers, some of whom will make an instant impact in the coming year.
Calvin Martin headlines the class, and according to an NOJHL scout who watched the Mississauga Steelheads, he is a very smart player who is able to think the game near the speed of his hands, a combination which is coveted among hockey scouts.
Joining the Gaels alongside Martin are defenders Thomas Stevenson, Jakob Branheny, and Jacob Paquette as well as goaltender Anothony Popovich. The new backend will solidify a defensive group that allowed only 70 goals through the regular season, a stat good enough for best in the conference. While the youthful injection may be too inexperienced to make a run, the Queen's Gaels have improved with this year's recruiting class.
RMC Paladins:
Despite a first-round playoff exit, last year was a successful campaign for the RMC Paladins, who made their first playoff appearance since the rebrand of CIS to U SPORTS. The recruiting, led by head coach Richard Lim proved successful, as Cedric Paquette was nominated for the rookie of the year. At this point, no new recruits for 2020-21 have been announced, however, that's bound to change.
Nipissing Lakers
For what the RMC Paladins haven't done in recruiting, the Nipissing Lakers have sure done the opposite. The team that finished second last has completely rebuilt, and so far has the second most new recruits in U SPORTS, only behind St.FX in the AUS.
Since there are so many, here's a quickfire on the new Lakers.
Chad Denault- He's the only one coming from the OHL. He's characterized as a tall, big-bodied power-forward who is a strong forechecker. Through 5 years in the OHL, he never topped 15 points in a season.
Parker Bowman– He's coming from the NOJHL, but played with Rimouski in the QMJHL before, including a year alongside top NHL prospect, Alexis Lafrenière . Never found too much success in the QMJHL, but lit up the NOJHL with 88pts in 54 games this past season.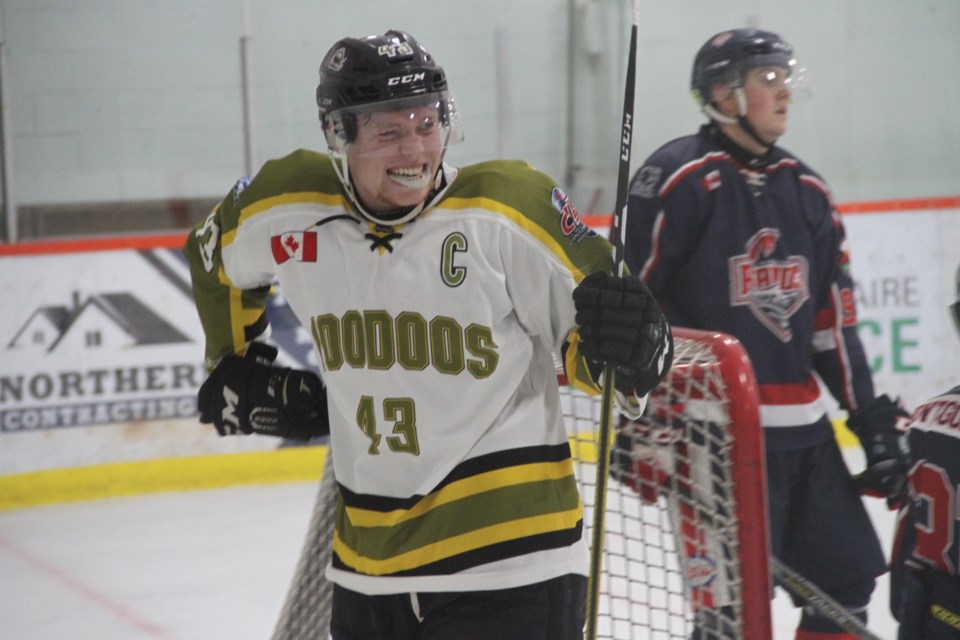 Brett Epp- He's coming from the NCAA, which is always an interesting movie. However, it was NCAA DIII and he was not dominant in the crease, so I don't expect him to make an immediate impact on the Lakers. After a few years of adjustment to U SPORTS, maybe he can become the starter. Call me when I'm wrong at the end of the season.
Josh Anderson- No, It's not the Josh Anderson who plays with Columbus in the NHL, although both did spend time in the OJHL as juniors. This Anderson is coming from the Coburg Cougars and is thought to be a strong skater, with decent vision. He has done well and has experience at the major junior level, so I'm guessing he'll be successful this season.
Max Griffioen- Has spent his entire junior career in the NOJHL, but has averaged over a point per game in all but one season. He has captained the team for the past two years, and won the 2018 NOJHL championship. With the previous winning experience, the Lakers will hope they get to add to that with a Queen's Cup. An NOJHL scout told 49 Sports that he has been one of the league's hardest-working players, but does not have one skillset that stands out.
Mackenzie Mindus- He was a late addition and is coming from the no longer existent Lethbridge Pronghorns. It was a very smart move for Nipissing to approach him, as he has U SPORTS experience and is a "plug and play" player. He may not be the highest scorer, but he's going to be a leader and may find a more confidence playing in a stable program
Laurentian Voyageurs:
The Laurentian Voyageurs have kept quiet for the most part, but have two commitments, and one that is rumoured. All three are heading to Sudbury from different junior leagues, and even from multiple countries. With all of that, it is a very unique class.
Alex Plamondon spent three seasons in the QMJHL, but has been in Quebec's junior "A" league since last year. The QJAAAHL may be a step down, but 230 points in only 118 games is stunning wherever you're able to pull that off, and that is the statline that the Voyageurs are adding. Plamondon may be in for a bit of a shock from the U SPORTS level of play, but there is no doubt in my mind that he will quickly become a premier scorer in the league.
Alex Rondeau is a bit more of a traditional get for the Voyageurs. He is coming from the Saskatchewan junior league, but has never really dominated there. Any new talent is promising for a team who finished last, but he's not a revolutionary player like Plamondon could be.
The most intriguing of the three is Renat Dadadzhanov, who is rumoured to be close to committing. If he does indeed head to Sudbury, he becomes the second Russian player in the OUA East, joining UOIT's Fyodor Rudakov. It's rare to see internationals in U SPORTS, but it is not unheard of for Laurentian who have had five others since 2013.
Well that is the latest on everything there is to do with recruiting in the OUA East, hope you're all caught up and check back soon for the other conferences as the recruiting season continues.
Cover Graphic: Benjamin Steiner