The Trinity Western Spartans women's hockey team has been playing in the South Coast Women's Hockey League, but are set to join U SPORTS in the fall of 2020. With the change in competition, comes a change in personnel and in this four-part series, we take a look into each of the team's new faces ahead of the inaugural U SPORTS puck drop.
Vancouver, BC- A new assistant coach, a revised schedule format, and a roster coming together- it's all starting to feel very real for the Trinity Western Spartans ahead of the inaugural U SPORTS hockey season.
A few weeks ago, 49 Sports took a look at the new Spartans who are joining from Saskatchewan, but today we take a look at another set of incoming players, this time, the trio from the Pacific Steelers of the Junior Women's Hockey League.
The Pacific Steelers are a female junior team based in Richmond, BC, a suburb of Vancouver not too far from TWU'S campus. The JWHL is one of the few female leagues that offer a similar structure to men's junior hockey, which has a much more established development pathway. The league's goal is to send players to post-secondary competition, and that's exactly what they're doing with the trio heading to TWU.
2019-20 was not a fantastic season for the Steelers, who finished second last in the JWHL's major junior circuit, only beating out the Boston Shamrocks. While the season didn't go as well as they would have hoped, they've made up for it in college commitments, especially the three headed to Trinity Western.
Let's take a look at the trio who are trading in their Steelers black and red for Spartan gold and blue.
Emma Killman: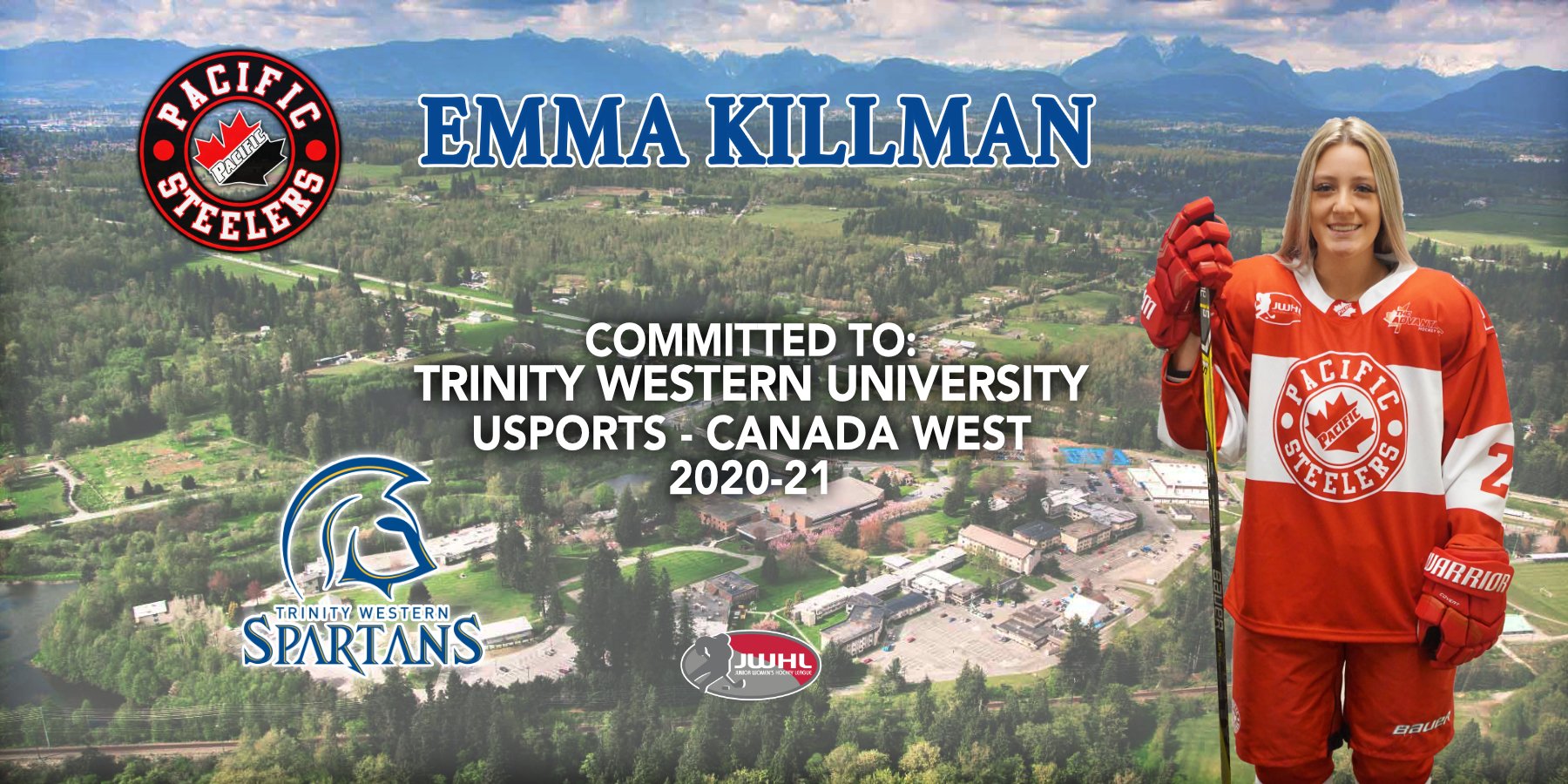 The epitome of a local girl, Emma Killman has never left BC's Lower Mainland. Born in Surrey, she played her hockey at the Delta Academy, a hockey school part of the Canadian Sport School Hockey League, before finishing off her high school career with the Steelers. Now she's moving to TWU in Langely, a move that keeps her in familiar surroundings, albeit on a new hockey team.
Killman is a defender who should be able to slide into a U SPORTS roster fairly easily. She has played alongside fellow Steeler Jade Ridgewell, who is also coming to the Spartans, making the duo a near plug and play combination. Killman is one fo the taller defenders of the incoming group at 5'7", and even though her point production has never been high, her physical presence and local experience will be useful for a brand new Spartans side.
Jade Ridgwell:
We already mentioned Ridgewell above, so why don't we take a bit of a better look at the defender. She has played with Killman for two of the past three years at both the Delta Academy and with the Steelers, two stops where she has been successful.
Also born in the Lower Mainland, she is a further example of how the TWU Spartans are sticking close to home, however, she differs from Killman in many ways. Ridgewell has been an offensive contributor wherever she has played. Here best year was back in 2018-19, where she scored 18 points through 23 games. Although she slowed down in her final season with the Steelers, she has shown that she can be an offensive threat from the blueline.
At 5'2", Ridgewell is not the tallest, but she more than makes up for it in her nifty skating abilities. Her play with the Steelers earned herself a spot in the JWHL All-Star game back in February, where she faced off against fellow Steeler turn Spartan Desiree Wiens, as well as UBC's Karine Sandilands.
There is a lot to like about the local defender, and her experience against other U SPORTS and NCAA prospects are two tantalizing hints to what she may bring to the Spartans in the coming season.
Desiree Wiens:
Back in September, Wiens became the very first player that Trinity Western announced as part of their recruitment class. She's known where she's going for a while, and the has seen her team materialize before her eyes, and witnessed her own teammates join her.
Being the first recruit means more than just being the first name printed. Weins caught the eye of TWU head coach Jean LaForest early on, as the second-year bench boss saw her as a leader.
"Good leaders set the standard within a program," said Laforest to Spartans Athletics,. "Desiree is someone who will continually contribute towards our goal of building a program that strives to develop complete champions through her positive attitude, tireless effort and desire to succeed both on and off the ice."
While a local player the quality of Wiens could have ended up at TWU anyways, she has a deep connection to the Spartans. Her cousin Chris Wiens used to play for the Spartan men, and today he is an assistant coach, meanwhile one of her high school coaches is also on the Spartans men's staff.
Wiens played 41 regular-season games for the Steelers, but found her greatest success in year two. This year she scored 12 goals and established herself as one of the team's premier offensive contributors, a skill set that will be valuable for the Spartans, who will be tested with top-level defence for the first time in program history.
Conclusion:
Three teammates joining the Spartans make for some instant chemistry, however, we don't know when they'll hit the ice. Everyone hopes that it will happen in September, but that possibility is looking bleaker every day. That being said, who really knows what the world will look like in September? For now, all we can do is continue to follow the health guidelines and hope that the Spartans get to hit U SPORTS ice in September as planned.