Vancouver, BC- A heartbreaking decrescendo. That's pretty much how you could describe the end of the 2019-20 Canada West men's hockey season for the University of Regina Cougars.
With four games to go, the team was in the thick of the battle of the final playoff spot in Canada West, but a difficult schedule featuring the Alberta Golden Bears and provincial rival Saskatchewan Huskies ended up sealing their fate outside of the postseason.
After not having the players to push themselves into the playoffs, along with a large graduating class, the Cougars are introducing seven players ahead of next season, whenever that may be.
Of the seven, two are joining from the WHL, two from the SJHL, a pair from the Lethbridge Pronghorns hockey program which met its demise in May, and one from the ACAC. While the overall skill of the group may not strike initial fear into opponents, the mix of experience, age and new blood will help the Cougars.
WHL: Austin Pratt, Carson Sass
Austin Pratt- Centre/Regina Pats
Headlining the class is Austin Pratt, a familiar name to Regina hockey fans, he captained the WHL's Regina Pats last season, where he scored 68 points, endearing himself to a fanbase of a struggling WHL team.
His junior career has been quite successful, beginning in Red Deer, before a pair of years in Regina. He scored 50+ points in his two years in Pat's blue and red, making his scoring potential in U SPORTS extremely tantalizing. Having been based in Regina over the last two years, it has allowed coaches and scouts to get many in-person viewings of the player, something that is not always easy to get for U SPORTS recruiting.
"Austin is a big body that will fit into our lineup right away," said head coach Todd Johnson. "He has a heavy shot with offensive ability and is a mature young man who will bring leadership to our dressing room."
Carson Sass- Defense/Moose Jaw Warriors
Carson Sass hasn't been playing in Regina, but he's played against the Pats many times throughout his WHL career. The native of Melville, SK kicked off his junior career with his hometown Melville Millionaires, where he played a single game alongside UBC Thunderbird sophomore Quentin Greenwood. While he crossed paths with a future U SPORTS rival at the beginning of his junior days, the defenseman is joining former Red Deer teammate Austin Pratt with the Cougars.
Sass isn't the most offensive defenseman, nor is he the biggest, but he's stable. For a Regina Cougars team that graduated two of their veteran left-handed defensemen, Sass is a much-welcomed player to their defensive group.
SJHL: Jayden Davis, Dylan McCabe
Jayden Davis – Left-Wing/Estevan Bruins
A cup of coffee- that's all the WHL experience Jayden Davis got through his junior career. A single point 12 game stint with the Lethbridge Hurricanes in 2016 was the last time he stepped foot on WHL ice, but his inability to crack major junior hockey doesn't mean he's a weak player.
The diminutive left-winger spent parts of four years with the SJHL's Estevan Bruins, where he became known as a fast, gritty player. He had his most successful season this past year, where he went the whole season without missing a game, all whilst scoring at a point-per-game pace.
He'll be joining a familiar group of faces at the U of R, as former Estevam teammates Arthur Miller, Turner Ripplinger, Bryce Platt, and Curtis Meager are on the Cougars.
Dylan McCabe – Defense/Battlefords North Stars
If you're looking for a player from this class who might not make a big impact immediately, its Dylan McCabe. The defenseman is joining the Cougars following a trio of Junior-A seasons, his last being with the SJHL's Battlefords North Stars. In his final season prior to his commitment, he scored 22 points in 50 games, nearly 50%, but still less than other overage defenders.
"Dylan's skating ability gives him a good chance to grow into a solid defenceman at the Canada West level," said his new head coach,. "He's going to be one that will push for a permanent role in the future."
The ex-Lethbridge Pronghorns: Taylor Fisher, Jeff Rayman
The Cougars have also added Taylor Fisher and Jeff Rayman from the Lethbridge Pronghorns, and although both have been far from stars through their time in Canada West, the two defensemen have years of U SPORTS experience, an invaluable asset to a Cougars team that conceded 117 goals in 2019-20.
Fisher has two years of eligibility left, but only a year remaining in his degree. It poses a possible problem with him being unable to complete his five years of U SPORTS hockey, however, he has spoken about his openness to post-graduate studies at the U of R.
ACAC: Travis Mayan (University of Alberta Augustana)
While the U SPORTS football community riles in anger with the 25-year-old age cap ruling, that regulations aren't in hockey, which is allowing the Cougars to add 25-year-old Travis Mayan.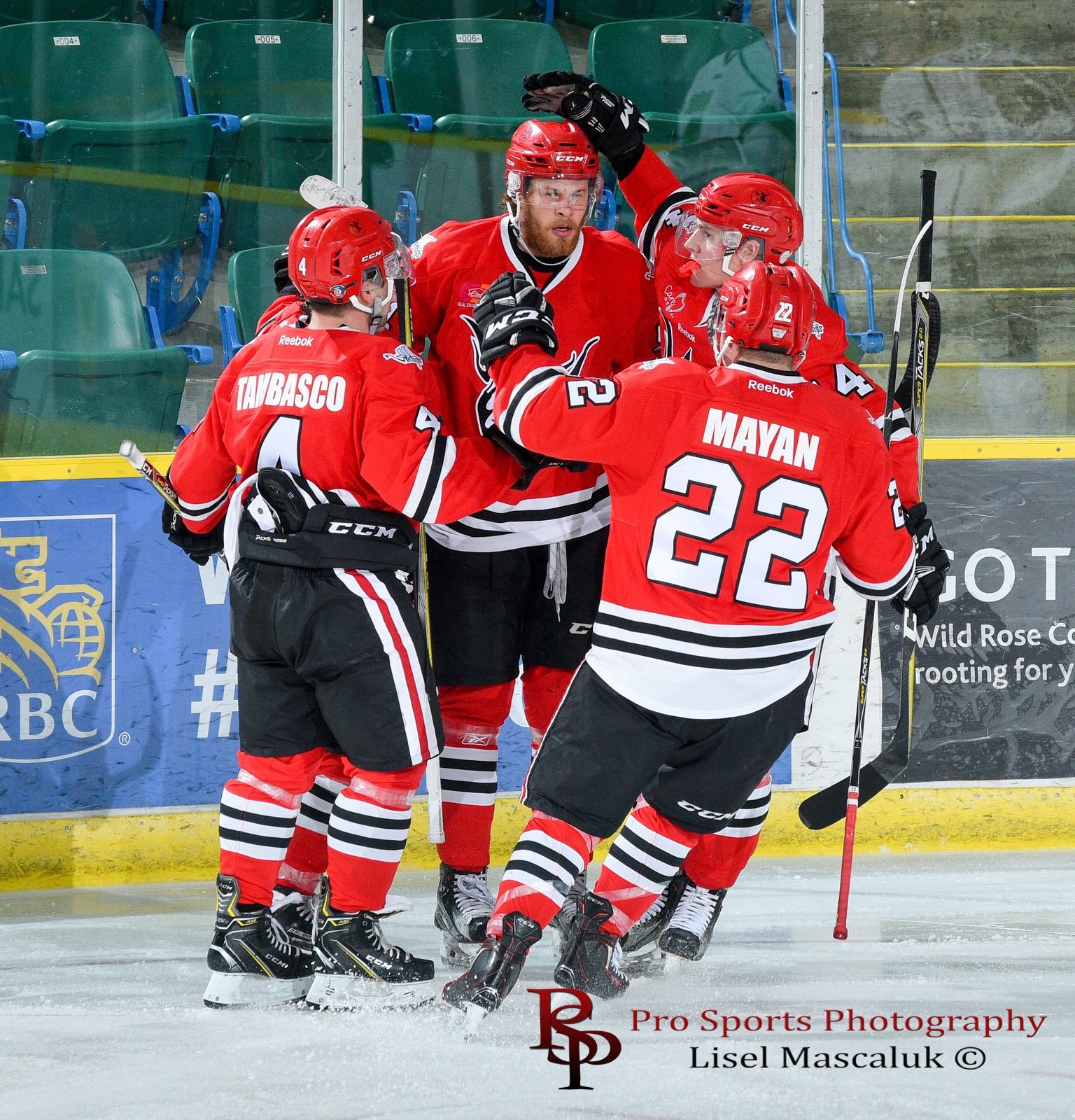 The left-winger has already played four seasons of collegiate hockey with the University of Alberta Augustana in the ACAC, Alberta's collegiate circuit, and he will be an immediate impact player for the Cougars. Through his time in the ACAC, Mayan was one of the league's leading scorers, finishing third in the 2019-20 scoring race with 47 points in a mere 29 ACAC games.
While his recent accolades in ACAC action would be enough to catch the eye of any U SPORTS coach looking for a veteran, it wasn't the first time the Cougars staff have eyed Mayan.
"I tried to recruit Travis when he finished up junior with Melfort and I'm happy he'll come here to finish off his University career," Johnson said. "He was a great scorer in junior and has continued that at the ACAC level, and I definitely expect he'll be able to contribute offensively in Canada West as well."
"I tried to recruit Travis when he finished up junior with Melfort and I'm happy he'll come here to finish off his University career," Johnson said. "He was a great scorer in junior and has continued that at the ACAC level, and I definitely expect he'll be able to contribute offensively in Canada West as well."
When you put in the effort all year, only to have the playoffs stripped away in the last two weeks, it heartbreaking. That's what happened to the Regina Cougars men's hockey team, and with today's recruits, they're hoping that won't be the case next time the season comes to a close.