Kingston,ON- Through two days, the CEBL Summer Series has been chock-full of surprises, but very low on drama.
On Saturday, led by Daniel Mullings' 22 points and nine rebounds, Niagara took care of Hamilton 97-85. Later that day, Guelph dispatched the expansion Ottawa Blackjacks 89-71, through Tre'Darius McCallum's 16 points. On Sunday, the defending champion Saskatchewan Rattlers easily handled Niagara, 96-79, before Fraser Valley outpaced Edmonton, 113-100. Saskatchewan was led in scoring by Negus Webster-Chan, with 20, while Fraser Valley's Cam Forte had 28 points and 10 rebounds. Going into Monday's games we have a trio of teams at 1-0.
As a reminder, the top-six teams will qualify for the Summer Series Playoffs. Most analysts agreed that the top-four teams heading into the tournament were, in some order, Niagara, Ottawa, Edmonton, and Hamilton. Those teams are currently a combined 1-4. What's even more surprising than the actual losses, are the margins by which those teams have lost. Through four games of the Summer Series, the average margin of victory has been 15 points, with no game being closer than 12.
So, just how surprising was the opening weekend? If we are looking strictly at wins and losses, probably not nearly as surprising as you might think. The table below shows the pre-game win probability of the four victorious teams, based on my pre-tournament model.
The Guelph and Saskatchewan wins are in the 34%-35% range, while the Fraser Valley probability is right around 45%. For some perspective, LeBron James, of the NBA's L.A. Lakers is shooting 34.4% from three over the course of his career, while Steve Kerr shot 45.4% from beyond the arc during his time in the NBA. So, Guelph and Saskatchewan's victories were about as probable as LeBron hitting a three, while Fraser Valley's was similar to a Kerr made three. In other words, the victories themselves were really not very improbable.
What was improbable were the margins of victory. Guelph, Saskatchewan, and Fraser Valley, won by 18, 17, and 13 points, respectively. In Part-One of the tournament preview, 49 Sports noted that great teams rarely get blown out, while poor teams rarely win by significant margins. Does this mean that Niagara, Ottawa, and Edmonton, are not great teams? Or that Guelph, Saskatchewan, and Fraser Valley, are much better than most gave them credit for? At this point, my answers to those two questions are "maybe" and "probably". But truly, the answer is that it's just too early to say.
Another item I noted in my previous pieces, is that we should expect the unexpected at this year's Summer Series. The main reason I said that is because a six-game season is an incredibly small sample size. And if a six-game season is a very small sample size, then what we've seen (two games from Niagara, and one game from every other team) is microscopic. This is especially true given that most of these players haven't played in a formal game since March, and that each of these teams has only been together for a one-week training camp. Now, that certainly doesn't mean that there aren't reasons for concern for the losing teams this weekend, or definite sources of optimism for the teams currently at the top of the standings.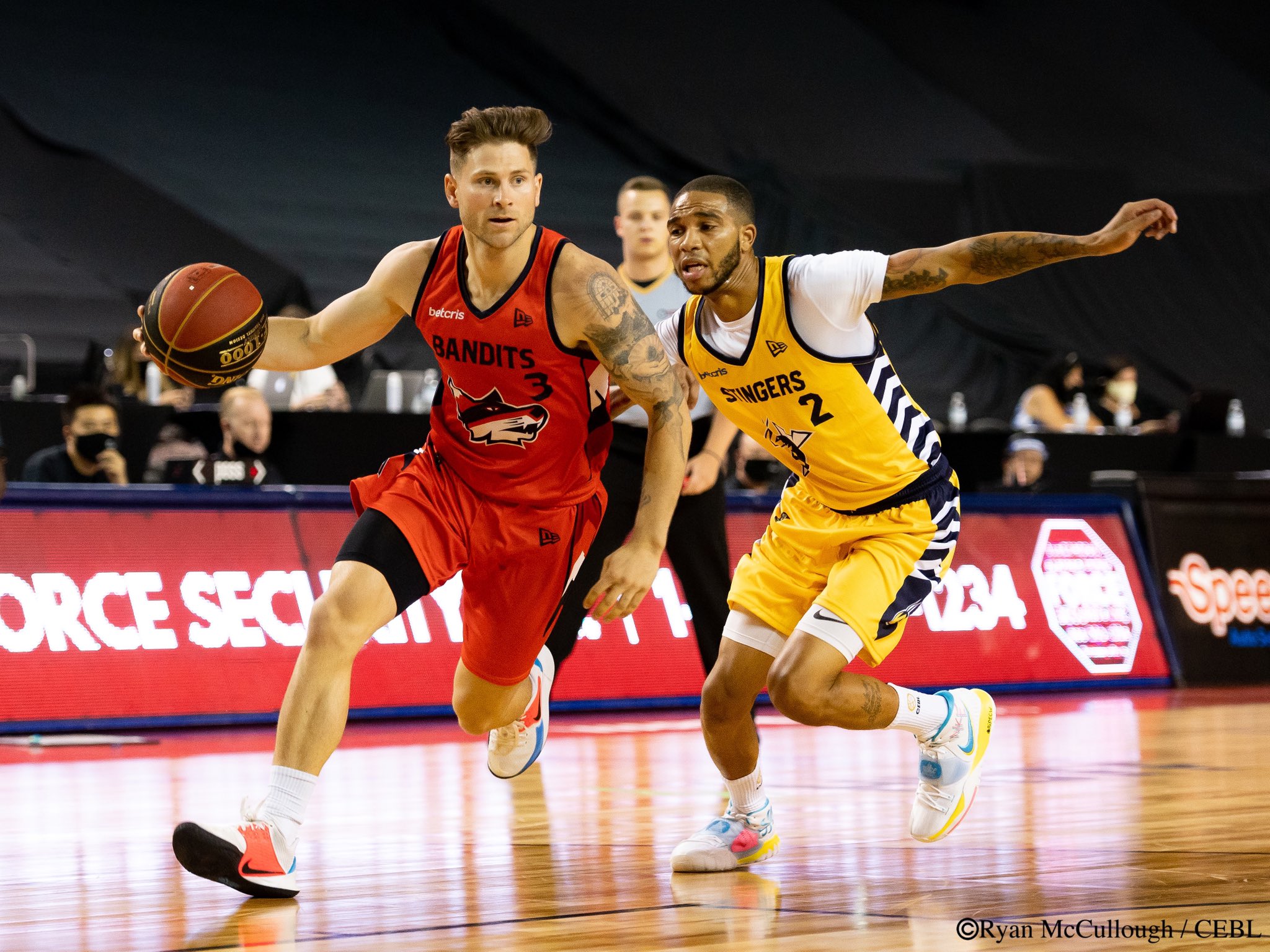 One main source of variance in basketball is three point shooting percentage. Over the course of an 82-game season, a team's three point shooting percentage generally settles to a level representative of that team's actual shooting proficiency. However, on a game-to-game basis, it can be very volatile. As a result, a disparity in three point shooting percentage is often the cause when a lesser team knocks off a superior team. However, that wasn't the case in any of the upsets this weekend, as Guelph, Saskatchewan, and Fraser Valley, shot 32%, 36%, and 40%, respectively, compared to 35%, 36%, and 36%, for Ottawa, Niagara, and Edmonton. If any of the winning teams had been incredibly hot from three, it would have strengthened the argument that the upset was simply a random occurrence.
One final consideration regarding the results from the weekend, relates to each team's expected record (based on my model) entering the Summer Series. I didn't include these records in the preview articles, as I was attempting to keep the length somewhat manageable. However, this information is now interesting to considering given the weekend results.
It's interesting to note that coming into the tournament, no team was expected to win more than four games, or fewer than two. Niagara's probability of finishing the Summer Series at 6-0 was only 6.6%. If they happen to right the ship over the next week, winning three of their next four games and finishing 4-2, that's exactly where we should have expected them to end up coming into the tournament.
---
Throughout the Summer Series, I will continue to update the title, playoff, and first-round bye probabilities. As the Summer Series progresses, the probabilities will gradually become weighted more heavily on the results we've seen, and less heavily on the pre-tournament projections. Due to the results from the weekend, we've seen a significant shift in the probabilities. Coming into the tournament, Niagara was the favourite to take home the 2020 Summer Series championship. Now, we see a trio of teams with similar probabilities, with Saskatchewan a very slight favourite over Fraser Valley and Niagara. At this point, the shift in odds is less due to a change in the projected quality of the teams, and more due to the fact that having a one-game lead in a six-game season is quite significant.
---
Looking at the Guelph Nighthawks V Ottawa Blackjacks
Today, we'll focus on the Guelph-Ottawa match-up from Saturday. It was an interesting game, which was very close through the first three quarters. Ottawa led by four after the first, the game was tied at half-time, and Guelph led by four after three quarters. The wheels then came off for Ottawa in the fourth quarter, as Guelph outscored them by 14 points.
So, what happened in the fourth quarter? I like to split a basketball game into two different aspects – items which are mostly within a team's control, and items which are not.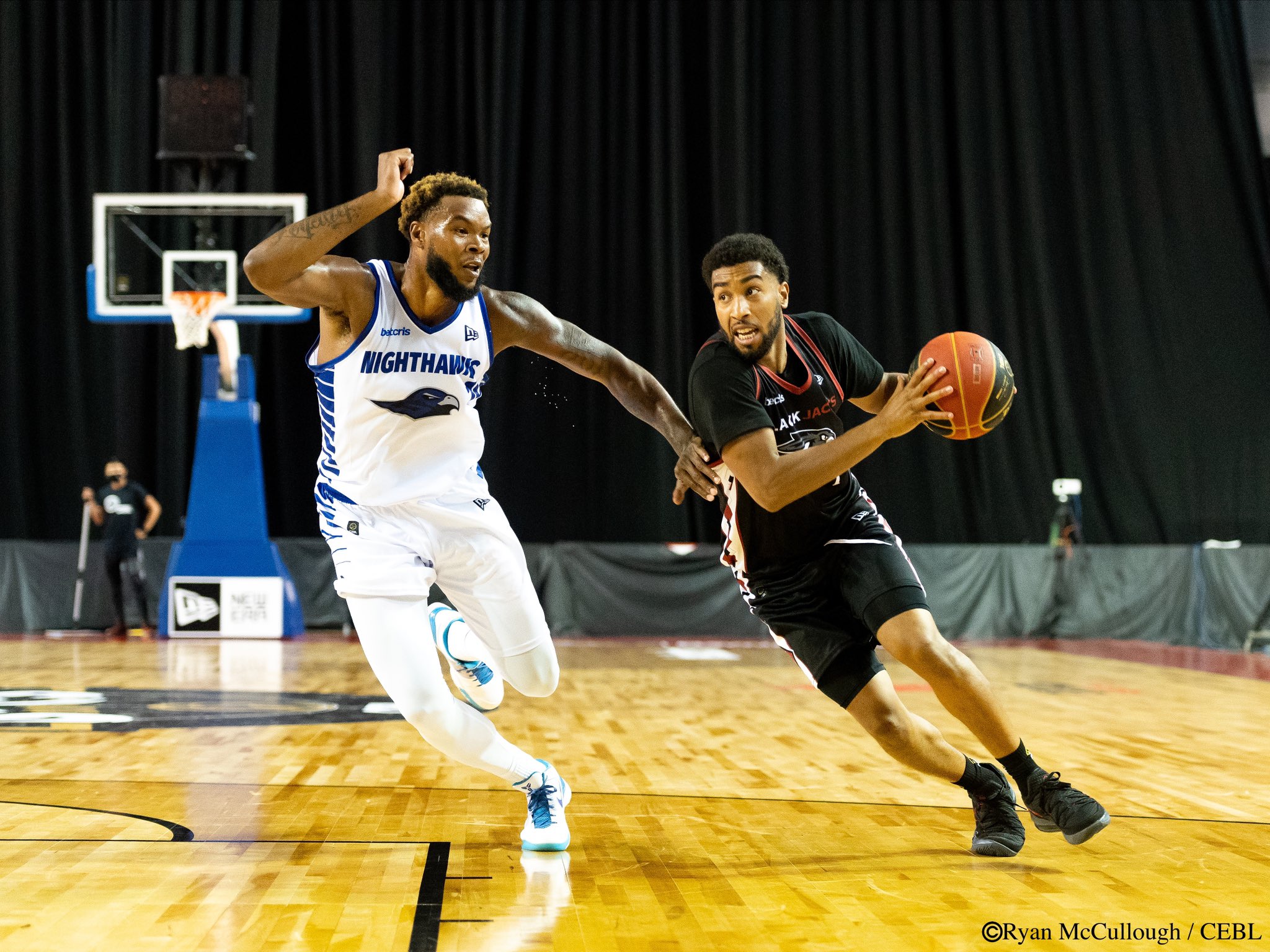 Broadly speaking, the first category can be summarized by whether a team got the shots they wanted. The most efficient ways to score are directly at the rim (lay-ups), from three, or from the foul line. Turnovers are the worst possible outcome for any possession, as it means your team didn't even attempt a shot. Somewhere between the first category (very efficient shots), and the second category (no shot at all), are less efficient shots coming from two-point range, but not directly at the rim. Again, generally speaking, if a team is able to execute their offence effectively against the opponent's defence they will get high efficiency shots. If they aren't able to, they won't.
Now, whether they hit those shots is another matter, and the answer to that question will vary from day to day. If you give Steph Curry the same ten threes in two separate games, he might hit six one night and three the next. That's a nine point difference on his team's final total, even though the team didn't play any better or worse in one game than the other. The difference is simply that Steph shot better in the first game. Therefore, I consider making or missing shots to be the second category – items which are outside of the team's control.
The above discussion can aid us in looking at the Guelph-Ottawa match-up. As mentioned, the game was very close through three quarters. In the table and graph below, I've divided each team's possessions (through three quarters) into the categories we just discussed. The cells highlighted in green represent efficient outcomes, while red cells indicate negative possessions.
Sure enough, the possession outcomes were very close through the first three quarters. In fact, Ottawa had slightly more positive and neutral possession. This aligns with the fact that the score itself was very close through three quarters. We can look at the same graphics for the fourth quarter.
Guelph had nearly twice as many positive possessions in the fourth quarter. Now, if you've gotten to this point, and you're saying to yourself that not all rim attempts or three point attempts are created equal – you're correct. A running hook at the rim over a shot blocker is certainly a much more difficult shot than an uncontested dunk on a fast break. The above analysis assumes those shots are equivalent. To fix that, I went through the game tape and tagged each shot attempt with various attributes, including how tightly contested the shot attempt was. Using this tagging, I then moved a significant number of rim and three attempts from the "positive" category to the "neutral" category. This exercise didn't change the analysis – as the teams were still very similar through three quarters, and Guelph was clearly the better team in the fourth.
So, what have we learned thus far? Essentially we've learned that very little about Guelph's victory was lucky. They were clearly the better team in the fourth quarter, and deserved to win the game. However, we still haven't fully answered the question as to what happened in the fourth quarter.
You may have noticed that in the graphics we've shown thus far, that the two teams don't have the same number of possessions. This is mainly due to the fact that I defined the end of a possession to be when a shot is attempted. Therefore, if one team has more offensive rebounds in a quarter they will have more possessions. This is especially evident in the fourth quarter, as Ottawa had 18 possessions compared to Guelph's 25. This discrepancy is due to Guelph's six offensive rebounds in the fourth quarter. Offensive rebounding rate is a good measure of a team's offensive rebounding efficiency. It's calculated by dividing a team's offensive rebounds by the total available rebounds. Guelph's offensive rebound rate went from 21.9% in the first three quarters, to an incredible 60% in the fourth quarter. The 60% rate means that out of the ten rebounds available at the Guelph offensive end, the Nighthawks claimed six offensive rebounds, while the Blackjacks came down with only four defensive rebounds. For context, the team average rate in the NBA is around 27%. Certainly, Guelph's offensive rebounding in the fourth quarter was a main factor in their ability to extend their lead.
U SPORTS Highlights in Guelph V Ottawa
Two U SPORTS products, Myles Charvis from Ryerson and Marcus Anderson of Carleton, were also integral in Guelph's fourth quarter dominance. They were second and third on the team in plus-minus, with Anderson at +18 and Charvis at +15. In the case of Anderson, this is almost entirely due to his impressive play in the fourth quarter. The 2018-19 U SPORTS Defensive Player of the Year was very much up to the challenge in his first CEBL game.
Anderson played nearly the entire fourth quarter as the primary defender on Phil Scrubb, picking him up in the full court and generally making his life as difficult as possible. Due to Anderson's work on defence, Ottawa found alternative ways to initiate their offence – generally through Johnny Berhanemeskel, Thomas Scrubb, or Olivier Hanlan. Without the involvement of their most effective creator, Ottawa's offence too often devolved into an iso option, ending up with low percentage shots. When Phil Scrubb did try to beat Anderson off the bounce, he had trouble doing so – Anderson drew an offensive foul on him early in the fourth, before deflecting the ball off Scrubb's knee on a later possession. A list of Anderson's involvement in the fourth quarter shows just how impactful and disruptive he was:
Deflection on Thomas Scrubb
Draws offensive foul on Phil Scrubb
Give and go assist to McCallum for three point play
Draws offensive foul on Thomas Scrubb
Deflection on Phil Scrubb, causing turnover
Defensive rebound over Kyle Landry, before leading fast break and feeding Kyle Johnson for easy layup
Offensive rebound, before hitting three later in possession
Steal on Thomas Scrubb, leading to Kimbal Mackenzie layup
It seems like only a slight exaggeration to say that Anderson was everywhere in the fourth quarter. The above list doesn't include two additional steals he would have had if not for late foul calls (one of the two fouls was given to Johnson). Anderson's +18 rating for the game exactly matches the Guelph margin of victory. His impact on the game was far greater than can be seen in the box score. Considering it was not only his first CEBL game, but also against a team that includes six Carleton Ravens, it's safe to say it will be a moment he will remember for a while.
The Summer Series continues with a double header tonight and tomorrow night, followed by a single game on Wednesday. The next few days should go a long way towards determining which of this weekend's outcomes were predictors of things to come.
Monday
5:00 PM: Hamilton (0-1) vs. Guelph (1-0)
7:30 PM: Edmonton (0-1) vs. Ottawa (0-1)
Tuesday
5:00 PM: Guelph (1-0) vs. Niagara (1-1)
7:30 PM: Fraser Valley (1-0) vs. Saskatchewan (1-0)
Wednesday
7:00 PM: Hamilton (0-1) vs. Edmonton (0-1)