Kingston,ON- The CEBL Summer Series is as unpredictable as ever, as we approach the halfway point. We've seen a few close games, but are still looking for our first down to the final possession, Elam Ending, thriller.
Since we last spoke:
The Honey Badgers and Stingers have notched their first wins,
The Blackjacks have not.
The Bandits defeated the Rattlers to become the final team with an unblemished record,
Hamilton, Niagara and Guelph finished off their three-way round robin in the most 2020 Summer Series-way possible (more on that in a minute), and
Edmonton held off Hamilton in the most exciting Elam Ending finish thus far.
On Monday evening, Hamilton displayed the very high ceiling that led many to think they'd be a title contender at the Summer Series. Briante Weber strutted his way to 17 points and 7 rebounds, while Owen Klassen (Acadia) and Duane Notice added 16 and 14 points, respectively. The Honey Badgers routed the Nighthawks, 97-71, in a game that was never close after the opening quarter.
Later that night, Edmonton got in the win column when they slipped by the winless Ottawa Blackjacks, with an 89-82 victory. It was an interesting tilt, and up to that point, was the game of the tournament. The Stingers jumped out to a 15 point lead late in the first quarter, before the Blackjacks started chipping away, cutting the lead to four at half-time, and then opening up a seven point lead of their own in the third quarter. A seemingly hobbled, Xavier Moon, rediscovered his cape just in time, and powered Edmonton to a strong fourth quarter and a seven point victory. Both teams came into the game 0-1, and it was clear from the intensity that they both understood how important it was not to drop to 0-2. The aforementioned Moon led Edmonton with 24 points and 9 assists, while Jordan Baker (Alberta) stuffed the stat sheet with 20 points, 14 rebounds, 5 assists, and 3 steals.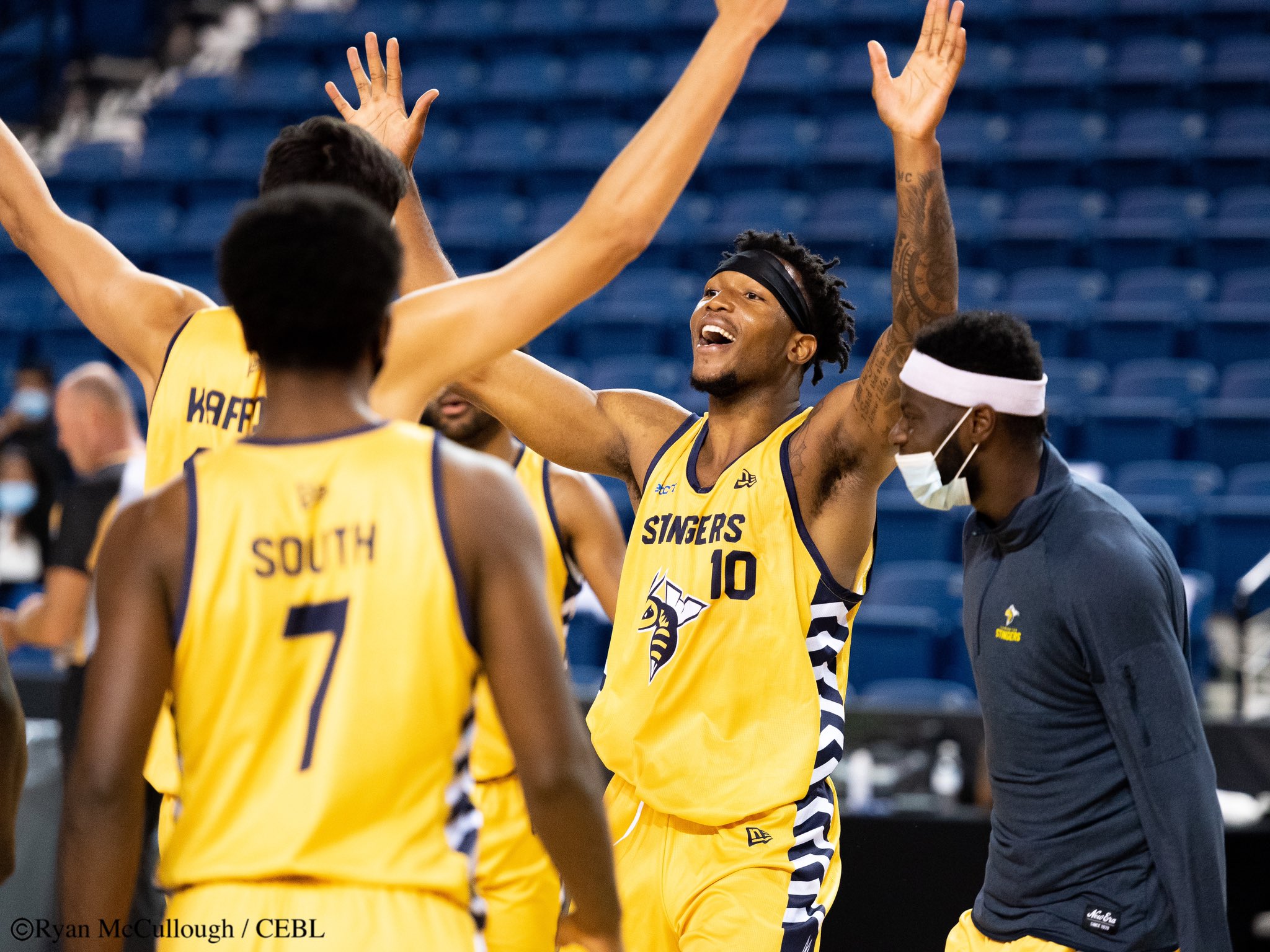 The next night, on the second night of a back-to-back, Guelph used a strong second half to put Niagara away 84-65. Tre'Darius McCallum led the Nighthawks in scoring with 18 points. After this game concluded, the southwestern Ontario trio of Hamilton, Niagara, and Guelph, had all played each other one time. The outcomes of their matchups exemplify the unpredictability of the Summer Series thus far:
July 25th: Niagara defeats Hamilton 97-85
July 27th: Hamilton defeats Guelph 97-71
July 28th: Guelph defeats Niagara 84-65
If they played those three games again, your guess is as good as mine as to what the outcomes would be.
The late game on Tuesday night was a battle for first place, between two 1-0 teams (Fraser Valley and Saskatchewan). Saskatchewan led for most of the game, in what was a very entertaining, chippy, affair. Their lead ballooned to as many as 14 in the second quarter, before the Bandits used a third-quarter run to tie the score. Fraser Valley then took the lead in the fourth quarter, and never looked back, winning the battle of unbeatens by an 87-77 score. Cam Forte continued his incredible play, scoring 30 points, to go along with 10 rebounds and 6 steals. The two-headed point guard monster of Junior Cadougan and Marek Klassen combined for 27 points and 6 dimes.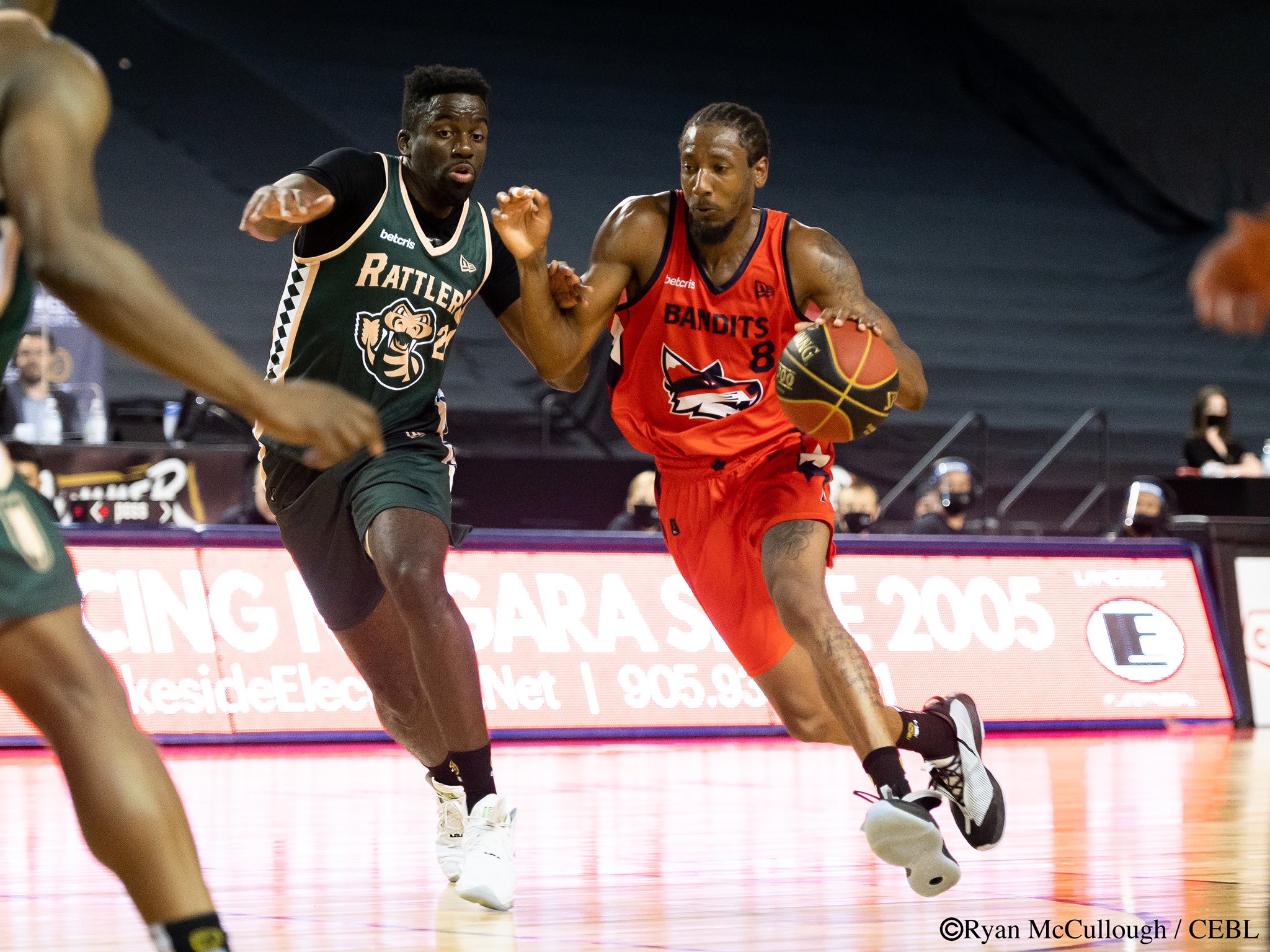 On Wednesday, Edmonton held off Hamilton's hectic comeback to win 88-82. For a game in which Hamilton's only lead was 5-4, it was incredibly entertaining. Edmonton led by as many as 19 in the third quarter, before Hamilton slowly started to cut into the lead. As Edmonton's lead shrank, the lid covering their basket seemed to grow. The Elam Ending can certainly do interesting things to the psyche of the leading team, and this was a prime example. The Stingers entered the Elam Ending ahead 77-66. Here were their first eleven possessions once the ending started:
Kamba missed three
Moon missed two
Baker two made free throws
Daniels offensive foul
Moon missed two
Kamba missed three, Peter-Mcneilly offensive rebound, Peter-Mcneilly missed three
Kamba made one of two free throws
Peter-Mcneilly missed three
Kamba missed three
Clarke turnover
Peter-Mcneilly turnover
By my count, that's eleven straight Elam Ending possessions with zero made field goals.
After a Peter-Mcneilly layup resulting from a very unfortunate injury to Duane Notice, a JV Mukama three brought Hamilton all the way back, tying the game at 82. On the next possession, Mathieu Kamba rescued Edmonton with an absolutely massive corner three. If that shot doesn't go in, it's pretty hard to see how Edmonton wins this game. Despite there being no car on the basketball court, anyone watching the game could see how quickly the wheels had come off for the Stingers. That three provided some very much needed confidence and brought them within three of the target score. On the next possession, Moon provided the dagger three, and the Stingers escaped with a victory.
After tonight's game, every team save Saskatchewan will have played exactly half of their Summer Series schedule. As we near the half-way point, we've seen the lone undefeated team, the Fraser Valley Bandits, become the clear favourite based on title odds. My model still claims that Niagara is the best team at the tournament, but Fraser Valley's title odds are higher due to the likely scenario in which they hold onto first place and claim a first-round bye. Despite a lot of hype coming into the tournament, the expansion Ottawa Blackjacks, are now the team most likely to miss the playoffs.
In the rest of the article we'll try to answer the following questions:
What is wrong with the Niagara River Lions?
Is Xavier Moon the fastest person on Planet Earth?
Can anyone stop Cam Forte?
Who is an under the radar USports player you should be watching?
What is wrong with the Niagara River Lions?
Quite possibly, not nearly as much as you think. Small sample sizes can do absolutely incredible (or terrible) things to any form of stats. With that being said, at first glance things in Niagara are really ugly:
The defence seems fine, although the improvement in defensive rating is deceptive since scoring is down throughout the league this year (that's a topic for another day). What jumps off the page is the 22 point drop in offensive rating. So, what's causing that drop? I'm glad you asked. There are two main culprits – poor shooting and turnovers.
We'll start with the easier component. In the 2019 season, the River Lions shot 74.6% from the charity stripe. Through three games in the Summer Series, they're shooting a paltry 64.2%. In the table below, is a list of every River Lion that has shot a free throw thus far at the Summer Series.
The "Makes" and "Attempts" columns are their actual makes and attempts at the Summer Series. Those columns sum to 34 of 53, or 64.2%. The "2019 %" column is each player's free throw percentage in the 2018-19 season. "Exp. Makes" is then the actual attempts multiplied by the 2019 free throw percentage. The expected makes sums to 39.7. When you divide 39.7 by 53, you get an expected percentage of 75.0%, which is slightly above Niagara's actual free throw percentage from the 2019 season (74.6%). This confirms that the drop in free throw percentage this season isn't due to the loss of players from last season, or the addition of new ones. Therefore, we should expect to see Niagara's free-throw percentage improve going forward.
A similar analysis can be performed on Niagara's three-point shooting. In the 2019 season, the River Lions shot 39.1% from long range. Thus far in the Summer Series, they're shooting only 31.5%.
Similar to what we saw in the free-throw shooting analysis, Niagara's expected three-point percentage is significantly higher than their actual percentage in the Summer Series. The expected percentage is similar to, but slightly below, Niagara's 2019 season percentage of 39.1%.
The turnover issue is a little more complicated. The actual formula for turnover rate is a bit complex, but it can be considered to be the percentage of total possessions in which a team turns the ball over. In 2019, Niagara's turnover rate was 15.0%. Through three games of the Summer Series, their turnover rate is a disappointing 21.4%. Unlike free-throw shooting, and to a great extent, three-point shooting, turnovers are a dynamic, fluid, aspect of basketball. A team's style of play, familiarity with teammates, and roles within an offence can all contribute to changes in turnover rate. What's strange, and what we will discuss more in a minute, is that the biggest culprits in the higher turnover rate are returning players, and given that Victor Raso is once again the Head Coach, you wouldn't expect the issues I described above to be ones that have haunted the River Lions.
Despite not being able to perform an analysis quite like the shooting percentages above, it's still interesting to compare turnover rates between this season and last.
We see three of Niagara's key players (Bell-Haynes, Pinson, and Boucard) at 30% or above. For reference, the highest player turnover rate in the CEBL last season was 25.9%, and only Fraser Valley (the last place team in the league), had more than one player above 20%. Considering that none of their new, or returning, players were above 20% last year, it seems reasonable to assume that the five River Lions that are above 20% will be able to bring their turnover rates down to 20% in the long-term. In order to be fair, we'll also bring Anderson and Muldrow's turnover rates up to 10%, as only a handful of CEBL players were below 10% last year. With those changes, we now have the bar chart shown below.
This seems like a more reasonable, if still conservative, longer-term projection. Boucard, Mullings, Ejim, and Watson are still significantly above their 2019 rates, while Robertson and Muldrow are well below. Using these updated rates would reduce the River Lions' Summer Series turnover rate from 21.4% to 17.2%. To show that this is very likely a conservative estimate, 17.2% would have ranked last in the CEBL in the 2019 season (Fraser Valley was last at 16.9%).
We can then apply the impact of each of these changes to Niagara's offensive rating.
Another version can be run, assuming a turnover rate equivalent to last year. This goal shouldn't be unrealistic, given Niagara's highest turnover player from last year is no longer with the team, and three of the four players they brought in were below 15% last year.
After factoring in defensive rating, these two scenarios correspond to a team rating between +2.6 and +5.4.
This analysis doesn't consider that fewer live ball turnovers will improve the defensive rating as well. I also didn't include the consideration that Niagara's offensive rebound rate is currently by far the worst in the league. Even if they creep up to "just barely last", this would tack on another couple of points to their team rating. When you start listing these additional considerations, it's not difficult to see how the current team rating would, in the long-term, creep back up to last season's +7.6. A six game season is nowhere near a big enough sample size for that to happen, but the point is that Niagara is far closer to being what many expected (the Summer Series title favourite) than their results have seemed to indicate.
Is Xavier Moon the fastest person on Planet Earth?
Yes, there's also a rumour that he's the fastest person in the galaxy. And he's one of the few players that have any chance at catching Cam Forte in the MVP race. Speaking of which….
Can anyone stop Cam Forte?
Until proven otherwise, the smart money is on "no". Through two games he's leading the CEBL in points and steals, is second in rebounding, and third in field goal percentage.
The man was an absolute terror on the offensive boards against Saskatchewan, and a joy to watch on the break. There aren't a lot of big men outside of the NBA, who can pull down a defensive rebound, lead a secondary break the length of the court, and finish it by backing down their defender before making a buttery smooth jump hook. His steal, followed by flush over Kevin Bracy-Davis belongs on any CEBL highlight reel.
Forte had nearly as many fast break points (10), as Saskatchewan did as a team (13), and was 10 of 13 at the rim. It will be very interesting to see what Blackjacks' Head Coach, Osvaldo Jeanty, has in store for him tonight. Thanks in large part to Forte, the Bandits are leading the Summer Series in points in the paint per game, second-chance points per game, and fast-break points per game. In paint points, and fast-break points, they lead by a very wide margin.
The Blackjacks are sixth, fourth, and third, respectively, in the number of paint points, second-chance points, and fast-break points, allowed per game. Whether they can halt Fraser Valley's dominance in those categories will go a long way to determining if they can get their first win, and hand the Bandits their first loss.
Who is an under the radar U SPORTS player you should be watching?
My colleagues, Griffin Porter and Jonah Dayton, have been doing an outstanding job highlighting USports players in the CEBL. Below are links to their two most recent articles.
I'll avoid the players they named in those pieces, and go with Mambi Diawara of the Edmonton Stingers. The 6'4" UCalgary grad has started all three games for the Stingers, averaging 18.5 minutes, 8.7 points, 3.7 boards, 2 assists, and 1 steal per game. Those are impressive numbers for a player in his first season of professional basketball.
Diawara split the first half of the 2019-20 season between Romania and Argentina. He starred in Romania Division A, averaging 24.4 points, 7.6 rebounds, 4.1 assists, and an eye-popping 3.9 steals per game over eight games.
He led the Calgary Dinos to a silver medal at Nationals in his final USports season (2018-19), averaging 17.9 points per game and earning first-team all-Canadian honours.
What's up next?
The Summer Series rolls on with one game tonight, followed by double-headers on Friday, Saturday, and Sunday. All games can be watched on CBCSports.ca.
Thursday
7:00 PM: Fraser Valley (2-0) vs. Ottawa (0-2)
Friday
3:00 PM: Niagara (1-2) vs. Edmonton (2-1)
5:30 PM: Guelph (2-1) vs. Saskatchewan (1-1)
Saturday
1:30 PM: Fraser Valley (2-0) vs. Hamilton (1-2)
3:50 PM: Saskatchewan (1-1) vs. Edmonton (2-1)
Sunday
1:30 PM: Hamilton (1-2) vs. Ottawa (0-2)
4:00 PM: Niagara (1-2) vs. Fraser Valley (2-0)