Kingston,ON- And just like that, there were four.
Quarter-final Thursday kicked off with Hamilton ending Niagara's season in heartbreaking fashion (for the second season in a row). It was a very exciting, if at times sloppy, back and forth affair. Niagara jumped out to a 15-point first-quarter lead, and looked incredibly impressive in doing so. The second quarter brought a change in momentum, as the Honey Badgers began to gradually claw their way back. By half-time, the Niagara lead was down to four, at 41-37. The third quarter was all Hamilton, led by JV Mukama (Ryerson) and Briante Weber. Early in the fourth quarter Hamilton had pushed their lead to 18, and most were starting to write "Hamilton" into the semi-finals on their brackets. With any luck, they were using pencil, and not pen, because Niagara staged a frantic comeback, and even briefly took a one point lead mid-way through the Elam Ending.
A few minutes later, after Hamilton had reclaimed the lead, Niagara's Trae Bell-Haynes made two free throws to tie the game at 83 (the target score was 84). Interestingly, it looked like Bell-Haynes attempted to miss the second free throw, but the ball bounced off the heel of the rim and went in anyway. I've wondered a few times during this tournament if missing was the optimal strategy in a situation like that one, but haven't had time to run the numbers. Either way, it was the kind of outside-the-box thinking that you like to see from a coach and team. On the ensuing possession, Weber broke hearts in the Niagara region when he banked in a tough floater to give Hamilton an 85-83 walk-off win.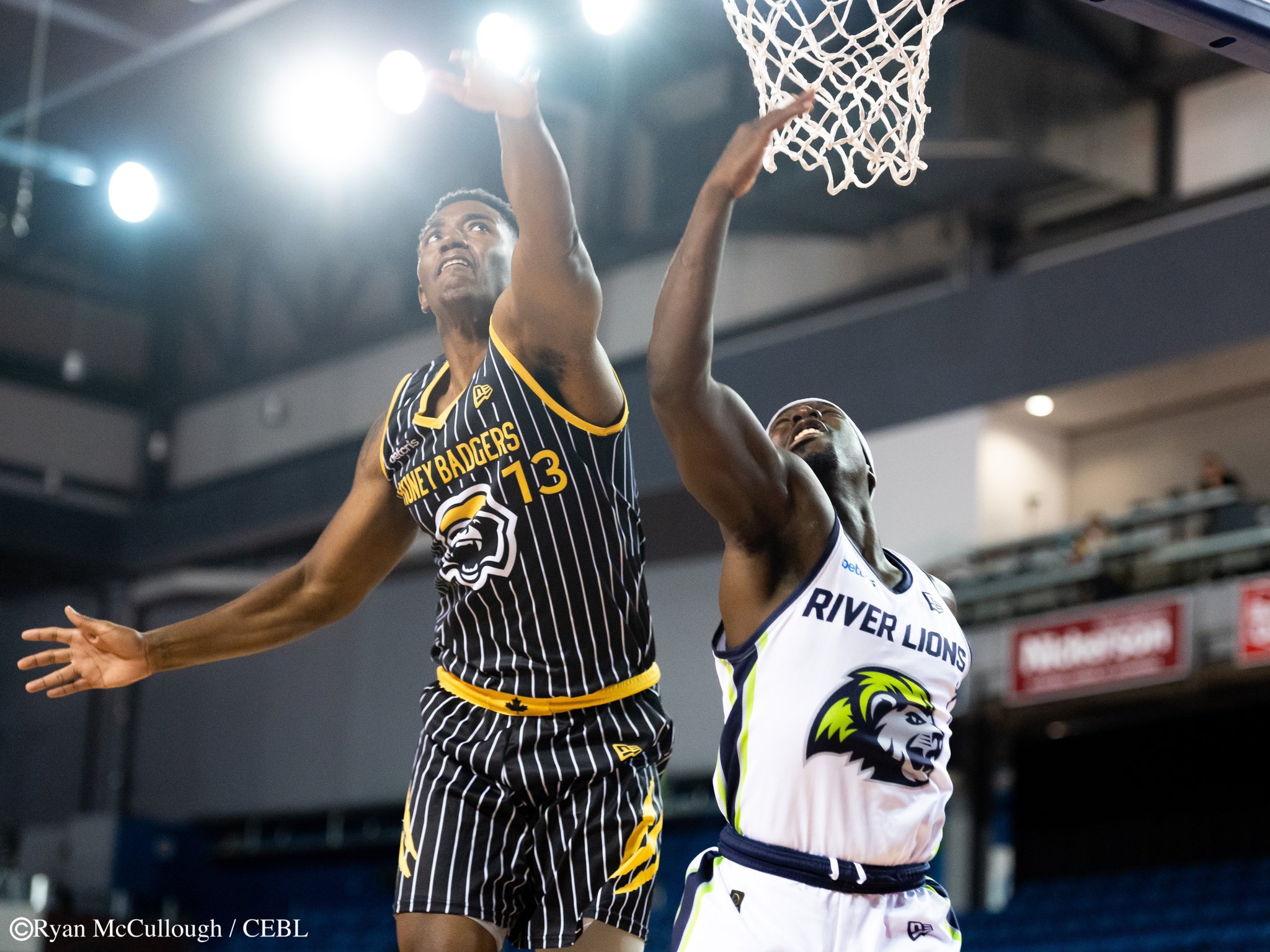 I've been hard on Niagara at times during this tournament, but you couldn't help feel that they deserved better in this game. The Honey Badgers shot 52% from three, while Niagara made only 25% of their long-range attempts. Even if you attribute some of the discrepancy to a higher degree of difficulty on the Niagara attempts, they'd need to be shooting with their weak hands while standing on their heads in order for the full 27% to really make sense. And in a game as close as this one, even a couple of additional Niagara makes (or Hamilton misses) would have made the difference.
With that being said, an argument could also be made that Hamilton should have won more convincingly. The Honey Badger zone defence was quite effective throughout the game, and I would have liked to have seen Coach Schmidt employ it more frequently down the stretch while Niagara was making their comeback.
Mukama led Hamilton with 23 points and eight rebounds. Manny Diressa (Ryerson) chipped in 10 points off the bench. Trae Bell-Haynes and Kassius Robertson once again led the River Lions, this time with 23 and 20 points, respectively.
The nightcap, while not quite as exhilarating, was a very good game in its own right. Ottawa took the lead mid-way through the second quarter, before proceeding to close out a very workmanlike 83-75 victory. Between the time that Tommy Scrubb (Carleton) gave Ottawa a 4-point lead with 6:13 remaining in the second quarter, and the beginning of the Elam Ending late in the fourth, Ottawa's lead was never greater than 10 points or fewer than two. It was one of those games in which Ottawa could never assert full dominance, but Guelph could never quite bring back. Every time Guelph brought the game within a possession or two, the Blackjacks would make a big play. Likewise, every time it looked like Ottawa might blow the game open, the Nighthawks were able to stop the bleeding.
Ottawa was led by Olivier Hanlan, Scrubb, and Johnny Berhanemeskel (Ottawa), with 19, 17, and 16, respectively. Tre'Darius McCallum had 17 for the Nighthawks, while Kimbal Mackenzie added 14.
Those two results set our semi-final matchups of #1-Edmonton vs. #4-Ottawa, and #2-Fraser Valley vs. #3-Hamilton. My model continues to see Edmonton and Ottawa as 1a and 1b in the Summer Series. After Ottawa's impressive victory over Guelph, the model projects Edmonton being victorious in only 51% of semi-final simulations. Fraser Valley is a slightly bigger favourite over the beat-up Honey Badgers, as they win 58% of the time. My model predicts that either Edmonton or Ottawa should be a favourite over the winner of the other semi-final. As a result, the current rankings based on title odds are Edmonton, Ottawa, Fraser Valley, and then Hamilton. Although given that only 10% separates Fraser Valley's title odds (23.5%) from Edmonton's (33.7%), there certainly isn't an overwhelming favourite.
#2 Fraser Valley vs. #3 Hamilton (Saturday at 1:30 PM ET)
Round Robin Stats
What happened the first time they met?
In the second-highest scoring game of the round robin, Hamilton hung on to upset Fraser Valley 102-96. It turned into a chippy game (but what Fraser Valley game doesn't?), and the Bandits looked out-of-sorts in general. It was the last game for Cameron Forte in a Fraser Valley uniform, so the issues surrounding his departure may have contributed to the Bandits' lack of focus and overall demeanour.
Manny Diressa, Caleb Agada (Ottawa), and Alex Johnson all scored in double digits off the Hamilton bench (18, 16, and 12, respectively). On the Fraser Valley side, this was the first game of the Jahenns Manigat break-out tour. He scored 22 (on 7 of 9 from the field), while Malcolm Duvivier added 17 off the bench.
What should you watch for?
As mentioned above, the tournament's leading scorer, Cameron Forte, played in the first match-up, but is no longer with the club. The Bandits have been a completely different team with and without Forte. The table below splits their offensive and defensive rating by the four games with Forte, versus the two games without.
These stats should be read with a slight asterisk (assuming you're willing to accept that an asterisk can be "slight"), because if four games is a small sample size, two is, well, twice as small. On top of that, both Guelph and Niagara (the two teams Fraser Valley played without Forte), struggled on offence during the Summer Series. There is very little chance that over the course of a season Fraser Valley would post a defensive efficiency rating of 82.8. With that being said, it was an impressive two games on the defensive end, and when you watch them play, you can understand why they might be better off defensively without their star forward.
The changes can also be seen when you look at their points in the paint and fast-break points per game, as well as how frequently they are allowing those buckets.
In order to understand the significance of those differences, here is where they would rank in the Summer Series if "With Forte" and "Without Forte" were actual teams (pretty terrible team names, if you ask me).
So, Fraser Valley has gone from one of the highest scoring teams in the paint and in transition, to one of the lowest scoring in both categories. Similar changes have occurred on the defensive end for the Bandits.
It's very rare that you see a team's profile change so much with the removal of one player.
The above analysis is especially interesting because Hamilton plays at the highest pace in the Summer Series, and averages the most fast-break points per game. Their pace is very similar to Fraser Valley's pace with Forte (86.3). That helps to explain why we saw such a fast pace, high-scoring game the first time around. This time we are more likely to see a contrast of styles, as Fraser Valley's pace without Forte would rank as the slowest at the Summer Series.
In the first match-up, Hamilton set a Summer Series record with 38 fast-break points. There have been only two other games in the Summer Series in which a team has exceeded 30. What's even more rare, is that very few of their fast-break points came off of Fraser Valley turnovers. This is where we circle back to what I mentioned earlier about how out-of-sorts Fraser Valley seemed in this game. By my count, 30 of Hamilton's 38 fast-break points came after defensive rebounds or after scores. Yes, I said "after scores". When re-watching the game, Fraser Valley's inability to communicate in transition and lack of awareness of shooters is very apparent (7 of Hamilton's 13 made threes came in transition).
Kyle Julius is a great basketball coach. If Fraser Valley doesn't come out this afternoon with a renewed focus on defence, communicating effectively, hustling back on defence, and taking away transition threes, I would be surprised. And if they can do that effectively, you have to like their chances of advancing to the finals.
Who should U SPORTS fans look for?
After Hamilton's quarter-final there's no way I can change my answer. Mukama is now off back-to-back 20+ point games. He is becoming a star before our very eyes. Honourable mention once again to Diressa and Owen Klassen (Acadia).
#1 Edmonton vs. #4 Ottawa (Saturday at 3:50 PM ET)
Round Robin Stats
What happened the first time they met?
The first match-up occurred when both teams were 0-1, if you can believe that. Edmonton was fresh off their only loss of the Summer Series (a 13-point opening weekend loss to Fraser Valley), while Ottawa had been blown out by Guelph in their opening game.
Edmonton jumped out to an early 15-point lead before Ottawa found their footing and started to take control. Near the end of the third quarter, Ottawa increased their lead to seven and looked like they might be on the verge of breaking things open. Unfortunately for them, the reigning CEBL MVP, Xavier Moon, took over in the fourth quarter and led the Stingers to an 89-82 victory.
Moon had 24 points and nine assists for Edmonton, while Jordan Baker (Alberta) had 20 points and 14 boards. Phil Scrubb (Carleton) had 20 points in his last game in a Blackjack uniform, while Thomas Scrubb and Olivier Hanlan had 15 apiece.
What should you watch for?
The Stingers have been the best team at the Summer Series thus far, and Xavier Moon has been their best player. They have enough good players (Baker, Travis Daniels, Mathieu Kamba, Adika Peter-McNeilly (Ryerson), to name a few) that it's not quite as simple as saying that if you stop Moon, you stop Edmonton, but it would certainly help. So, how was Moon successful in the first game? In order to answer that question, I diced the 31 possessions in which he was directly involved in a variety of ways. First, I looked at his success based on the primary defender.
Shooting percentage is fairly self-explanatory, although it won't match the box score because I considered his one trip to the free-throw line to be a "make". Success rate is makes plus assists, divided by possessions.
What does this tell us? I'd say it strongly suggests that Coach Jeanty should be using Kyle Landry or TJ Lall as the primary defender on Moon. After all, each of them got switched onto Moon for a possession and had a 100% success rate. What? You don't think that one possession actually means anything? Fine, maybe you're right. Let's group the rare defenders into a group called "Other".
Munis Tutu (Carleton) was the primary defender most often used on Moon, but it actually looks like Hanlan was the most effective. I should note, as I often do, that as a math guy I feel obliged to point out that everything we are looking at here is a very small sample size. One make or miss can swing the results pretty significantly. Nevertheless, analysis like this can give us an idea as to what Ottawa may look to do in this afternoon's game.
What about off-the-dribble versus off-the-catch, and why don't we break off-the-dribble into the direction he was going?
This is an especially interesting split. Moon's success rate was only slightly higher going right than going left. But if we dig a bit deeper, he arrives at that success through two completely different avenues. Going right, he was 7 of 10 from the field. I'd say that's pretty good. Going left, he was 0 of 4, but had success by racking up five assists. It certainly seems like Moon is looking to shoot/finish when going right, and looking to pass when going left.
We can also look at Moon's success based on the action Edmonton was running.
Not surprisingly, Moon spent the majority of the game either in ball screens or in transition and had an above 50% success rate in both actions. As with most players, he was less successful in isolations.
Finally, we can look at the different ways that Ottawa defended him in the ball screen.
"Reject" technically isn't a way to defend a ball screen. In this case, it's meant to indicate that Moon rejected the screen. When the ball is on the left side of the floor, Ottawa will "ice" the ball screen, forcing the ball handler to his weak hand and away from the screen. However, that's not what occurred in the clips I labeled "reject".
Similar to our discussion of right vs. left, Moon has a very respectable success rate no matter how the ball screen is defended. But we can see that fighting over the screen, and "catching" Moon on the other side with the screener's defender makes him less likely to hit a shot, and more likely to give up the ball. This makes sense, since there are defenders attacking him from two different angles in this situation.
The clips below show the three different defensive alignments I listed in the table above. Apologies for CBC's baseline camera – it does make the game very difficult to see at times.
What can we conclude from all of this? A player of Moon's quality is going to find some measure of success no matter how you defend him. With that being said, margins are so razor thin when great teams play, that holding an MVP to 18 points on 8 of 18 vs 24 points on 10 of 18 can be the difference between winning and losing. Ottawa might make Moon's life a little more difficult if they defended him more with Hanlan, were successful in forcing him left, and fought over on ball screens while "catching" him with a big.
Who should U SPORTS fans look for?
I'm going to cheat and recycle part of my answer from the quarter-final game. Blackjacks that were once, or are still, Carleton Ravens include Scrubb, Munis Tutu, TJ Lall, Isiah Osborne, Yasiin Joseph, Lloyd Pandi, and Jean Pierre-Charles. Pierre-Charles finished his collegiate career at the University of Ottawa, and is joined by ex-Gee Gee, Johnny "Buckets" Berhanemeskel. Today though, I'm going to choose Munis Tutu. He'll likely be matched up with Xavier Moon for portions of the game, and it should be a fascinating match-up to watch.
On the Stinger side, Jordan Baker is an obvious choice. He's a front-runner for CEBL Canadian Player of the Year, and never takes a possession off. Other alumni that may make an impact this afternoon include Adika Peter-McNeilly (Ryerson) and Mambi Diawara (Calgary). Brody Clarke (Alberta) is also a key piece for Edmonton if he's able to play.