Vancouver,BC- In a made for TV event, the Canadian Premier League is coming back. Canada's top-flight of soccer was supposed to begin in April, but was postponed due to COVID-19. All eight teams are now in PEI, getting set to play "The Island Games" tournament, to award the 2020 CPL Championship.
A full breakdown of the tournament can be found HERE, but the gist of it is that each team will play each other at least once, for a minimum of seven matches each.
The CPL is partnered with U SPORTS on many things, including the annual U SPORTS Draft, which leads to many current and former university soccer players throughout the rosters. Canada West, the university conference covering everything west of Ontario has the most players in the tournament, and many of them could be difference makers.
Not every CPL team is included in the list, since not every CPL team has a Canada West alum.
Pacific FC: Zach Verhoven, Jordan Haynes
UBC Thunderbird or Pacific FC? Ok, it's only two players, but it is still a significant number of former T-Birds on one team. Zach Verhoven and Jordan Haynes are both midfielders who were integral to UBC's multiple Canada West championships over the last half-decade.
Zach Verhoven MF/D (UBC Thunderbirds)
Verhoven played three year with the T-Birds, and became known as one of the wittiest wingers in Canada West. He's quick on the ball making him dangerous throughout the midfield, and he's always looking for a game breaking moment.
The former TSS Rover played with Pacific in their inaugural season, and was often the mainstay on the wing, whether in the midfield or on the backline. With fellow Whitecaps Academy grads Kadin Chung and MArco Bustos expected to fill the right wing roles, the crafty Verhoven could start the tournament on the bench, but he will be guaranteed to hit the pitch at some point in the tournament.
Jordan Haynes D (UBC Thunderbirds)
A late addition to the Pacific roster, Jordan Haynes only played two years with the T-Birds. The defender is another Whitecaps Academy graduate, a common theme on Vancouver Island, but he's had some time since his days with the MLS Academy.
The Calgary native has played at full-back for the T-Birds, as well as Vancouver's defunct USL team, and he's been very solid in that position. He has filled in at centre back on occasion, but he won't be dislodging Thomas Meilliur-Gigure or former U of T star Lukas Macnaughton from their position.
Haynes can get up the pitch, and he showed that with UBC with two goals and nine assist in 2019-20 en route to UBC's early exit from the national championships.
Pacific FC have a very interesting setup this season with a new coach in Pah Modou-Kah, and a revitalized attack. Although fellow UBC T-Bird and free-kick specialist Thomas Gardnder is not signed, the team has enough offensive weapons and a solid enough defence to do some damage in PEI.
Cavalry FC: Dominick Zator D (U of Calgary)
If you're sensing a theme already, you're not wrong. Dominick Zator, Calgary's lone Canada West alum also was released from the Whitecaps MLS Academy, just like the Pacific players above. Zator has also played with and against both Pacific players through his development, but he's recently hit a string of stardom with Cavalry.
After not being able to cut it with the Whitecaps, the former University of Calgary centre-back has found success back in his hometown. He was an important feature of the Cavalry FC side that was dominant throughout the year, before falling in the championship final to Forge. Mainstay centre back and Trinity Western alum Joel Waterman, who played alongside Zator has been sold to MLS' Montreal Impact, leaving Zator in an integral anchor role for Cavalry's defence.
Calgary's backline was solid all year, one of the best, and goalkeeper Marc Carducci played exceptionally when the defense was penetrated, even without Waterman, Cavalry will be a force to be reckoned with.
FC Edmonton: Connor James, Dylon Powley, Easton Ongaro
GK: Connor James (Alberta) and Dylon Powely (MacEwan)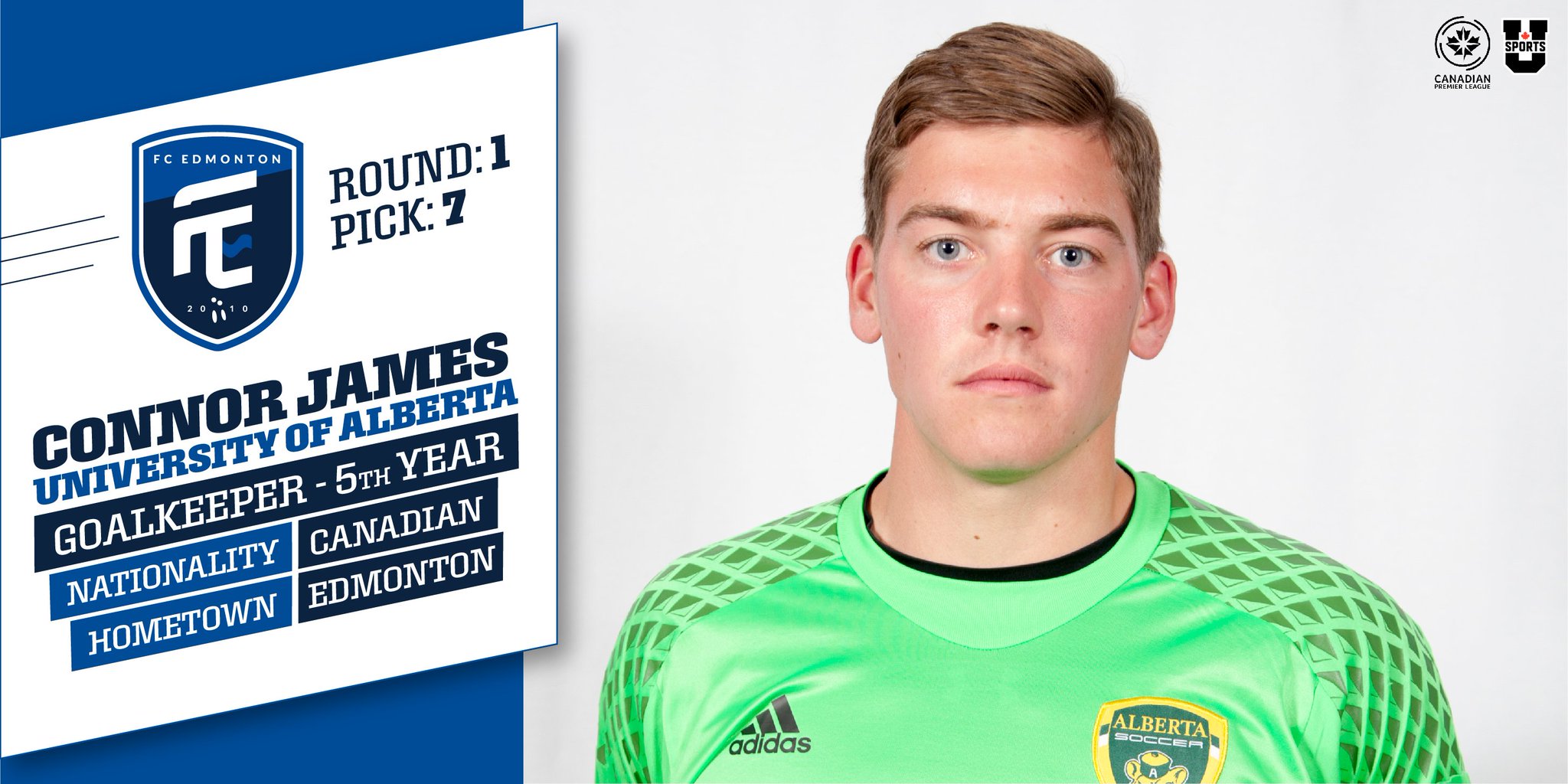 An all Canada West goalkeeping battle is continuing to brew for FC Edmonton. Connor James, the University of Alberta alum sophomore netminder is the incumbent keeper, but he'll be challenged again by U SPORTS rival Dylon Powley throughout the condensed tournament.
For James, it's his job to lose. After being the go-to man in 2019, he will begin the tournament, and after posting seven clean sheets as a rookie, there is no reason why he should struggle. However, James' life has been flipped upside down, as he's left his other career as an accountant for The Island Games. While the plan was always to play for FCE, the weird timing of the tournament causes some chaos- but what is 2020 without a little chaos?
Powely played six league games in relief of James in 2019 as well as two Canadian Championship matches, making 21 saves while registering one clean sheet in CPL action. He was solid when he got the opportunity, but there is no reason to think he won't be a backup again.
At MacEwan, Powely averaged over two goals against per game in his final season, certainly not great, but the Griffins were not the stingiest defensively either.
F: Easton Ongaro (Alberta Golden Bears)
A young Canadian goalscorer from a university team, Easton Ongaro is the reason why the Canadian Premier League exists.
The Edmontonian is expected to lead the line once again, coming off an inaugural campaign with 10 goals in 21 games. At six-feet, Ongaro is a threat for all types of goals Edmonton don't have the greatest wingers, but when they get a cross in, you can bet that Ongaro will be on the end of it.
Complementing Ongaro in attack is Edmonton NASL man Hanson Bokai, who somehow has settled into the CPL starting eleven. Bokai knows Jeff Paulus' system through years of playing under him, and is trained to the tendencies of Ongaro.
A little bonus push for Ongaro is that he was named to Canada Soccer's Olympic qualifying squad, before the tournament was called off for COVID-19.
Atletico Ottawa: Ajay Kabhra (Alberta)
The University of Alberta is very well represented across the CPL, with their latest satellite player being midfielder Ajay Kabrah. The 23-year-old winger spent last season with FC Edmonton, but is now wearing the red and white of the expansion Atletico side.
During his time with the Golden Bears, Kabrha scored 12 times in 63 matches, nothing too exciting, but decent nevertheless. He's unlikely to play a big role in The Island Games, but looking ahead to 2021 and a regular schedule, the former Golden Bear could be a cornerstone of future Atletico sides.
HFX Wanderers: Jake Ruby (Trinity Western Spartans)
If you're looking for someone who epitomizes the Canadian motto of "from sea to shining sea," then Jake Ruby is your guy. The North Vancouver born defender played with Canada West powerhouse Trinity Western before being drafted by HFX in the second round of the 2019 U SPORTS draft.
Also a product of the Whitecaps Academy system, Ruby is a versatile player who is best at fullback. He's a useful addition to Halifax, giving manager Stephen Hart the flexibility to play him all around the pitch.
He's played in U SPORTS as well as in USL2, but The Island Games will be his first exposure to professional football.