Toronto, ON- It truly is the most wonderful time of the year. With Christmas just eleven days away, and other holidays underway that means students are powering through exams, and in U SPORTS, this would have meant the end of the first half of the 2020-2021 season. Alas, we know that that is not the case.
Still, the holiday season is when we as kids made lists to ask Santa Claus or others to bring us a toy or game. So, in the spirit of stretching the metaphor as far as it will go, that is what I want to do today.
There are at least a few U SPORTS hockey programs in the OUA, Canada West, and AUS that I think could use something for the holidays. So in the spirit of the season, if I had to shop for something for these programs, here is what I'd get them.
Dalhousie Tigers – A potent penalty killer
The Tigers have to be hoping that they will find a player that can help them fix their penalty kill in 2021-2022. Dalhousie has finished last on the PK in the AUS in back to back seasons, ending this year with a success rate of just 71.1%. So they have to hope that Santa brings them at least one good defensive forward.
Laurentian Voyageurs – A new defensive strategy (or a new set of goalie equipment)
Continuing our defence theme, the Voyageur's most successful part of their 2019-2020 was how many shots they managed to give up. Mackenzie Savard had to make 760 saves during the season, which was tops in the OUA. So I would look to see if there was a new defensive strategy that they could buy or at least a fresh set of goalie gear for Savard who's equipment took a beating last year. Laurentian may not like this gift, and if they don't, they can always re-gift it to UPEI and Simon Hofley, who was forced to stop the puck a mind-blowing 907 times for the Panthers.
McGill Redbirds – A new jersey, maybe?
The McGill Redbirds already went through a rebrand in 2020, finally dropping the original Redmen name after student outreach. It was long overdue and gave them an excellent new name. .I feel like it would be complete if they were to add a brand new jersey to finalize the whole "new-era" thing.
UNB Reds – A little of that 2010's UNB magic dust
The Reds ran the show in the 2010's finishing with by far the most successful decade. So it is a pretty straightforward ask for them, keep having success in the 2020's. The Reds will always recruit well and play well, so it is just about ensuring they continue to get it done when it counts.
Guelph Gryphons – Some firepower upfront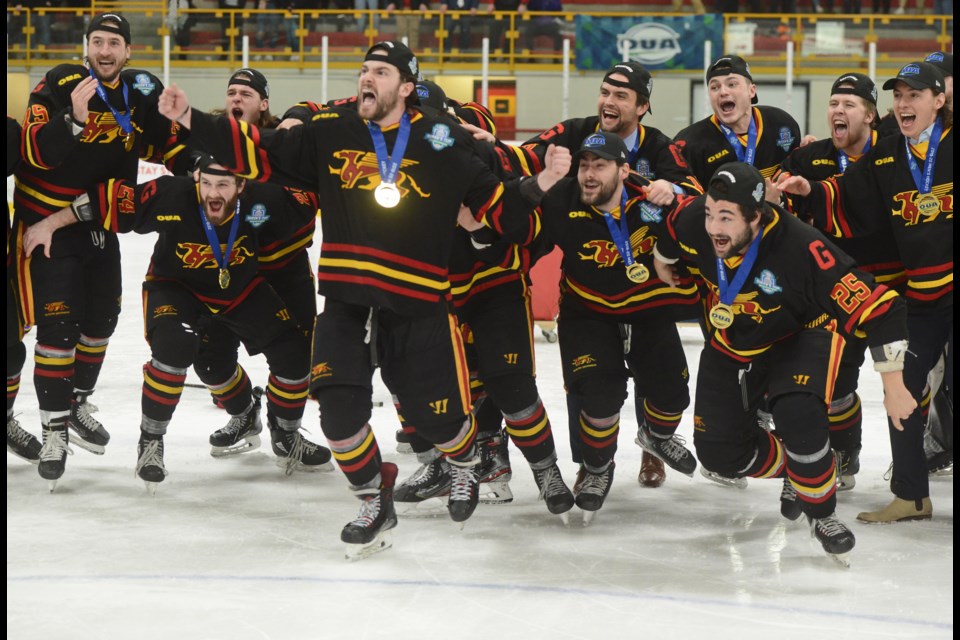 The reigning Queen's Cup champs will return to the ice next year with a neutered offence. Giordano Finoro, who finished fifth on the Gryphons in scoring in 2019-2020, will be the top returning skater. So Guelph will be hoping to find a top-line winger under their Christmas tree this year.
MacEwan Griffins and Trinity Western Spartans – A welcoming fanbase
The Griffins and the Spartans will enter 2021 after having their entries into Canada West delayed due to the pandemic. They have to be hoping that they can get a fanbase of students that is still excited to see them play, even a year later than initially planned. Both schools have fairly good athletic fanbases so I like to believe that when they enter Canada West next fall it will be with the level of support they would have had this year.
Ryerson Rams – A little of UNB's magic dust
The Ryerson Rams could use a little of whatever UNB had in the 2010s. To say the Rams underperformed in the decade would be an understatement. They have been bounced in the OUA West Semifinals in five consecutive seasons. So maybe if Ryerson and UNB want to secret Santa? UNB gives Ryerson some of that magic, and Ryerson gives UNB… I am not sure, a gift card to Loblaws maybe? I feel like those are equivalent.
So those are some of the things I think would be on U SPORTS hockey program holiday lists. The one thing that is on my list is that hockey returns in the Fall of 2021 with everyone safe and healthy, ready to compete for Provincial Titles and to eventually crown a new national champion.