Vancouver, BC- The third edition Canadian Premier League Draft did not disappoint, as 16 U SPORTS players heard their names announced by CPL managers, who selected them through two rounds.
Through the draft, several themes stood out, and each club had a clear idea of where they wanted to go with their selections. About half the teams stuck with one school or drafted locally, others looked across the country, and some picked from areas and schools that tend to go undervalued. Either way, while teams picked 16 players, many more talented student-athletes were left on the table.
Here's a breakdown of each team's selections.
FC Edmonton: Thomas Gardner, Jackson Farmer (UBC)
FC Edmonton has many Alberta school teams they could have selected from, but Alan Koch and co. opted to reach west, grabbing Thomas Gardner and Jackson Farmer from the UBC Thunderbirds. Both players played under Koch with the Vancouver Whitecaps USL side before going to UBC, a valuable connection that indeed came into play.
Twice selected by Pacific FC in past iterations of the U SPORTS-CPL draft, Gardner will have a shot at cracking the FC Edmonton lineup. He likely would have played with Pacific in the past two seasons if it were not for an injury and then a truncated season. Still, after lighting up the Canada West conference with UBC, he has every chance to make the Eddies opening day lineup. Gardner earned Canada West player and Rookie of the Year honours in 2018 and scored five goals in his most recent Thunderbirds season.
Gardner has been one of the most creative and shifty midfielders in U SPORTS over the last several years, but his shooting from long range is something that stands out. In 2018, when UBC hosted the U SPORTS National Championship, the North Vancouverite had absolute confidence as he walked up to the ball before often firing it into the net.
Jackson Farmer, on the other hand, is fascinating. He was the oldest player selected in the draft and could slide into the Edmonton lineup immediately. Once capped by the Canadian men's national team, the 26-year-old central defender has shown steadiness at the U SPORTS level, but whether he can be a force in the CPL is yet to be seen. At his age, he can make only so much improvement, but he could be a very safe pick for FCE.
Mock Draft: Correct on Farmer
Atletico Ottawa: Chris Malekos (CARLETON), Reggie Laryea (YORK)
Atletico Ottawa made U SPORTS selections for the first time in their short, two year history, and they stayed within the province with both selections. After conceding the second-most goals in The Island Games regular season, Carleton's Chris Malekos and York's Reggie Laryea will hope to solidify the Atletico defence.
While Malekos was left off many people's radars, Atletico Head Coach, Mista, was ecstatic to get the senior defender onto his roster. He was a U SPORTS first-team all-star in 2019 and helped Carleton to their third straight OUA championship, which they won against Laryea's york Lions.
For Laryea, although he did not win 2019's OUA title, he is a quality defender on his own. Canadian soccer fans will recognize the last name. His older brother is a member of MLS' Toronto FC, after being traded from Orlando City, who selected im in the MLS collegiate SuperDraft. He is a steady defender, not known for running at players like his brother is, and is an excellent pick, especially in the second round.
Expect both of these players to play some matches for Atletico Ottawa in 2021.
Mock Draft: Neither correct
Valour FC: Rayane Yesli (MONTREAL) Tony Mikhael (CARLETON)
Goalkeeper Rayan Yesli is big, standing at 6-foot-seven; he will be the tallest netminder in the CPL when he makes his debut. After relying on James Pantemis on loan from Club de Foot Montreal in 2020, Valour has Matt Silva and now Yesli in the net for 2021. Although inexperienced, the Montreal Carabins goaltender likely will make the roster.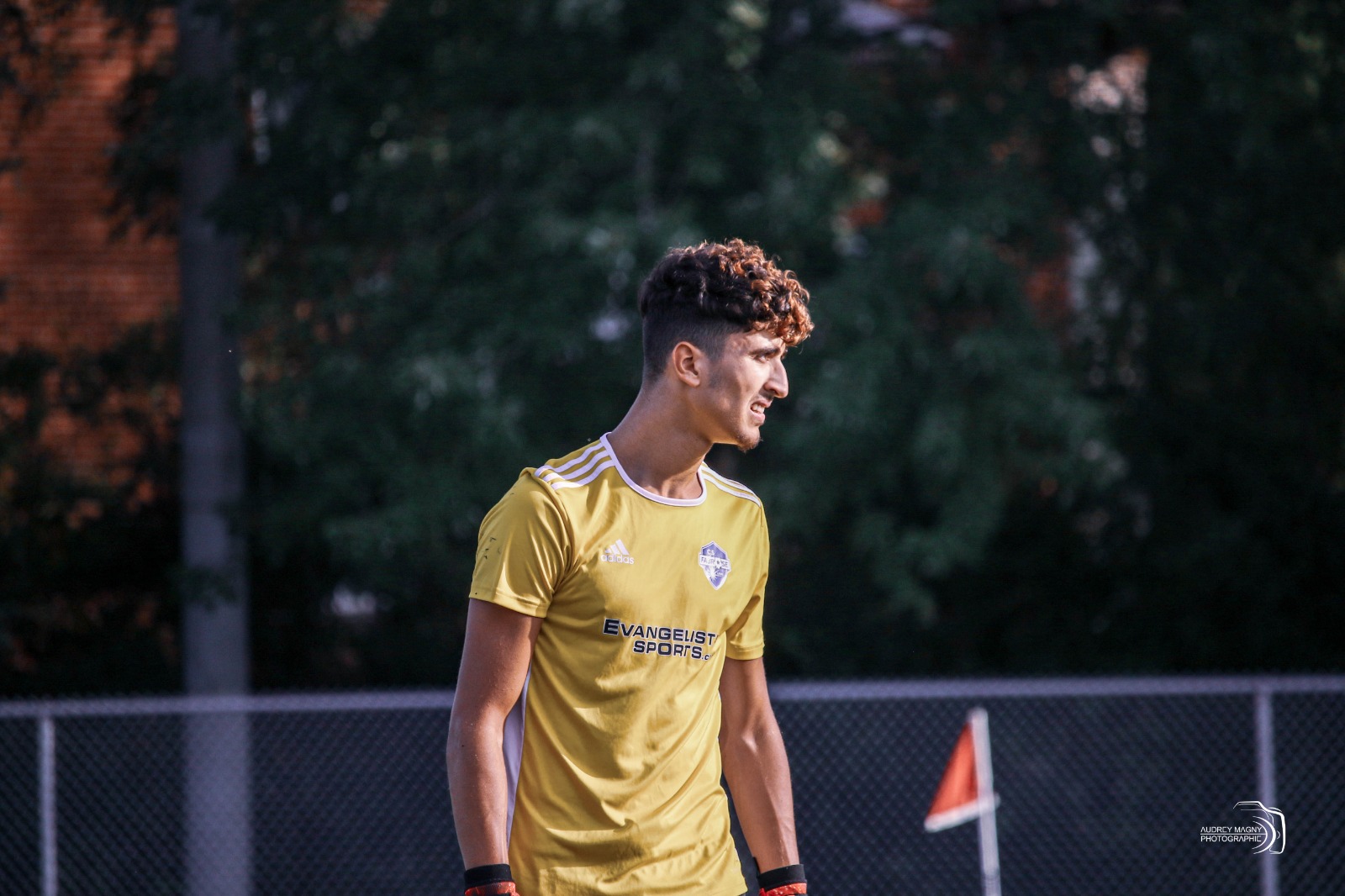 Tony Mikhael at 14th overall is a potential steal. The Lebanese U22 National Team called up the Carleton Ravens defender. A second-year OUA athlete, Mikhael does not have much of an offensive upside, but he has been one of the best on the back end on the ball. Head Coach Rob Gale spoke to Valours's website and said, "Tony is a good 1v1 defender, but he's very, very good with the ball. He's good at bringing the ball out and comfortable in possession. He's played in a back three system before, so he's versatile. Mikhael is also U21 eligible, something that could find him some playing time."
Yesli could play a significant role in Valour's upcoming campaign, while Mikhael, although talented, will likely play more sporadic minutes.
Mock Draft: Correct on Yesli
York United: Chris Campoli, Danial Rafisamii (ONTARIO TECH)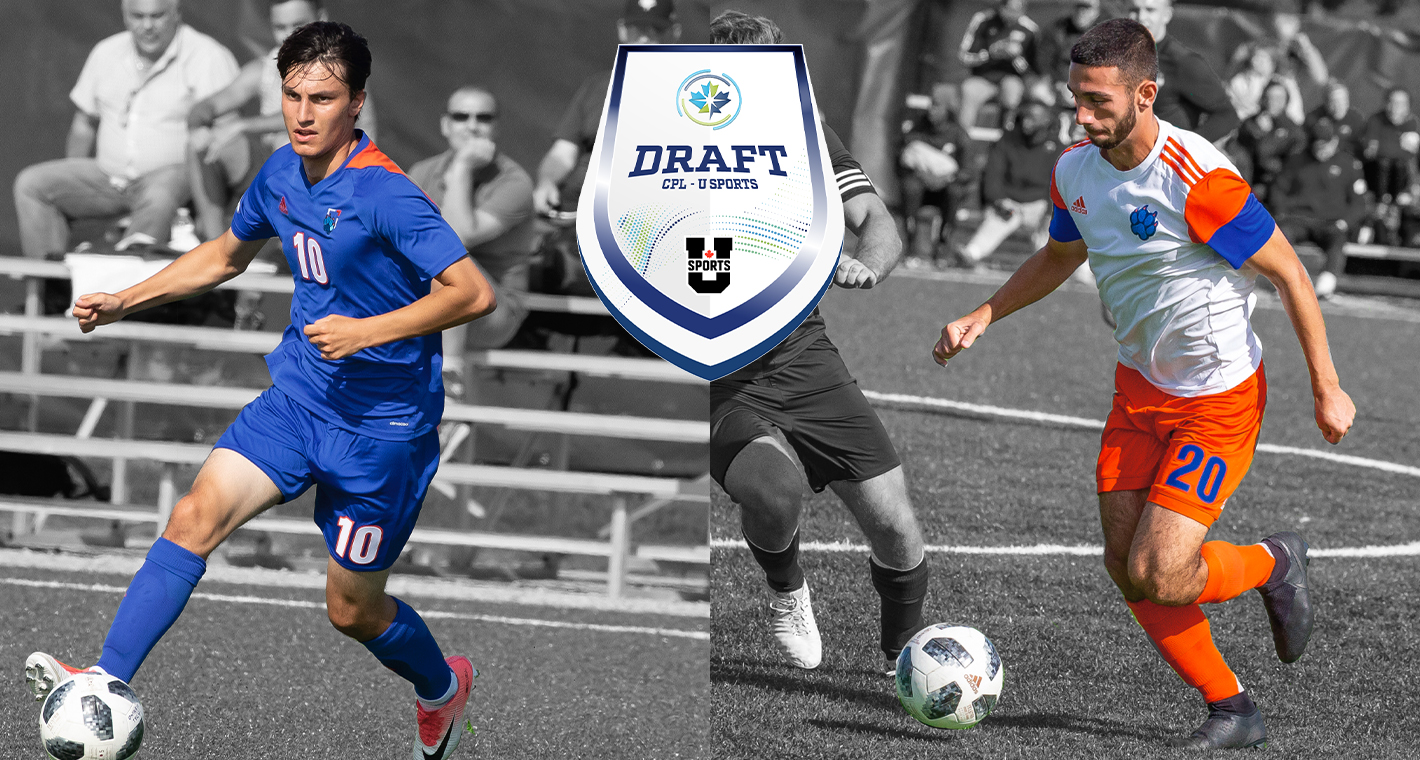 York United made history on Friday, selecting the first two players out of Oshawa's Ontario Tech University. The newly rebranded club took 19-year-old Chris Campoli in the first round and defender Danial Rafisamii in round 2.
Campoli is an absolute star at the U SPORTS level and could very well make the CPL jump this season. "They'll [York United] love him; he's a nightmare to play against," a player from another Toronto U SPORTS school texted me, following the selection. Campoli scored six goals and six assists in 2019-20 and was named an OUA all-star for his performances. The tenacious attacker has a good chance of finding success with United.
Rafisamii, comparatively, is a bit of a gamble. Also, 19, he has not dominated as much as Campoli, yet the attacking midfielder still has potential. He is a good transition piece, but he can disappear once he gets into the final third. Even with Campoli leading the line, Rafisamii only had a single assist. While it's unlikely he makes the York roster off the bat, holding onto his rights as he develops in U SPORTS is a good idea.
Mock draft: Netiher correct
Pacific FC: Chris Lee, Victory Shumbusho (UBC)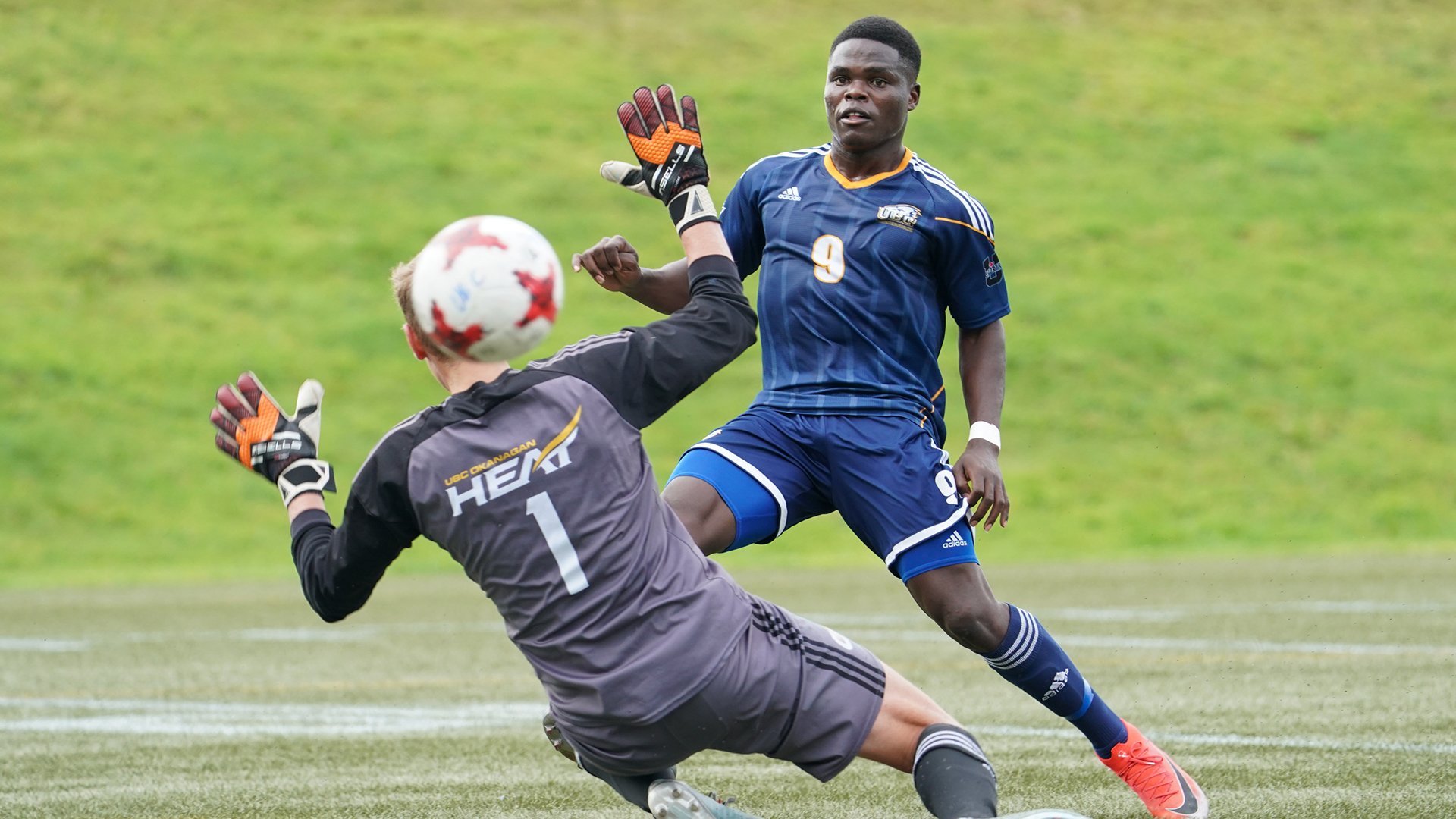 Through three CPL-U SPORTS drafts, Pacific FC has never picked out of province, and they stuck to that on Friday, selecting a pair of UBC Thunderbirds from across the Salish Sea. In our mock draft, we had these players heading to PFC, although their draft positions flipped.
Chris Lee is intriguing; at 19, he has never played a match in U SPORTS but drew the CPL's eyes while with the Vancouver Whitecaps Academy. He has been training with the Whitecaps and the UBC program over the first semester and is known to be a versatile, attacking defender. While he has yet to face CPL or U SPORTS competition, he has played against men with the Whitecaps U23 team. He will undoubtedly play for UBC at some point, meaning a U SPORTS developmental contract is likely the route he will take.
Victory Shumbusho is a thrilling, strong attacker. He led the Thunderbirds with ten goals in 2019 and has found success at the university level after a successful tenure with the Vancouver Whitecaps Academy. The fourth-year UBC arts student has garnered several honours as a T-Bird, being named to the All-Canadian Second team twice and earning the Canada West Rookie of the Year in 2017. With 27 goals in U SPORTS, Pacific FC could have a thrilling goalscorer on their hands.
Mock draft: Correct on both
Cavalry FC: Victor Loturi, Ethan Keen (MOUNT ROYAL)
While FCE selection Thomas Gardner has been picked in the CPL Draft twice before, he has not played a U SPORTS game. For Cavalary FC's first-round selection, Victory Loturi, that is not the case. The `19-year-old MRU midfielder played four games with Cavalry in 2019 before joining the Cougars. The midfielder knows the organization well and will not adjust to any new surroundings being a Calgary native. He also offers U21 minutes to one of the league's older sides. However, with Cavalry being so deep, he is most likely to be a depth player if he cracks the 2021 roster.
Ethan Keen is young and raw but has buckets of potential. At 18, he was the youngest player selected on Friday, and he is yet to play a U SPORTS match. He has been a visible player in Calgary's soccer scene over the last few years, playing with the Calgary Foothills USL side and making himself known as a quick, attacking defender. With Cavalry losing Jonathan Wheeldon and Dominik Zator on their defence and the CPL increasing the U21 required minutes to 1500, Keen could see some CPL match time before playing with MRU.
Mock draft: Neither correct
HFX Wanderers: Stefan Karajovanovic (CARLETON), Kareem Sow (MONTREAL)
If these reviews were draft grades, the HFX Wanderers would get an A+. Stefan Krajovanovic has been one of the best players in U SPORTS over his Carleton Ravens career, scoring 35 goals in 37 matches, while Kareem Sow plays a crucial part of the Montreal Carabins defence.
York 9 FC selected Karajovanovic last season, but he never joined the nine stripes due to the pandemic, although he did participate in training sessions with Atletico Ottawa. With Halifax, he joins a side that has done a stellar job of incorporating U SPORTS players into the starting XI, and the prolific forward could slide right in as well. With Corey Bent, another U SPORTS alumnus, already on the roster, HFX could make a championship run with their draft picks leading the line.
Sow is a third-year Mechanical Engineer student, and with a degree like that on the table, he will likely want to finish that off before committing to professional soccer full-time. Sow has been a critical part of an ultra stingy U de M backline that has helped them to the last two National Championship finals, including a win in 2018 at UBC and a silver medal on home turf in 2019. Look for Sow to join the Wanderers on a developmental contract before cracking their roster after graduation.
Mock Draft: Neither correct
Forge FC: Garven-Michée Metusala (CONCORDIA) José da Cunha (CAPE BRETON)
Forge FC have taken a hit at centre back this offseason, losing veteran David Edgar to retirement, and they addressed that need with two U SPORTS defenders in Metusala and da Cuhna.
Metusala, a 21-year-old freshman from the Concordia Stingers, has yet to play a U SPORTS game but played matches in 2020 with AS Blainville of the PLSQ, who won another league title. A strong passer out of the backline, he will be an important piece to Forge's attack, moving the ball to their midfield, anchored by Kyle Becker, wh can distribute to the attackers. While he has limited U SPORTS experience, his time with Blainville and the CF Montreal academy is valuable.
Out of the Cape Breton Caper, Jose Maria Riberio da Cunha is an exciting prospect. He was the only international player drafted on Friday and also the only CBU player. For CBU, a team that has put thwarts of players into the CPL, it was surprising to only hear da Cuhna's name. The Portuguese defender was with the Sporting CP academy before joining CBU and was certainly trained with some quality. However, drafting international players through the draft is a peculiar move with limited international roster spots, usually used for more established personnel.
Mock draft: Neither correct