VANCOUVER, BC- When the uOttawa Gee-Gees fell in overtime to the Guelph Gryphons in the 2020 Queen's Cup final, Kevin Domingue, the team's leading scorer, never thought his next final would be in England.
13 months later, Domingue won the Elite Ice Hockey League Elite Series Championship with the Nottingham Panthers.
In his first year of pro hockey, he won a title alongside a player the Gee-Gees knocked out of the 2020 OUA playoffs in UQTR graduate Christophe Boivin, as well as McGill alumnus Dominic Talbot-Tassi.
"I had some thoughts about it, for sure. I even told Boivin and Tas before: 'last year I was in the final and lost in OT," he said. "It was the same kind of game, a very fast-paced game, so you try to make the least mistakes possible and keep the puck away from your zone. At Guelph [home of the 2020 Queen's Cup], it was Olympic size ice, and here it was too."
The Nottingham Panthers, alongside the Manchester Storm, Sheffield Steelers, and Coventry Blaze, competed in a month-long competition dubbed the "Elite Series," featuring four of the clubs from the EIHL, usually made of 10 teams from across the United Kingdom.
While many U SPORTS players seek opportunities in North America after graduating, some head to Europe and the EIHL is a common destination. There were six former U SPORTS players in the Elite Series alone and at least one on each team.
"You look at guys who stood out from the tournament, and most names come from U SPORTS," said Talbot-Tassi . "We all played well and were some of the good players in that tournament."
---
For Domingue, it was not the year that he expected to have. Still with remaining eligibility, the then 24-year-old had his sights set on another year as a student-athlete in Ottawa while doing his best to help the Gee-Gees to the U Cup for the second year in a row.
When the season was cancelled, "Dingo," as his teammates know him, signed a deal with the ECHL's Tulsa Oilers. However, after just 11 games in North American minor pro, the club released him.
"It was weird because it was not my plan that year, so I had to adapt to the situation, and I was lucky my agent found this [Tulsa] opportunity and unfortunately things didn't go my way, and that's a part of life too," Domingue recalled about his time in Tulsa. "It was a great two-month experience, but you don't always have success."
A few weeks after being released, he was on a plane to England to join the Panthers for the Elite Series.
Domingue had never been to England before, but when he got a call from McGill hockey alumnus Guilliame Doucet to join the Panthers, he was entirely devoted to joining the club for the elite series.
Doucet, who played for the McGill Redbirds from 2007-2011, is the director of hockey operations with the Panthers and can be credited for bringing not only U SPORTS players together, but also the club's success in the Elite Series.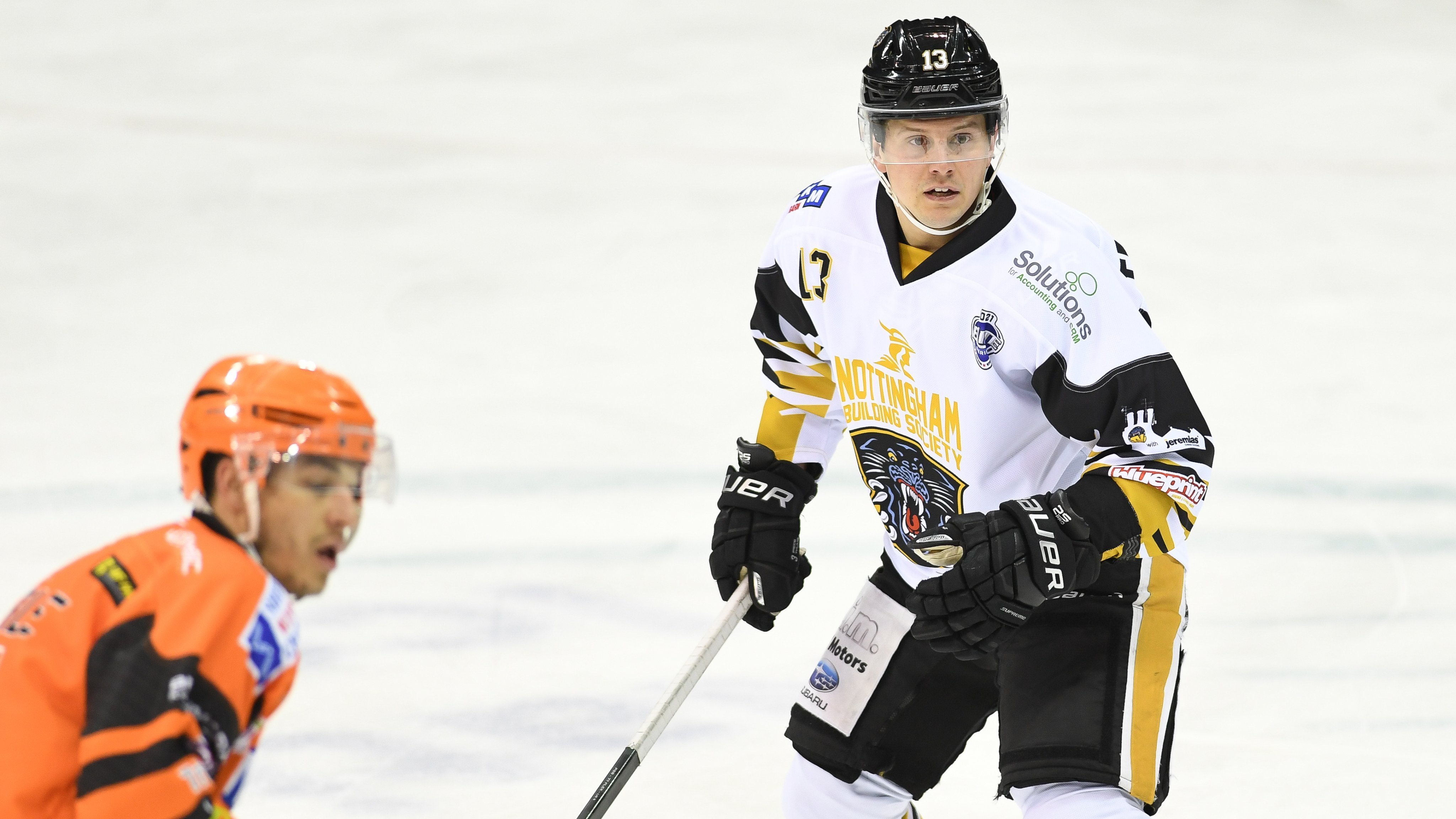 The McGill connection rang true again in getting Talbot-Tassi across the Atlantic Ocean. However, the all-time leading scorer for defenceman at McGill was in an extremely different situation than Domingue.
"I was not thinking about hockey, but Doucet contacted my agent to ask what I was up to," said Talbot-Tassi. "I thought, 'Oh, okay, I haven't skated in a while…' I knew Doucet, and I was still interested. I still had the passion and felt like it would be a good opportunity for me."
Within a few days, Talbot-Tassi was back in a hockey mindset and on a flight to Nottingham with Domingue and UQTR's Boivin.
It's almost too good to be true, but when the three U SPORTS alumni joined each other on the plane, they immediately hit it off. While there was an acute rivalry between the three from competing against each other, they all knew what they were bringing to the table for the shortened season.
"Before the tournament, I was poking the bear a little bit about eliminating him [Boivin] in the playoffs last year," said Domingue, recalling one of his first encounters with Boivin. Meanwhile, Talbot-Tassi knew the outstanding hockey players he was joining and had heard good things about them in Canada. "There's something special with hockey players you can go from hating someone to actually being best friends with them."
Although the tournament was only a month, Nottingham staff knew where to find each of the Canadians; they were always together, eventually earning themselves the nickname, "The Three Amigos."
While Spanish is not any of their primary languages, their teammates gave them the nickname, and it stuck. "We would always walk in together, have our meals together, we were just the three French guys," said Talbot-Tassi.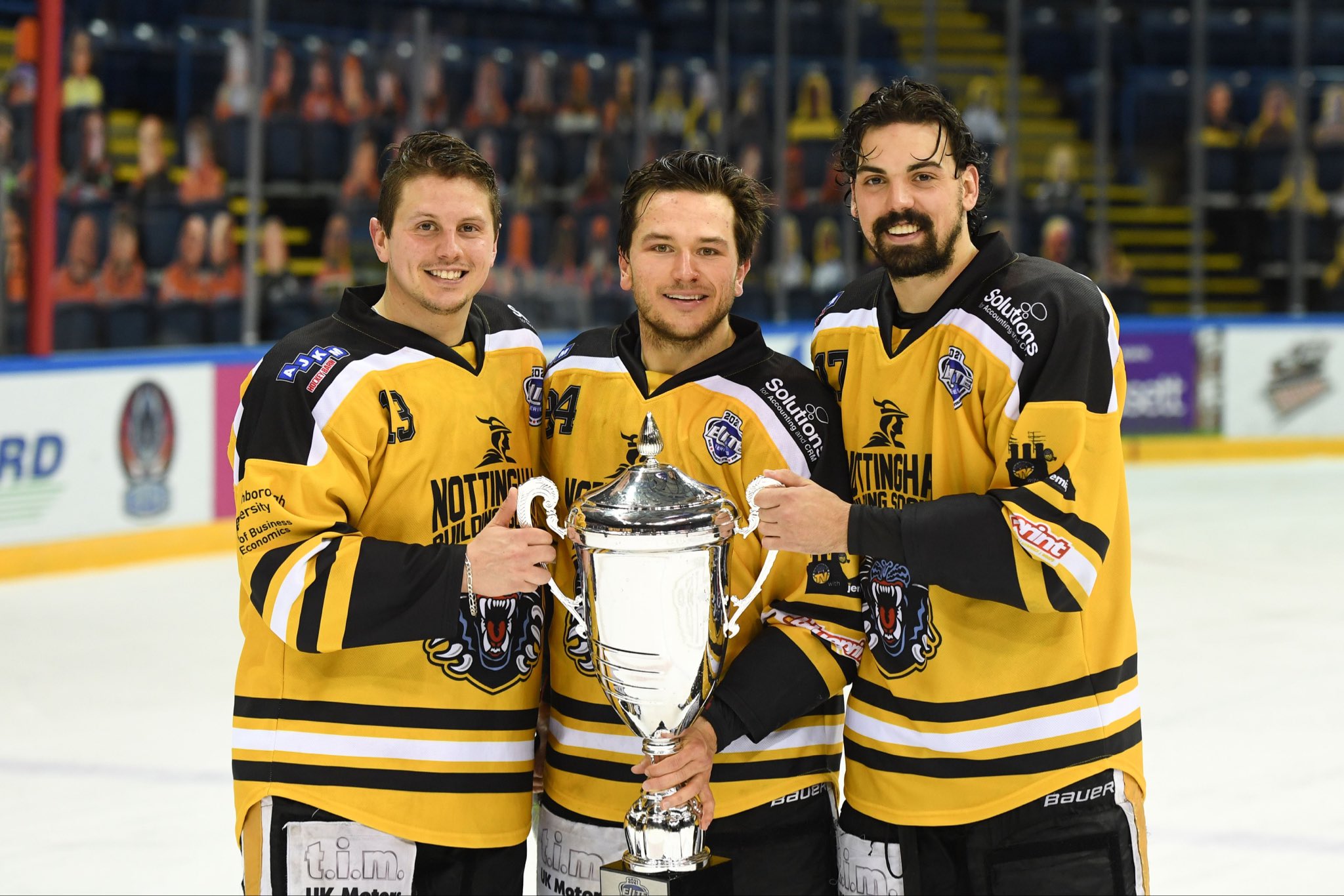 For "The Three Amigos," the Elite Series schedule was a daunting task, compared to the relatively light U SPORTS calendar. In the OUA, they played 28 regular-season games between mid-October and mid-February; meanwhile, they played 16 games in less than 30 days in the Elite Series.
"Honestly, I was expecting that I couldn't make it through, but I felt pretty good, and we didn't have time to get sore between games," said Talbot-Tassi. While Domingue noted, " 'Do you know when people say take care of your body?' I took it word for word, every day, you're on the ice, and every day, you need to take care of yourself."
Of all the games they played, the 15th and 16th will be ingrained in their memories for decades. Domingue scored in his professional debut against Sheffield, but in Nottingham's final game of the season, he helped seal the championship with an empty-net goal.
Minutes later, the buzzer rattled through the empty Motorpoint Arena, and the Panthers were Elite Series champions. "Your body just relaxes. I have no words to describe it," Domingue recalled of the final moment. "We had the champagne; that was a great moment to shake that bottle and finally win something."
A year ago, none of Domingue, Talbot-Tassi or Boivin thought they would be league champions in England, but there they were, spraying champagne in an empty arena roughly 5,240 kilometres away from the Canadian capital.
At the end of the tournament, U SPORTS players established themselves as critical contributors, taking up four of the top ten on the scoring leaderboard, with Boivin sitting second.
Adaptation, adjustment and care were all critical to the "Three Amigos" success over the year. Still, at the end, when they got to line up for a photo with the EIHL trophy, it was the best possible end to an up and down season, something not lost on Domingue. "I was very privileged and lucky to find a place to play like Nottingham."