Vancouver, BC – To say that it has been a long-time since the Fraser Valley Bandits played at home is an understatement. With COVID-19 forcing the 2020 CEBL season into an Ontario-based bubble, the Bandits have not hosted a CEBL game at the Abbotsford Centre since 2019.
That long streak stops on Saturday, as the Saskatchewan Rattlers visit the Bandits to open each club's 2021 seasons.
With immense roster turnover in the Canadian Elite Basketball League each season, only one player, Marek Klassen, remains from the last time Fraser Valley played on home court.
The Bandits have been busy this offseason, recruiting talent from across North America while also adding star players with U SPORTS experience through the draft and free agency.
Fraser Valley picked up Brandon's Anthony Tsegakele and Alberta's Adam Paige through the annual U SPORTS draft, both of whom will be on the opening night roster. Meanwhile, 2019 CEBL Champion and former CCAA and OUA star Alex Campbell put pen to paper in free agency. Former Cape Breton Caper Shaquille Keith also suits up for the Bandits in 2021.
Adam Paige's BC return
For Surrey, BC's Adam Paige, getting selected by the Bandits was his idea for a perfect summer, even though joining the Edmonton Stingers could have allowed him to stay in his university's city.
"Fraser Valley was my number one option; I wanted to get home to BC for the summertime," said Paige after Thursday's practice at the Abbotsford Centre. "Both ways would have been with good teams, but Fraser Valley was my number one choice, and it worked out perfectly."
The Golden Bears finished atop the Canada West regular season standings in 2019-20, and Paige played a critical role, averaging 12.9 points per game to finish as the team's second-leading scorer.
The 6-foot-8 forward was a high-school star with the Semiahmoo Totems and has experienced playing in front of large crowds, even though that won't be something in the cards this summer. The Totems routinely appeared at the BC High School Championships in Langely, BC, where Paige first learned to play under pressure before playing at U SPORTS Final 8.
Both he and Tsekagele are with the Bandits as developmental players, maintaining their U SPORTS eligibility while getting a taste of the professional level in the offseason. Paige knows that, as much as this CEBL season is about winning a title in the Fraser Valley, it is also a learning experience for him to improve with Alberta in the fall.
"The pace and the skill are a big step up from U SPORTS practices, there's way more energy, and it's way more competitive," Paige waxed about the preseason. "I'm fortunate enough I get to do this in the summer and take this experience back to Alberta in the fall."
Alex Campbell looks for another title
As the sun rises on Paige and Tsegakele's pro careers, it is already mid-afternoon for Alex Campbell, the former Windsor Lancers guard, who signed on with the Bandits earlier in June.
While Campbell won the 2019 CEBL Championship and Finals MVP Award with Saskatchewan, his path to the Fraser Valley is one of the more intriguing ones in Canadian basketball.
Campbell began his collegiate career with the CCAA's Niagara College, before moving to Windsor and into the professional ranks with the National Basketball League (NBL). With experiences in two Canadian pro leagues, two post-secondary leagues, and Europe, he is a standout example of building a career in Canada's evolving basketball scene.
"It feels good to be an example of that you don't always have to go the NCAA or the prep school route; you can become a professional by playing university and collegiate basketball in Canada."
An OUA First-Team All-Star with the Lancers, Campbell averaged 15.6 points and 4.8 rebounds per game for the 2019 Rattlers and brings confidence to the Bandits at the guard position, alongside Klassen.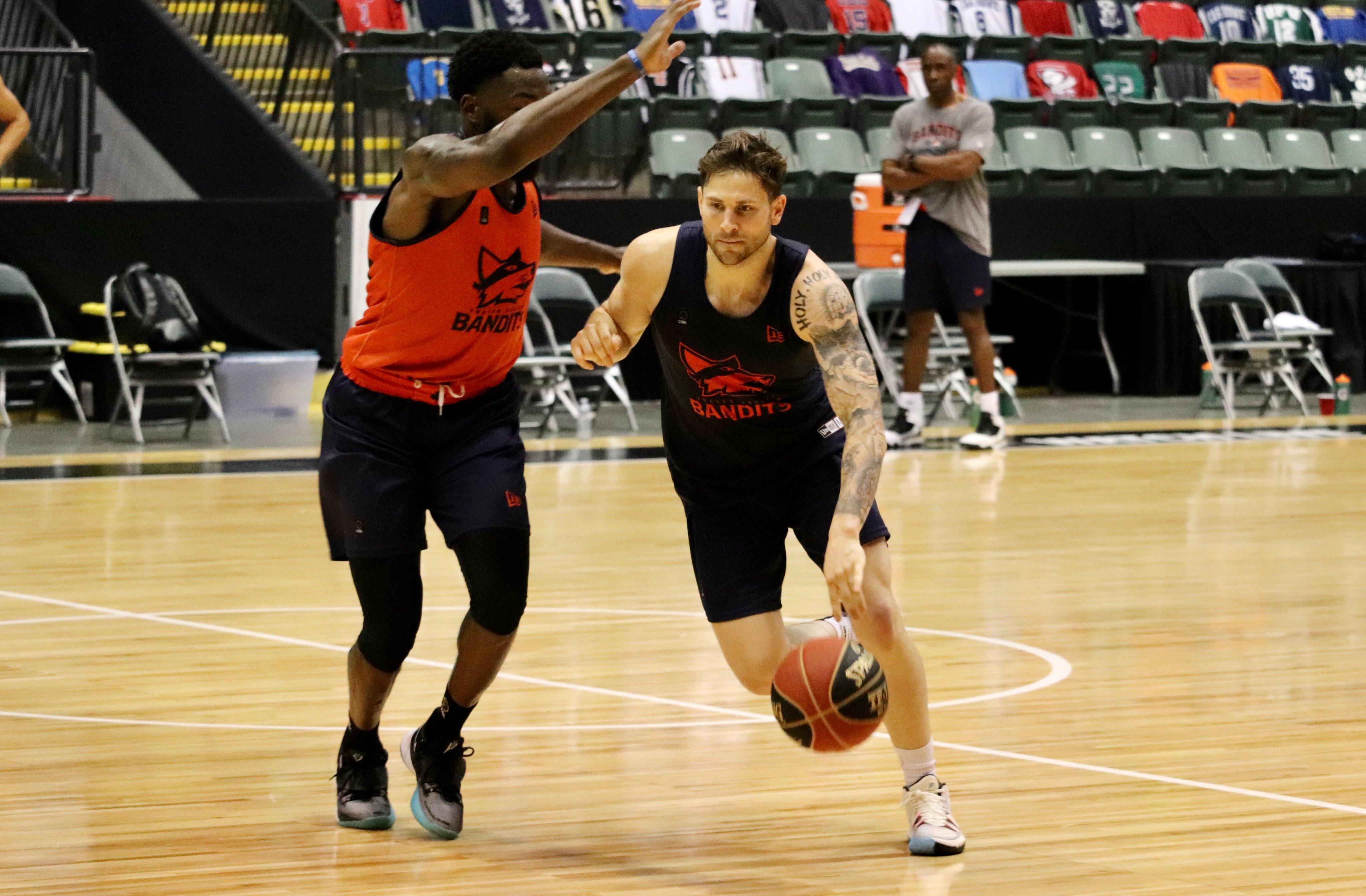 "Alex is a true pro. He is a proven winner and a consummate leader. He is a player I have been following and impressed with since his time at Windsor," Julius said in a club statement in June. "He is another highly underrated and undervalued Canadian guard. Alex and Marek [Klassen] in the backcourt is as good as any combo of guards in the league."
Making his Bandits debut against his former team, Campbell will undoubtedly look to regain the form he had in his final game as a Rattler.
The Weather
With experts forecasting the Fraser Valley's temperatures to soar upwards of 35 degrees celsius on Saturday afternoon, the Bandits and Rattlers will likely be tested by the elements. Still, Paige and the Bandits are prepared for heat on the court while also in the air. "It's going to be hot, but we've got AC in here, and we'll be ready."