Vancouver, BC- Another week, another set of top performances from current and former U SPORTS athletes in the Canadian Premier League.
Let's get right to it—the top three U SPORTS moments of the week from the CPL's second week.
Tony Mikhael impresses with Valour
Valour FC welcomed back fans to IG Field this week, and that is one factor that has aided their ascent to the top of the CPL table after four matches. Also helping them to the top is former Carleton Ravens centre-back Tony Mikhael, who has appeared in three games for the bubble hosts, making his first two starts in the last two games.
A Lebanese youth international, Mikhael had played in important matches before but had never set foot in a professional game. However, that does not seem to matter for the 21-year-old, who looks right at home with the league's hottest team.
In Valour's midweek loss to York United, their first defeat of the season, Mikhael was a particular bright spot. He made four clearances, retrieved two loose balls and won each of his eight duels, all while passing at a 76% completion rate. In the first game of the week against Atletico Ottawa, he took three shots.
Those are good stats for any player in the CPL, but for a U SPORTS rookie on the most in-form team, they earn him a place in our top-three moments/performers.
Dominick Zator gets on the board
Former University of Calgary Dino defender Dominick Zator has scored some pretty big goals in his brief time in professional soccer. He scored against the Vancouver Whitecaps in the 2019 Canadian Championship, pushing Cavalry to make history as the first CPL team to defeat an MLS side.
Now a member of York United, the centre-back did it once again, scoring a goal with his head to push York to their first win of the season and hand Mikhael's Valour their first defeat.
Defensively, he made three clearances while also winning a pair of tackles. The Nine Stripes underwent the most significant offseason turnover in league history over the last several months. Still, with Zator and others, the new players seem to fit Head Coach Jimmy Brennan's ideas.
If the CPL had been in action since the spring and Zator was front and centre, there is a significant chance that he would be with Canada Soccer at the Concacaf Gold Cup right now. He has the quality to play on the Canadian National Team but needs more playing time.
Garven Metusala settled in with Forge FC
Finding minutes as a U SPORTS Draft pick on Forge FC is a difficult task. A club that has struggled to meet their U21 player quota in past seasons and relies on veteran players have often forgone signing their U SPORTS selections. However, that was not the case with Metusala, drafe=ted from the Concordia Stingers, despite never suiting up in an RSEQ game.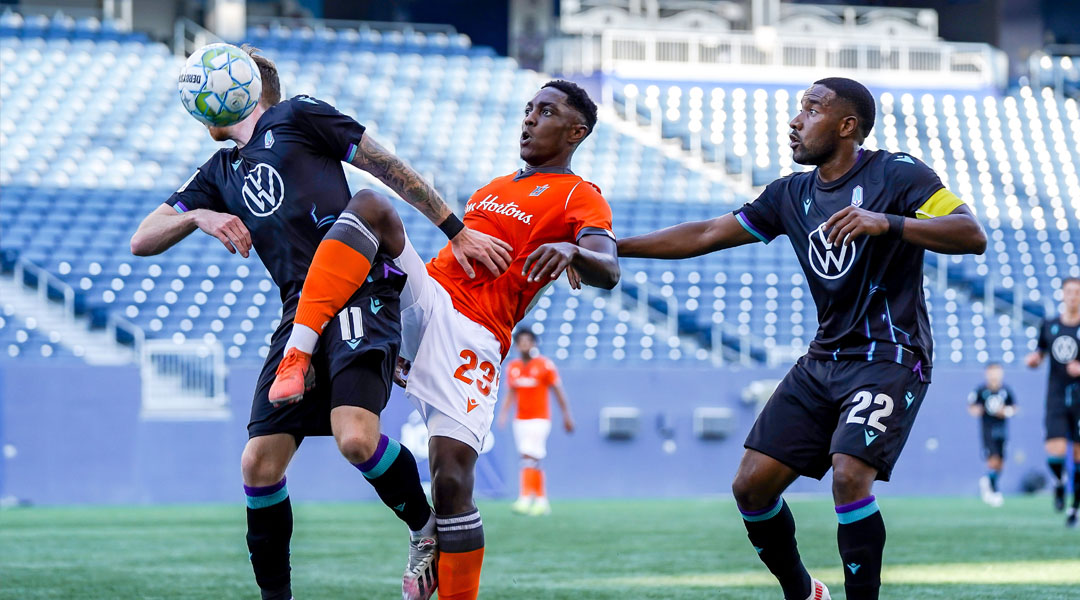 After sputtering through the opening two matches of the season, Forge looks like the two-time champions. Metusala made his starting debut on July 4 against Pacific FC. At right-back, he made three tackles and helped Hamilton to a clean sheet and eventual 3-0 win. While he did not get into the attack much, he was a steady presence, something seldom found in a young defender.
In the second match of the week against Cavalry, Metusala pushed more forward than he had in his other three appearances. Still, he pushed forward at right fullback and joined the attack, nearly scoring in the eighth minute. Through 90 minutes, he made four tackles and passed at a 70% clip. Although his passing percentage is not stellar, many of his movements progress the ball up the pitch and are lower percentage passes, but change the game when they are completed.
What Metusala has done so far is impressive, forcing his way into consistent playing time in a side where minutes do not come easily.
49 Sports Match to Watch
If you're looking for top U SPORTS talent this week, look no further than July 10's match between FC Edmonton and the HFX Wanderers. The Eddies boast one of the best U SPORTS in the CPL in Easton Ongaro while also offering 2021 first overall pick Thomas Gardner in midfield. In net, former Alberta Golden Bear Connor James is one of the CPL's finest goalkeepers.
On the other side, HFX field a roster flush with U SPORTS talent. Whether you want to watch the skills and off-ball runs of Stefan Karajovanovic, the big saves of Christian Oxner or the industrial midfield work of Pierre Lamothe, Omar Kreim, among others, there is lots to like about the Nova Scotians.
Cover Photo: Canadian Premier League