TORONTO, ON – It turns out that it really is Xavier Moon's world, and we're all just living in it. The reigning CEBL MVP put on another clinic on Thursday night, as the Edmonton Stingers visited perhaps their strongest championship challengers in the Hamilton Honey Badgers, and came through with a statement win in the process. Edmonton went into FirstOntario Centre in Hamilton and thoroughly demolished the Honey Badgers, beating the home side 99-63.
Moon also reminded Lindell Wigginton who runs the CEBL, as the Stingers star put up 34 points to go along with 8 rebounds, 7 assists, and 8 steals, in perhaps the greatest single-game performance in CEBL history. The Honey Badgers' breakout star was powerless to respond, scoring just 12 points on 3-15 shooting, while also committing 6 turnovers.
But there was also lots of great U SPORTS action in the CEBL this week! So with an honourable mention to former Hamilton Honey Badgers and University of Ottawa Gee-Gee Caleb Agada for his great performances for Team Nigeria in their wins over the USA and Argentina this week, here are your 5 U SPORTS Names Making Noise in the CEBL for Week 3.
#1: Jordan Baker, F, Edmonton Stingers (Alberta, 2009-2014)
If you count pre-season lists, this is Jordan Baker's 5th time appearing on Names to Know, which breaks his tie with Lloyd Pandi and puts him in sole possession of 1st place all time. It's an honour I'm sure he'll put up next to his CEBL championship. Baker played his way on to the list this week with a scoring touch that he hadn't shown so far this season. The Golden Bears legend put up 20 points on 8/13 shooting against the Saskatchewan Rattlers early in the week and followed that up 25 points on 9/14 shooting when the undefeated Stingers matched up with the winless Rattlers again a few days later. Although he does lose a few points in the "quality of opponent" category for beating up on a hapless Saskatchewan side, when you throw in the fact that he had double-digit rebounds in both games (11 and 14, respectively), and had another solid night with 13 points on 5/6 shooting in the aforementioned blowout of Hamilton, Baker clearly has deserved this spot on the list and in the Names to Know record books.
#2: Johnny Berhanemeskel, G, Ottawa BlackJacks (Ottawa, 2010-2015)
The man they call Johnny Buckets may have only played two games for the BlackJacks so far in 2021, but that hasn't stopped him from still making a strong impact. The staple of Ottawa basketball has brought his long-range touch and scoring prowess to the BlackJacks in a big way this year, and it helped Ottawa take down the 3rd place Fraser Valley Bandits in a big win for the up and down team from the nation's capital. Berhanemeskel scored 24 points in a 90-84 BlackJacks win, shooting 44% from deep and adding 4 assists to the winning effort. His 20.5 points per game would be good for 3rd in the CEBL if he was eligible, and although he hasn't played in many games yet, no one should doubt that the 28-year-old veteran is still capable of being the best player on the floor whenever he's on it.
#3: Alex Campbell, G, Fraser Valley Bandits (Windsor, 2013-2016)
The Bandits may no longer be undefeated, but the team that has become one of the season's best stories is continuing to play some great basketball, thanks in no small part to former Lancers' star Alex Campbell. The former OUA 1st team All-Star has scored in double digits in every single game he's played this season, and he's done it from distance. Campbell is tied with Lindell Wigginton for the most 3PM in the entire CEBL with 25 and did it again most recently in Wednesday's win over the Guelph Nighthawks when he made 4 of his 7 threes to give him all 12 of his points. As the Bandits have emerged as a dark horse pick to make a deep playoff run, Campbell's floor spacing and deadly accuracy will be a big factor for the team as they try to move forward.
#4 TJ Lall, F, Guelph Nighthawks (Carleton, 2015-2021)
With the Guelph Nighthawks facing a short bench and still looking for their first win of the year, head coach Charles Kissi shook things up and turned to former Carleton Raven Tajinder Lall, better known as TJ, for his first significant playing time of the year. Lall delivered, putting up 10 points and pulling down 7 rebounds, as Guelph came back in Elam time to beat Ottawa 90-87 and pick up their first win of the year.
Lall was named Guelph's Player of the Game for his efforts and spoke to his readiness for the opportunity. "I was just excited for the opportunity," said Lall after the game. "I just tried to play my best." Lall guarded his former Ravens teammate Alain Louis, currently playing for the BlackJacks, several times during the game, and enjoyed the opportunity to take on his friend. "It's really fun. He's playing great there, and it's really fun just to play with him again", said Lall after the Nighthawks' victory. Lall will look to continue his recent run of strong play and stake his claim to more minutes in the Guelph rotation as the team looks to string some more wins together going forward.
#5 Nervens Demosthene, G, Saskatchewan Rattlers (Bishop's, 2017-Present)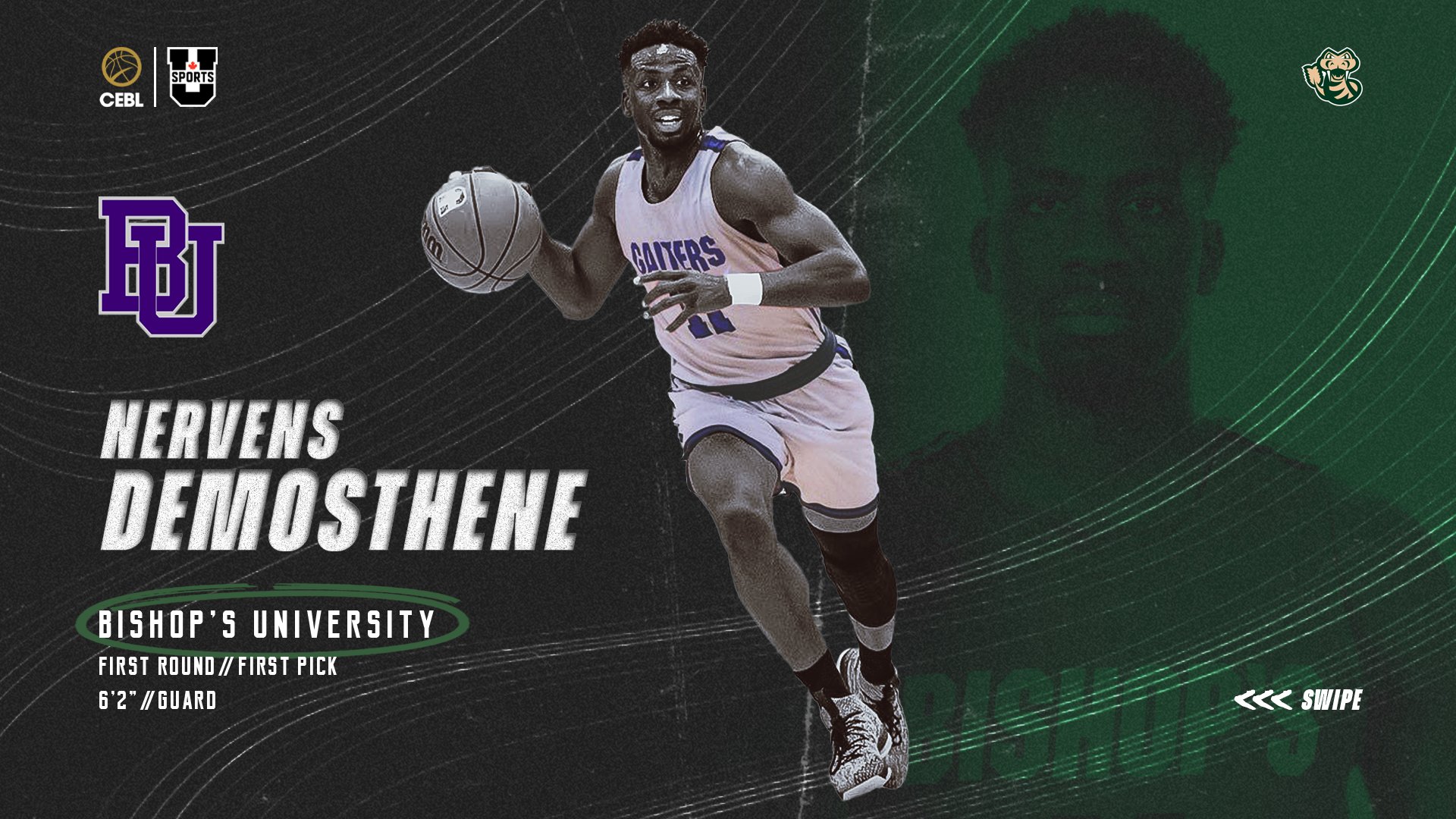 The first overall pick in this year's U SPORTS Draft, Nervens Demosthene has struggled to find his place on a Rattlers team that has struggled heavily early in the season, but hopefully, his most recent game will prove to be something of a turning point. The Rattlers lost to a tough opponent in the Edmonton Stingers, but Demosthene had one of his best games as a pro. The Bishop's Male Athlete of the Year in 2019-20 hit double-digit points for the first time in the CEBL, and also managed to pick up a couple of steals. Demosthene is also shooting better than 38% from three so far this season, a great sign for the development of a player who has never shot that well in his U SPORTS career. The Rattlers' season may not have gone the way that they hoped, but the development opportunity for Demosthene is still a strong one, making him a definite player to watch as the rest of the season goes forward.