TORONTO, ON – For two weeks every four years, everybody is a diving expert. You flip on the CBC to watch Canada's Olympians, and suddenly you know everything about every Olympic sport. If there were a way, to sum up the fan attraction to the Olympic movement, that would be a pretty good place to start.
Billions of people worldwide tune into the Olympic games, and that will be no different at Tokyo 2020 in 2021. With the stadium lights reflecting off the eerily empty stands, fans will be beamed into the Olympic venues like never before, with incredible access to every breath and every moment in Japan.
Sailing might not have the same draw as basketball, but if you're a U SPORTS rugby fan, there's a good chance you'll know a name representing the maple leaf. Nicola Girke played rugby for UBC; now, she is representing Canada in sailing at her fifth Olympics.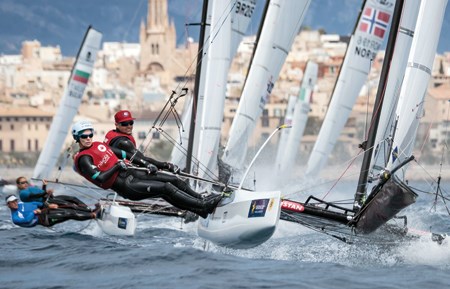 Alongside Girke are 59 other current, former, and incoming U SPORTS student-athletes competing for Canada in Tokyo, while 46 others have represented U SPORTS Canada at the FISU Universiades.
Canada is sending 370 athletes to Tokyo 2020, and 106 of them have a direct connection to U SPORTS.
"We are excited to watch our student-athletes and alumni compete for gold on the world stage," Said U SPORTS Chief Sports Officer Lisette Johnson-Stapley in a release. "Their commitment to realizing this dream and representing Team Canada at the Olympics is a testament to the valuable high-performance pathway that Canadian university sport delivers."
---
Kylie Masse won a bronze medal in the women's 100m backstroke five years ago in Rio. At just 20, she captured the eyes of Canadians, who were enthralled by 16-year-old Penny Oleksiak and the success of Canada's swimmers.
A five-time OUA swimmer of the year, Masse never lost a heat or race at the OUA championships and earned the U SPORTS Swimmer of the Year Award from 2016-2019. Now at 25, she earned pre-selection to Team Canada, got to skip the Olympic trials and has her sights set on gold in Japan.
Any time a swimming broadcast is on, you're likely going to see former U SPORTS student-athletes. University of Manitoba Bison Kelsey Wog could find herself on the Tokyo podium, so could 2012 Olympic bronze medalist and former UBC swimmer Brent Hayden.
Completing the U SPORTS swimming contingent are Yuri Kisil, Rebecca Smith, Markus Throymeyer, Gabe Mastrometteo, Kayla Sanchez, Ruslan Gaziev, and Katerine Savard, who join the aforementioned trio.
---
While swimming highlights the developmental pathway of Canadian university sport, so does volleyball, which features ten U SPORTS student-athletes competing in the gym, and another three on the beach.
Although Canada did not medal in 2016's volleyball competitions, each team has a fighting chance in 2021, none more so than the beach pair of Sarah Pavan and York Lions alumna Melissa Humana-Paredes. They enter Tokyo as the world's top-rank.
The pair qualified for Tokyo before COVID-19 changed the world, winning gold at the 2019 Beach Volleyball World Championships. While it has been over two years since their crowning moment in Germany, they are looking to add an Olympic medal to their resumes.
"It feels like a really long time ago that that happened. The longest-reigning world champs ever, which is kind of cool," Pavan told Postmedia. "Having everybody's momentum kind of stop last year was tough, and I think, for Melissa and I especially, we were really feeling ready in 2020 to carry along our momentum we had in 2019, so to ramp it up again in 2021, we weren't sure what to expect."
The Canadian contingent of 371 athletes is the nation's largest in 37 years, and after winning 22 medals in 2016, hopes are high for a greater number in Tokyo.
When you turn on the Olympics and become an expert for an hour on whatever sport you please, there is a good chance you will see a U SPORTS student-athlete. Nearly one-third of the Canadians in Tokyo has spent time in U SPORTS, and each one of them will look to bring home Olympic hardware.
In the pool, on the court, on the field and in the seas, there are U SPORTS student-athletes. It is just a matter of when, not if, one of them finds themselves on an Olympic podium.
Every minute of the Tokyo 2020 Olympic Games is free to watch for Canadians on cbcsports.ca