TORONTO, CANADA – In front of a fanless Olympic Stadium, Damian Warner proudly waved the Canadian flag, as images of his actions beamed across the world and into millions of homes in Canada.
From London, Ontario, Warner entered the Closing Ceremony with the rest of the countries that competed at Tokyo 2020, walking alongside flag bearers from across the world. While Warner represented 38 million people while waving the flag, he also represented this community of London.
The Olympic gold medalist in the men's decathlon, Warner, could be considered the world's greatest athlete at the moment. Being Olympic level at one event; being a star at ten is exceptional.
While Warner, drenched in sweat, holding a gold medal and the much-maligned Canadian tuxedo, few knew where his Olympic journey had taken him in the last 18 months.
When COVID-19 shut down the world, and Canadian governments implemented health and safety measures, Warner began training at Western University, running and jumping on the track at the Thompson Arena. While the Western Mustangs hockey teams skated across the ice, the world's finest athlete tore up the track.
Although Warner never competed at a U SPORTS university, the Canadian benefitted from the quality of U SPORTS facilities and the encouraging community of Western University and Western Athletics.
The Tokyo 2020 Games were Canada's best-ever for non-boycotted games. 24 medals, 18 in women's events, and seven gold. Canada has only ever done better in 1984, when several countries, including Russia, skipped the Games.
In a pandemic, with strict health and safety measures and without fans, the Canadian Olympic team had its best-ever Olympic performance.
History made in Tokyo, history for Team Canada, and at the centre of it all were current and former Canadian university student-athletes. The Games celebrated the best the world has to offer in sport, and U SPORTS, FISU, and CCAA athletes were front and centre.
With Tokyo 2020 in the books, let's take a look at the Top-10 moments from current and former Canadian university student-athletes.
#10 U of T's Staffords are fast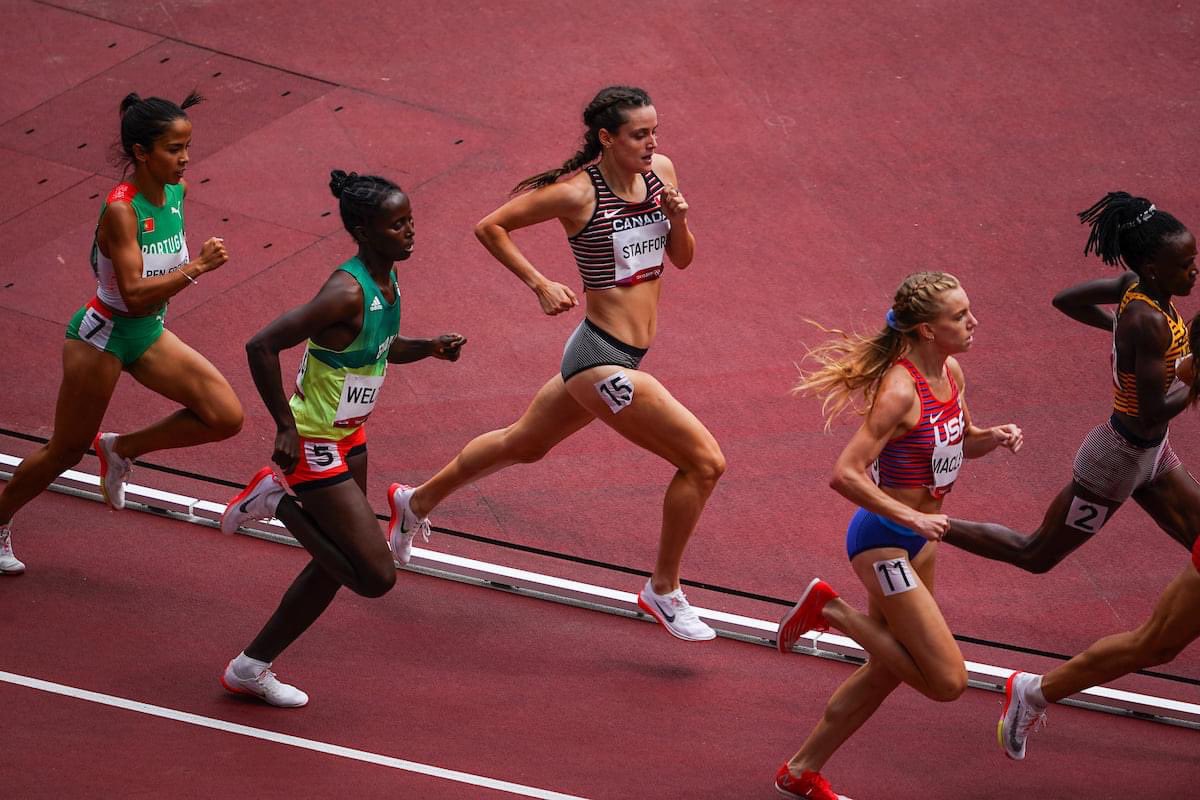 The mood in the Stafford household must have been crazy this past week. Gabriella Debues-Stafford and younger sister Lucia Stafford raced in the women's 1500m at the Tokyo Games, pounding the Olympic track alongside one another.
Canada has seen the greatness of siblings on the Olympic stage, highlighted by the Dufour-Lapointe sisters in freestyle skiing, but the family connections have been much harder to come by in the Summer Games.
Gabriella made the final of the women's 1500m, finishing fifth, improving substantially on her 25th debut Olympic race at Rio 2016. For Lucia, a debut final was not meant o be, but she finished sixth in the 100m semi-final and did not advance to the final; however, she looked confident throughout the race.
The two former U of T Varsity Blues were exceptional in Tokyo, and there have not been many opportunities to witness siblings' success for Canadians at the Summer Games. At just 22 and 25, respectively, they are both likely to be at Paris 2024, where a medal could be in the cards for both of them.
#9 – UBC's Hilary Jannsens wins rowing silver
For years, Canada was a rowing powerhouse, but that was not the case in the last few Olympic Games before Tokyo. UBC Thunderbirds alumna Hillary Janssens and partner Caleigh Filmer went out to change that history on Day 6 of the Games as they rowed to the women's lightweight pairs bronze medal.
Janssens had been off the water for the better part of three months with a back injury and returned just weeks before the Games. Much of her preparation took place on stationary bikes rather than on the water, but she pushed herself to a level worthy of Olympic bronze.
"We just had to believe that if we built enough fitness, then we knew how to row," said Janssens in a Team Canada press release. "We had shown it before that we could compete against the best. It took a lot of faith in each other and in what we were doing, even when we weren't able to see results on the water for a long time."
With dedication, determination and a belief in themselves, Filmer and UBC alumna Janssens captured a medal for Canada's kicking off a successful Olympics on the Seaforest Water Way.
#8 – UQAM's Catherine Beauchimin-Pinard wins judo bronze
Catherine Beauchemin-Pinard never played in U SPORTS, but the former UQAM student-athlete put Judo in Canada's minds over the last two weeks. Not a sport often followed closely in Canada, the Candian judokas put on a show at the Nippon Budokan, with two medals and a close class from former York Lion Shady El Nehas.
After starting in judo as a nine-year-old, Beuachmin-Pinard excelled from the beginning. She made her Olympic debut in 2016 and lost in Round 2, kilometres away from any medal considerations. In Tokyo, she defeated nearly everyone in her path to capture a bronze medal.
#7 Joelle Bekhazi helps Canada to first water polo win
The Canadian water polo team had not won an Olympic game in 6,188 days, their last win coming back on Aug. 18, 2004, at the Athens Games. When the Canadian team took South Africa in pool play in Tokyo, they poured water on their lengthy dry streak.
While Canada eventually lost to Team USA in the quarter-finals and played in the classification rounds, McGill grad Joelle Bekhazi was a veteran presence throughout Canada's time at the Tatsumi Water Polo Centre. She scored five goals in six games for Team Canada, including a pair in the seventh-place final.
It may not have been the podium performance that Team Canada hoped for, but picking up a win for the first time since 2004 is an astonishing achievement.
#6 – Katie Vincent and Laurence Vincent Lapoint make history
Katie Vincent and Laurence Vincent Lapoint did not go to the Olympics for swimming. Still, she ended up in the water. The women's C2 canoe pair captured the inaugural bronze medal at the Olympics for their sport.
Tokyo 2020 marked the first time women could compete in the canoeing events, despite having a world tour before Olympic inclusion. Vincent Lapointe, a former student at the University of Montreal, was integral in battling with the IOC to include the sport in the Olympics. Instead of just showing up, Vincent Lapoint left Tokyo with two medals, including one in the pairs event.
Katie Vincent does not play on a York Lions team, but her bronze medal win came in the summer between classes at York University. While training for the Games, Vincent began her first year of a bachelor's degree at York in 2020 and is entering the second year of her degree.
#5 – Kevin Tillie wins volleyball gold
Not on Team Canda, but Kevin Tillie is our first golden moment on the list, and he comes in at number six. The former Thompson Rivers Wolfpack volleyball player earned a callup to Team France.
Used primarily as a serving specialist, Tillie committed two errors on 19 serves in the do-or-die gold medal match as the French team went on to take down the favoured Russian Olympic Committee.
En route to the gold medal, the French also defeated favoured Poland and Argentina after finishing pool play just over .500.
There were only three U SPORTS gold medals at the Games, and Tillie's was the only one captured for a team not clad in red and white.
#4 – Evan Dunfee walks fast and far
A former UBC Track star in the NAIA, Evan Dunfee, captured the heart of a nation. With a smile and a quick-witted attitude about race walk, Dunfee made sure Canada watched as he frantically walked in circles for 50km.
Dunfee finished fourth in Rio five years ago and publicly set out that he had his eyes on the Tokyo podium, the final one for Olympic 50km racewalk. With the event leaving the Olympic program in 2024, this was Dunfee's last chance to avenge his disappointment in Rio.
The British Columbian spent most of the race in a chase pack for third place and pulled out a final effort to power him to the podium in the last kilometre.
With Dunfee's event taking place late in the Games, he was able to take in much of the Olympic fervour, albeit from a distance. He arrived weeks before his race to Sapporo, where the race walking events were held and was a constant fan of Team Canada on social media.
While Canadians flocked to race walking to virtually cheer on Dunfee, the Richmond, BC native and former UBC Thunderbird tuned into nearly every event.
A bronze medal. A great story. Good for fourth on the Top 10 Canadian university moments from Tokyo.
#3 – Kylie Masse and the Canadian swimmers
Three medals is not too bad. That's how many medals that former University of Toronto Varsity Blue Kylie Masse packed in her bags back to Ontario, after an incredibly successful Games for her and the Team Canada swimmers.
While 21-year-old Penny Oleksiak stole headlines with her three medals, making her the most decorated Canadian Olympian in history, Masse was equally as impressive in her second Olympics.
A former U SPORTS and OUA champion, Masse won the silver medals in the women's 100m and 200m backstroke, while adding a third medal with bronze in the 4×100 team medley relay.
Making the medals moments even more special was her former U of T coach, Byron MacDonald who was the broadcaster for the CBC's coverage of swimming in Tokyo and called her medal moments for millions of Canadians.
Despite the empty stands and no gold medal, Masse's moment were a highlight of the Games, and she led a U SPORTS heavy group of swimmers that included the likes of Brent Hayden, Mrkus Thormeyer, Kelsey Wog, Rebecca Smith, among others
#2 – Kelsey Mitchell wins cycling gold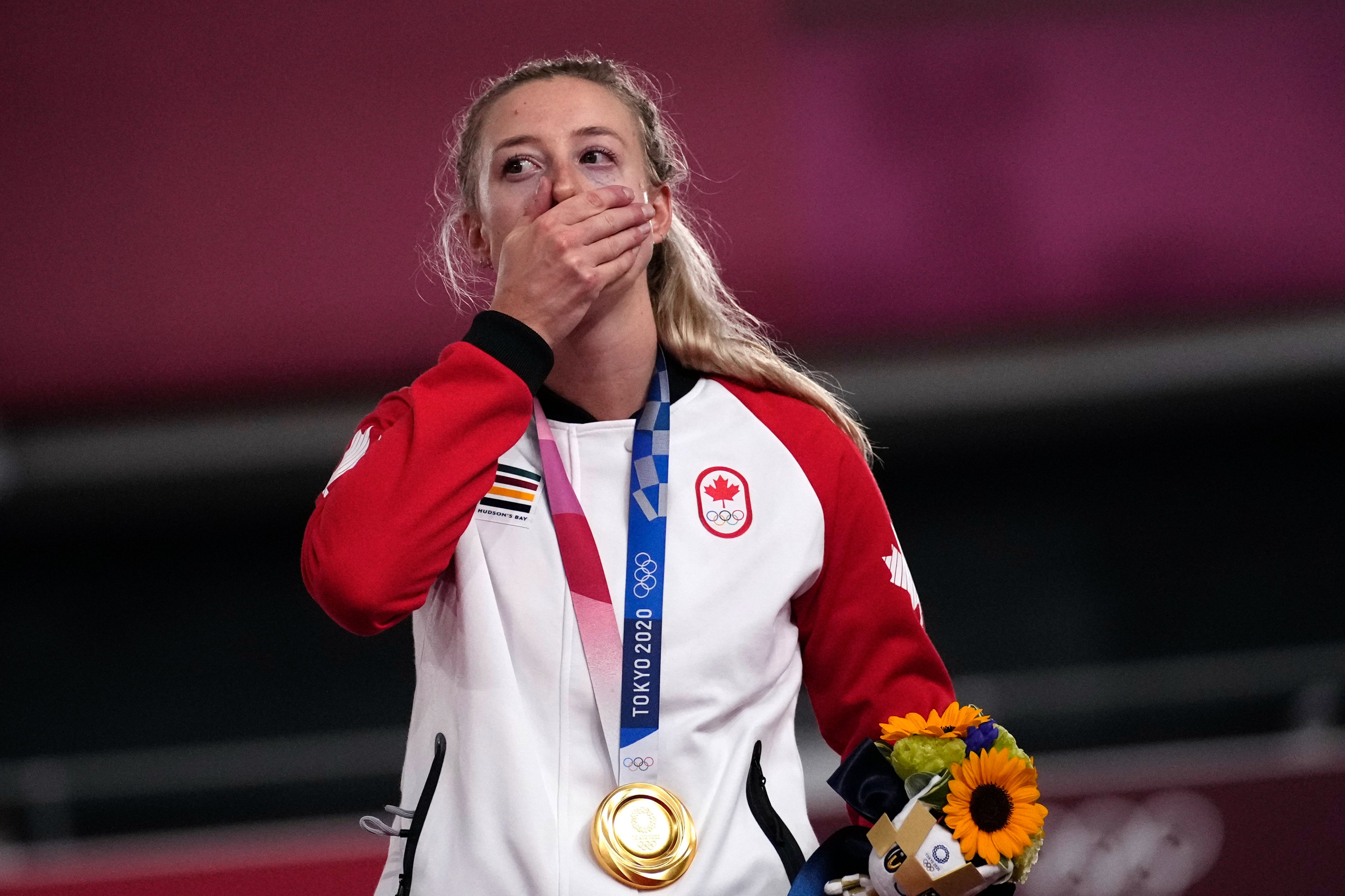 When the RBC Training Program began in 2016, the goal was to put Canadians on top of the Olympic podium. The program takes the top athletes from around Canada, puts them through physical tests, and if an athlete stands out, the program and national sport organizations give them opportunities to develop and thrive in a new sport.
For Kelsey Mitchell a former soccer player at the University of Alberta, that is how she got into track cycling and eventually landed on the Olympic podium in Japan. Mitchell defeated World Champion Amma Hinze in the sprint semifinal, before beating Ukraine's Olena Starikova in the final to become the Olympic Champion in her Games debut.
Her semifinals and final races came on the second last night of the Olympics, and happened during the primetime TV hours in Canada, prompting thwarts of people to tune in to see her races.
After being recruited to Cycling Canada, Mitchell trained at the Milton Velodrome, a legacy venue from the 2015 Toronto Pan-Am Games, making her gold medal a shining light on Canada's fairly newfound athlete development systems.
From recruitment, to training facilities and a gold medal, every step of Mitchell's journey points towards future Canadian Olympic success.
Aside from her on-track performance, Mitchell offered one of the best moments of the Games sharing a kiss with the cycling teammate and boyfriend Hugo Barette following her gold medal run.
#1 – Desiree Scott finally wins gold
Former University of Manitoba soccer player Desiree Scott has had an incredibly successful career. She has played in several World Cups and Olympic Games, but until Tokyo 2020, she had never won.
Now at 34-years old, she is an Olympic champion and is one of the final standing members of the London 2012 Canadian Women's Soccer Team, which won a bronze medal after falling out of the semifinal heartbreakingly.
With 20 years of troubles against Team USA, Canada exorcized the demons of past performances in the Tokyo 2020 semifinal before defeating Sweden in a penalty shootout for the gold medal.
Scott made timely tackles throughout the tournament and held possession for a Canadian side that struggled to get the ball. She also celebrated her 34th birthday with her teammates during the tournament, an experience few athletes can have.
With 167 Team Canada appearances under her belt, there might not be much time left for Scott in the red and white. However, with a gold medal and two bronze medals, her career has been astounding, as she has flown the U SPORTS flag on the world stage through the last decade.