OTTAWA, ON – Finding out your dad is being offered a head coaching job in the National Hockey League should feel like a surprise. For Felix and J-P Tourigny, when the news broke that the Arizona Coyotes were speaking to their dad Andre Tourigny in the spring of 2021, it was simply about time.
"When I found out they [Arizona] were talking to him, as soon as he told me that in my mind, I was like they'll take him for sure," said Felix. To the brothers, to find out their dad was heading to the NHL really wasn't surprising, but rather a culmination of the message the veteran coach had been giving his boys for years,
Just keep grinding.
---
Rouyn-Noranda is perhaps the storybook example of a small Quebec town to find a hockey player. Located seven hours northwest of Montreal and thirty-five minutes from the Northern Ontario border, the town of about 42,000 is known for three things, gold, copper (with Rouyn Noranda holding one of the largest copper smelting plants in Quebec) and hockey. Legends of the game have started in this staple of Northern Quebec, from the Turgeon brothers Pierre and Sylvain, to Jacques Lapierre, to one of the greatest legends in Toronto Maple Leaf's history in Dave Keon.
The community is wrapped in history, but it all comes back to the Huskies if you ask the locals. Founded in 1996 following a transfer of ownership of the Saint-Hyacinthe Laser, the Huskies became a staple in the Arena lamgold. Where the Huskies found stability in a fanbase on the corner of Murdoch Ave in downtown Rouyn-Noranda, they lacked behind the bench. The roster shuffled through eight coaches in their first seven seasons. On November 16th, 2002, the Huskies seemed to finally get their man when they hired the head of the AAA Cap-de-la-Madeleine Estacades to serve as Head Coach and General Manager. Nearly nineteen years later, it is a decision that is still creating a ripple effect across hockey.
Born on February 2nd, 2000, most of the Tourigny brother's childhood was spent in the confines of Arena Iamgold, and it made an impact. "As soon as we were old enough to have skates on our feet, we started skating," said Felix. "For us, it was growing up, and just we started doing it." Time off the ice, though, was still spent at the rink, goofing around in the corridors of the arena. According to J-P, "Me and my brother would play in the hallway; we would go into the storage room, sneak out some pads, we were maybe four-foot-five, and we would have pads that were half our size, and we would try to play with them."
With Andre serving ten years behind the bench of the Huskies from 2003-2013, the consistent turnover of junior hockey players allowed the boys to grow up, creating unique connections in unexpected ways. As J-P remembers, it was simply that Anaheim Ducks seventh-round pick Jean-Phillippe Levasseur (who played in 148 games for the Huskies over four seasons) had the name Jean-Phillippe to match his that was enough for six-year-old J-P to decide he wanted to step between the pipes. "It was just because he had my name, and I was six years old. I was like, "oh my god, he's got my name," said J-P, chuckling.
While most hockey families hope for the stability that Andre's ten years in Rouyn-Noranda provided his boys, the reality of the turnover of the sport can often see families needing to move across countries, and in 2013 the Tourigny got to experience that first hand. After leaving the Huskies following 2012-2013, Andre was offered a place on the bench of Patrick Roy's Colorado Avalanche – who the boys had met years prior following a matchup between the Huskies and Remparts – Roy at the time signed J-P's mask. The news, while welcomed by the Tourigny family, for the twins at 13 years old, meant moving to a new country, a new city, a new school and learning a new language. "It sucked because I didn't know any English, so it was about learning everything from scratch," said Felix, "Obviously, though, I wouldn't be the man I am now; it helped me mature faster."
Leaving Northern Quebec for Denver was a culture shock but served as a reminder of no matter how far-reaching it may be, how small the hockey community can be. "A teammate's dad was a surgeon in Phoenix who met with my dad in Quebec, and we ended up in the same school in a different state [Colorado] in a different country," said J-P. As Andre would tell his boys, "The connections are the people that you meet; if you make a good impression on them, it's gonna stick with you for the rest of your life," said J-P.
It feels as though there is a theory in hockey that siblings who are strong athletes will inherently be attached at the hip on the ice. It's a philosophy best exemplified by the Sedin twins in Vancouver, who dazzled on the same line for over a decade. No matter where they took to the ice together, though, with Felix at centre and J-P in the net, the brothers say they didn't talk to each other that much. "He's my brother, so I knew he was good enough for whatever we throw at him, so that was one thing that was always reassuring whenever he was in net," said Felix.
With lives so focused around the rink, though, whether their own or their dad's, it was the time away from the rink while growing up that helped them improve and brought them closer together. "We always brought hockey back to the house," J-P said, "we were able to talk about strategies, talk with our dad; it was like having a billet brother."
As Andre moved on from the NHL in 2016, making a one-year stop back in the QMJHL in Halifax before stepping behind the bench of the Ottawa 67's, the boys moved forward in their hockey careers. Felix made his junior hockey debut in 2017-2018 with a seven-game stint for his hometown Rouyn-Noranda Huskies. J-P played an entire season starting for the Richmond Royals in the CCHL2. Finally, though, the brothers were reunited on the Kanata Lasers of the CCHL in 2018-2019, the Junior B affiliate of the Ottawa 67's.
It wasn't long before each brother got their shot in the OHL as J-P was brought up from Kanata for one appearance against Saginaw in November 2018 before Felix was called up two weeks later for a seven-game stint with the 67s.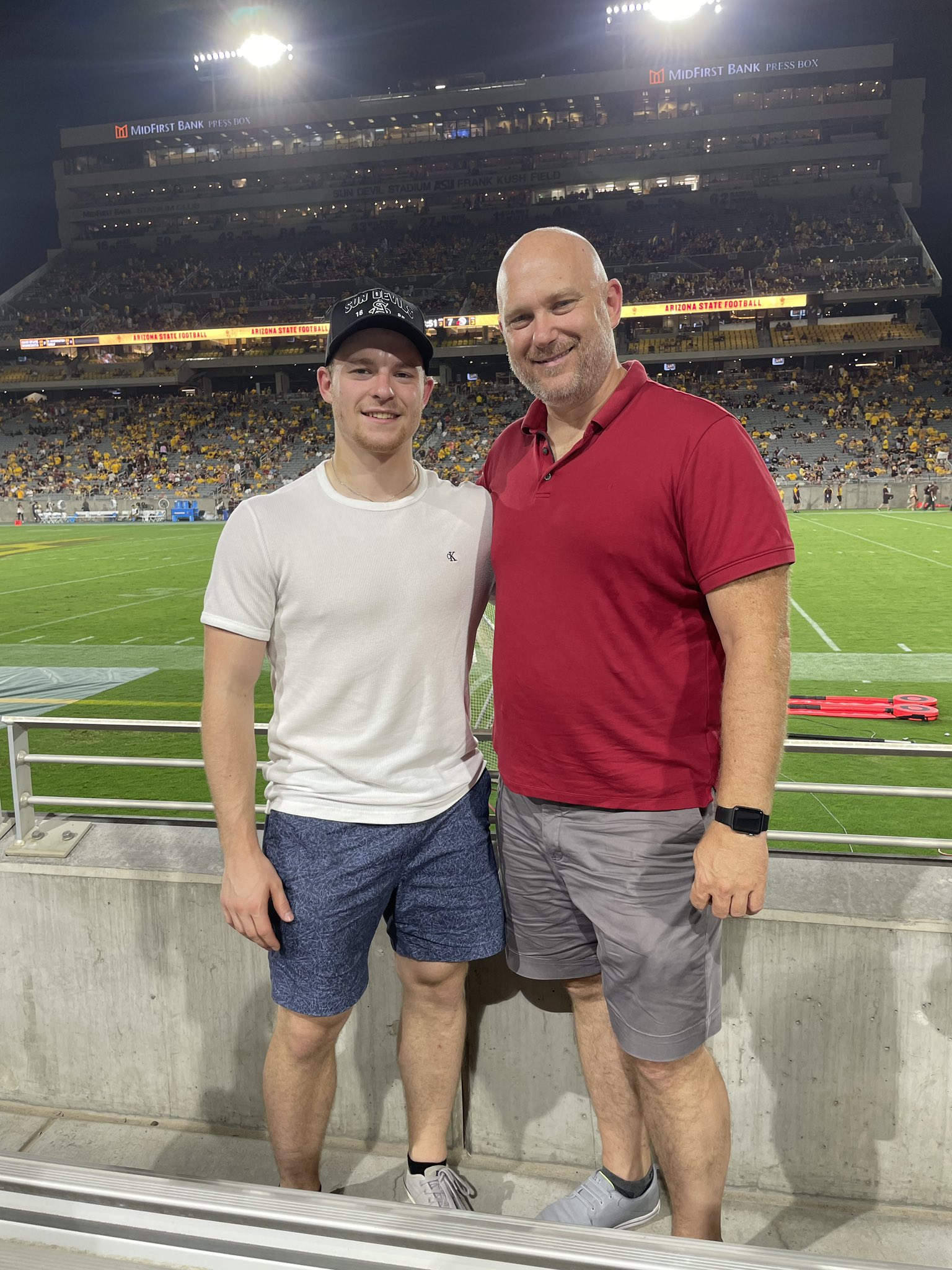 No matter how much they loved him, the idea of being "the coach's sons" at first made both brothers uneasy. "I know both of us were hesitant (about being called-up) at first, for people to think 'he's only there because his dad's the coach," but honestly, it was one of the best experiences I ever had," said Felix.
In 2019-2020, after nine points in thirteen games with Kanata, Felix was called up to the 67's full-time. A member of the bottom six, he picked up nine points in 56 games, but the experience of playing an entire season with his dad still sticks with him.
"For all of my childhood I had always known he was a great coach but I had never gotten to see it first-hand," said Felix, "when I had made the team full-time though, being able to see what he is like, he's by far the best coach I've ever had."
In March of 2020, like most of the world the Ontario Hockey League season ground to a halt. The ensuing months became a struggle to keep players engaged, invested, in shape and ready to return. For Andre Tourigny in his boy's eyes, it was just another obstacle to overcome "During the pandemic he had his contract with Hockey Canada, yet he was fully involved with the 67's, even after he signed with Arizona, he was still partly involved with the 67's." said Felix.
That commitment has helped underpin the message, whether as a coach or just a dad that Andre has been pushing for his boys, that "You don't have to have the best talent in the world, but whatever you do, if you put in hard work, the result is always going to be better." said J-P.
---
As the brothers approach their first OUA seasons, Felix at McGill and J-P at Ottawa, it was the importance of academics, a mantra pushed on them by both of their parents, that brought them to their respective athletics programs. On the ice, though, each brother enters a unique situation as part of the new OUA season as they prepare to play against each for the first sustained period of time.
"You don't have to have the best talent in the world, but whatever you do, if you put in the hard work, the result is always going to be better"

– J-P Tourigny
At McGill, Felix joins a Redbirds team that is still searching for the level of sustained success they found at the turn of the 2010s, winning three straight OUA Gold Medals from 2009-2012. The centre-man is aware that his place will not be at the top of the lineup though, "I'm going to be the two-way forward you'll find on the third line, but in my first year, all I want is to show what kind of player I am and show what I can do."
For J-P with the Gee-Gees, he enters a unique situation as the third goalie recruited to the roster behind sophomores Tristan Bérubé and Anand Oberoi but yet almost starting fresh with none of the three goalies having played a game in U SPORTS yet thanks to the cancelled 2020-2021 season. At the same time, the 21-year-old knows he is still the "rookie" in the goalie rotation, "I'm not expecting to steal a role or anything; I'm just really hoping to bring out the intensity in the other two goalies."
In November, Felix and J-P will get their first opportunity to square off against each other when J-P's Ottawa Gee-Gees head to McConnell Arena to face the Redbirds. As they wait for that chance, both brothers have their thoughts about eventually meeting against each other on opposite sides of the ice. "If I could play against him, it would probably give my mom a little heart attack," JP says laughing; meanwhile, according to Felix, "In the next four years, other than winning a championship, if there is a goal I have, it would be to score on him."
---
Over the last fifty years, the town of Ryoun-Noranda has produced hockey legends of history who have rewritten record books and truly made a mark on the game. For the Tourigny brother's, the prologue to their story tells of two kids who got to live out a hockey kid's dream growing up while learning the game under the eye of a dad and coach to mentor them. For so many greats who have passed through Rouyn Noranda and the ice at the Arena Iamgold, their stories are complete, with boundless words to re-tell but nothing left to add. For the Tourignys, while how they got here is known, what happens next is still yet to be written.
Cover Photo: Dave Cottenie/Stadium Journey