TORONTO, ON – For the University of New Brunswick Reds Men's Hockey program, there are expectations heading into every season. That's what happens when a team wins eight U SPORTS National Titles, five in the last ten seasons.
After a cancelled 2020-21 season, the Reds will finally return to regular season AUS action on Wednesday, Oct. 6, beginning their campaign as defending U SPORTS champions, still basking in the faint glow of their 2019 U SPORTS championship victory in Lethbridge.
Unlike their Nova Scotian AUS counterparts, UNB did not play any non-conference games in 2020-21, making their recent preseason return the first hockey action since the AUS final in early March 2020.
"It's exciting; I've got no words," said head coach Gardiner MacDougall on returning to preseason hockey. "We had a couple of home games in the preseason, and we had about 1,500 fans in the building, which is super."
Despite no game action, MacDougall and the Reds coaching staff made sure to treat the 2020-21 season as a development campaign, not only helping veteran players improve for the upcoming season but easing the 2020-21 rookies into the UNB culture.
Two new rookie classes
With an additional year of rookie commitments to the program, the locker room at the Aitken Centre will have many new faces, yet the Reds' winning mentality remains. "It's definitely going to be different from when we last played in March 2020, but the way we play and the calibre of our team have not changed a bit," said fourth-year forward Tyler Boland. "The two groups that we have coming in have embraced the culture that we have here at UNB."
The Reds have had as good a preseason as they could wish for, defeating the Moncton Aigles-Bleu, Acadia Axemen and Dalhousie Tigers by a combined score of 14-0. Riding hot goaltenders in former WHL standout Griffen Outhouse, and veteran Rylan Parenteau, the Reds not only look to be returning to their usual offensive selves but a stingy defensive team as well.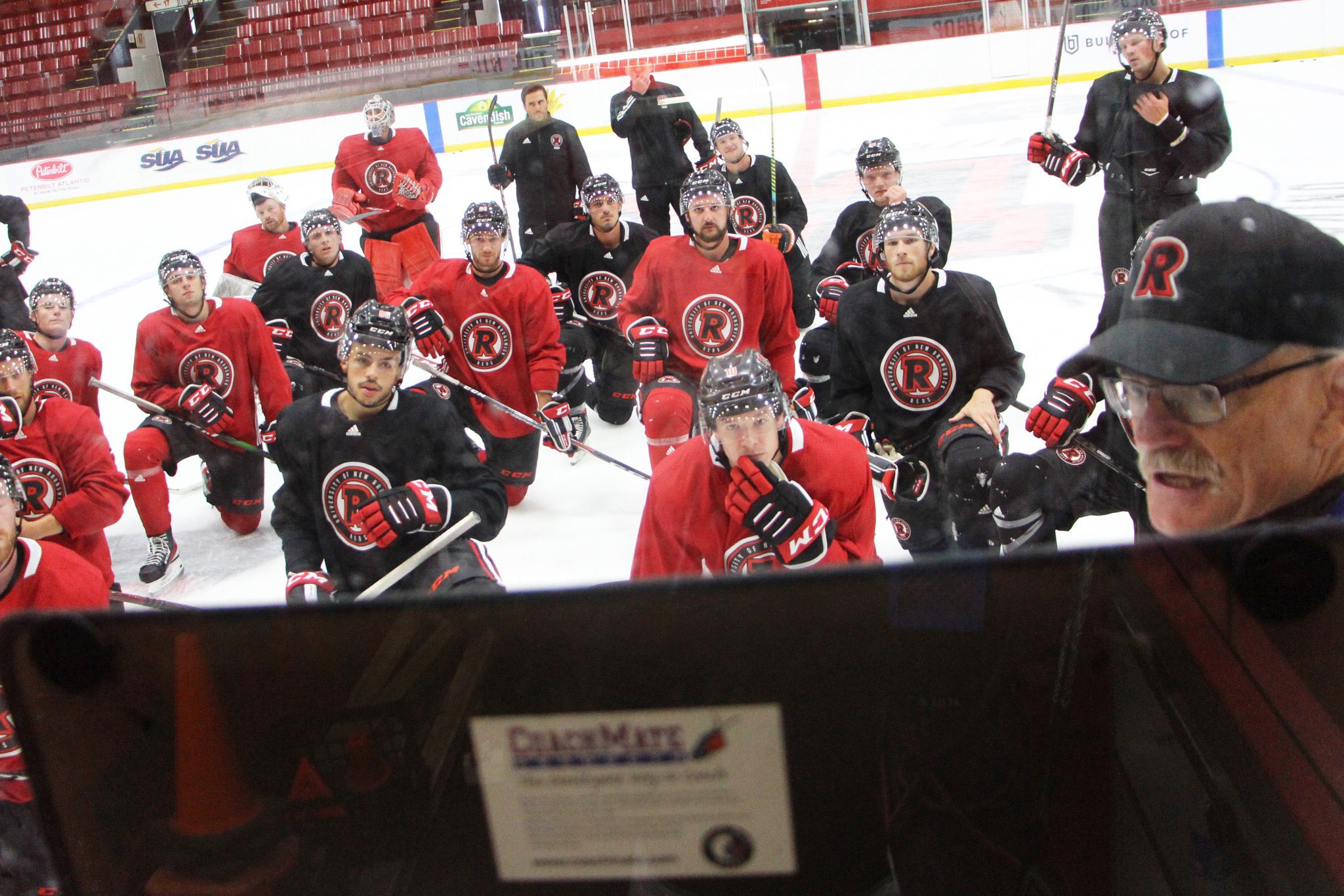 "We've had a lot of standouts, but we will know more when we get going in the regular season," said MacDougall, whose team racked up a near-record 61 shots against Dalhousie. "At one time, you used to play eight or ten exhibitions, but we'll take four, and we're looking forward to the AUS season."
Although the Reds have had a stellar preseason and a year of development, they head into the season, having not played a game with their entire current roster. Newcomers Austen Keating, Adam McCormick and Thomas Casey all attended NHL rookie camps in September, keeping them away from Fredericton as the rest of the team prepared for the season.
"Last year was really well planned out, and I don't think the returning guys or the new guys have really missed a step," said Boland, whose Reds welcome 2020 recruit Nicolas Guay, who played for the QMJHL's Rimouski Oceanic, where Boland played four seasons.
A unique pressure
Unlike most Canadian university programs, the UNB Reds have a dedicated fanbase that turns up to every game. While they attracted roughly 1,500 for preseason, fans and students will flock to the Aitken Centre for regular-season action.
With eyeballs glued to their every move, and unmatched regional and national success, the Reds know they have pressure on them. "The goal here every year is the championship in March," said Bolland. "That's the mindset. There's always pressure with that and to build on the legacy of guys that have won here before."
This year, all fans in the arena will be required to show proof of full COVID-19 vaccination and wear face coverings while inside. Still, there is no doubt that the arena will be rocking, with eyes on Acadia transfer Ross Macdougall, among others.
"There's certainly standard, and there's an established culture at UNB, but I think that everyone is excited to play again, and I think our conference is going to have tremendous parity," said Gardiner MacDougall. "I think it will be exciting for the fans and tough on coaches, but that's why the AUS has the reputation it has."
With Joe Gatenby and Samuel Dove-McFalls returning to AUS action this season, complemented by a familiar hockey name in Isaac Nurse, and other highly regarded rookies, the UNB Reds have high expectations in 2021, which starts on Wednesday vs Moncton.
Cover Photo: UNB Reds