TORONTO, ON  – The UPEI Panthers got a chance to host the U SPORTS Women's Hockey Championship in 2020, but COVID-19 got in the way mid-way through the tournament. After a lost season and in a changed world, AUS women's hockey finally returns, with a season bound to feature more parity than ever. 
UPEI will again have the opportunity to host the national championships in March of 2022, and the Panthers already have a guaranteed ticket to the dance. However, one more Atlantic Canadian team will join them, but that team must at least make the conference's final.
With immense pressure on the line, the 2021-22 AUS season should be exhilarating.
Saint Mary's Huskies
The SMU Huskies are an exciting group. They won the regular season in 2019-20 but failed to make it to the U SPORTS Championships, with UPEI getting in as the hosts, joined by StFX, which won the AUS title. In 2021-22, all eyes will be on the Huskies to get over the final hump and show that they deserve a spot against the nation's best, while UPEI earns another by as hosts.
SMU got out to a quick start in the preseason with wins against Dalhousie and StFX but dropped three straight to UPEI and StFX, leaving the Chris Larade led team with a bevy of questions.
The group will rely upon a young roster, with 10 student-athletes donning Huskies colours for the first time in AUS action; at the same time, they will lean on veterans Shae Demale and Miranda Hatt to force offence.
Player to Watch: Ellen Laurence
StFX X-Women
The StFX X-Women enter the 2021-22 season with the expectations and pressure of defending a title. In 2019-20, the X-Women captured their first AUS title since 2015 and looked en route to a U SPORTS title before the national tournament was cancelled.
After finishing second in the regular season and making it to the nation's final four, the X-Women come back in 2021 with eyes on the national championship. They have had a successful preseason, racking up wins against Dalhousie and Saint Mary's, with several standouts so far.
While the team will still be led by 2019-20 U SPORTS MVP Tyra Meropolous, they have added NCAA transfer Maggy Burbridge from Robert Moris University and will likely see their offence improve with both skilled forwards in the lineup. Burbridge scored two goals in a single game against SMU in the Pearson, marking an excellent start to her AUS career.
Player to watch: Maggy Burbridge
UPEI Panthers
The UPEI Panthers have the luxury of knowing that even if they don't win a regular-season game, they can still win the national championship. After COVID-19 cut their hospitality short in 2020, the Panthers will get to host the nation's best for a second try in 2021. Despite the guaranteed nationals berth, the team will still look for a strong AUS season.
A stingy defensive team that knows how to score in bunches, there is a lot to like about the Panthers from 2019 and likely the team in 2021-22.
Senior defender Sophie Vandale will anchor the blue line, while fourth-year Jolena Gillard will look to improve on her team-leading 20 points season from 2019-20. With those two and a talented group of recruits playing under Head Coach Bruce Donaldson's game plan, the Panthers will hope to enter the U SPORTS Championships with an AUS gold medal around their necks.
UNB Reds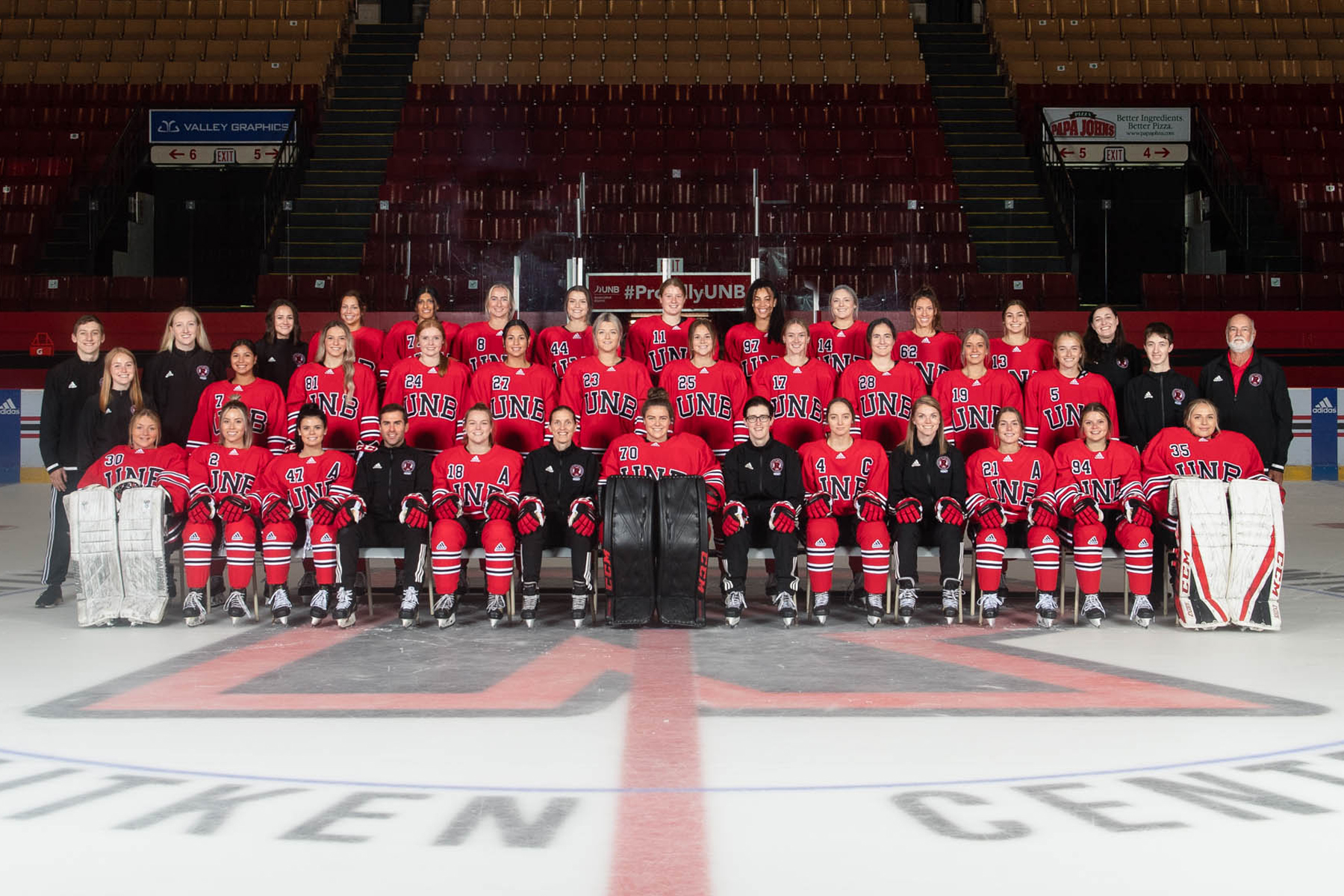 Since re-launching the UNB Reds women's hockey program in 2018, Head coach Sarah Hilworth, her staff and the student-athletes have brought the team up to a level that could compete for an AUS title. While the pandemic took a valuable season away from some of the original players, the new group and fourth-year veterans are ready to take the AUS by storm.
Goaltender Kendra Woodland posted a .945 save percentage as a rookie and followed that up with a .935 in her second season. While she missed out on hockey in her third year of post-secondary, she will get the chance to improve as a veteran player who had already established herself as one of U SPORTS' finest.
For offence, look no further than Ashley Stratton, who posted 30 points in 2019-20, as well as Tamina Kehler, who controlled play in the Reds few exhibition games in 2021. While a program built from scratch often doesn't challenge fr a title for years, this season could be a special one for the Frederiction program. As a bonus, they have sone of the nicest jerseys in U SPORTS.
Player to Watch: Tamina Kehler
STU Tommies
The St. Thomas Tommies only have a women's hockey team in 2021, having shut down their men's program in 2016.  With all the attention put towards one program, one would think that the team would have an illustrious recent history – not so much. The Tommies are coming off a 2019-20 season where they were the highest-ranked team to have a negative goal differential. 
With the addition of Waterloo Warriors transfer Emma Pye, the Tommies get a boost on the blue line ahead of their 2021-22 campaign, where they will look to be more defensively sound from the first puck drop. She'll complement All-Canadian team captain Alex Woods in defence, while rookie goalie trio of Caroline Pietroski, Elizabeth Campbell and Katie Sweeney look set to split crease time.
Player to watch: Alex Woods
Moncton Aigles-Bleus
If the UNB Reds were hit hard by the pandemic, Moncton was hit harder. Coming into this season, the group donning blue and gold will be unexpected and young. While they will compete at a high level and play each game with determination, the fresh-face roster will likely see them finish in the final spot, outside of the playoff picture.
Player to Watch: Janie Poitras
Dalhousie Tigers
Dalhousie Tigers Head Coach Troy Ryan is leading the Canadian Women's National team these days. Coming off a World Championship gold medal with the red and white, he will undoubtedly want to see his Tigers win the same colour in U SPORTS and AUS.
While Ryan will be away for most of the season, the Tigers' eyes will be on returning to the post-season after narrowly missing the playoffs in 2019. Veteran goaltender Taylor Beam will look to build on her first two seasons with the Tigers, while forward Autumn Moors is prepared to lead the play in the offensive zone.
With one of the older rosters in a strange 2021-22 season, the AUS playoffs should be within reach for the Tigers, even though the U SPORTS Championships might be too far-fetched.
Player to watch: Taylor Beam
Mount Allison Mounties
There is nothing worse in competitive sports than finishing dead last. So while some may joke about winning a trophy, albeit a wooden spoon, the Mount Allison Mounties want to stay away from any of that in 2021-22.
After a disappointing season in 2019-20, the Mounties are looking to return to the AUS playoff picture in 2021, and they have a fighting chance to do so. Head Coach Lucrece O'Neal will place a lot of responsibility on first-year players' shoulders, but with a strong goaltending trio and a veteran core, the Mounties could be a much-improved team from the one that finished just 9 points in 2019-20.
Player to watch: Jordyn Clarke
Prediction:
StFX X-Women
UNB Reds
SMU Huskies
UPEI Panthers
St. Thomas Tommies
Dalhousie Tigers
Moncton Aigles-Bleu
Mount Allision Mounties