TORONTO, ON – Team Canada has named the first 12 athletes who will wear the maple leaf in Switzerland, representing their country at the Lucerne 2021 Winter Universiade in December.
Twelve short-track speed skaters, four from the Canadian National Team program, will hit the ice in Central Switzerland, led by a group of three coaches. Jeffery Scholten, 1999 World Championship bronze medalist, will coach the Canadian team alongside Yannick Desmeules and Team Leader Shana Jean.
Short-Track is one of ten events included in the Lucerne 2021 FISU Winter Universiade programme, and the twelve Canadian student-athletes will join a Canadian delegation of 113 athletes, and 41 staff members. Over 1,500 student-athletes from across the globe will centralize in Lucerne, competing in 11 days of international athletic competition.
With six men and six women making the trip to represent Canada at the 30th Winter Universiade, national team members William Dandjinou, Nicolas Perreault, Claudia Gagnon, Rikki Doak will lead the charge for medals.
The remainder of the Canadian roster features NextGen National Team student-athletes, identified as future Olympians and prospects sighting the Canadian Short Track Speed Skating system.
The Women's roster includes Claudia Gagnon Rikki Doak Renee SteengeLéa Tessier Victoria Gareau, and Wren Acorn, with the Men's side featuring William Dandjinou, Nicolas Perreault, Jérôme Courtemanche, Alexandre Migner, Félix Roussel, Émilien Blackburn.
Canada's short-track student-athletes hail from three provinces. The entire men's team calls Quebec home; meanwhile, women's team members Dodak and Steenge are from New Brunswick and Ontario, respectively.
Canada's student-athletes will hit the ice in Lucerne for unofficial training sessions on Dec. 10 before opening their medal chase with the Men's and Women's 1500m races on Dec. 12.
The talented and highly regarded roster Canada is sending to the 2021 Winter Universiade will give the nation a chance at landing on the podium for the first time since Granada 2015, when the Canadian Women's 3000m relay team won bronze.
NATIONAL TEAM ATHLETES
William Dandijinou
Born in Verdun, QC, Dandijinou comes into his first FISU Winter Universiade boasting World Cup experience, having represented Canada six times on the World Stage at three World Cup tour stops. The 2001-born skater's best World Cup result came at World Cup 2 Montreal in 2019-20, where he finished 12th in the Men's 1000m.
Nicolas Perreault
Perreault will be making his FISU Winter Universiade debut just over two weeks after his birthday. The 20-year-old turns 21 on Nov. 28. While the Sherbrooke, QC-born student-athlete has not yet started a World Cup race, he is skating well early in the 2021-22 season, winning the Canadian National Championship in the men's 1500m race in Montreal back in August. In his first season with the senior national team, Perreault is a medal contender in Lucerne.
Rikki Doak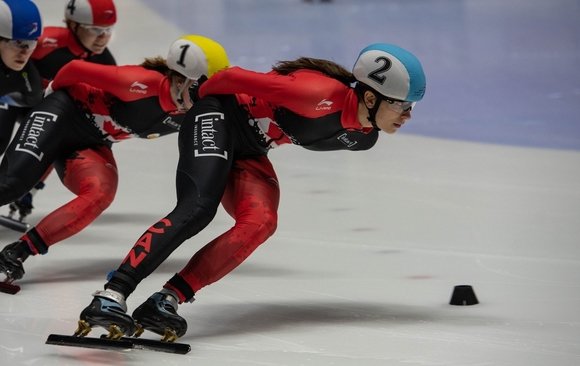 One of Canada's most experienced student-athletes, Doak, comes to Lucerne with medals in mind. From Fredericton, NB, the 22-year-old represents Canada and the Atlantic Provinces as the only skater from east of Quebec. With 10 World Cup starts under her belt, Doak will look for a medal performance at the Winter Universiade while looking ahead to Beijing 2022.
Her best World Cup results include three Top-10 finishes when she skated to a ninth-place finish at World Cup 6 in Dordrecht, GER in 2019-20 in the 1000m, and 8th in World Cup 2 in Montreal, the same event. Her top World Cup finish also came that season; a 7th place finishes in World Cup 3 in Nagoya, Japan. 
Doak is a Canadian medal hopeful in Switzerland with experience racing and thriving against the world's best Olympic-level athletes.
Claudia Gagnon
At 23-years-old, Claudia Gagnon has won World Cup medals but will be looking to add a FISU Winter Universiade medal to her burgeoning all-star resume. Canada's most successful student-athlete heading to the Games, the Saguenay, QC-born skater, has won four ISU World Cup Medals.
Her top junior moment came in 2017-18 when she and her Canadian relay teammates won gold at the World Junior Championship. However, her best World Cup results started the year after, with her first World Cup medal, a bronze at World Cup 3 in Calgary.
In 2019-20, the last international season she raced, Gagnon helped the Candian relay team World Cup bronze medals in Salt Lake City, USA and Montreal, while adding a career-best silver in Dordrecht.
Canada's Universiade short track team is full of medal contenders, and Gagnon will lead the charge as she strives this season towards a potential first Winter Olympic Games in Beijing.
---
49 Sports Editor-in-Chief Ben Steiner will provide in-depth coverage from the Lucerne 2021 Winter Universiade, telling the stories of Canada's student-athletes wearing the maple leaf at the second-largest multi-sport winter competition.