HALIFAX, NS – The first U SPORTS women's soccer championships in two years will feature all kinds of teams with different styles. This week, we'll find out which one of them will prevail as Canada's best.
Some teams are national powerhouses that appear almost every year, while others are in for the first time in years, or ever. Some make their names by filling opponents' nets, others by not having their own net filled. Some teams have been training for a while, even though the COVID-19 pandemic, while others have been together since just late summer.
All these teams will converge on Cape Breton University on Nov. 18, when the national quarterfinals get underway at the Cape Breton Health and Recreation Complex.
The unique Maritime weather is sure to give the host CBU Capers a bit of an advantage. But from asking around participating teams over the past couple of weeks, a couple of central themes came out: sticking to the team identity and focusing on improving internally is what got the qualified teams into the tournament in the first place and, according to most of the coaches, how they will continue in the season's final weekend. They also realize they need to make things go their way, whether through perseverance or a small bit of luck. Now, let's meet our national finalists, in order from west to east.
UBC Thunderbirds
The defending national champions from UBC are very familiar with the tournament and will, unsurprisingly, be among the favourites this year. They have the most U SPORTS women's soccer championships with seven, including five in the last two decades. On average, that's one U SPORTS title every four years.
Yes, they may have lost to sworn nemesis Trinity Western in the Canada West final, arguably the toughest conference in U SPORTS right now. The same thing happened to the Thunderbirds in 2019, except they fell to the Calgary Dinos in the conference final. We know what happened a few weeks later when they met again in the national final.
"We have a lot of experience," coach Jesse Symons said of his roster, including 10 returnees from the 2019 national champion squad. "We don't want to lose games and we don't very often. Canada West is such a competitive division. It's really about getting to nationals and if you do that, it's a part of a successful season."
Among those key returnees is national-clinching goal scorer from 2019 and CanWest scoring leader Danielle Steer. Midfielder Sophie Damien and keeper Emily Moore are also anchors in UBC's starting lineup. Moore tied with Trin West's Hannah Miller for the fewest goals allowed this season in the conference with four (minimum six games played). Jessica Williams and Anisha Sangha have been two important defenders for the Thunderbirds.
"When [the tournament] is on the line, I have full trust in our players to step up. We wanted that conference banner but at the same time, the bigger path is for a national championship," Symons said.
UBC opens their tournament versus Acadia at 1 p.m. local (12 p.m Eastern) on Thursday.
Trinity Western Spartans
Another tournament favourite is the squad that beat UBC just over a week ago. The Spartans may just have bigger chips on their shoulders though. They missed the 2019 nationals after falling in the CanWest semifinals at the hands of, you guessed it, the Thunderbirds.
The conference's highest-scoring team this season are also U SPORTS championship veterans. They've won five titles in program history. In the past 12 seasons alone, they made the national final a whopping seven times. Head coach Graham Roxburgh said he's noticed some common factors between different championship teams from TWU.
"There's a sense of togetherness and culture that goes deeper than just playing good soccer, but a bond between the players that says 'We're family and we want to do something special,'" he said. "You have to be good to win a national championship but you also have to peak at the right time. In the group this year, there is that hunger."
Trinity Western is led up front by Anna Dunn, who came third in CanWest points. Kathryn Harvey was sixth in the conference with six goals (including the conference-clinching goal in the finals versus UBC) and Sierra Halldorson had that number in assists. Their defensive stars include senior fullback Elizabeth Hicks and keeper Hannah Miller.
TWU draws host Cape Breton in their quarterfinal matchup at 5:30 p.m. local (4:30 p.m. Eastern) on Thursday. What's the key to coming out of that game with a win?
"The focus and staying strong together is the mindset we've had all year," Roxburgh said. "No matter what's thrown at us, whether it's the hosts, a potent offence or different conditions, we take it one step at a time and approach each task one at a time."
MacEwan Griffins
MacEwan is no stranger to kicking around with the best in CanWest. They've made four of five conference Final Fours since this playoff format was introduced in 2016, impressive for a program that just entered U SPORTS in 2014 (they won the CCAA nationals the year before).
After falling short to provincial rivals like Calgary and Alberta in past years, they've finally booked their ticket to a U SPORTS nationals after defeating Saskatchewan for the CanWest bronze medal. On a team led by six seniors, only Trin West outscored the Griffins and their 35 goals in the conference. Unlike the Spartans, coach Dean Cordeiro said, the national experience is a brand new challenge for the team.
"It was always our goal to have a quick transition into U SPORTS. It's exciting and we're ready," he said. "We can't let the stage become too big; we have to treat Thursday as just another game. It's easy to say that, but we trust the process and the girls understand if they play their game, we like our chances."
MacEwan has received plenty of contributions from both their young and veteran players. Rookie Grace Mwasalla led the team in scoring with ten points, while fellow first-year Nikki Brodeur and fourth-year Raegan McCarthy tied for tenth in the conference with five goals apiece. The fullback line features 2019 returnees Samantha Gouveia and the offensive-minded Abbey Wright. Breanna Truscott took over starting duties in net during the playoffs, allowing just two goals in those three games.
"The heartbreak in 2019 [losing to Calgary in the CanWest semis] motivated the team. We had four girls graduate but decided to come back. They didn't want to go out with that being their last memory of U SPORTS competition," Cordeiro said. "We have that veteran experience and young footballers contributing now early in their careers. I think we have all the pieces of the puzzle together.
MacEwan draws the Queen's Gaels in the first quarterfinal Thursday at 10:30 a.m. local (9:30 a.m. Eastern).
Western Mustangs
Western comes into their fifth national tournament in eight years in a very by-committee fashion. They aren't like the CanWest teams (or even other OUA squads) who scored insane amounts of goals or allowed few. But despite falling in a penalty shootout to Queen's in the OUA final, it was clear the Mustangs pulled together something special late in the season with playoff wins over U of T and Nipissing.
Like many OUA teams, coach Martin Painter said his team didn't have the fortune of training together a lot over the pandemic. This came as a disappointment as the team felt it was building up to its best year yet in 2020, but with many new faces in the 2021 roster, they made this season count.
"We've gotten better with every game all season. We know we'll have to keep doing that to have a chance at nationals," Painter said. "There are good teams there, so we must avoid mistakes and find some special moments. We may not have the experience, but it's about how the players react to that pressure and adversity."
Over half of Western's players are in their debut seasons. Among them are starting goalkeeper Samantha St. Croix and striker Reese Fowler. The Mustangs offence was led by third-year Natalie Abbate in 2021, who put up 10 goals. Senior Kiera Grein had four points, while Alexandra Hebert and Lauren O'Donnell were central for Western's defence in their playoff run.
"For us to have a chance of winning, we have to be excellent defensively. In the second half of the season, we've been stingy defensively and have had some amazing performances," Painter said as they prepare for Laval on Thursday at 8 p.m. local [7 p.m. Eastern]. They've played the Rouge-et-Or in each of their four previous U SPORTS appearances. "There's no one answer [to beating Laval], but we have to be excellent all over the field. We need everyone to step up and play their best possible game."
Queen's Gaels
In short, 2021 has been a big year for the Gaels. After having their 2019 season end at the hands of national bronze medalists U of T in the OUA quarterfinals, Queen's surged to third in the conference in points this season. Next, they defeated Guelph and 2018 U SPORTS champions Ottawa in the quarters and semis, respectively, before outlasting Western in the OUA final. With that, they clinched their first national tournament berth since 2016.
Their calling card this season has been offence, scoring the second-most goals in the conference. But they showed their all-around versatility in their championship run, allowing no goals while scoring four. Coach Dave McDowell said the off-year was unfortunate but allowed players to reset and rebuild from their 2019 quarters loss.
"I feel like we came out of the pandemic more prepared than other teams. Top-to-bottom, we're a more talented team. We have a bit more experience and the leadership has been very good," McDowell said. "There's a real sense of self-belief within the group as well. [The players] are good at staying in the moment and they don't get ahead of themselves."
Fifth-year striker Christie Gray has been the star on the Queen's attack, scoring 13 points and four game-winning goals in 2021. Fellow forwards Cecilia Way and Raya Athwal have scored nine and eight points respectively. Keeper Kirstin Tynan made 22 saves combined in her three playoff shutouts. Fullbacks Maddy Moran, Jamie Foot and Jenna Leslie were key in keeping the ball out of harm's way.
They'll need more of that when they face offensive dynamo MacEwan on Thursday.
"In the end, against a team that scores a lot of goals like us, it's the team that takes their chances and are most efficient with their chances that will probably come out on top," McDowell said. "We've created a lot of shooting and scoring opportunities this year, and we've gotten better all year. We've been good defensively as well. If you're working both sides of the ball like that, you will give yourself a chance to be successful in any game."
Laval Rouge-et-Or
Laval, the RSEQ's lone representative in nationals, comes into Cape Breton on fire. They're undefeated in their last 10 games and they beat the lone team that topped them this season, the Montreal Carabins, in last week's RSEQ final to return to the U SPORTS championships. They missed the tournament in 2019, which ended a run of six consecutive nationals they qualified for. The Rouge-et-Or won two titles during that streak.
Laval has been a pesky team this year. They haven't put up offensive or defensive numbers like Montreal but found ways to win. Including the final, the team captured seven of their 11 wins by one goal. Assistant coach Rachel Collard said playing and beating the Carabins is great preparation for nationals in both competition and playing in unique environments like CBU.
"When we come [to Montreal], it's always hard as they have a lot of fans. It's not always fun for the team that's visiting," Collard said to 49's Ben Steiner following Laval's extra-time triumph over Montreal in the RSEQ final. "We knew if we wanted to win and have the best chance to go to [the U SPORTS championships], we would need to play hard and play some long balls more than usual. The girls never stopped, even though we knew it would be hard."
For the Rouge-et-Or, Joelle Mercier will be an important part of their national success. With nine goals and 11 points, she led the conference in both categories. Mathilde Rousseau, another starting Laval striker, will be watched carefully after scoring the RSEQ-clinching goal last week. Senior defenders Cynthia Gaspar-Freire and Ariane Routhier will be leaned on to prevent chances against. Expectations are also high for keeper Myriam Labrecque, the RSEQ championship's MVP.
As they prepare to face Western on Thursday, Collard is confident the team has the tools needed to bring the title back to Quebec City.
"We beat the top-ranked team in Canada, so why not?" she said. "We have a couple of girls who didn't play [in the RSEQ final] but everyone will be 100 per cent by then."
Acadia Axewomen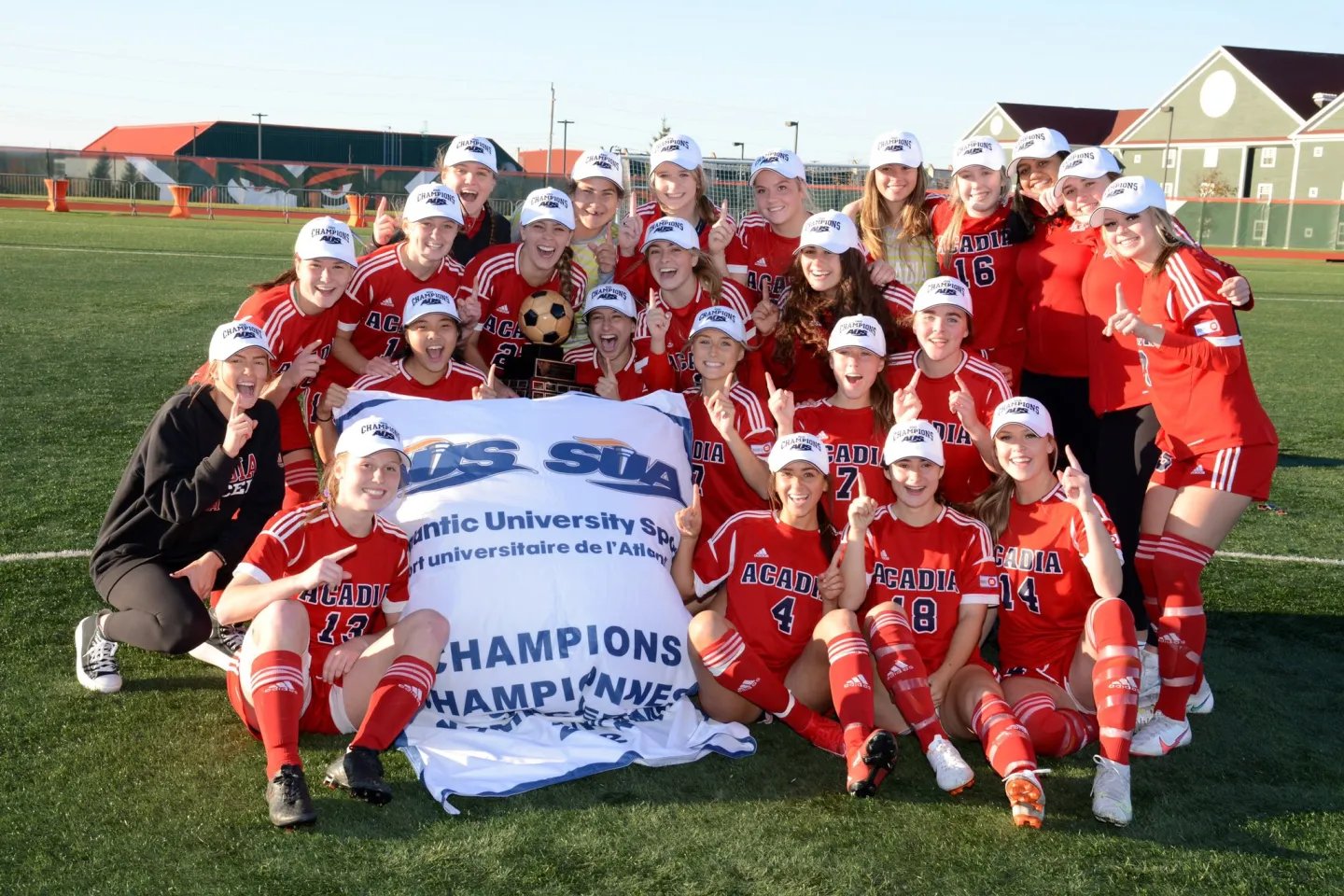 Acadia battled their way to their first AUS title since 1996 on the strength of arguably the stingiest win-by-committee roster in the conference. After playing two extra-time games in 24 hours, the Axewomen beat the StFX X-Women to take the title and the AUS nationals berth.
It may have been 25 years since their last conference championship, but they are no strangers to nationals. They most recently took part in 2016 and 2019. This year's Acadia team has a balanced attack (with its four highest scorers tied for 17th in AUS scoring) and an aggressive, knowledgable defence. Coach Amit Batra said the team's most important trait is the players' chemistry with one another, created through connections with one another at Acadia's small Wolfville, N.S. campus.
"It's a small school, so we work hard on that connection between players so everyone is a part of the team no matter their role," he said. "The environment is 'We care, but we will hold you accountable.' The players don't give each other a lot of room for excuses, but never in a negative way."
Rookie Grace Longley, who scored the AUS-clinching goal against StFX, is one of the team's four leading scorers. So is fullback Meghan Johnston, who had an excellent tournament two weeks ago on both the attack and defence. Veterans Jayden Boudreau and Madicynn Harnish form central pieces in Acadia's structure, with Lauren Jodrey and Leah Adams getting the bulk of minutes on defence. In goal is first-year Milena Ramirez, who had the fourth-best regular season goals-against average in the AUS.
Acadia draws an oddly-familiar opponent in UBC in the quarterfinals, a team that also hardly allows goals and has a knack for playing best when the pressure's on.
"It's about focusing on our strengths, how we connect on the field and that we're defensively disciplined. That really hasn't changed for us," Batra said. "We believe we have the talent and the work ethic to compete with anyone. That's why our games are so exciting and it's a lot of fun to have that pressure on you [at the tournament].
CBU Capers
For almost the last 20 years, the Capers have been the class of the AUS. They are the latest team from the conference to appear in a national final (2017) and win one (2007). Not including the COVID year, they've missed just one U SPORTS championship since 2014. In regulation time, CBU went undefeated this season.
The Axewomen ousted them in the conference semifinals but as hosts, the Capers are in as prime of a position as anyone to earn redemption. By goals against, CBU is the best defensive team in the AUS (six goals allowed in the regular season). Their 28 goals scored were just one back of Memorial for the conference lead. CBU remains a strong squad that threatens to go deep and as coach Ness Timmons said, competitive games late in the season will pay off later on.
"We've been getting better every day this season, which was our goal. The team has played well all year, even though the [semifinal] didn't go the way we wanted," Timmons said. "At the end of the season, we had some very tight games. Those are the kind of games you want so you know the team is playing at their best."
Erin Freeman and Ally Rowe have been their go-to offensive forces, with each scoring five goals this season. Rebecca Lambke's been effective in the midfield, the same being said for key fullbacks Fatou Ndiaye and Amelia Carlini. Third-year stopper Haley Kardas was spectacular in 12 games played, becoming the only AUS netminder to post a save percentage north of .900 in 2021.
As Cape Breton prepares to face Trinity Western in the quarterfinals, Timmons compared some characteristics of his past championship teams and finalists.
"They play for each other, with a lot of grit and hard work. They connect as a team both on and off the field. We're a younger team this year but with quality leadership," he said. "We've played [TWU] before and they're a tough team to beat all the way through. We don't mind playing them though; every team here is quality so no matter who we draw, we have to come out that first night and put everything on the field.