CAPE BRETON, NS – A new tournament has unfolded within the greater 2021 U SPORTS women's soccer championships. The OUA and AUS teams, after falling to the consolation round, are now battling to see who the best team is out of the two conferences.
Each match on Friday pitted one OUA squad versus an AUS one. That is also how the fifth-place game (or, unofficially, the OUA/AUS division final) will structure, as a team from each conference came out on top today.
The championship semifinals go on Saturday, with the three Canada West teams and the RSEQ champion fighting for medals. But Friday was all about the consolation round. Not to be overlooked, the teams' seasons were on the line so a lot of desperation was clear on the pitch today. Also, fifth place of dozens of soccer teams across the country is an excellent prize to play for. There may not be medals, but there is sure a championship feel.
Gaels come out on top of defensive slugfest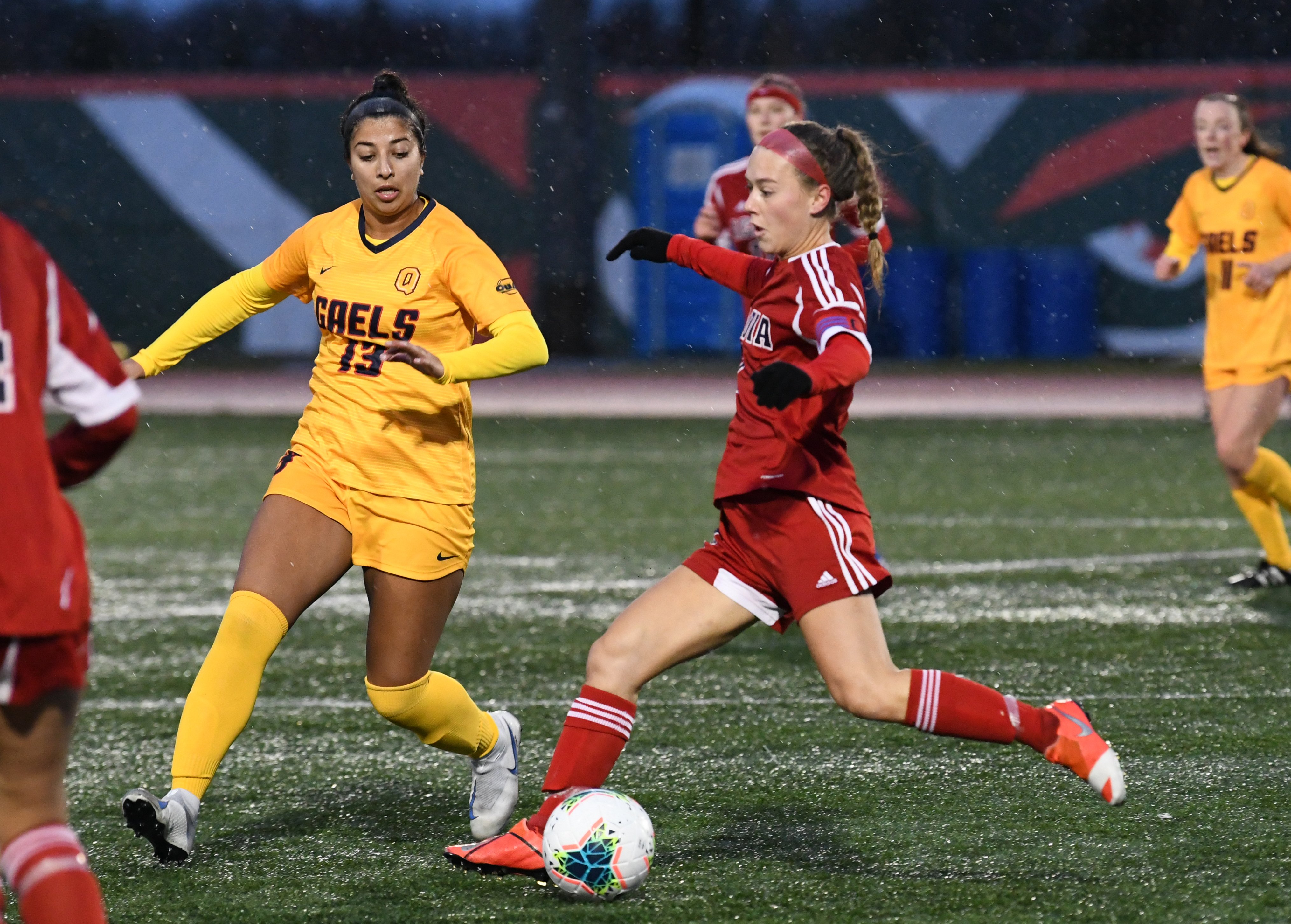 The Queen's Gaels made their name all season through their scoring. Only the Ottawa Gee-Gees outscored them in OUA action this season.
What went less noticed was the fact they allowed just five goals all season before nationals, none of them coming in their final three playoff games that sent them to nationals. It was hard not to notice that Friday afternoon, as their defensive strategy carried them to a 0-0 win in penalty kicks and a spot in tomorrow's fifth-place game.
"[The defence] was a huge help today," Gaels keeper Kirstin Tynan said. She came in clutch early in the penalty shootout, denying Acadia's first two shots to give her team leeway in shootout scoring. "It was a whole team effort keeping their chances to a minimum and we got the result we wanted because of that."
The defensive showcase was evident from the first half. After a couple of hiccups to begin the match, the Gaels fullbacks were all over Acadia's attackers. Queen's ended up controlling more of the play in the Axewomen half of the pitch later in the first 45 minutes, but they could only get about three shots through to Milena Ramirez in net.
While that continued into the second half, each team threatened with some big-time opportunities in the final minutes. None were bigger, however, than the two free kicks Acadia was awarded in the 90th minute from just outside Acadia's 18-yard box. Queen's blocked the first, while the second went wide, enough to force the match to penalty kicks.
"[Tynan] made a lot of big stops for us and in the end, got what she deserved," Queen's coach Dave McDowell said of Tynan coming out on top in the goalkeeper duel Friday afternoon. "On the free kicks, it was big preventing a goal there. Defensively, they just played it out so well. They refused to throw in the towel."
The Axewomen have come out on the wrong side of two penalty shootouts in as many days and won't have the luxury of playing one more game on Saturday. Coach Amit Batra said he's proud of how his team left everything out there and stuck to their game.
"We were well-organized defensively. That's what drove us in the AUS playoffs. This tournament, we only let in one goal in two games," he said. "They did a good job of connecting passes. We were good too but made it too easy at times. It was a good match."
Madicynn Harnish was especially involved in Acadia's plan to stifle the Gaels' advance in the midfield. She said coming so close in each game is something for the team to be proud of.
"It was a great tournament," she said. "We just played our game. We did what we usually do and it worked out great. It makes a big difference playing these teams that are also really good."
The Gaels now prepare to face their second AUS opponent in as many days in CBU. With the home-field advantage Cape Breton used to squeeze out their consolation semifinal win, Queen's need another good game to call fifth place theirs.
Capers use penalty kicks to complete the comeback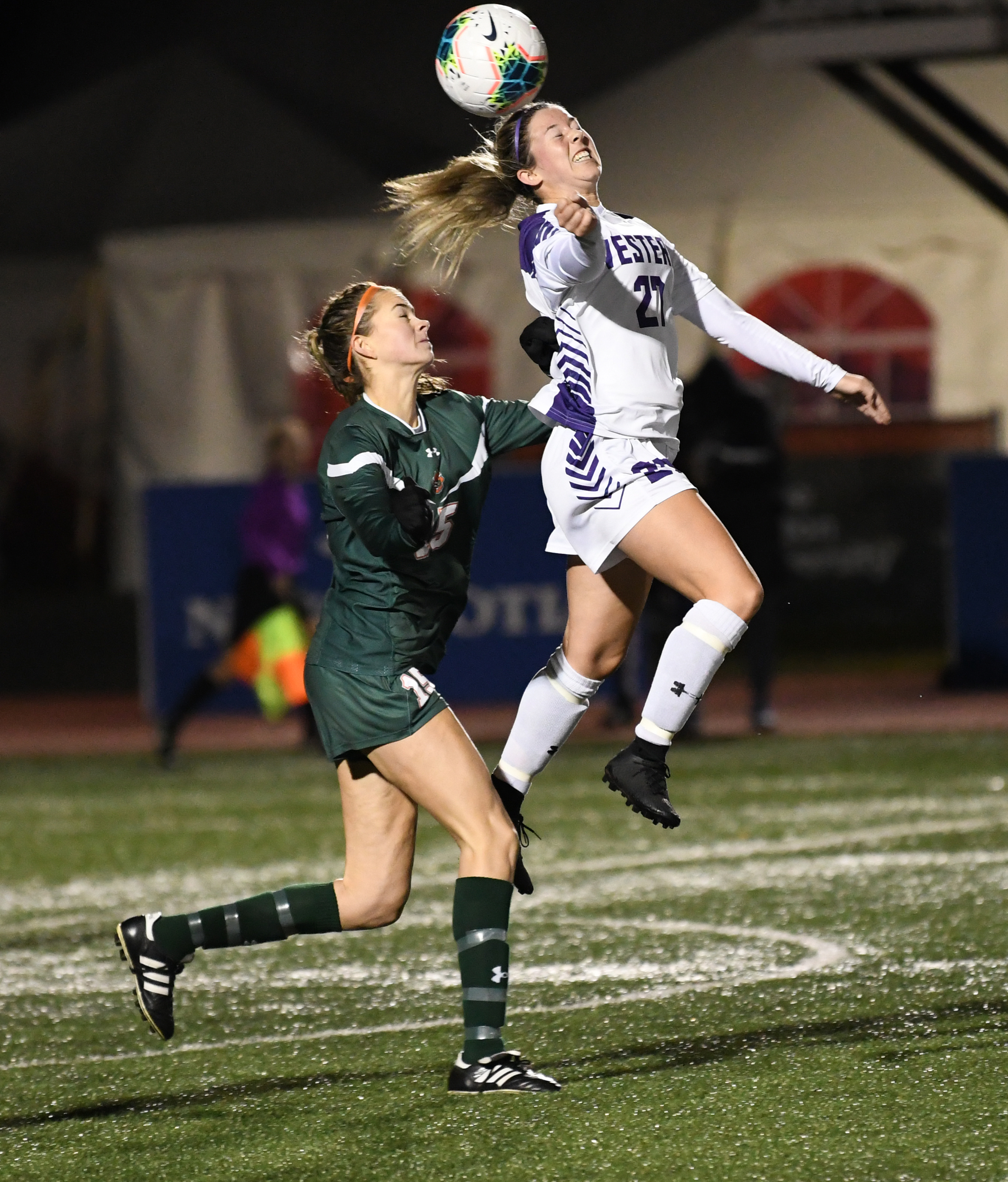 Fatou Ndiaye played hero in the Cape Breton Capers' victory over the Western Mustangs in penalty kicks Friday night, scoring on the final shot of the eight-round shootout. But despite what was on the line tonight, Ndiaye said she didn't feel a ton of pressure.
"As a whole, we were pretty calm," she said of the team's nerves during the shootout. "Our coaches emphasized staying calm during shootouts; if you miss, you miss and if you score, you score."
Doing that is difficult in ordinary situations, let alone in front of your home fans in a national championship. But the shootout win capped an up-and-down night for the hosts who appeared to be building up to their high points rather than being due for them.
Western came out swinging for almost the entire first half. Only nine minutes in, Hannah Vickers pulled a trick out of her sleeve, volleying the ball past a CBU defender in the box before tapping it by Haley Kardas to award the Mustangs with an early lead. Changing the tone in the second half had to be a priority.
"The girls knew it could have been their last 45 minutes [of the season]. So you play a different game when you know it's potentially your last," CBU coach Ness Timmons said of his team's bounceback. "It was a good win for them at the end of the day. A shootout is a shootout, we've been on both ends of those. It's nice when you can win one."
While Western continued to have the high-quality chances in the back half of the match, it was a Caper in the right place at the right time that shifted the match. Rebecca Lambke was pulled down in the box while pursuing a cross, making no mistake on the subsequent shot to tie the match.
The shootout, as most longer ones do, had a bit of everything from nice shots, clutch saves and a fortunate bounce or two. Western's Samantha St. Croix stopped Erin Freeman in the fifth round by her fingertips then the bar, the shot finishing with the ball lying on the goal line but not in.
As Kardas made the save on Western's eighth shooter, Ndiaye converting on her kick would end the game. And that's all it took to decide the match.
"I thought we started really well with the early goal, but the game kind of went in waves. Cape Breton made some adjustments and did some things well," Mustangs coach Martin Painter said post-game. "[The penalty kick] was a tough goal to concede. Then it went to a shootout. It came down to one shot and, unfortunately, they were one shot better."
Western finishes their weekend coming out on the wrong end of two one-goal games, dropping their quarterfinal to RSEQ champion the Laval Rouge-et-Or Thursday as well.
"We stated compact as a team and worked together when we lost the ball," Western's Medina Birani said. "We all worked really hard to get to this point. It's unfortunate we lost in the shootout but we're all proud of each other we made it this far."
It certainly could not have been much tighter at the end; one shot decided it. But Cape Breton are the ones securing one more game in their season and another opportunity to treat the hometown crowd to a win.
"It's amazing to be able to give the fans a third game," Ndiaye, a fourth-year veteran, said. "For the seniors, it's also nice to get them another game to finish off the season."