HALIFAX, NS – With the holiday season approaching and a major break in the AUS Men's Hockey Schedule, we are starting to see the real contenders, and the teams that have been disappointing so far in 2021-22.
The evenness of competition in both the men's and women's divisions, plus changes in the play of most teams now as compared to October, make grades tricky to assign for almost every team. Teams like the men's UNB Reds can earn shoo-in A+ grades but outside that, factors like standings, recent play and future expectations play significant factors in my assessment.
49 Sports grades each AUS Men's Hockey program.
Acadia Axemen
C+
This isn't the first 15 games of the season the Axemen had hoped for. However, their grade reflects the fact they are probably the most under-pressure team in the AUS. As national hosts and 2019-20 conference runner-ups, Acadia's expectations have been and will remain high this season.
Acadia has received the short end of the stick thus far as the result of teams like StFX, Dal and UPEI surging to begin the season. They sit just one point ahead of last-place Moncton while possessing the worst goals-against total in the league with 61. It hasn't helped that star goalie Logan Flodell's save percentage is the fourth-lowest in the league and they have no defencemen with a plus-minus above minus-five.
They've shown promise at times, mostly in the form of a strong start to the season and the conference's best power play (running at a 28.1 per cent efficiency). Still, it's a long way back up for the Axemen at the season's midway point.
Dalhousie Tigers
A-
Who knew the Tigers' resurgence season would come this soon and this strong, relative to where they've been through in the past 20 years? Halfway through the season, they have already almost caught up with their win total of eight from 2019-20. Defeating the almighty StFX in game 15 was their seventh of the season.
Almost the polar opposite of Acadia, expectations for Dal heading into this season were few and low. They have a bit of a balancing act going; they're succeeding but not yet to the level where they're in a "nationals berth or bust" situation. But given the parity of competition in the league, nobody is saying they can't pull off that berth.
Led by the scoring of super-rookies Derek Gentile, Barrett Kirwin and Shaun Miller, Dal has bullied the best in the conference at times this season. Another success driver has been their special teams, ranking in the league's top three in both power play and penalty kill percentages. If they can keep that effort up against the lower teams, they'll be dangerous.
Moncton Aigles Bleus
B-
All things considered, Moncton has done an alright job keeping up with everyone despite not heading into the season in the best situation. They're in last place, but not necessarily at rock bottom as they've remained competitive. They knew they had a sizeable hole to crawl out of after a lot of roster turnover from the near-nationals bound team in 2019-20. They aren't that team anymore, but they are certainly not one to take lightly.
A dreadful 0-4-1 start doesn't help their ranking here. Since then, they've squared things around by going 4-5. In that timeframe, they've beaten Dal twice, downed StFX in a large-scale upset and clobbered Acadia. Nathael Roy has been a pleasant addition to the squad this season, fifth in conference scoring. As has fellow freshman Mika Cyr, who has 13 points on the season.
It's hard to grade a team that has dropped so much from their 2019-20 status much higher. The Aigles Bleus, however, are making the best of a situation that is against them.
Saint Mary's
B+
Over the month of November, SMU has been in A-grade territory. They seem to be rounding a corner with their recent play, with the help of captain Mitchell Balmas' hot streak of 10 points in his last five games.
But SMU's play has been streaky overall to begin the season, keeping in mind how hard it is to stay consistent in a league of this nature. They started the season 0-3 before winning three straight. They've been just above .500 since with a 4-3-1 record in their last eight but, as mentioned, look more like their old selves in their last four games.
Like many of the other teams, getting accustomed to high roster turnover has been a priority for the Huskies. Three of their top four scorers, Dennis Busby, Cedric Ralph and Justin MacPherson, are rookies. Behind Acadia's Garrett McFadden, Busby and MacPherson are the highest-scoring d-men in the AUS. Goalie Matt Welsh's games last week versus UPEI and Acadia were two of his best performances this season. Now, it's about holding that level of play steady for everyone, because this team is capable of more.
StFX X-Men
A
StFX has definitely proved for much of the season they belong in the AUS's elite. They're limping into the holiday break after a lacklustre last four games. However, there's no ignoring the talent and ability they've presented, from the Liam Hawel-Matthew Struthers connection upfront and a lethal attack that's tops in league scoring in terms of goals for.
They've had defensive questions all season, especially in the wake of getting thrashed 9-1 by UPEI earlier this month. Another concern is their discipline and their response. The X-Men lead the league with 349 penalty minutes and have the worst penalty kill percentage at just over 70 per cent. Those concerns haven't, yet, outweighed the positives.
Their next big challenge as a young team is breaking out of the midseason hump and absorbing the grind late in the schedule after the holidays. Keeping pucks out of the net becomes even more important later on in the winter.
UNB Reds
A+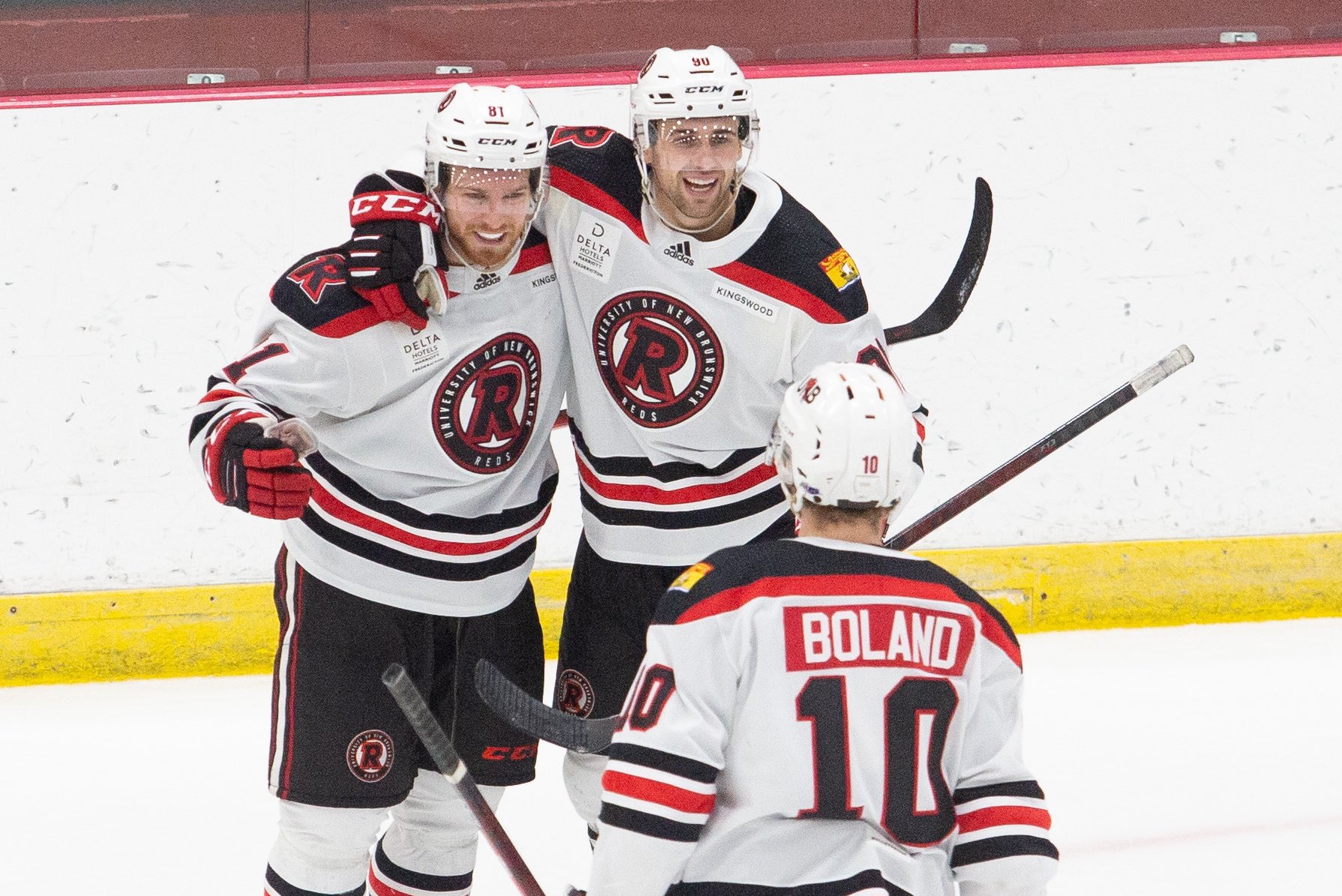 Not much debate here. UNB continues to do UNB things. They've lost just once this year but it's much more than that. They have the highest goals-per-game figure in the conference and they are 95.4 per cent on the penalty kill (the next closest team is 82.3 per cent). Plus, their entire lineup contributes, as everyone on the roster (except goalies) has at least three points this season. That depth is unmatched.
As alluded to, the only thing they might be better at is keeping the puck out of the net. If they allowed twice as many goals as the 19 they've allowed halfway through the season, they'd still be the best defensive team in the AUS by five goals. Only StFX could beat them this season in a 4-3 game, but UNB has outscored them 8-3 in their other meetings.
All those factors, plus a dominant goaltending platoon featuring Rylan Parenteau and Griffen Outhouse, have maintained the Reds' standing as head-and-shoulders above everyone else.
UPEI Panthers
B
UPEI is another one of those up-and-down teams looking to take that next step toward UNB and StFX territory. At times, they've been convincing, but other times have shined lights on their more significant shortcomings. The past month has displayed more of the latter, as they've dropped four of their last five games and seven of their last 10. It doesn't get any easier in their final four games before the break with dates versus UNB, Dal and StFX.
Big seasons from Owen Headrick, Kyle Maksimovich and goalie Jonah Capriotti have driven the Panthers to high points this season. But, corrections could be useful in their discipline and power-play efficiency (despite starting the season hot in that department).
In a team that's shown offensive ability in spurts, they could use that more often. All but two of their losses this fall have come in situations where they've scored two goals or fewer. Making it to the break with at least a pair of wins would be, at the very least, a significant morale boost for UPEI.