VANCOUVER, BC – The Canadian World Junior team is good, like really good. Still, the U SPORTS All-Stars often steal a game or at least fare better than they did in Team Canada's preparations for the 2022 IIHF World Junior Championship.
U SPORTS has faced the Canadian World Junior Selection camp since 1988, pitting some of Canada's best U20 players against university student-athletes, often over 20. Since 2015, U SPORTS has sent an All-Star team to play the games, honouring the finest student-athletes through the first part of the season.
Due to COVID-19 precautions and planning for the Lucerne 2021 Winter Universiade, only members from the four Alberta U SPORTS programs were eligible for selection to take on the Juniors in 2021.
While Canada West's Top-2 scorers, Nolan Yaremko and Riley Sawchuk, were tabbed to represent the Alberta All-Star team, it was far from enough to provide any legitimate challenge to the gifted youngsters.
Connor Bedard highlights Canada two wins
On Saturday evening, in the first of the two matchups, Team Canada shut out Team U SPORTS 3-0 over 60 minutes. The only time U SPORTS put the puck in the net came in an exhibition shootout following the loss with Calgary Dinos defender Kaden Elder scoring on Edmonton Oil Kings goaltender Sebastian Cossa.
Things improved in Sunday's matinee matchup, with U SPORTS scoring a pair of goals in regulation from MRU's Tyson Helgeson and Calgary's Jake Gricius. However, it did not provide much pressure, as Team Canada cruised to a 7-2 win. The score ballooned in the second period, however, with Cossa, guardian the U SPORTS goal, allowing three goals in less than 90 seconds.
Canada's youngest player, 16-year-old Connor Bedard, tormented U SPORTS over the two games, scoring twice and adding an assist in the first 3-0 win before adding two more assists in the second victory.
"I thought our line was generating a lot in the offensive zone. It was nice to get a couple of goals, but both were off good plays and it was nice to finish them," said Bedard after Game One. "We were able to get our cycle going, and those are older, bigger guys (on U SPORTS). We were able to work them down low, and it was really fun to play with [Guenther and Roy]."
West Vancouver's Bedard made Team Canada's final roster with his impressive performance, becoming just the seventh 16-year-old to crack the roster. He joins a list featuring established, and retired NHL stars Connor McDavid, Wayne Gretzky, Sidney Crosby, Eric Lindros, Jason Spezza and Jay Bouwmeester.
The future
Heading into the 2022 IIHF World Junior Selection Camp, there was no doubt that the 2021 iteration of the U SPORTS team was going to be weaker than in years past. In 2019, U SPORTS split the two-game set with Team Canada, winning the second game 2-1.
While the situations made sending a full All-Star team challenging, it was a missed opportunity for Canadian university players to showcase their league and talents.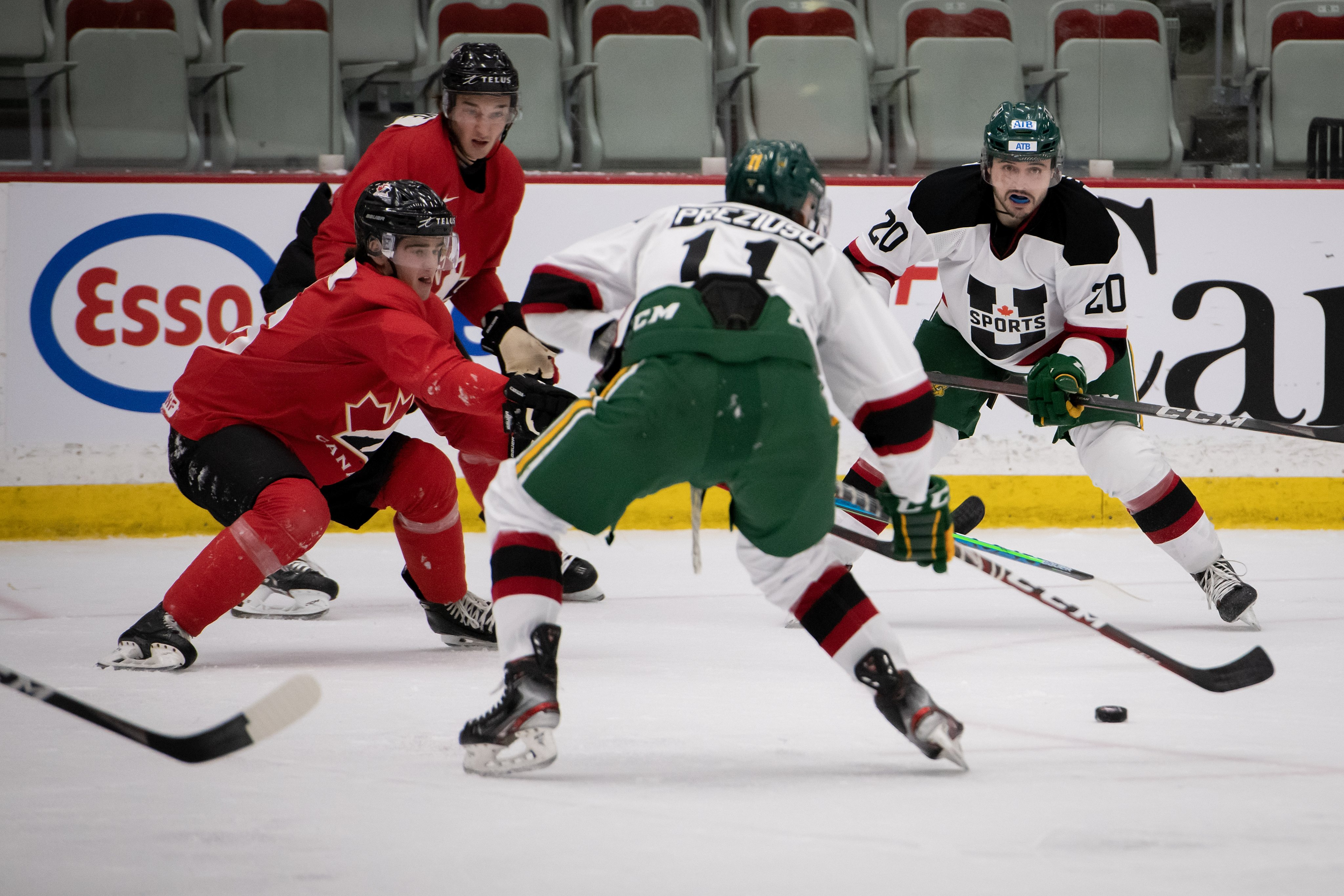 The World Junior tournament draws in Canadians over the holiday season, and there is a fixation on the annual tournament right from training camp. With the U SPORTS games shown on TSN, it is often the lone time hockey fans catch a glimpse of Canada's university game. With good performances, U SPORTS can build its reputation as an elite league, but that did not happen in 2021.
Moving forward, it is likely that the U SPORTS All-Star team model will return next season, helping Team Canada prepare for the 2023 IIHF World Junior Championship in Russia's Siberian region.
Edmonton, Alta. and Red Deer, Alta. host the 2022 edition of the tournament, with Team Canada dropping the puck on Dec. 26 against the Czech Republic at Rogers Place, home of the NHL's Edmonton Oilers. 
FINAL ROSTER AND HIGHLIGHTS
Cover Photo: Hockey Canada/Twitter