VANCOUVER, BC – Nobody wanted to pause the OUA, AUS and RSEQ seasons until late January. The three conferences will hold off while Canada West forges ahead with a scheduled Jan. 7 restart.
Many student-athletes and staff, particularly in the OUA, were not pleased with the pause after starting their seasons later than the AUS, RSEQ, and Canada West. Still, there is hope that the OUA competition could resume on Jan. 24, 2022.
Unique to men's hockey, many players have the chance to turn to the professional game and either give up on their university careers or shift them to remote learning while playing minor pro in North America or Europe. Since the pause, 14 OUA players and 2 AUS players have gone on to make that move, and more are expected to do so.
Why turn pro in men's hockey?
To put it lightly, players are not happy with the current situation. Seeing a chance to take the next step in their hockey careers, they are moving to the pro game before the conclusion of the U SPORTS seasons. There is a feeling amongst many in the OUA that the season will not return, forcing them to play only 7-10 games since the shutdown of the 2020 U CUP.
"I came back to have one proper last year at Carleton and to make it a good one because of the cancellation of the season before," said Cody Caron, who graduated from Carleton last year but returned to the OUA for 2021-22. "With the postponement and most likely the cancellation of the season, I couldn't sit around and wait for the OUA! The OUA has let everyone down for two years in a row now!"
Caron has gone on to sign with the Cincinnati Cyclones of the ECHL, while his Carleton teammate CJ Garcia has also left the OUA for the french pro league. More Carleton players are also expected to leave; sources tell 49 Sports.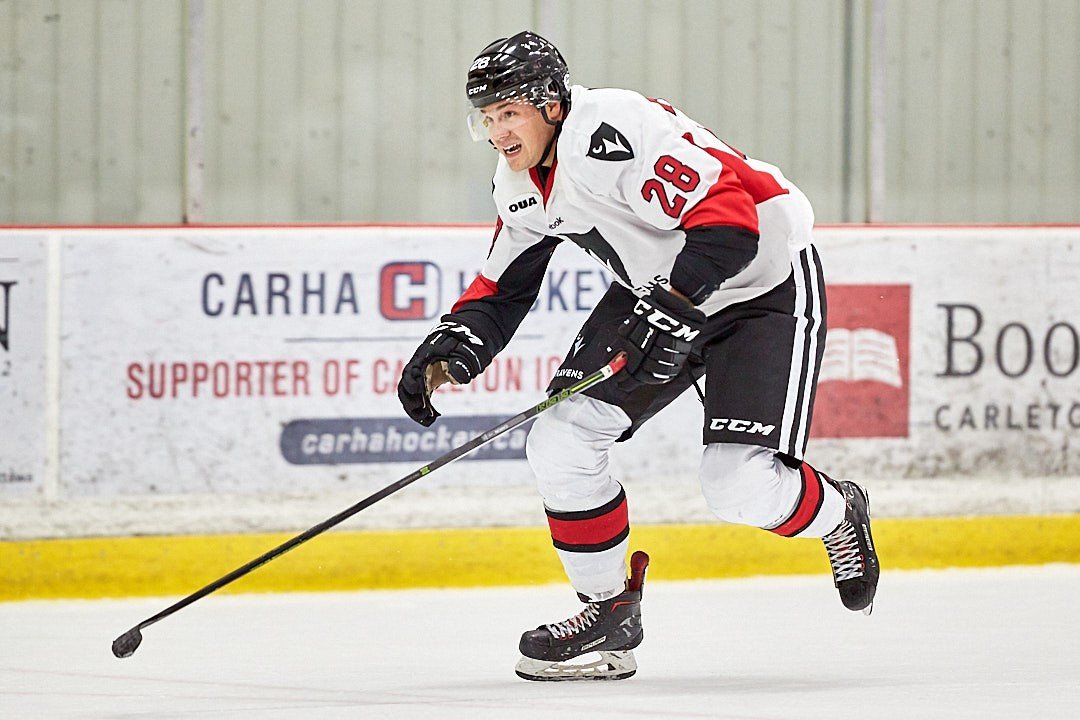 With the possibility of not playing for two seasons, players' pro aspirations would have been significantly hurt. Professional teams like U SPORTS – it is a top-league that can develop players for the next step, but few are going to take a chance on an athlete who has barely played in two seasons.
"They don't look for solutions they make radical decisions that change student-athletes lives forever. They don't think about the mental health of the athletes and how much their sports mean to them," said Caron. "The consequences of this will be really good players leaving the OUA and U SPORTS to go play pro, changing the trajectory of the league downwards."
The potential of two years off was enough to push Caron, Garcia and other senior players towards the move, but it is something that younger players have also taken. In addition, several players took the opportunity to move on from U SPORTS, including players who were not up to the academic level required to be in their programs. Sources tell 49 Sports that a quarter of the OUA players were not faring well academically.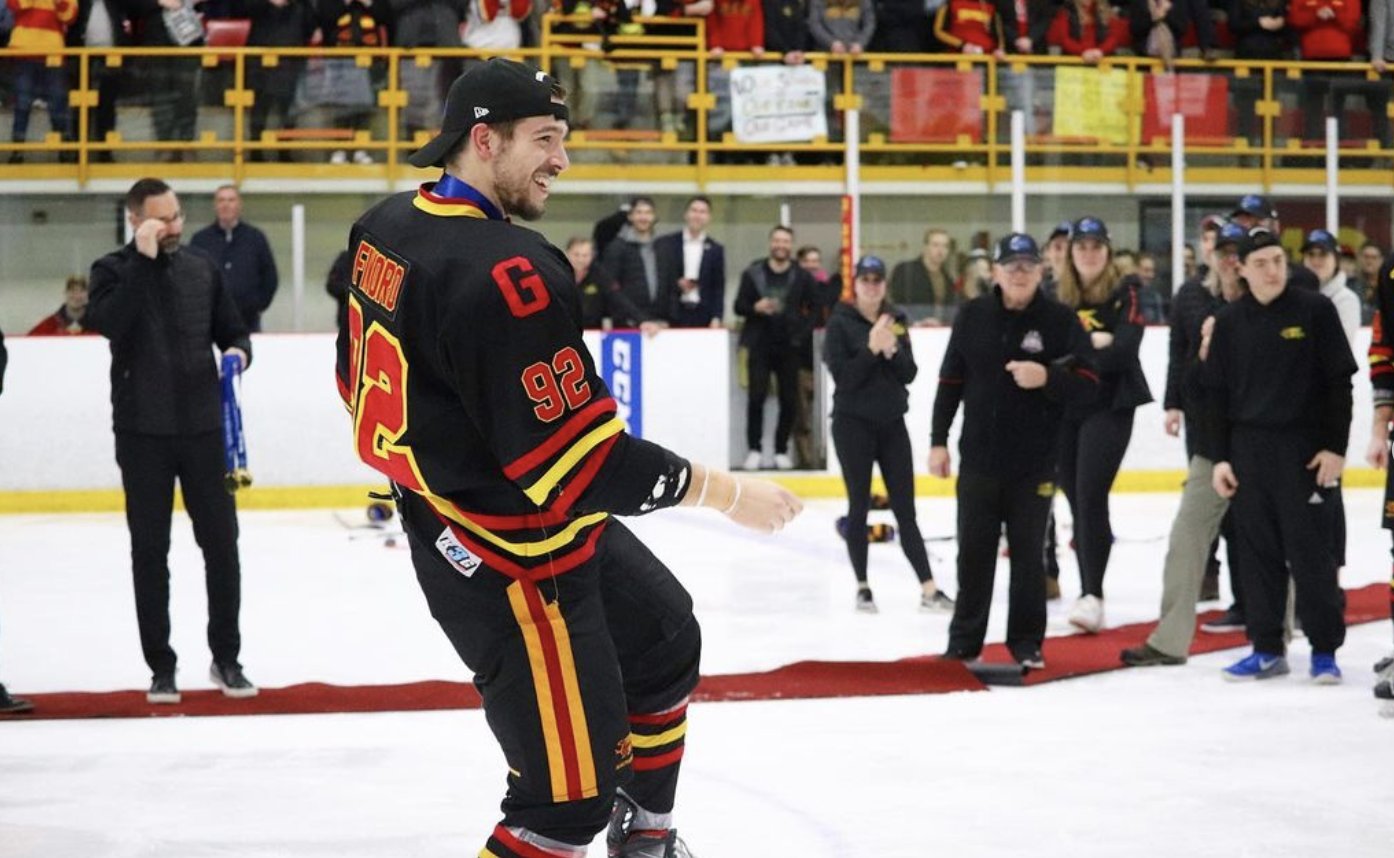 At time of writing, Lucas Chiodo, Aidan Brown, Owen Robinson, Thomas Sigouin, Jeremy Luchini, Tristan Berube, Girodano Finoro, Matt Gomercic, Logan Flodell, Garett McFadden, Graeme Brown and Dylan Riley have signed pro contracts.
The CHL-U SPORTS scholarship
When players from the Canadian Hockey League come to U SPORTS, their tuition, among other costs, is covered by the CHL as part of the U SPORTS-CHL scholarship program. With athletes moving out of school, many still have educational and material athletic benefits from the program.
Leaving school will also disqualify many of the athletes from the scholarship program if they return at some point. While they would have to redshirt a year if they were to return to U SPORTS, the CHL would not cover their costs.
In March, the Government of Ontario announced new funding of 2.35 million dollars to the OHL Scholarship program. For some of the athletes who have left, they leave having taken advantage of a chunk of that sum. However, with limited other options, there we no infringements on the program's regulations.
New restrictions hurt, but one helps in a return
While Quebec instituted its 10:00 pm ET curfew once again, and Ontario has limited capacity on all gatherings, Ontario's decision to disregard Health Canada's seven-day quarantine recommendation in favour of a five day isolation period may just save the season or at least halt players from moving to pro so quickly.
Under Government of Ontario guidelines, anyone who tests positive will have to isolate for five days after the onset of COVID-19 symptoms. With the limited testing available, a positive test is not required. After five days, if symptoms have improved, the individual can rejoin the public.
Missing seven days, as suggested by Health Canada, could cost a team in any sports 1-4 games. With the season's already paused and therefore shrunk, that is a significant amount of time. However, missing five days would mean that two weekends would not be cancelled.
While reducing the self-isolation period for fully-vaccinated individuals from seven to five days is in contrast to Health Canada's suggestions. It potentially helps restart the OUA, at least from a government protocol perspective.
On Thursday, Toronto's Owen Robinson and Concordia's Thomas Sigoiun abandoned their ECHL pro deals with the Orlando Solar Bears, returning to school before Jan. 1, 2022, therefore retaining their eligibility to play this season. That's a positive.
Per sources, OUA hockey teams are permitted to re-start practicing on Jan. 3, rather than the initially scheduled Jan. 10. The revised timeline is nearly on-par to a COVID-free season and indicates that there should be a restart on Jan. 24.
COVID-19 is not disappearing, and the conferences do not expect it to. Throughout the first semester, cases were kept to a minimum, and there were only a handful of disruptions to the schedule. There is a methodic approach to it all, but Omicron's rise has changed things, now it is just a question of whether enhanced protocols can get things going and keep them on until the end of the seasons.