HALIFAX, NOVA SCOTIA – Midsummer? Who am I kidding? Believe it or not, we're that close to the new season kicking off compared to the final competitions early last April. This time in a month, fall season teams will be assembled and beginning their journeys toward conference and national title hopes in October or November.
AUS teams will be in the championship mix again all year. However, everyone is out to accomplish more. With teams such as the Cape Breton Capers men's soccer team and the StFX X-Men hockey team winning U SPORTS bronze last season, along with the UNB women's hockey squad coming fourth at nationals, no Atlantic Canada team could call themselves national champions in 2021-22. No AUS team has won a U SPORTS championship of any kind since March 2019, when UNB's men's hockey team won the U CUP in Lethbridge, Alta.
As the conference's hockey teams have fared the best nationally as of late, there have been plenty of news and stories involving AUS hockey teams, from new rinks to a Memorial Cup champion. Major sporting events, facility upgrades and more make up this AUS midsummer notebook.
The Legend of 'Lady Mo' and MacDougall's Sea Dogs
Find me someone that wasn't surprised on May 22, when reports came out that venerable UNB men's hockey coach Gardiner MacDougall would be behind the bench of the Memorial Cup hosts.
Even on an interim basis, the move was interesting for a variety of reasons. First, the Saint John Sea Dogs had just a month to prepare for the tournament under new coaching, so a boot camp of sorts would be on the way.
But the nature in which MacDougall took the job was the most intriguing. It's no secret that teams as far and high as the NHL have kicked tires on MacDougall throughout his Canadian university success. He confirmed that during one Mem Cup press availability when he joked the Winnipeg Jets might be calling "again."
Through all that, he stuck with UNB and he still will be because his Saint John duties were temporary. Let's think about what his duty was. In short: winning the Memorial Cup. More specifically, winning a short tournament. He's pretty good at that, isn't he?
And lo and behold, the Sea Dogs won on home ice, making MacDougall the first coach to ever win both a U SPORTS banner and a Memorial Cup.
The Prince Edward Island native won the hearts of many Saint John and major junior hockey fans while he was at it. Most famously, the "Lady Mo" press conference after Saint John's final round robin win will be cited by Sea Dogs faithful for years.
It's hard to imagine that attitude not spreading like wildfire through the Sea Dogs' dressing room from the day he made the hour drive to the Bay of Fundy from Fredericton. Safe to say that this unity on the team was a must heading into a tournament against Canada's best.
That brings another parallel to MacDougall's UNB teams. The Reds didn't always have the star power that the Alberta Golden Bears and others brought to nationals. They just knew how to win the big games. Saint John was very reminiscent of those teams, usurping major junior stars such as Mason McTavish, Mavrik Bourque and Kaiden Guhle for the win (with all due respect to breakout star and tournament MVP William Dufour).
Sea Dogs GM Trevor Gregorie and the management received a ton of praise post-tournament for the construction of his by-committee squad that won the country. But his most significant move had to be getting the one coach who is arguably the best at doing what Saint John needed to do: win the short tournament.
AUS hockey stars at NHL, Canada Camps
Two of AUS men's hockey's offensive dynamos displayed their chops at NHL development camps earlier in the month. In August, one of AUS women's hockey's notorious offence killers will compete alongside the best in the country at the National Women's Team selection camp for the 2022 IIHF World Women's Hockey Championship.
Liam Hawel of the StFX X-Men and UNB's Ryan Roth were invited to NHL prospect camps following the league's draft on July 7-8. Hawel, the reigning conference MVP, attended the Columbus Blue Jackets' camp, while Roth headed to his home state of Missouri to the St. Louis Blues' camp.
Announced on July 29, UNB's Kendra Woodland was invited to the NWT camp from Aug. 3-14 in Calgary. As part of a crop of over 140 invited players, she will compete alongside the likes of hockey legend Marie-Philip Poulin and more in hopes of being picked to the team heading to Denmark for the world championship. Woodland's coach at UNB, Sarah Hilworth, will join her there as one of the camp's coaches. Troy Ryan of the Dal Tigers is the head coach of the NWT.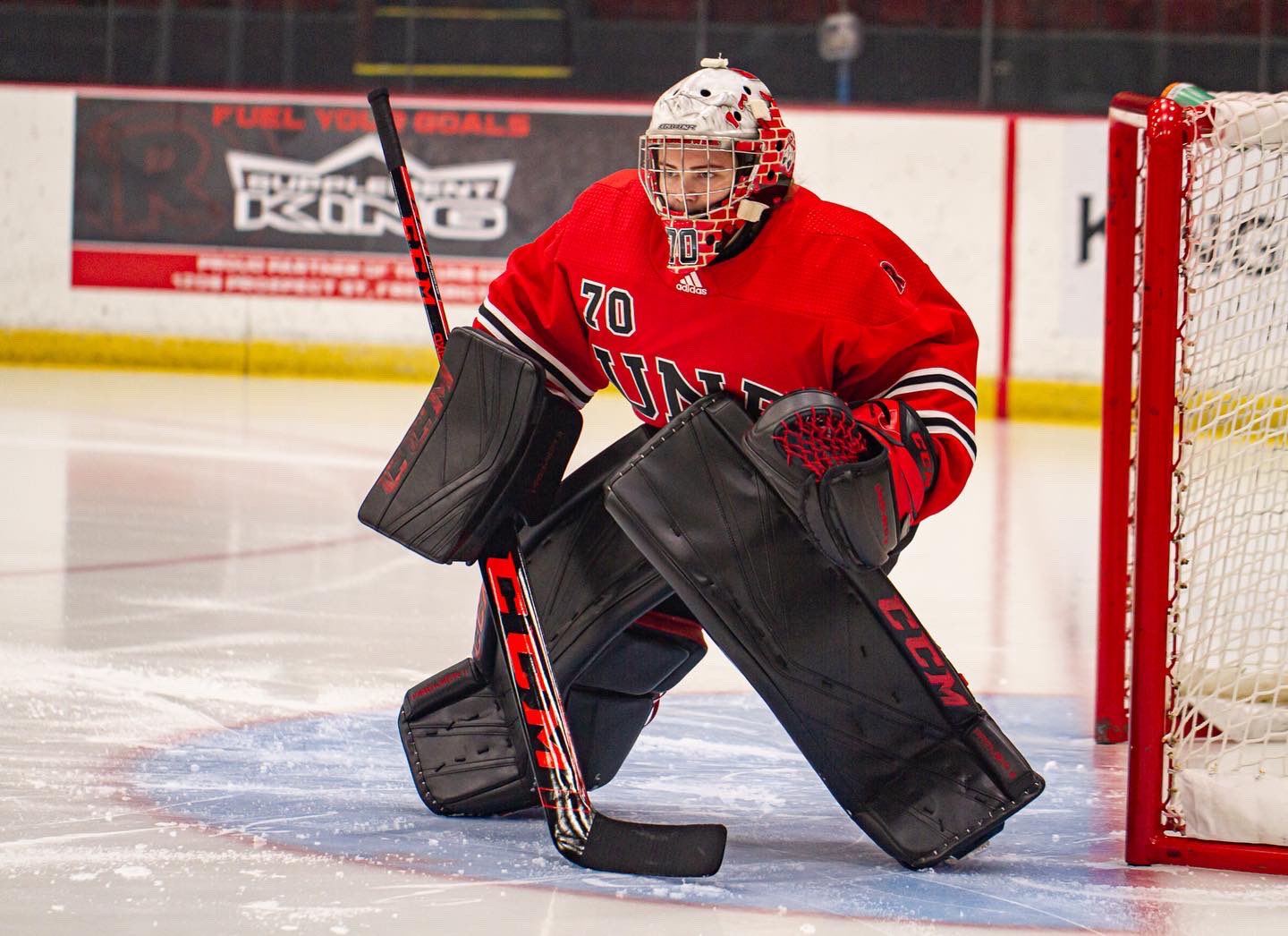 Roth's situation wasn't much of a surprise. Throughout COVID-19, he's bounced between ECHL teams. In the winter, he joined UNB as one of the replacements for players that left during the Omicron break such as top scorers Ty Boland and Nic Guay. He would contribute a decent showing of four points in six games in the season's second half.
Hawel was a bit more intriguing. As conference stars fled mid-season, he stuck with StFX en route to a national bronze medal. In a March interview with the Chronicle Herald, he said he had little interest in a return to pro, given he had just finished up a stint in the AHL. It's easy to see though how inquiries into the now-second-year forward's situation have continued following a dominant second half to the season and impressive play at the U Cup.
While many men's leagues remained active through the pandemic, fewer of these opportunities existed for women. In the cancelled 2020-21 season, Woodland trained in her native Kamloops, B.C. for the year, including regular sessions with the WHL's Blazers. She returned from the break in clutch fashion, leading the Reds to their first AUS women's hockey title and capturing playoff MVP. Woodland put up an impressive nationals performance too as the Reds finished fourth in U SPORTS.
Departed MHKY players and U SPORTS future
Hawel and Roth are two names that opted in favour of U SPORTS hockey when times were rough and others chose more action and certainty in the United States. With almost all hockey leagues running almost normally again compared to last December and January, players are examining their best options for next year for their hockey and personal lives. As with student-athletes in the AUS and U SPORTS, education is a huge, if not the most important, factor in who they want to play for.
That's why a number of departed players from the middle of last season, from what I've heard, are examining their options in hopes of a return to U SPORTS play.
Regularly, a player who departs a team after playing 10 or more U SPORTS games must sit out the following season if they intend to return. But there are and always have been many buts to this rule. Since January, eligibility rules in relation to the mass U SPORTS emigration still haven't become very clear.
With that in mind, along with the appeal process that allows athletes to provide an eligibility rules interpretation appeal to U SPORTS, it's entirely possible a handful of players will at least touch base with U SPORTS or their teams about a possible return. One player I spoke to has filed an appeal. There are still almost two months until the puck drops in U SPORTS hockey, so a lot can still happen. But for the time being, most players and teams remain stuck weeding through the rulebook.
Upgrades at Dalhousie, UNB facilities
With the first post-pandemic summer underway, some AUS schools are deep into facility renovations and projects for their teams. Dal is taking the biggest steps this offseason.
After changing the turf on Wickwire Field this year, they broke ground on the Dalhousie Events Centre last month. Revealing plans earlier in the month, Dal expects to seat over 800 spectators at their new on-campus arena, on the site of the former Dalhousie Memorial Arena on South Street in Halifax. The arena will accommodate up to a few hundred more with standing room space around the top of the arena's stands.
The project was announced last summer with a projected completion date of fall 2023. According to current facility documents, however, Tigers fans will have to wait until at least December 2023 or, more likely, the second half of the 2023-24 season to see the return of Dal's hockey programs to campus. The new facility will also house the university's new physiotherapy clinic, replacing the current space at Dalplex.
Despite the arena being roughly a year and a half from completion, it is having an impact on campus now. Part of the east end of Wickwire, used for pre-game training space and additional practice area, was reduced to make way for construction. On-campus tennis courts were also removed to make up for parking spaces lost to the arena site.
The other major facility renovation this summer is taking place in Fredericton, where UNB is doing over the turf for its soccer teams. The BMO Centre saw renovations last year, which forced the Reds' soccer teams to play much of their seasons uptown at the Willie O'Ree Sports Complex and in Saint John. UNB looks to be making up the lost time to its teams well though, given the sleek patterns embedded into the turf so far. The end zones (used by the UNB Fredericton Red Bombers of the Atlantic Football League) and the centre field logo stand out in particular.
With the men's Reds soccer team finishing a promising year that saw them push around the best in the conference, along with the women's squad looking like a playoff club, UNB will be looking forward to having its soccer program back on campus for good in September. 
Notes from AUS AGM in May
It's starting to feel like sports have been back for a while. Emerging stories and news over the summer are reflecting that. So are some updates from the AUS this summer, namely from their first AGM post-COVID-19.
Alike U SPORTS, the conference held its annual meetings in Halifax with a focus on post-pandemic play. It was confirmed that sports with shortened seasons last year, such as in football and rugby, would return to the status quo for 2022-23.
As for permanent changes, the new women's hockey playoff format stands out. Now with conference quarterfinals and finals being played in a best-of-three format, along with the semifinal series as a best-of-five, the women's bracket now equals the men's. Before, the women's quarterfinal was a single game, while the other two series were best-of-three.
Also in hockey, there will be a considerable shift in the way men's hockey rosters are constructed. Teams can now have up to 24 players in their game lineups, a jump from 20. The rule comes in after a turbulent campaign for AUS rosters, where many players left mid-season for pro opportunities. Consequently, teams such as UNB and the Acadia Axemen were left with depleted rosters for much of the season's second half, often playing games with 15 or fewer skaters.
More AGM news:
-A second cross-country all-star team will be added to both the men's and women's competition awards. Those runners ranked eighth through 14th in the AUS championship race will be recognized as conference second-team all-stars.
-The dates from which teams can play exhibition games were clarified. Soccer and rugby teams can play up to two weeks before their regular season openers. Winter team sports can play from Sept. 16 on, or two weeks after the Friday before Labour Day.
-On the conference personnel side, Mount Allison Mounties athletic director of 13 years Pierre Arsenault was honoured with a special mention. The former AUS management council president was named CEO of U SPORTS in March, beginning his new gig on June 3. In Arsenault's place at Mount A, Mounties business manager and former director of football operations Marcel Dupuis is serving in the position on an interim basis. Mount A is taking job applications for the role in the meantime.
UNB AD John Richard also finished his maximum two-year term as AUS president, with Karen Murphy of the Memorial Sea-Hawks program stepping into the position this summer.