It's a special season in the making in the AUS men's soccer circuit.
A few highlights stand out, including a conference all-star team of sorts being organized with the Halifax Wanderers this summer. While conference stars suited up for the Wanderers' U23 program, dominated by players from Nova Scotia schools, none played with the Cape Breton Capers team that won a national bronze medal last fall.
It goes to show that while CBU remains the class of the east coast, the gap can narrow in a snap. 2022 looks like one of those years.
Acadia Axemen
The first half of September 2021 drew some positive attention the Acadia Axemen's way. After beating the Dalhousie Tigers and Saint Mary's Huskies in the preseason, their regular season began with a hard-fought loss to a hot UNB Reds team and a win over the Mount Allison Mounties. That would be their last win of the season, going 0-1-9 (win-draw-loss) in their next 10 matches. They only scored seven goals in that span, four of which came in a 6-4 loss to the Moncton Aigles Bleus. Acadia had the second worst goals for and allowed totals last season in the AUS, only behind Mount A. With a continuous roster turnover since last making the AUS championships in 2018, associate head coach Findlay MacRae looks to finally have a consistent group of players. 
Even with Acadia's disappointing results, a dynamic attacking trio was well established by season's end. Striker Zane Brennan, flanked by midfielders Joe Iatrou and Oscar Marshall, contributed over 80 per cent of Axemen scoring on their own last year. Brennan and Marshall also contributed almost a shot and a half per game each. The three could reunite in 2022. Rookies Noah Schurman and Xavier Fitzgerald showed promise as rookie strikers, while midfielder Ben Chisholm appeared in every match. The defence is led by Gabe Morgan, the only other goal scorer in 2021 besides their big three scorers. TJ Daniels and Jack Mercer have head starts for starting positions at fullback as well. Keeper Michael O'Flynn can expect another busy season in the box. He took the starting job in 2021, playing eight matches.
Cape Breton Capers
The number one U SPORTS ranking to begin the season says it all for CBU. They may have begun 2021 a bit shaky but by November, it was clear they were a national title contender and a lot would have to get in their way. It took fellow national titan the Carleton Ravens extra time to knock them from the semifinals last year on the way to bringing a bronze medal back east. To highlight a tremendous result, Capers stars Jose da Cunha, Kairo Coore and Raine Lyn went first, second and fourth overall in the 2022 CPL Draft. Deano Morely's squad certainly has it all. Can they take it all the way this year?
There will be one caveat to what will be a frightening CBU attack: the departure of Charlie Waters. The heartbeat of the team's offence since 2019, Waters brought out a creative, playmaking-heavy game as Coore joined in 2021 with the finish. But with Waters moved on, Coore and Cian Lynch will spearhead the scoring. Lyn is the focus at midfield. Matteo Goldsztein also had a good 2021 at the position. Cunha will be joined by Jamie Watson and Cameron Killbride, as the band of rookie fullbacks last year will be some of the AUS's most experienced in 2022. Also thriving as a 2021 rookie was keeper Daniel Clarke, as his five regular season wins were the third-best in the AUS. 
Dalhousie Tigers
The Tigers' 2021 season had promise around the campaign's midpoint. That came at the peril of the toughest final four games of anyone in the conference. And that's what killed their playoff hopes. Playing the StFX X-Men and CBU twice each in their last four games, a Tigers team undefeated in six before the homestretch lost three of their last four by a combined 9-2 score. They'd miss the AUS championships by a single win. On the plus side, the season saw younger guys gradually take over key roles on the team. Over the summer, seven of them played with the Halifax Wanderers U23 program that played games against PLSQ teams. Dal has hovered around AUS mediocrity since last winning the conference in 2008, but now coach Alan Jazic's team is a promising and young group.
The youth movement starts with keeper Aiden Rushenas, one of 2021's best stoppers as a rookie. His 81 saves were tops in the AUS and his four clean sheets were the second-best. Fullback Bennett Kischuck played in all 12 games as a rookie, with Benjamin Bruce and Callum Legge also in the backline mix. Connor Manuel and Ayoub Al-Arabi emerged as Dal's key midfielders, in place of the now-departed Matt Larter. It took him a few games in 2021 to warm up, but it became clear Luke Berryman is the Tigers' striker of the future. He went on a midseason five points in five matches tear to lead Dal in scoring.
Memorial Sea-Hawks
Memorial raised eyebrows at times in 2021 thanks to an offence that would explode without notice through the season. Led by rookie star Emmanuel Dolo's campaign of 11 goals and 18 points, the Sea-Hawks won three times by three or more goals. But while the scoring was up there with the CBUs and StFXs of the league, the consistency didn't come, culminating in a 1-0 loss to UNB at the AUS championships. With most of coach Jake Stanford's squad returning in 2022, consistency is the key MUN must find to snap their conference title drought of 49 years. Oh, and they'll have to do it without the departed Dolo.
While no other Sea-Hawks were near Dolo's second-best in the AUS point total, Jacob Grant stood out as a key attacker. He'll look to best the five goals in 11 games he buried in 2021. Brent Hennebury is likely to fill the hole left by Dolo. Felly Elondra and Struan MacLean are two more returnees, who were involved at both ends of the pitch a lot last year. Harry Carter will lead the MUN fullbacks again in 2022. Carter plays with an offensive flair, scoring three goals a season ago. The cage will be different looking as Dylan Crichton and Logan Walsh have both left. It will come down to first-year stoppers Kirk Edwards and Daniel Hanlon to knock away the shots.
Moncton Aigles Bleus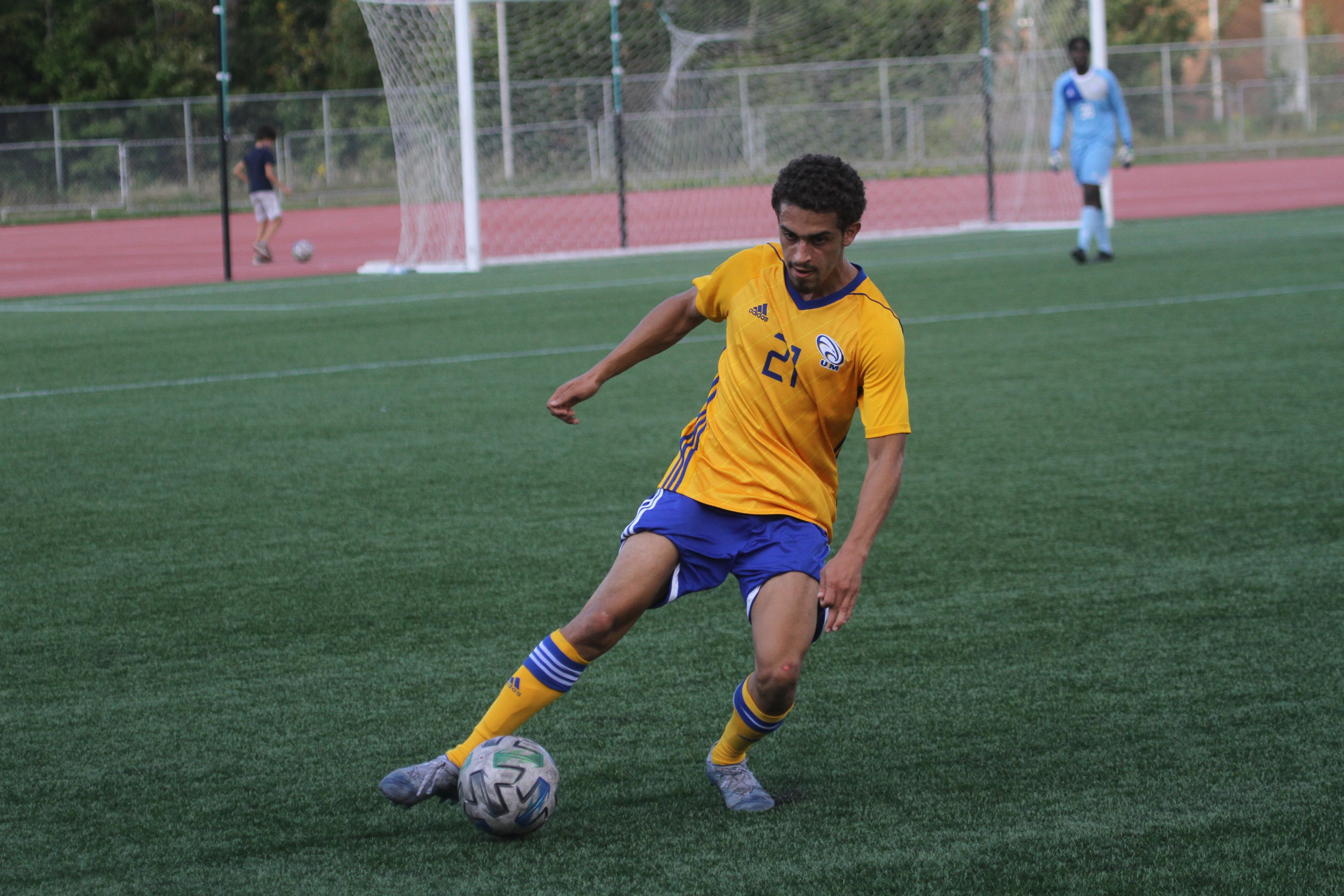 Although they missed the playoffs, no team had the roller coaster of a season quite as Moncton did. They dropped their first three matches, then won three of their next four. They stunned UNB late in the season while sitting just outside a playoff spot. That set them up with a pair of dates against Memorial, the team in front of them in the final seed, in Newfoundland. But with both contests resulting in draws, the Aigles Bleus' season ended then and there. Like many AUS squads, Moncton fielded a young squad, led by coach Younes Bouida, coming out of the COVID year, with many of them being the go-to players at times. 
Much of their midseason surge was thanks to three freshman stars: Georges Musitu, Younesse Chibane and Phillippe Gallant. Musitu led the team with nine goals, good enough for third in the conference behind CBU's Coore and MUN's Dolo. Senior Felix Robichaud was second in Moncton points as a senior and will return. Pascal Sonier was the only Moncton fullback to score in 2021 in eight appearances. Dave Guichard played every game as a rookie on the backline, with Mathis Nemadeu appearing in nine. In net, Christian Masimengo is back for a senior year after appearing in three matches last season. The status of Andre LeBlanc, who started the other nine, is uncertain.
Mount Allison Mounties
The COVID-19 break changed a lot of things. Unfortunately for Mount A, their misfortunes dating back years before remained the same. Forget about their title drought that dates back to 1990. They haven't won a game since 2015. And their record has been 0-0-12 each season since 2017. 2021 was particularly ugly and their struggles have been no secret. The question becomes whether they can win some games and perhaps push for a playoff berth in the near future. Mount A has taken pride in fielding youthful rosters recently and the addition of new head coach Derek O'Keeffe could bring some different flavours into their game.
Mount A has no league all-stars but plenty of returning 2021 core pieces. One is midfielder Tevin Lewis. The former Bahamas U18 team member led Mount A with three points last season. He was just one of four Mounties to register a point in 2021. The others, fellow midfielders Jack Bennett, Will Fenton and Robin Weiland, had one apiece. All three are returning. Veterans Alex Ponikvar and Cameron Bullerwell are the notable returning faces at fullback. Additionally, midfielder Xavier Tshimpangila hung back to help the defence a lot in 2021. Starting 11 matches as a rookie, keeper Rhys Chambers is the favourite again to be Mount A's starter.
Saint Mary's Huskies
Since last winning the AUS in 2011, SMU has typically been a playoff bubble team. 2021 wasn't much different at first, arguably less so as they lost their three preseason matches and first two regular season ones. Something special began to brew midseason, highlighted by a 1-0 win over X. Then come championship time, the fourth-seeded Huskies stunned the top-ranked X-Men in the AUS semifinals 2-1, booking a trip to Ottawa for nationals. SMU got their first taste of the best of the country in a while in 2021 with not much success. Coach Mesut Mert will have them ready and raring to push for a conference title and nationals run again in 2022.
The Huskies' attack thrived off all ages of players in 2021, with most key pieces except Alex Black returning. They will be led by second-year Sean Freeman, the team's reigning leading scorer with 12 points (fourth in AUS). Ahmed Ibrahim and Sumit Malik will remain dangerous options up front. Cian Tousignant-Osiadhail is the one to watch in SMU's midfield. Seniors Adam Dunsworth and Cameron Zinn will lead the SMU fullbacks. So will second-year Woody Bain, best known for his late game-winning strike in the StFX semifinal. Jensen Brown returns between the sticks. His last few games of the season were busy, including a seven-save performance in the final versus CBU.
Saint Francis Xavier X-Men
StFX was a machine in 2021. Compared to the high-scoring juggernaut of CBU with them at the top of the conference, X went about their matches business-like, making it routine to keep games low-scoring and winning them. Just twice did the X-Men play in games with the final score of three or more goals in the difference. Just one team beat them by a single goal in 2021: SMU, who did it twice. The second one ended X's season in the AUS semifinals. In a campaign where they were pushing CBU for the conference title at times, coach Graham Kennedy and the X-Men, many returning, will return to the drawing board. Despite stringing together a few successful seasons, X still hasn't won the conference since 1994.
StFX didn't need CBU or MUN-level scoring to win in 2021, but striker Cameron Shaw still stood out with the ball as a rookie. He had a team-leading five assists and eight points. It was also a rookie, midfielder Kyle Cordeiro, who led X in goals with four. Joining Cordeiro in the middle of the pitch, much like the season before, will be Carson Ripoll and Logan Rieck. Despite the departure of first-team all-star Josh Read, the combination of Jack Kennedy, Luke Green and Lewis Dye puts X's fullbacks with the best of them in the conference and country. Seamus MacDonald, also a 2021 first-team all-star, has graduated. That means it will likely be William Veinot's time to shine in the cage. He won both his starts last season.
UNB Reds
With teams such as X and CBU capturing the hype at the AUS's top, the veteran-led Reds were easy to overlook in 2021. But their capabilities soon became known. Winning five of their first six matches, the Reds were the only AUS team to beat CBU last season. UNB then won their final two regular season games and their AUS quarterfinal over MUN. The fun ended when they ran into Cape Breton at their very best in the semis. Last season was encouraging but now, coach Barry Morrison and his squad will have to make do with new leaders on the pitch. 2021 stars Grant Takacs, Mathew Quigley, Tom Pheulpin and Joe Hamilton are gone.
The highest scorers left from UNB's offseason are Luke Rosettani and Roan Saengmeng with three points. Rosettani, a second-year striker, played in all 2021 UNB matches. Keji Adeniyi is a returning striker expected to fill some of the open space on the attack. UNB has a young midfield, with rostered midfielders combining for just 29 career AUS regular season matches. Lars Gierull, Ashty Omar and former NCAA midfielder Angad Panesar are in that mix. There are many fullbacks to choose from alongside Saengmeng, notably Olivier Menard and Simon Basillion. Keeper Louis-Charles Vaillancourt returns after a big 2021. With six wins, he only trailed StFX's MacDonald for the AUS lead.
UPEI Panthers
There's a lot to like from the 2021 season if you're the UPEI Panthers. Making the AUS championships somewhat comfortably, UPEI never made it easy for any of the conference's titans. Aside from a loss to X in the season opener, UPEI lost just one other time to a top-four team in the regular season. The streak came to an end in a quarterfinal loss to SMU, on their run to a U SPORTS nationals appearance. It's been a while since the Panthers last won the Atlantic region in 2022, keeping in the mix with regular playoff berths in the past 10 seasons. Sooner or later, coach Lewis Page's team will have to make the next jump to the level where StFX or SMU is now. If UPEI can get on the right side of close games from now on, 2022 could be that time.
A trio of breakthrough freshmen filled the net for UPEI in 2021, continuing the youth trend seen AUS-wide post-COVID-19. Midfielder Kasper Laisa led the team in points with seven, while Samuel Akinsola buried four goals, the most for UPEI. Forwards Nathan Chow and Ehab Moustafa chipped in four points each. Third-year Duncan Murray was a key veteran presence within a youthful midfield and could return. Three fullbacks started every game for UPEI: Colin Curran, Jonathan MacKenzie and Max VanWiechen. All are expected to return. So is starting keeper Evan Couturier, who had a quietly good 2021. His five clean sheets led the conference.
Regular Season Standings Prediction
1. CBU
2. StFX
3. Saint Mary's
4. Moncton
5. Dal
6. UNB
7. UPEI
8. Memorial
9. Acadia
10. Mount Allison