The 2023 U SPORTS soccer season is still several weeks away. Yet, as most teams have started preseason preparations, some affiliated clubs are seeking summer-ending titles in League 1 Canada.
In Ontario, League 1 side Alliance United will compete for the women's league championship on Saturday, Aug. 5, as they take on the youthful National Development Centre team, which finished above them in the regular season table.
Meanwhile, in BC, the Victoria Highlanders will play the Vancouver Whitecaps in the League 1 BC men's final, while the Whitecaps clash with Langley's Unity FC in the women's championship match.
Next stop…League1 BC Championship Finals, Presented by Hall 🏆 Get to BC Place on August 5th to support the next generation of talent!

🚺: @wfcelite v @unityfcbc
⏰: 1:00pm

🚹: @highlandersfc v @WFCAcademy
⏰: 4:00pm

🎟️: https://t.co/nWc3Vgm8oh#L1BC | #RiseAsOne pic.twitter.com/6w0TP3IljB

— League1 British Columbia (@League1BC) August 1, 2023
The League 1 BC Championship matches are set for the province's largest stadium, BC Place, on Aug. 5, with the women kicking off at 1:00 pm PT and the men at 4:00 pm PT.
For Alliance, a women's side featuring 12 current, and seven former Toronto Varsity Blues, it is a second straight year to the final as they look for a title under U of T and Alliance head coach Angelo Cavalluzzo.
"This level of 12-month programming is something unique that we get to offer, and we are very thankful to everyone helping to make it happen," Cavalluzzo said. "In our second season, we have had many of our out-of-province student-athletes decide to stay in Toronto to play, and our success over these two seasons is a testament to the 12 months of hard work they put in to prepare themselves."
Alliance features current Varsity Blues Hannah Anderson, Valentina Greco, Cassie Chan, Hannah Chown, Santana Ferreira, Anne Yeomans, Paige Young, Nicole Mulligan, Antonia Figueroa, Carissa Callaway, Julia Cochran, and Samantha Gravina, all of whom will hope to carry their League 1 form into the OUA at the end of the month.
Chan, in particular, signals a shift in the enticing option that is the Alliance program, choosing to stay in Toronto with the U SPORTS-based team rather than travelling closer to home in Vancouver, where she previously played with the League 1 BC TSS Rovers, who often field an NCAA-heavy roster.
Following their participation in the League 1 Canada Women's Inter-Provincial Championship in Langley, many of the Alliance players will head back to Toronto's Varsity Stadium and take on the quick turnaround ahead of their OUA kickoff on Aug. 31 against the Queen's Gaels.
UNBC Timberwolves power Victoria Highlanders
Over on Canada's west coast, a similar story brews with the men's Highlanders, who, despite being in Victoria, are a reflection of the UNBC Timberwolves, led by head coach Steve Simonson, a Victoria local that coaches in Prince George during the fall season.
Led by the 2022 Canada West and U SPORTS leading scorer Michael Henman, the Highlanders left themselves to dramatics in the League 1 BC season, winning the regular season title in the dying moments of the final match against the Rovers.
David Schafer, an MRU Cougars veteran, scored a blistering free-kick strike in the 90th minute before slotting home a penalty kick deep into stoppage time to snatch the regular season title away from TSS. At the same time, he booked the club a ticket to the TELUS 2024 Canadian Championship, a chance to play against Canada's pro clubs.
L1BC: Victoria Highlanders win the league!

Victoria beats the TSS Rovers 3-2, turning a 2-1 deficit in stoppage time.

They've clinched a spot in the TELUS Canadian Championship of 2024.

Crazy stuff, especially this 2-2 free kick strike from David Schaefer.

Messi who? pic.twitter.com/y6ldKsCU1K

— Ben Steiner (@BenSteiner00) July 23, 2023
After getting past Unity FC in the playoff semifinal, the Highlanders now set their sights on the playoff championship when they take on the Whitecaps Academy at BC Place on Saturday.
"When we scored the free kick, it was already into extra time at that point, so we were like, alright, we gotta go for it," Henman told OneSoccer. "So we sent a wall forward and just pressed these guys as hard as we can, and it worked out; they passed it back too many times, we picked it off, and just that one little moment changed everything, as we won the penalty, and then Schäfer stepped up to take it, and that was it."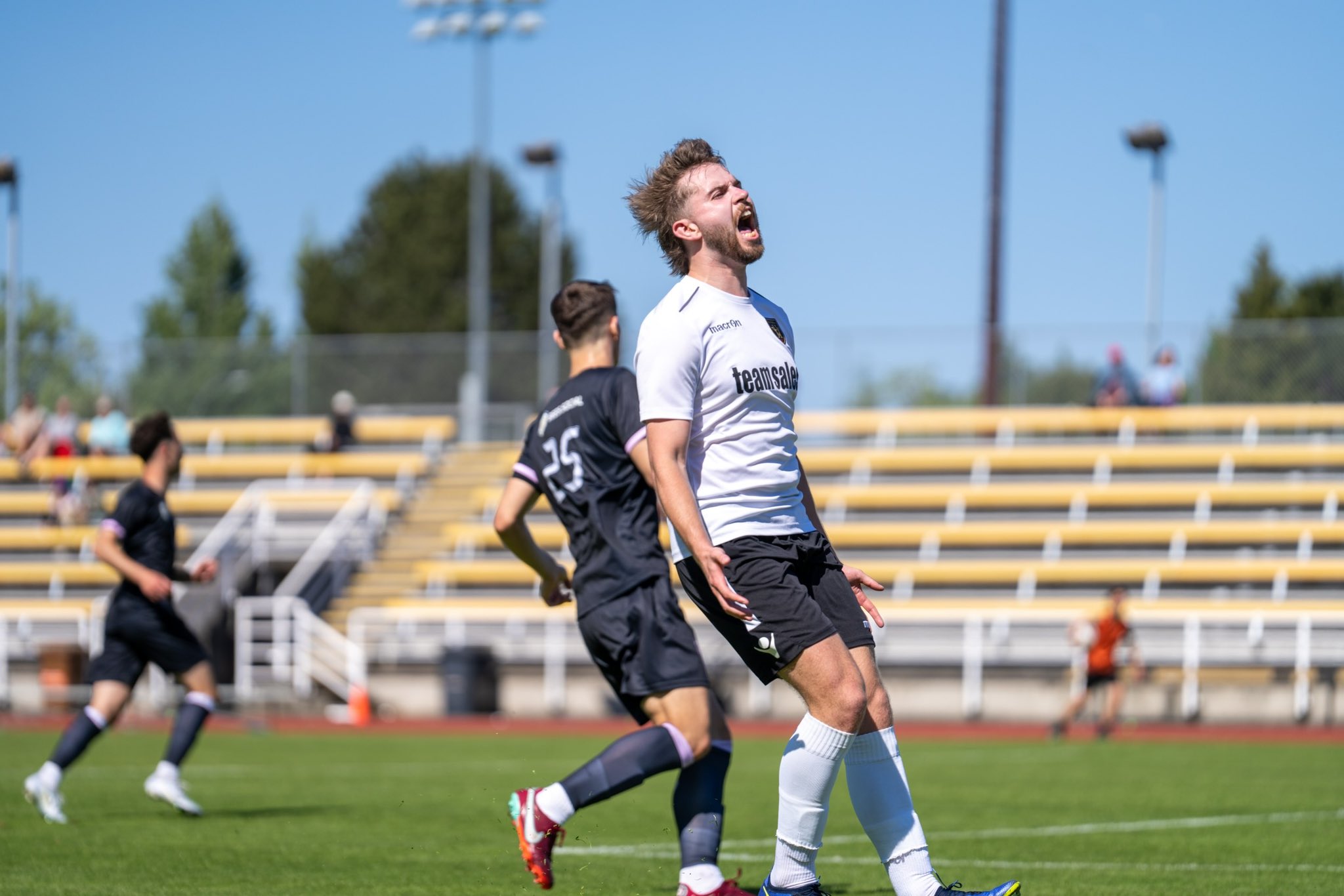 The Highlanders feature 11 current and former UNBC players, including Henman, Anthony Preston, Cody Gysbers, Daniel Zadravec, Francesco Bartolillo, Gordon Hall, Gregor Smith, Hagon Kim, Kayden Miner, Kensho Ando, and Koby Greaves.
Meanwhile, they also feature U SPORTS talent from other schools, including MRU and the UVic Vikes in Schafer, Dawid Dudek, Caden Rogozinski, Keisean Brooks, Jonathan Walter, Arman Nijjarr, Harjot Nijjar Hamish Ogden, Javier Sagaste, William Libbey and Nick Park.
Just as he did in the 2022 U SPORTS season, Henman led the team in scoring with seven goals, earning the nod as team MVP in the regular season.
Taking on the Whitecaps in the final, they'll face familiar U SPORTS foe Patrick Izett, who opted to suit up for the MLS Academy as a veteran player before returning to the Canada West circuit and the TRU Wolfpack.
This is an absurd, absolutely crazy goal.

Patrick Izett, a member of the @GoTRUWolfPack scores a last minute tying goal FROM HALF to steal a point for the Whitecaps U19s against TSS Rovers.

One of the best goals in League 1 Canada history, no doubt.

— Ben Steiner (@BenSteiner00) June 22, 2023
While nearly every club in League 1 BC has a connection to a U SPORTS program, the dynamic holdover from Simonson's Timberwolves to the Highlanders has proven invaluable this season and is pushing the historic Victoria club to new heights.
"I've always said that my goal with the Highlanders is to try and do the best I can to continue to grow their reputation as much as we can because this is a good spot for local and Western Canadian players, and that's been my mandate," Simonson told OneSoccer. "I'm a believer that stuff like the Canadian Premier League is fantastic, but one league and one level is not enough; we have to continue to grow all of the levels and all of the leagues and find ways to create more opportunities for players, as each level is important in its own way."
Avoiding U SPORTS Championship woes, Unity look for League 1 BC title
Hours before the Highlanders and Whitecaps kickoff, Unity FC will look to become the first U SPORTS-connected League 1 BC team to win the league championship, as the TWU Spartans connection hopes to power them past the defending champion Whitecaps Girls Elite Academy.
Led by TWU head coach Graham Roxburgh, Unity fields a team with 17 current and former Spartans, including Lianna Holz, Bryana Buttar, Kylie Hendricks, Maddie Melnychuk, Mya Bajpai, Tilly James, Danielle Cooper, Erin Stewart, Charity Field, Sophie Crowther, Charis Wardrope, Kelsey Stewart, Hannah Miller, Sidney Giesbrecht, Yasmine Pahal, Jaidyn Jackson, and Sarah Bazille.
While it is a large group, the League 1 efforts have fallen upon veterans Buttar, Melnychuk, and James, who previously had experience with New Zealand's youth national teams. Meanwhile, Wardrobe and Crowther have continued to build off their U SPORTS rookie seasons.
Outside of Spartans, Unity features athletes from StFX, Queen's and UFV.
Although Unity enters the final match as underdogs against a highly-touted Whitecaps side, they will still have remaining games at the Inter-Provincial Championship before looking ahead to TWU's Canada West opener on Aug. 25 against the UNBC Timberwolves.