TORONTO, ON – The University of British Columbia trailed by 13 points heading into the fourth quarter of the 86th Hardy Cup. The Thunderbirds rallied back from the deficit claiming their 16th Hardy Cup with a 27-26 win and earn a date with St. FX in the Mitchell Bowl.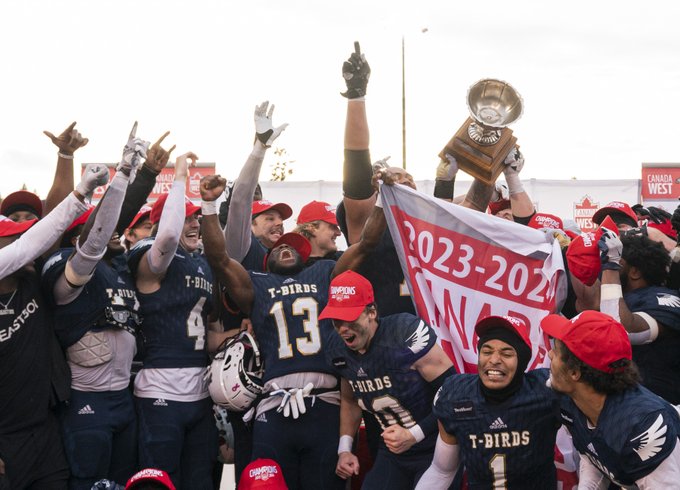 Opening the final quarter, Garrett Rooker capped off a long 11-play drive with a touchdown pass to Edgerrin Williams-Hernandez bringing them within three points. Alberta kicker Jonathan Giustini extended the lead to six points after a field goal.
Fast forward to around two minutes left and chaos ensued.
Needing a touchdown to tie, Rooker threw an interception. The Thunderbirds defense had their quarterback's back, giving the offense another chance. Tahj Jhooty forced Golden Bears Eli Hettinger to fumble, Jhooty recovered his own forced fumble to give the Thunderbirds another opportunity.
READ MORE | Western secure OUA Yates Cup threepeat, read UTeck Bowl
READ MORE | Montreal Carabins halt Rouge et Or run to win Dunsmore Cup
Rooker on mission to repay his defense for the second chance dialed up a surgical drive. Under a minute left, UBC began their march. It wasn't easy, backed up with a 1st and 30 Rooker hit Sam Davenport for a 28-yard gain, setting up a very manageable 2nd and 2. The Thunderbirds converted the 2nd and short and carried on their trip down the field. Rooker and company get all the way to the Golden Bears' 13 yard line and then magic happened.
With no time on the clock Rooker paid his debts to the defense in full with a Hardy Cup tying touchdown pass to Sam Davenport. All UBC needed was an extra point to seal the game. It wasn't a regular extra point. An unsportsmanlike conduct penalty drove them back 15 yards, but it was still a routine kick for Kieran Flannery-Fleck. The Thunderbirds completed a 95-yard drive all culminating in one final play.
"I just said make sure its in the end zone, I've lost a national championship way back when we didn't hit in the end zone. I'm not totally convinced we deserved the win, but I've been on lots of teams where I was and we didn't," UBC head coach Blake Nill said in a post game interview. "This might change UBC for a long time because we are finally over a hump."
During Nill's tenure at the helm of the Thunderbirds' football program they've made it to five Hardy Cups, winning in 2015 and then losing their next three appearances. The win snaps the losing streak and puts UBC back on the path to being national champions.
The win wouldn't have been possible without the stellar play of their third-year receiver. Davenport was a massive part in the Hardy Cup and a huge piece for the entire season. He finished the game with ten catches for 137 and a score, proving that he is an invaluable piece to this offense.
"He was gone basically ten quarters for us, we lost all the games he was gone," UBC head coach Blake Nill remarked in a post game interview.
This will be UBC's first time playing in the Mitchell Bowl. Throughout the near 20-year history of the Mitchell Bowl, usually its been Calgary or Saskatchewan. The Thunderbirds last time in a U SPORTS semi-final bowl game was 2015. Michael O'Connor led UBC to their fourth Vanier Cup victory. In a weird sense of Deja Vu, that trip to the Vanier Cup went through ST. FX, but in the Uteck Bowl.