College hockey was put into the spotlight this past month as the Canadian and American women's national teams met for a two-game rivalry series. One game was hosted in each country, with the first being hosted in Hartford, Connecticut and the second in Moncton, New Brunswick. Each team won a game each, while both rosters boasted many college players.
In Canadian red were four NCAA athletes, two of whom contributed on the scoresheet at some point through the 120 minutes of hockey. The pair of Sarah Fillier and Claire Thomson represented Princeton University's Tigers, while Kristen O'Neill, Emma Maltais and Ella Shelton represented their respective institutions. There were no U Sports players named to the team, and there have not been since Hayley Wickenheiser was a member of the University of Calgary.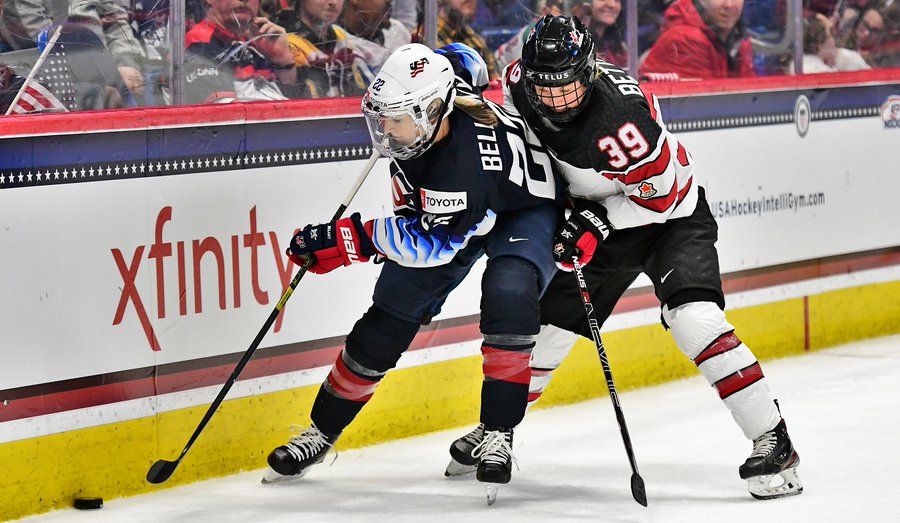 All of the players played important roles in the pair of games, but it was Sarah Filler and Clare Thomson who etched their name onto the scoresheet. Both Princeton athletes got an assist, while Fillier also chipped in a goal in Canada's 4-1 win in Hartford.
Both players have also been enjoying the very successful season with Princeton, being the key cogs of their offence so far. Fillier has been tearing it up in the ECAC division, scoring 25 points through just 13 games before the Christmas break. It's no surprise that she put a puck in the back of the net for the Canadians, after already doing so eight times for the Tigers.
Having put two players on the Canadian team, one would expect some of Princeton's Americans to also be called up for national team duty, however, that was not the case. Of the six NCAA players on the USA Hockey roster, none came from Princeton.
Although there were no Tigers in American blue, there was a well-represented Boston College delegacy of three players. But none has a brighter future than Canada's Fillier.
Last season, Fillier was nominated for the Patty Kazamair award, the biggest honour in NCAA women's hockey. She didn't believe it when she got the nomination, but after being named the nationwide rookie of the year, it could have been expected.
At only 19 years of age, she is a shining light for the Canadian women's game, which is in a time of transition. Theres no Canadians women's league, so having a place to play regularly has served her very well at Princeton. Between regular playing time and experienced teammates, she is learning how to succeed at the top levels of the game. With national team mainstays such as Marie Philipe-Poulison and Meghan Aghosta getting up there in age, it is important that Canada had another young star on the rise. First, it was Jayna Hefford, then Wickenheiser, and now it's Philip-Poulin carrying the torch for Canadian women's hockey, but soon that responsibility will fall into the hands of Fillier, who is already looking more than prepared to take on such status.
Given that she is in her second year of college with at least two years remaining, she may even have the opportunity to play in an NHL supported women league after her graduation.up until that point, her focus will be with the Tigers and bringing as many NCAA championships to the school as she can.
Fillier, among other collegiate athletes, made an enormous impact in the rivalry series games and will continue to do so when the series reconvenes for its second round of games in early 2020.
As for collegiate athletes on a national team level, the focus now shifts to the men, who are set to hit the ice for the 2020 World Junior Championship in the Czech Republic. Canada opens its campaign against the Americans on boxing day.