Halifax, N.S- Normally in U Sports, the host team of the national tournament has their fair share of struggles, but heading into the 2020 University Cup the Acadia Axemen have a good opportunity to change that narrative.
Acadia finished their 2019/20 season with a strong 19-9-2 record which was good enough for second in the AUS. This awarded them with a bye in the first round along with the first place powerhouse UNB Reds. In the semi-finals the Axemen calmly disposed of the third-seed St. Mary's Huskies in 4 games to reach their first AUS finals appearance since 2015. In the AUS finals many expected UNB to quickly win their third straight AUS championship but the Axemen set the tone in game 1 with a 3-1 victory on the road. Unfortunately for Acadia, that was all they could muster as the Reds showed their true colours in the next two games winning 6-0 and 5-1. The Axemen aren't unfamiliar with national stage having appeared at the tournament 4 times since 2014 managing a bronze medal finish in 2017. Acadia opens up their tournament against the 4th seeded Ottawa Gee-Gees, another team looking for redemption after losing in triple OT in the OUA finals. Puck drop will be this Friday at 6pm ET.
The Good
Heading into the tournament there are already a few things in favour of the Axemen. For the most part, they have a healthy team. During the early months of the season Acadia was struck with the injury bug. The team managed to stay afloat and persevere which mightily helped them stay atop the AUS standings when they finished with a sub-par second half of the season. Simply put, another bonus for the Axemen is that they are hosting. If Acadia wasn't hosting they would have earned a birth regardless so it's rare that you see that happen.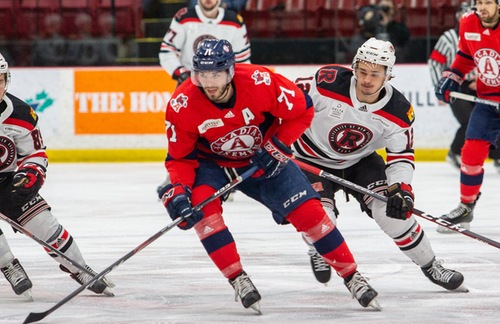 They posted a 12-3 home record during the regular season and you can certainly bet that home ice will play a factor. History is also on the side of the Axemen. Since the single-elimination bracket format was introduced in 2015 the OUA conference has sent 3 teams to the tournament each year. Re-seeding is allowed to avoid intra-conference games in the quarter-finals. Since 2015, OUA teams are 1-14 in their QF games. Acadia's quarter-final opponent? The OUA's Ottawa Gee-Gees. If Acadia happens to beat Ottawa then a probable second round opponent would be none other than the UNB Reds. They beat them once in the playoffs so what's stopping them from doing it again? Oh that's right, possibly those Gee-Gees.
The Bad
There are a few things that make me question the potential of the Axemen. One of which was their performance down the stretch of the regular season. From after the Christmas break until the end of the season the Axeman crawled to the finish with a 5-7 record after posting a dazzling 14-4 record to start the year. They won only 2 of their last 9 giving up 3.33 goals per game during that stretch. Also when we take a look at their team stats during the regular season they seem like an average middle of the pack team. They finished 2nd in GAA (2.80), 3rd in PK% (82.4%), 3rd in GPG (3.77) and 4th in PP% (20.9%). With that all being said, we've seen upsets in this tournament and with Acadia playing at home you can never count them out.
X-Factor
One player that you can expect to hit the scoresheet this weekend and that Acadia will need to rely on is #67 Cristiano Digiacinto. The junior from Hamilton, ON enjoyed himself an exceptional breakout year this season exploding for 20 goals and 17 assists. His 37 points almost quadrupled his total of 10 last year and was good for 8th in the AUS. He was one of only 3 players in the AUS to reach the 20-goal mark and one of 3 Axemen to finish top-20 in points. Digiacinto has been one of, if not the most, consistent player on this squad all year long and it will need to continue into this weekend in order for Acadia to enjoy any sort of success. 
Also worthy of a mention is their Head Coach, Darren Burns. Now in his 19th season at the helm, Burns knows that this team in front of him will give Acadia their best chance at a national title for the first time in a while. Burns was part of both Acadia teams that won their only 2 national championships. First in 1993 as a player, then again in 1996 as an assistant coach. After having already tasted national success, Burns understands that this Acadia team can make some noise at this year's tournament and he will look to coach them to a trophy that has eluded them for quite some time.
Cover Photo: Acadia Axmen Athletics