Montreal, QC- The U de M Carabins are back, this time with a different medal in sight. 
A year removed from their performance in last year's national championship, one where they fought their way to a Bronze Medal, the U de M Carabins women's hockey team are getting set to improve on that this time around, with a gold medal firmly in their sights.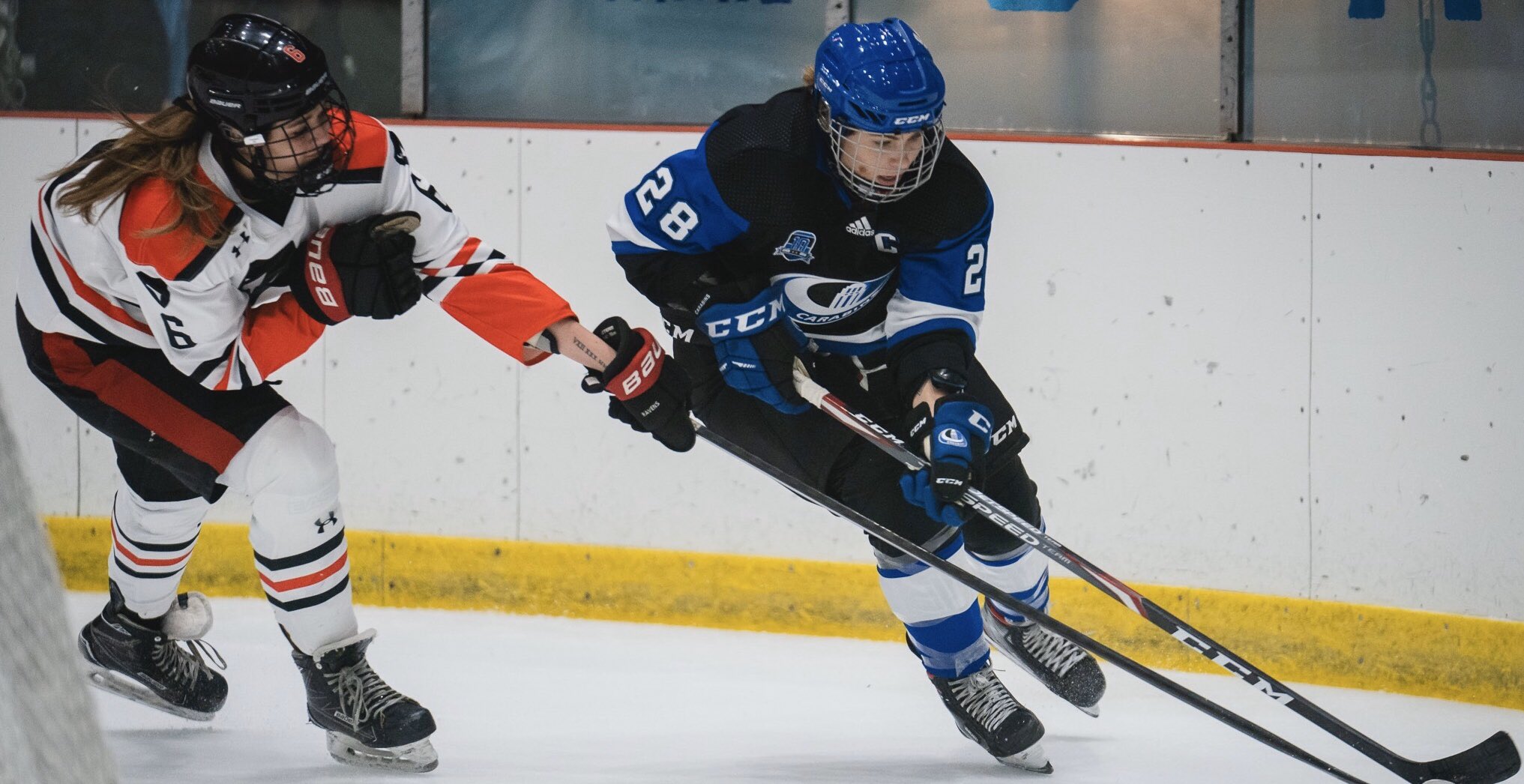 As they celebrate their 10th year of existence as a program, they are searching for their 3rd national championship, continuing their success as a young program.
They may enter this tournament as underdogs, as they were ranked 14th in Canada heading into the playoffs, but after having upset #2 Concordia in the USEQ semi-finals, no one will be sleeping on them at the national tournament.
The good
Heading into the tournament, they might not be ranked highly among participants, but the Carabins have the advantage of experience, with the fond memories of last year's tournament still in the back of their minds. Heading to PEI, where this year's nationals will be hosted, they can look to take some of that experience with them, because in a one-off knockout tournament, anything can happen.
In playoff hockey, the key to success can be combining talent, hard work, discipline along with the big X-factor; getting hot at the right time, capturing all of that in a bottle to make a run. While the USEQ playoff tree wasn't as expansive as other provinces, Concordia was not a tough out, with the best of 3 series going the full length between the two sides, which shows that the Carabins may have had that right combination of aforementioned factors to snatch a victory.
It's unsure how good this Carabins team actually is, with a lot of their regular season stats sitting middle of the pack, much like their overall placement. They averaged 2 goals per game (18th in Canada), while giving up 2.05 against (18th), had a 10.1% powerplay percentage (22nd), killed penalties at a clip of around 86.1% (26th) and had a save percentage of .918% (19th).
But the one underlying stat that was in their favour? They averaged 31.1 shots per game, good for 5th in the country, which did suggest that maybe their goals for could get an uptick.
And it did exactly that in the playoffs. They scored 11 goals in 4 games, good for an average of 2.75 goals per game, .75 better than what they put up in the regular season. If they can keep scoring at a similar rate at nationals, they can surely make some noise, with goals being the essential lifeboat of hockey survival.
The bad
For all of their good work offensively, defensively they left a lot more to be desired in the playoffs, as they gave up 16 goals in those 4 games, for an average of 4 goals a game.
Considering that they put up nearly half of that in the regular season, it is a concerning trend, one that you would hope they put to rest come nationals time, where they might not get the same chance to score 3 goals a game to make up for it.
In knockout competition, where the games are tight, they're going to need to lock things up at the back, before getting to work at the front.
X-factor
Can they score by committee?
That's the biggest question heading into PEI. In the regular season, no one scored more than 13 points, with only Alexandra Labelle, Catherine Dubois and Estelle Duvin reaching double digits. While 9 players picked up 5 points (0.25 points per game), there isn't that big point-getter, that one who will instill fear into opponents. 
But as seen by their playoff performances so far, you don't need that player, with the playoffs placing emphasis on being a 4 line team, one that can grind out a result through the strength of the collective.
As we've seen throughout these playoffs, despite being heavy underdogs, the Carabins have done just that, which makes them an interesting darkhorse candidate to lift some more silverware in PEI this time around. 
Cover Photo: @Carabins on Twitter