Kingston,ON- As we head into the final three days of the CEBL Summer Series round robin schedule, we are starting to get a better idea as to the league hierarchy. Leading the way in the standings are Edmonton (4-1) and Guelph (3-1), with Fraser Valley on their heels at 3-2. All three have now clinched playoff spots. The other four teams are all in contention for the remaining three playoff spots, although, obviously, some have much better chances than others. We'll discuss playoff scenarios quite a bit more later on, but first, let's recap the games since we last spoke.
The lone game on Thursday pitted the then undefeated Fraser Valley Bandits versus the winless Ottawa Blackjacks. To make matters even more dire for Ottawa, it was announced shortly before tip-off that the Blackjacks would be without Phil Scrubb (Carleton) for the remainder of the tournament, due to commitments with his European club. Once that was announced, anyone that had followed the Summer Series thus far knew that the short-handed 0-2 Blackjacks were going to knock off the 2-0 Bandits. After all, how else would the CEBL be able to continue to make Lewis Carroll proud with this "up is down, down is up," style tournament?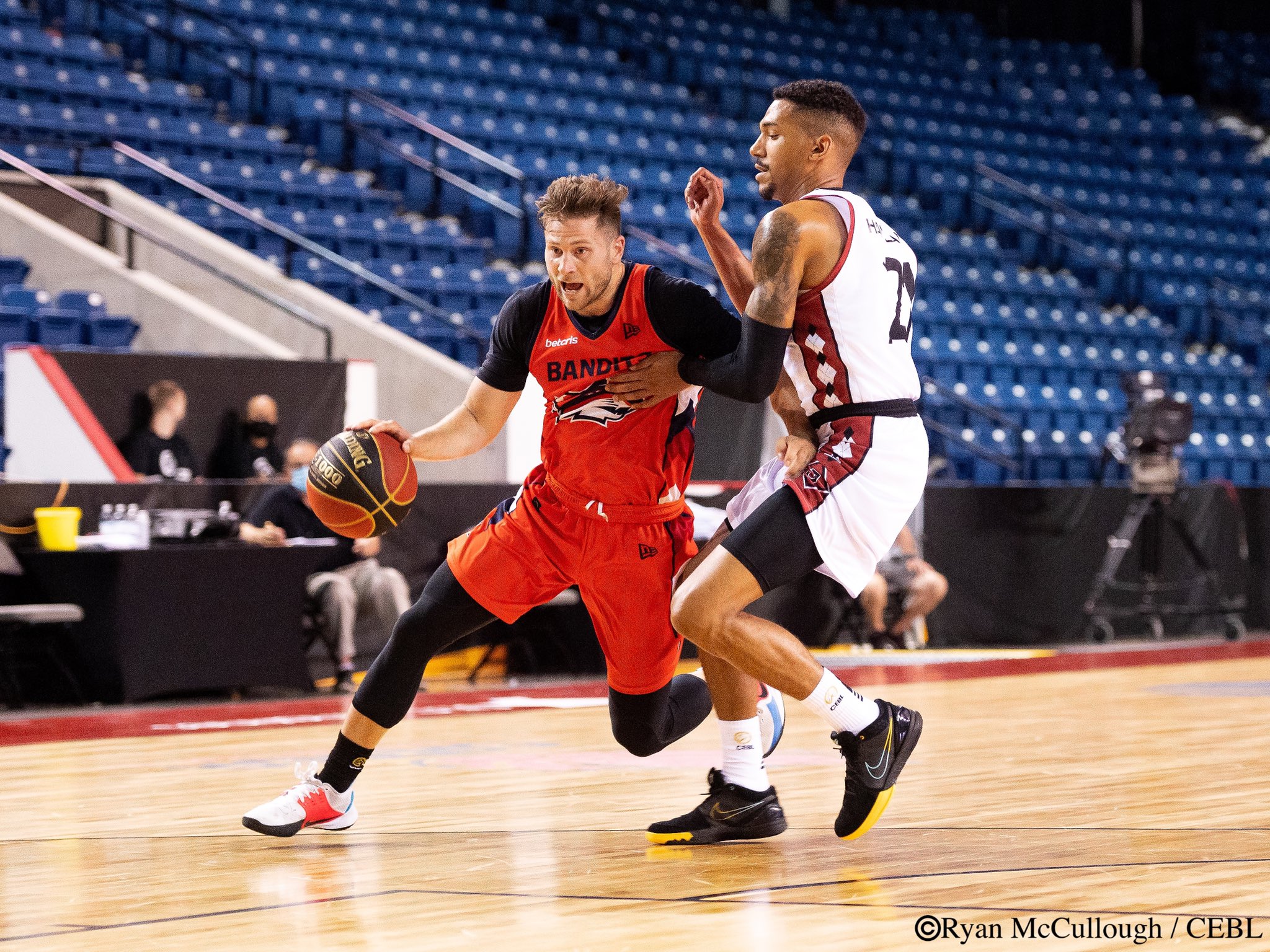 Sure enough, Ottawa came out looking like the team that most expected them to be when the tournament began. Their defence was well organized, communicated well, and confounded the Bandits for large portions of the game. Offensively, the ball moved far more fluidly than it had previously, leading to chances at the rim and open threes. Ottawa jumped out to a 14-0 lead and held on to win 78-76. On the final Fraser Valley possession, Cam Forte couldn't capitalize on a short floater that would have won the game for the Bandits. Johnny "Buckets" was fouled shortly thereafter, and he confidently iced the game with his first free throw. Berhanemeskel (Ottawa) had 19 for Ottawa, while Olivier Hanlan added 17. Jahenns Manigat had 18 points, including five triples, in a losing effort. Forte was held in check (more on that later), with 15 points on a very inefficient 20 attempts.
In a Friday matinee, the River Lions put forth an effort which we may look back on as their last gasp of the Summer Series. After having written that, it's debatable if you can have a last gasp in a tournament if you were never really breathing in the first place. But I digress. The pre-tournament favourite put forth a respectable effort against the team that has established itself as the season's best through five games. Niagara cleaned up many of the issues I discussed previously – they committed only 13 turnovers, and shot much better from three and from the foul line. They led for much of the game, and on numerous occasions it looked like they might be able to push the lead to a comfortable margin. However, each time they had an opportunity to do so, a missed shot, turnover, or miscue, was countered by an Edmonton bucket. Niagara actually led by five points during the early stages of the Elam Ending.
Similar to the night before, (Fraser Valley vs. Ottawa), the losing team had the ball with a chance to win the game. This time, both Kassius Robertson and Tyrone Watson had the opportunity for the walk-off win. After neither could convert, Stingers' coach Jermaine Small called a time-out to set up their potential Elam Ending winner. It was a brilliantly designed set. Coach Small used the River Lions' defensive aggressiveness against them – Jordan Baker (Alberta) faked a hand-off to Adika Peter-Mcneilly (Ryerson), and when both Guillaume Boucard (Carleton) and Dorian Pinson jumped towards the cutter, Baker had a clear driving lane. When he finished the bucket cleanly over Ryan Ejim (Carleton), Edmonton had extended Niagara's tournament of misery in the most heart-breaking way possible. Xavier Moon and Jordan Baker once again led the way for the Stingers, with lines of 24/3/6 and 19/12/6, respectively. Trae Bell-Haynes continued to be one of Niagara's few bright spots with 23 points and 8 assists.
In the night-cap Guelph easily handled Saskatchewan 87-71. Tre'Darius McCallum once again led the Nighthawks in scoring, this time with 18. Kris Joseph led the Rattlers with 18 points in a losing effort. Rashawn Browne (Manitoba) had 10 points and 4 assists off the bench for Saskatchewan.
The Saturday set of games tipped-off with a very high scoring affair, as Hamilton knocked off Fraser Valley 102-96. Caleb Agada (Ottawa), filling in for the injured Duane Notice, contributed 16 points off the bench, while Manny Diressa (Ryerson) led the Honey Badgers in scoring with 18. Owen Klassen (Acadia) helped to limit Forte to 14 points and 10 boards. Manigat had a second straight strong game for the Bandits, scoring 22 points on only nine field goal attempts.
The late afternoon game on Saturday saw the Stingers push their record to 4-1, with a very impressive 88-66 win over Saskatchewan. Stop me if you've heard this before, but Xavier Moon led the Stingers with 25 points.
Sunday saw the Blackjacks continue rounding into form, as their defence limited a Honey Badger offence that had scored 102 points the previous day, to 69 points on 33% from the field. Hamilton looked disjointed all game, and could never dig themselves out of a 12-0 early hole. Ottawa, who was led by Tommy Scrubb's 17 points and 8 rebounds, led from start to finish. Reigning U SPORTS Rookie of the Year, Lloyd Pandi (Carleton), had a second straight strong game, scoring 12 points off the bench. Agada was once again a bright spot for the Honey Badgers, playing a team high 28 minutes, and scoring 16 points. His battle with former Gee-Gee teammate, Johnny Berhanemeskel, was a very interesting subplot in an otherwise mundane game.
The second game on Sunday was quite possibly the ugliest game of the tournament, as Fraser Valley outlasted a completely demoralized Niagara club, 70-57. The Bandits were without the tournament's leading scorer, Cam Forte, as he was released by the team early Sunday morning. In typical fashion for a team coached by Kyle Julius, Fraser Valley made up for Forte's absence with great effort and toughness. Juniour Cadougan led the Bandits with 16 points, while Kassius Robertson and Daniel Mullings each had 10 points for Niagara.
Not surprisingly, the three teams that have clinched playoff spots lead the way in the updated title odds. However, what is interesting, is that my model now sees Edmonton as the best team at the tournament by a wide margin. If you've been following along closely thus far, you will know that's the kiss of death for the Stingers, and that you're now safe to put your life savings on Guelph this evening.
The model really likes Edmonton for a couple of reasons. First, it's important to note that at this point in the tournament the model projections are pretty close to a 50/50 split of the pre-tournament projections and the Summer Series results. The pre-tournament projections saw Edmonton as one of the better CEBL teams – so that continues to give them a slight model advantage compared to Guelph and Fraser Valley. However, the more important advantage the model sees, is that Edmonton has actually underperformed their level of play thus far. That seems odd to say for a team that has gone 4-1, but after correcting for factors that are volatile in the short-run, but tend to stabilize in the long-term (such as three-point shooting, and free-throw shooting), Edmonton's point differential at the Summer Series should be closer to +8.0, instead of their current +4.6.
Guelph and Fraser Valley, on the other hand, have outperformed their level of play. Incorporating the corrections I touched on above, would change Guelph's point differential from +6.8 to +5.6, and Fraser Valley's from +5.6 to +1.2.
The basketball scheduling gods have blessed us as we reach the stretch run of the Summer Series – as two of the final five games on the docket are between these top three teams. Not surprisingly, Monday's lone game, between the first-place Stingers and second-place Nighthawks, has massive playoff implications. An Edmonton win would clinch first-place for the Stingers. A Guelph win would blow the top of the playoff race wide open, and would mean that the winner of Wednesday's Guelph-Fraser Valley clash would finish in first-place.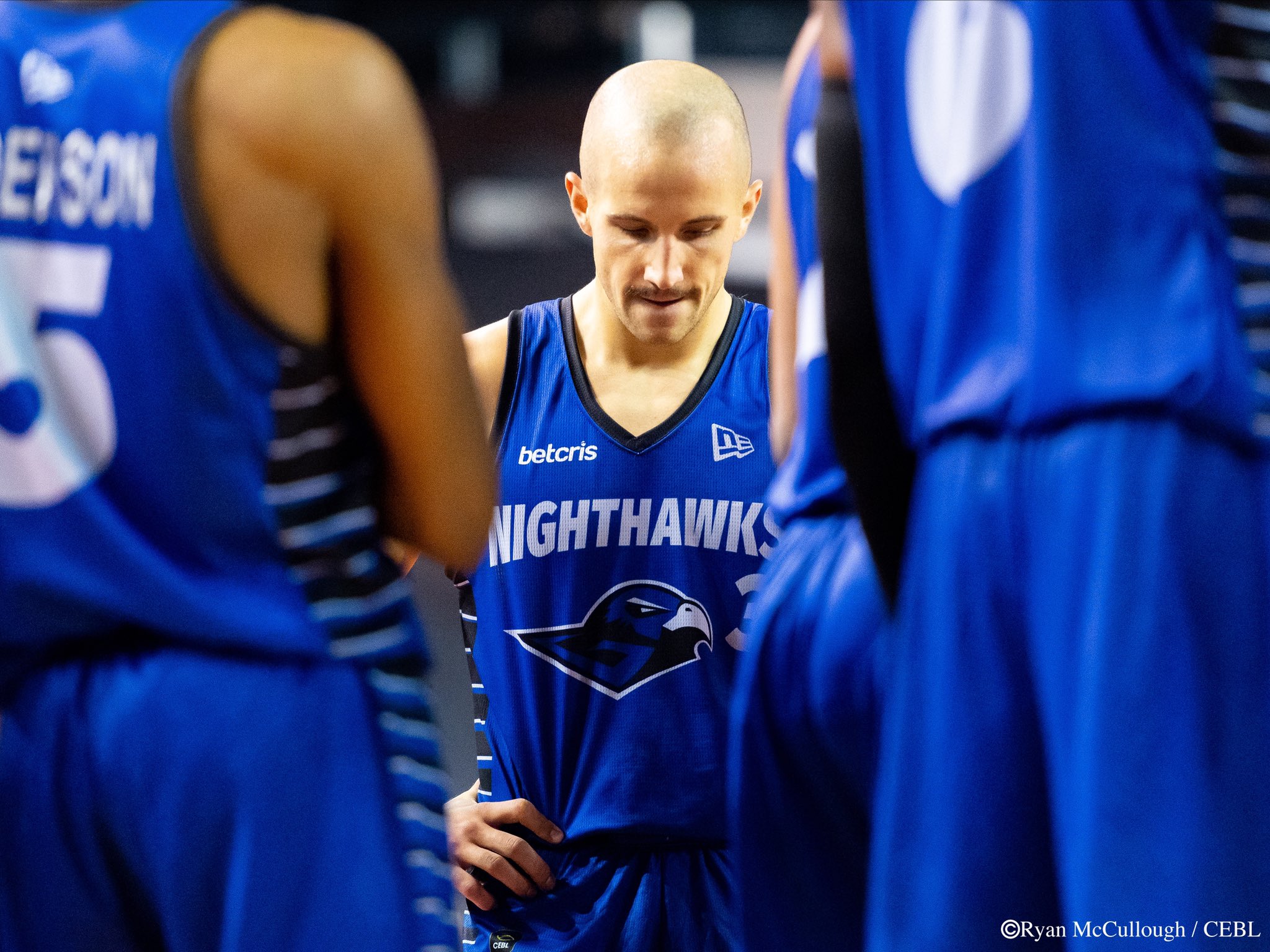 I should note that all of my playoff scenarios assume that head-to-head record is the first tie-breaker, with point differential being the second tie-breaker. This seems like a reasonable assumption based on the information I've been able to track down, but I haven't seen anything formal from the CEBL that documents the tie-breaking procedures.
Interesting playoff permutations continue as we continue to move down the standings. The final team to break into the win column, the Ottawa Blackjacks, is now 2-2 and in fourth place. If they win their final two games, against bottom dwelling Saskatchewan and Niagara, they can still claim a first-round bye. The model projects Ottawa to earn a bye in 11.0% of scenarios. This is especially important for Ottawa due to a scheduling quirk. Ottawa and Saskatchewan each play on the second-last (Tuesday) and last day (Wednesday) of the round robin. If either of them finishes in the 3rd-6th positions, they would then play a quarter-final game on Thursday. That means that if Ottawa is going to claim the Summer Series title, they will either need to earn a first-round bye, or play five games in six days (including three straight days).
Ottawa is the only team that can earn a first-round bye, but also fall out of the playoff picture altogether. The Blackjacks finish in 7th place in 9.4% of scenarios.
Hamilton and Saskatchewan are both out of the running for a first-round bye, but appear to be in good shape to make the playoff field. What's surprising to see, is that Saskatchewan at 1-3, has a slightly higher probability of making the playoff field (83.0%), than does 2-3 Hamilton (81.4%). This is mainly due to tie-breakers. In the scenario in which both Niagara and Saskatchewan finish at 1-5, Saskatchewan will make the playoffs due to beating Niagara earlier in the tournament. If Saskatchewan wins one of their final two games and finishes tied with other teams at 2-4, they will also possess strong tie-breakers. Hamilton, on the other hand, will not win any tie-breakers should they lose to Saskatchewan and finish at 2-4.
Niagara is currently in last place and has the lowest playoff probability. However, despite what their body language at the end of the Fraser Valley game might tell you, all hope is not lost – as they still have a 45.0% chance of making the playoff field. Their game against Ottawa will be a play-in game for them. If they lose, they will not be in the playoffs. If they win, their tie-breakers at 2-4 will be enough to carry them through to the knock-out stage.
Since we spent a significant amount of time today reviewing playoff scenarios, I won't complete a deep dive on a specific team or game, as I've done previously. Instead, I'll circle back on a couple of previous questions, as well as briefly tackle three new ones. Starting on Thursday, there will be a new article in advance of each playoff round, in which we will get into a significant amount of depth on the remaining teams/matchups. Questions we'll cover in this article:
Upon further review – What IS wrong with the Niagara River Lions?
Upon further review – Can anyone stop Cam Forte?
How have the Guelph Nighthawks gone from also-ran to contender?
Who is the best current Raven on the Ottawa Blackjacks?
Who are the current leaders in the Summer Series individual awards races?
Upon further review – What is wrong with the Niagara River Lions?
In the last article I answered this question by saying "quite possibly, not nearly as much as you might think". I'd like to revise my answer to "quite possibly, far more than you might think." On paper, I do still think this team was worthy of their status as pre-tournament contender, if not pre-tournament favourite. However, as we've heard so many times – basketball is not played on paper. It's also true that, as I noted in my last piece, their shooting and turnover rate should improve going forward. In fact, they cut down on their turnovers in each of their last two games. However, there are still a myriad of issues affecting this team. Some are easy to see from the stats, and some can more easily be seen by watching them play.
If they happen to make the playoffs, I'll do a more in-depth analysis of their issues on Thursday. If they don't, it's likely time to forget about this disappointing iteration of the River Lions.
Upon further review – Can anyone stop Cam Forte?
Both Ottawa and Hamilton limited Forte's effectiveness, although any negatives I mention here should be marked with the caveat that he still leads the Summer Series in scoring (albeit not nearly as efficiently anymore).
Ottawa, not surprisingly, came in with a solid game plan. They forced, and at times begged, Forte to beat them going to his right hand. It's a credit to Forte's craftiness that he was still able to get to his trusted lefty jump-hook reasonably often. Ottawa also mixed up their off-ball coverage – sometimes doubling Forte, while other times they dug aggressively from the perimeter. Tommy Scrubb was especially effective coming from behind Forte once he started his attack. More than once, Scrubb was able to make a play on the ball from behind as Forte began his jump-hook. To be completely fair to Forte, I don't think his final line of 15 points on 20 shots was quite as bad as it might appear on the surface. He missed a number of bunnies that he likely makes on another day. If, instead, we are discussing a line of 21-23 points on 20 shots it's a slightly different story.
As mentioned earlier, Forte was released by the Bandits yesterday. As a result, we have seen the last of him at the Summer Series. Forte has been an extremely effective scorer wherever he has gone, but has yet to find a long-term home with a professional team.
How have the Guelph Nighthawks gone from also-ran to contender?
Nearly all of Guelph's improvement has come on the defensive end of the floor. In both the 2019 season and the 2020 Summer Series, Guelph's offensive efficiency has been very close to league average. However, they've gone from by far the worst defence in 2019 (5.7 points per 100 possessions worse than league average) to by far the best in 2020 (7.2 points per 100 possessions better than league average).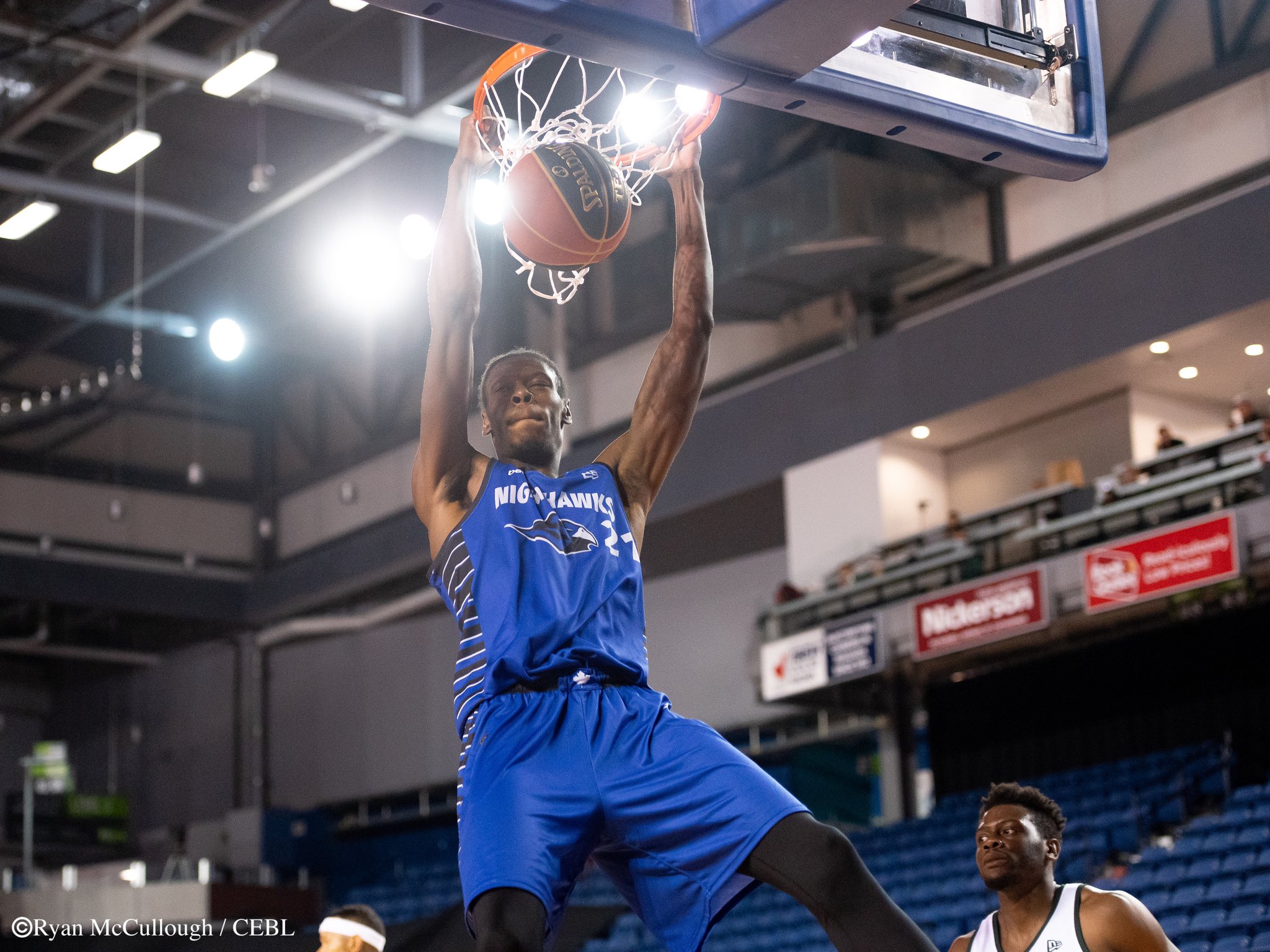 Guelph is first in the league in second-chance points allowed, and fast-break points allowed, and tied for second in points in the paint allowed. The improvement on defence is in large part due to the newcomers on the Nighthawk roster. The top three Guelph players based on defensive rating are rim-protector Jonathan Arledge, former U SPORTS Defensive Player of the Year, Marcus Anderson, and Tre'Darius McCallum. If the Nighthawks are going to make a run at the Summer Series crown, they'll need to continue their elite defensive play.
Who is the best current Raven on the Ottawa Blackjacks?
For the purposes of this question, I'm considering anyone that played for Carleton in the 2019-20 season to be a "current Raven". That includes Munis Tutu, Yasiin Joseph, TJ Lall, and Lloyd Pandi.
Over the past two games, the answer has pretty clearly been 20-year old, Lloyd Pandi. Since taking over the roster spot vacated by Phil Scrubb, the reigning U SPORTS Rookie of the Year has made the most of the opportunity.
Through two games he's filling the stat sheet with 23.5 minutes, 10.0 points (on 61.5% from the field), 4.5 rebounds, 3.0 assists, 2.0 steals and 1.0 block. Part of what is amazing about his performance is how under control he has been. Many players of his age would feel the need to speed up or rush in their first professional games, but he's played with a poise and confidence beyond his years. He's moved extremely well without the ball, has been a strong presence on the offensive glass, and, in general, has not looked out of place whatsoever in the professional game. The fact that he played key Elam Ending minutes against Fraser Valley (in a game that went down to the wire) tells you everything you need to know about Coach Jeanty's confidence in him.
Who are the current leaders in the Summer Series individual awards races?
MVP: Xavier Moon (Edmonton)
Moon has been as advertised through the first five games of the Summer Series. He's second in points per game and assists per game. In both categories he's first among players still in the tournament (Cam Forte leads in points and Phil Scrubb leads in assists). On top of that, he's playing on the first-place team. He checks all the boxes that you look for from an MVP-candidate, and has a good shot at winning his second consecutive CEBL MVP award.
Also in contention: Jordan Baker (Edmonton), Thomas Scrubb (Ottawa), Tre'Darius McCallum (Guelph), Jahenns Manigat (Fraser Valley).
Top Canadian: Jordan Baker (Edmonton)
Considering Baker is in the MVP conversation, it shouldn't come as a surprise that he's the leading candidate for Top Canadian. Baker leads the Summer Series in rebounding, is second in field goal percentage, and is also in the top ten in points. If you're one to look at advanced stats when considering individual awards, he also leads the league in win shares. The answer to this question could very easily change depending on how the last few games play out. For example, should Edmonton falter in their final game, while Thomas Scrubb leads Ottawa to two more victories, it could very easily shift the odds in Scrubb's favour.
Also in contention: Thomas Scrubb (Ottawa), Jahenns Manigat (Fraser Valley), Owen Klassen (Hamilton), Trae Bell-Haynes (Niagara), Kemy Osse (Saskatchewan).
Defensive Player: Jonathan Arledge (Guelph)
As mentioned earlier, Arledge has been a main factor in turning the Nighthawks from the CEBL's worst defence in 2019 to its best defence in 2020. He's tied for first in the league in blocks, tied for 15th in steals, and first in defensive win shares. With that being said, this is another tight race, and one that could easily change over the last few games.
Also in contention: Tre'Darius McCallum (Guelph), Marcus Capers (Fraser Valley), Owen Klassen (Hamilton), Briante Weber (Hamilton).
U SPORTS Player: Rashawn Browne (Saskatchewan)
For the purposes of this award, I'm assuming that U SPORTS players include only individuals that were drafted in the 2020 U SPORTS draft. Brody Clarke, for example, would not qualify despite having played at Alberta in 2020. Browne is leading U SPORTS players in points and assists per game, while averaging 23.5 minutes a game in his first year of professional basketball. With Lloyd Pandi hot on Browne's heels, this should be an interesting race to follow over the last few games.
Also in contention: Lloyd Pandi (Ottawa), Marcus Anderson (Guelph).
Coach: Jermaine Small (Edmonton)
This award will likely go to the coach of the team that finishes first in the Summer Series round robin standings. Coach Small gets the nod currently, given that Edmonton sits in first-place. However, if Guelph or Fraser Valley leap-frog the Stingers, this award will likely go to Charles Kissi or Kyle Julius.
Also in contention: Charles Kissi (Guelph), Kyle Julius (Fraser Valley).
What's up next?
We hit the stretch run of the Summer Series with one game tonight, followed by double-headers on Tuesday and Wednesday. All games can be seen on CBCSports.ca.
Monday
7:00 PM: Edmonton (4-1) vs. Guelph (3-1)
Tuesday
5:00 PM: Saskatchewan (1-3) vs. Hamilton (2-3)
7:30 PM: Ottawa (2-2) vs. Niagara (1-4)
Wednesday
5:00 PM: Guelph (3-1) vs. Fraser Valley (3-2)
7:30 PM: Ottawa (2-2) vs. Saskatchewan (1-3)