Ottawa, ON- Lloyd Pandi just can't stop racking up awards in 2020. Following his U SPORTS national championship win with the Carleton Ravens and the U SPORTS Rookie of the Year award that he claimed to go along with it, Pandi had already had a great year by any standard when he got the call to join the Canadian Elite Basketball League and the Ottawa BlackJacks. Given the rather intimidating task of replacing U SPORTS legend Philip Scrubb, Pandi once again rose to the occasion, and was rewarded for his efforts when he was named the CEBL U SPORTS Player of the Year on Aug. 21.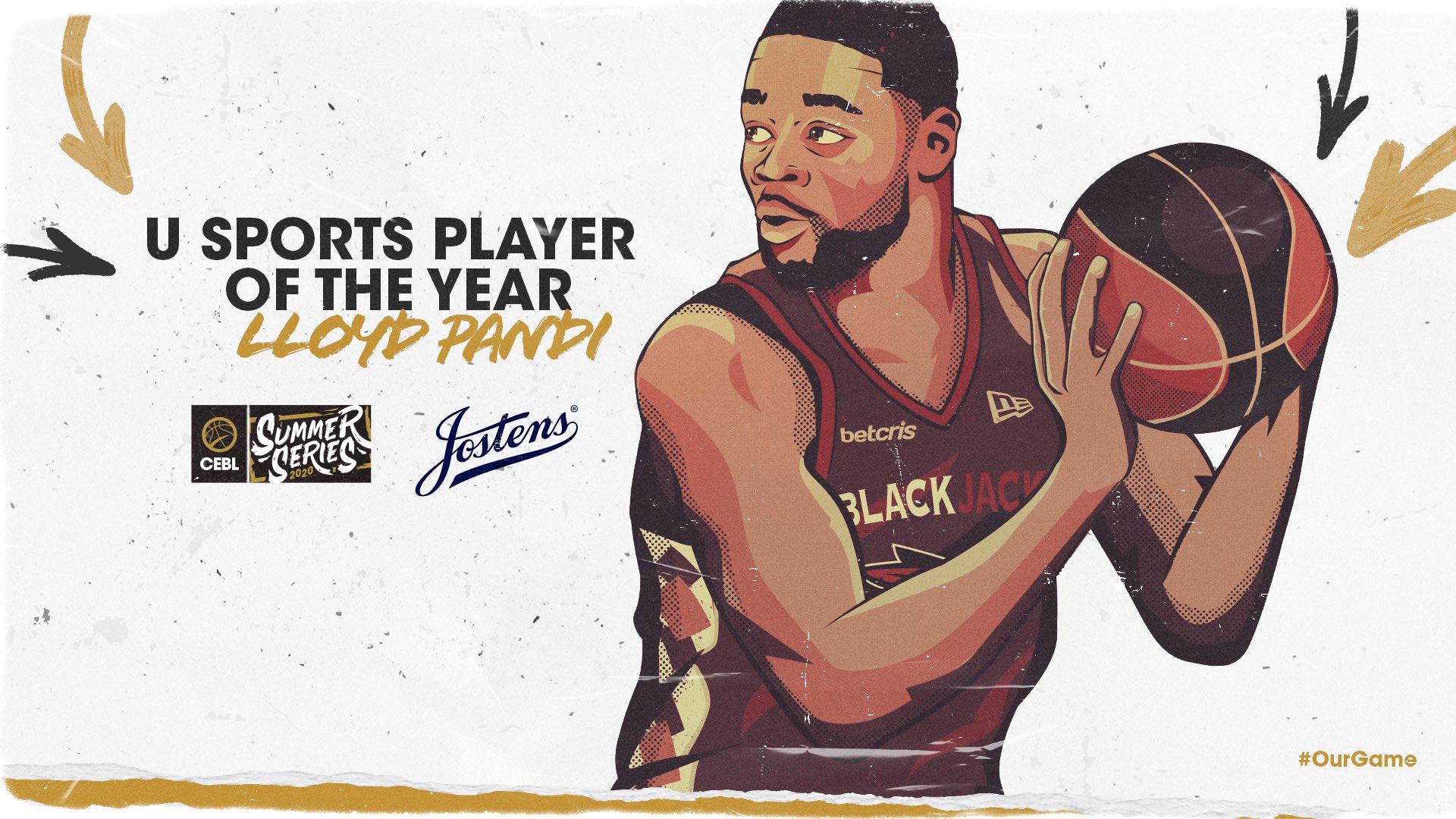 Although Pandi came into the league with the season already in progress, that didn't do anything to prevent the Ottawa native from making an immediate impact, just as he already had for Carleton in their season. The youngest player in the entire league, Pandi didn't let that or anything else stop him from imposing his will on the rest of the CEBL. Despite his age and relative inexperience, Pandi still led the BlackJacks in several key categories, including steals, offensive rebounds, and field goal percentage. The BlackJacks went 3-1 in the regular season after Pandi joined the squad, and his strong play continued into the playoffs, as he played 18 minutes in Ottawa's quarterfinal win over the Guelph Nighthawks, putting up 8 points and 5 rebounds as a key piece off of Ottawa's bench. Although the BlackJacks' playoff run ended in the semifinals with a loss to the eventual champion Edmonton Stingers, Pandi's remarkable rookie season in the CEBL clearly left an impact in the minds of voters, as he earned the U SPORTS Player of the Year award over Saskatchewan Rattlers guard Rashawne Browne, who had a great season in his own right.
Lloyd Pandi is returning to Carleton in September for another season with greater expectations placed on him than ever before. Assuming some sort of basketball season is played, the Carleton Ravens will be playing it with a target on their back. The defending champs lost 60% of their starting lineup to graduation, as the departure of players like Yassin Joseph, Munis Tutu, and Marcus Anderson will leave massive holes in the Ravens' roster. Carleton has pulled off some big name transfers to try and compensate, and obviously has a tradition of replacing graduating stars to continue their dynasty, but this will nevertheless be a season in which many OUA competitors feel as though the previously untouchable Ravens could be a bit more in reach. All eyes will be on Lloyd Pandi to continue his rise, after he was arguably the Ravens' best player in just his first year of eligibility last season. With yet another accolade under his belt, and the increased pressure to be the best player on a championship team and live up to all the expectations that his 2020 has created, Pandi will no doubt be watched under a microscope throughout the rest of his U SPORTS career. But if his ability to walk into a professional league as its youngest player and emerge a bigger star than he was before proves anything, it's that slowing down Lloyd Pandi's rise will be much easier said than done.
Cover Photo: CEBL