By Brady Reid and Benjamin Steiner
Toronto,ON- Another set of matches, another set of U SPORTS players making their impact on the Canadian Premier League. The CPL's Island Games continue to provide world-class goals, crunching tackles, and a lot of draws, as the table stays as close as can be after two rounds of matches.
Most teams, save for Forge and Cavalry have played two games, while the 2019 CPL finalists have played three, after facing each other to kick-off the tournament. Through the last set of games, which U SPORTS players have grabbed our attention?
1. 7 PTS: Cavalry FC: Robert Boskovic
In what was another clinical Cavalry performance Thursday night, defeating provincial rivals FC Edmonton 2-0, and TFC II loanee Robert Boskovic is getting praise this time around ahead of Dominick Zator.
While Zator was as steady as ever for Tommy Wheeldon Jr.'s side, Boskovic impressed so much for the second consecutive match it feels only right to give the former Ryerson Rams defender some love.
The Mississauga native's ball distribution from the backline was once again key to the success of Cavalry, completing 78 passes at a success rate north of 87%. On the defensive side of things, his three interceptions were tops on his team and matched on the night only by FC Edmonton midfielder Erik Zetterberg.
Committing just one foul in what was a scrappy 'Al Classico' affair, the former U SPORTS rookie of the year showed an ability to defend in a collected manner. At just 22-years-old, Toronto FC and Greg Vanney are sure to be keeping close tabs on Boskovic as a genuine prospect for their backline in the near future.
2. 5 PTS: Forge FC: Balbinotti awaiting his debut
Three matches into the Island Games and Gabriel Balbinotti is still yet to make his CPL debut. As the only U SPORTS alumni on the Hamilton squad, we at 49 sports' patiently await the former UQTR Patriotes' chance to make his mark in the league.
Boasting one of the most potent attacking outfits in the country, cracking the Forge front line is no easy task. As head coach Bobby Smyrniotis stated this past week, Balbinotti will get his chance with the congested fixture list his team faces ahead.
With plenty of standout PLSQ talent making a splash already in the tournament, including Halfiax's Aboubacar Sissoko and Cavalry right-back Mohamed Farsi, it's clear there are players in 'La Belle Province' capable of competing in the CPL.
As Balbinotti continues to wait for his chance to make a name for himself, he'll be looking to Saturday evening as his side takes on Pacific FC with hopes of extending their unbeaten run in Charlottetown.
3. 3 PTS: Valour FC: Brett Levis
The brunt of many a CanPL joke, Valour FC put on one of their best ever performances in their second Island Games match, trouncing the expansion side Atletico Ottawa 4-0. Two U SPORTS players, Brett Levis formerly of the Saskatchewan Huskies and Dylan Carreiro were critical to Winnipegger's success, but despite Carreiro getting on the score sheet, Levis made a bigger impact.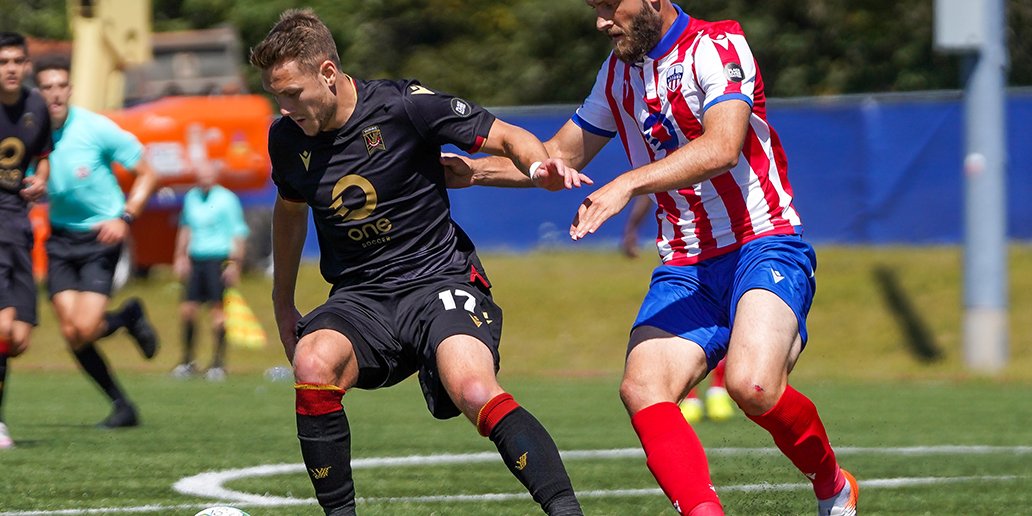 Although the club-record number of goals came in the second half and was aided by an Ottawa red-card, the match was still a statement for Winnipeg.
Levis, who famously became the first professional footballer to come out of Saskatchewan when he signed for the Vancouver Whitecaps, has had the beginning of a career re-birth with Valour. Throughout the match he terrorized the left-wing, leaving Ottawa defenders in his tracks. The Saskatchewanian took a pair of shots, one of which ricocheted off the crossbar.
He did not get on the scoresheet like his fellow U SPORTS player, but Levis' performance was the type that could begin reinvigorating his career.
4. 2 PTS: Pacific: Lukas MacNaughton
The Vancouver Islander's have had goals from U SPORTS players in both of their first two matches of the tournament. In the opener, it was former UBC Thunderbird, Zach Verhoeven, and in the latest match, former Toronto Varsity Blue, Lukas MacNaughton scored the tying goal.
Although goalscoring does not automatically get you a spot on this list, it certainly helps. MacNaughton has been solid throughout the two games but showed very well in the draw against York 9.
Both York 9 and Pacific FC had similar seasons last year, and are expected to be close in this tournament as well, meaning their match was critical to the success of both sides.
MacNaughton won eight of his aerial challenges on the night, making quick work of the York attackers, including a late push from former Real Madrid man, Alvaro Rivero. Alongside his stingy defending, MacNaughton also had four shots, showing his skills as an offensive centreback.
The draw does not do much for either side, but with MacNaughton tying it up in the 90+2 minute, it gives Pacific FC a little push of momentum heading into their third match against CPL powerhouse, Forge FC on Saturday.
5. 2 PTS: York 9 FC: Ryan Telfer
There were four U SPORTS alumni to appear in the match, but the best performance came from former York University Lion Ryan Telfer. As Telfer has done so often for the nine stripes through the first season and a bit, he drew the focus of the Pacific defence, and also chipped in with a few chances of his own.
Telfer's battle against Lukas MacNaughton was one to watch all night, both pressed and fought each other every chance they had. The former Lion didn't get himself on the scoresheet but was critical in the buildup to York's lone tally.
As seen above, Telfer won his header, knocked the ball on to a running Alvaro Rivero, who made no mistake volleying the shot into the Pacific FC net. Now fully settled at Y9, Ryan Telfer is going to be the key to their offence for the next few years.
6. 2 PTS: HFX Wanderers: Aboubacar Sissoko
Facing the CPL's cream of the crop in Forge FC, the HFX Wanderers stood their ground, grabbing a point from a 1-1 draw. The starting lineup featured a trio of U SPORTS alumni, while another 2 found themselves in the 18.
While so many featured in the match, the honours go to Aboubacar Sissoko, who made his first CPL start in after winning the U SPORTS athlete of the year.
For Sissoko, there were so many storylines in the match. He was facing the team (Forge) that cut him from his original shot at the CanPL, and Gabriel Balibinotti, formerly of UQTR, who upset Sissoko the U SPORTS National Final, was also in the Forge lineup. Balibinotti did not get any minutes.
In the match, Sissoko was a monster. He drove forward in the attack regularly but made sure to always be bak to defend. While UdeM did not win the U SPORTS title, Sissoko was a big reason why, and he has not missed a beat with HFX. The midfielder also completed a team-high 30 passes in the attacking half, per OptaSports.
7. 1 PTS: Atletico Ottawa: Ajay Khabra
After starting Atletico's inaugural match against York9, Khabra had to settle for a spot on the bench as his side were beaten comfortably by Valour FC 4-0 on Wednesday afternoon. As the only former U SPORTS player, the Edmonton native retains his place despite the demotion.
The Golden Bears alum played 27 minutes as a substitute, getting on the ball just nine times and completing six passes. A red card from teammate Milovan Kapor mere minutes after coming onto the pitch made this a tough battle for Khabra and Co. to command as Valour punished 10-man Atletico for four goals in the final 25 minutes.
Questions over his fitness after Ottawa's opener could help explain his exclusion from the starting XI for their second match. With Kapor suspended and few positives to take from their most recent contest, rotation from Mista seems inevitable heading into the next game.
Ottawa is back in action Sunday afternoon as they're set to face Khabra's former club FC Edmonton with hopes of getting into the win column for the first time in franchise history.
8. 0 PTS: FC Edmonton: Connor James
Another former University of Alberta player is on our list for the second straight week as Connor James impressed mightily against Cavalry FC Thursday evening despite his team's second consecutive 2-0 loss.
As was the case last time out against Forge, James could do very little about either of Cavalry's two finishes. Jordan Brown picked up a brace for Cavalry, his first a tap-in thanks to some questionable Edmonton defending, while the second came on a stoppage-time PK following another contentiously awarded penalty.
The 24-year-old keeper did his best to keep the Eddies in this one with three stops in the game, none more memorable than an acrobatic kick save on Marcus Haber with just over 10 minutes to play.
Jeff Paulus has plenty to sort out with his squad if they have serious hopes of contending in the competition going forward. The goalkeeping position, however, is likely the least of his worries as James has been solid in both Edmonton matches to date.
The 24-year-old keeper will be hoping the group in front of him can provide some run support on Sunday when they take on Atletico Ottawa in search of their first goal and first point of the tournament.
Cover Photo: Canadian Premier League/Chant Photography