Toronto, ON- Above and below the 49th parallel, Canadian hockey players tear up the ice sheets of U SPORTS and the NCAA, and while many players don't switch between the two sporting bodies, there are a few each year.
With COVID-19 masking North American hockey in uncertainty for the 2020-21 school year, and some programs shutting down due to financial pressure, eight players are moving north of the border, to U SPORTS after spending time in the NCAA.
Of those eight players, some will impact their teams immediately, some will just be another roster player, and some may never make their mark. With that in mind, 49 Sports has ranked the NCAA transfers in terms of who is most exciting, starting from #8 and going through to #1.
8. Brett Epp G: Nichols College (DIII) to Nipissing Lakers
There really is not much to write home about when it comes to goaltender Brett Epp, who will likely slide into the third slot of the Nippising goaltending group. A native on Edmonton, AB, Epp has spent two seasons in NCAA DIII, which is often considered equal to some of the lesser U SPORTS teams. A combined save percentage of .904 Through his two seasons fails to excite much, but he could develop into a fringe U SPORTS starter over the next few years.
The Lakers lost former OHL goaltender Brent Moran this offseason, as he moved on to the Norweigian pro league after only six games with Nipissing last season, however, the school can still rely on the tandem of Talor Joseph and Francis Asselin to split starts in 2021.
7. Roman Bengert G: Lake Superior State Univ. to UPEI Panthers
Roman Bengert has been around the world. Born in Japan, he moved to Nova Scotia when he was seven-years-old and has spent the last two years playing NCAA hockey with Lake Superior in NCAA Div I.
In his two years in the states, Bengert has never been able to push himself into a starting position, something he may be able to do at some point in PEI. The Panthers relied on Simon Hofley in all but one game in 2019-20, and if Bengert is able to shoulder even a fraction of that load, it could lead to further success for the Panthers. If the season does go ahead, UPEI is also set to host the U CUP and will have an automatic berth to that national championship tournament.
Returning to the Maritimes and joining a team with some familiar faces will be good for Bengert, who will hope to get some time in the crease in a big year for the island program.
6. Daneel Lategan F: Univ. Alabama Huntsville to Alberta Golden Bears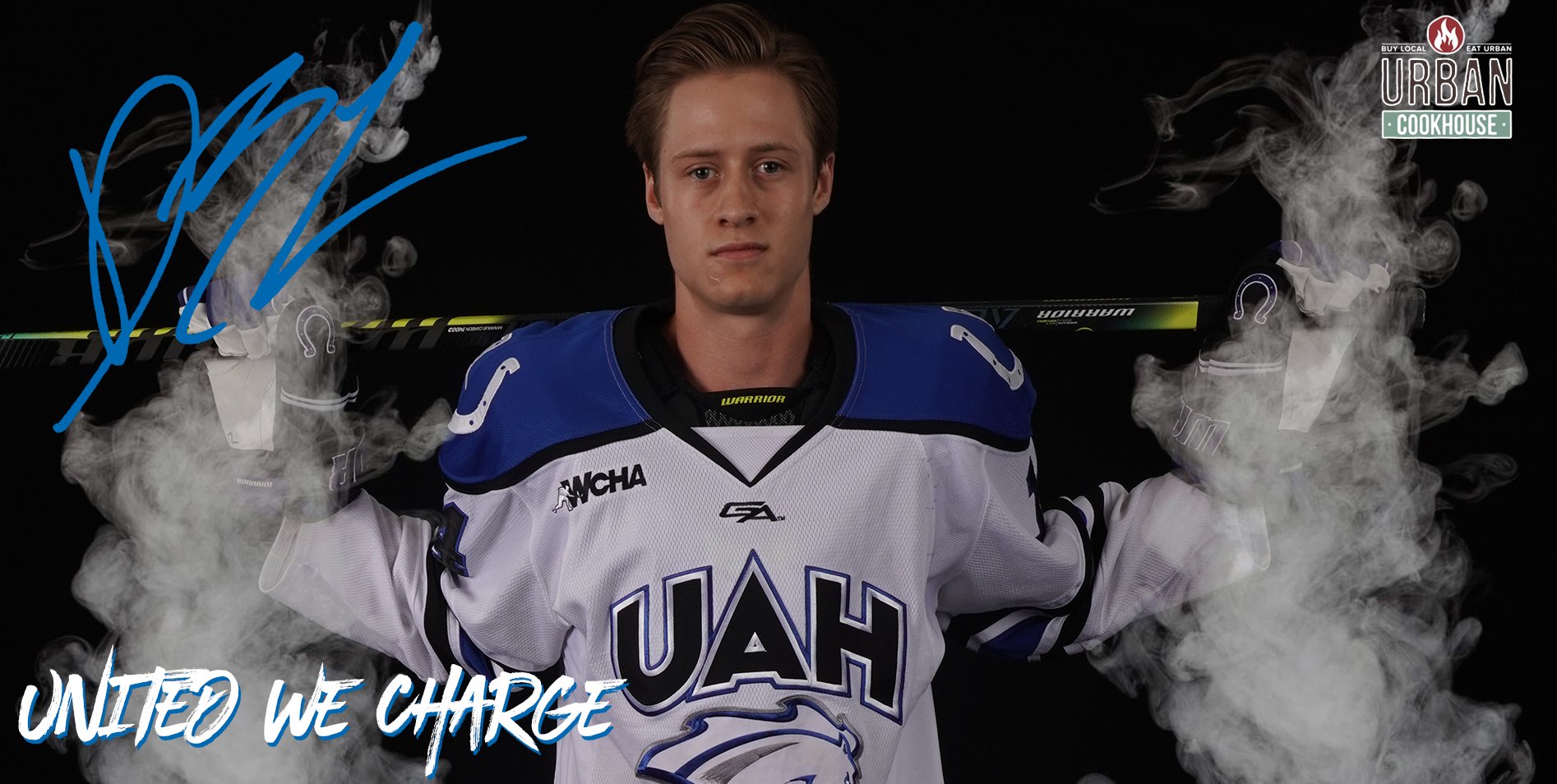 After an upsetting loss in the Canada West semifinals at the claws of the UBC Thunderbirds, an injection of forward help is welcome news for the Alberta Golden Bears. Daneel Lategan is joining from the UAH Chargers, who shut down their men's hockey program in the spring, not long after the University of Lethbridge had done the same, however, alumni stepped up to save the UAH program, but not before Lategan had left for Canada.
None of Alberta's top five scorers from 2019-20 are leaving the team before the potential abbreviated 2021 season, meaning Lategan is joining a group that has already tasted a sliver of success. Although nine points in 30 NCAA does not shout NHL prospect, he showed his scoring touch in the BCHL with the Langley Rivermen, where he scored 36 points in 2018-19. He may not be a superstar but he is a valuable addition to the Golden Bears forward group, who are hoping to return to the U CUP as soon as possible.
5. Ted McGeen LW: St.Lawrence Univ. to Guelph Gryphons
From being cut from his targeted Midget AAA team, to a full-ride scholarship at an NCAA school, and now back to Ontario, Ted McGeen's hockey career has been a little bit nuts. The left winger is joining the 2019-20 OUA champions after two seasons with St. Lawrence, where he had 11 points through 45 games. His rookie season saw him play all 35 games, a certain achievement for a first year in NCAA action.
Guelph had a large graduating class after their Queen's Cup victory, and McGeen is their 9th addition of the offseason, joining the likes of former OHL'ers, Nick Isaacson and Aidan Brown among others. The 22-year-old had a sporadic junior career through various levels in Ontario, as well as the BCHL, and did not jump into the elite conversation until his final season with the OJHL's Wellington Dukes, where he scored above a point-per-game.
He is a very exciting addition to the Gryphons, and will help replace the likes of Marc Stevens, and Ryan Valentni, two important forwards. However, the sheer size and mystery of the entire Gryphons class make it hard to get too excited for him in his first year.
When this year's group of Guelph recruits get some U SPORTS experience under their belts; watch out, they are going to be good.
4. Peyton Reeves LW: UMass to Toronto Varsity Blues
Toronto, ON native, Peyton Reeves, is coming back to his hometown after spending one year south of the border at the University of Massachusetts. The left-winger never found his footing in Amherst, only hitting the back of the net a trio of times through 23 games, but his tally is expected to be greater in U SPORTS.
There is a slew of reasons why Reeves is destined for success with the Varsity Blues. He is familiar with a number of the players, including Kyle Potts, who he played with while on the OJHL's Oakville Blades, the team where he first caught the eye of the Toronto program. While in Oakville, he also scored above a point-per-game pace, something that is common among strong U SPORTS players. Combining his time in Oakville with his year of experience playing against NCAA competition, success is likely for Reeves at Varsity Arena.
3. Bailey Newton D: Univ. Alabama Huntsville to Western Mustangs
COVID-19 and other factors are a big reason why Bailey Newton is joining the Western Mustangs. He is also from the same UAH program as the aforementioned Lategan and pursued the London, ON opportunity prior to the Chargers revival.
"He was a bit of an unexpected addition to the blue line," said Western head coach, Clarke Singer in the press release, but the Canadian/British defenceman is a massive addition to an already stingy Western team.
Newton played two seasons at UAH and became known for his hard work in the defensive zone, but also his skating abilities to move the puck up ice. Although he is not an offensive linchpin on the blue line, he will be a physical force, amplifying Western's tough brand of hockey.
Adding to the left side of the blueline was a priority for Western this offseason, as a left-handed defender, Rylan Bechtel, who played a massive role in their U CUP run, graduated from the program. Newton will also be defending a net that is no longer guarded by star goaltender, Luke Perissini who has moved on to the ECHL. As for value, Newton is one of the most important NCAA transfers.
2. Rylan Yaremko D/RW: Northern Michigan Univ. to Mount Royal Cougars
After four years with Northern Michigan, Rylan Yaremko is returning to his home province, and his addition could not be bigger for the Mount Royal Cougars. The former West Kelowna Warrior is joining MRU with as much collegiate experience as possible, and will not have an adjustment period when he steps on U SPORTS ice.
Through his NCAA career, Yaremko built a brand as a player who lays his body on the line for anything, culminating in 61 blocked shots in 2019-20, fourth in the WCHA. Although he has struggled with injuries in the past, he played 36 games in his fourth and final season with the Wildcats, and a lighter U SPORTS schedule will do his body favours. Another bonus is that Yaremko is joining his brother, Nolan as well as other former teammates, further smoothing his transition process.
Of all the players coming from the NCAA to U SPORTS, Rylan Yaremko, who is mainly a defenseman but can jump in at forward, could be the most exciting.
1. Matt Whittaker RW: Mercyhurst Univ. to Ryerson Rams
When multiple teams want to see you in their jersey, there is probably something to be excited about. Sources told 49 Sports that the Torontonian was close to committing to another OUA school, and Ryerson was a late contender to the Whittaker sweepstakes. In the end, he'll be pulling on Rams blue and gold.
Whittaker spent the last four seasons at Mercyhurst University, where he won an AHA championship, before turning pro for a short, five-game stint with the ECHL's Newfoundland Growlers at the end of the 2019-20 season.
At Mercyhurst, the winger scored 58 points in 106 games but really came alive in his final season with 25 points in 35 games. It is that last season which makes him such a tantalizing addition to a Rams offence that already boasts an electric player in Matthew Santos as well as a strong group of other offensive contributors.
Ryerson was unable to get past a stingy Western Mustangs defence in the OUA West semi-finals in 2020, but adding an experienced collegiate player like Whittaker could finally carry them past the second round, which has been their kryptonite since the OUA adopted the current system.