Toronto, ON- As the calendar turns to December and the first semester of the 2020-21 university year draws to a close, we have nearly gone a full term without Canadian university sport. 
The past few months have been strange, to say the least, as dates typically filled with celebrations, goals, and excitement came and went without any of that. Nothing has been "normal" since March, and the final days of the U SPORTS curling championships are the last memories one could have of top-division university athletics.
In November, The Athletic's Mark Lazarus counted 100 things he missed about covering the NHL's Chicago Blackhawks, which would usually take over this time of year.
For U SPORTS media, it is a similar story. There are no games to broadcast, no game-related stories to write, and many other things that make 2020 different than past years. With that, 13 U SPORTS media members from across the country have come together to create the "56 things we miss about U SPORTS," from the mundane moments to the championship celebrations.
We're travelling from west to east, starting in Canada West, through the conferences to the AUS.
Josh Kozelj: U SPORTS and 49 Sports Correspondent, CBC, The Globe and Mail (University of Victoria)
1. I miss having genuine, human-to-human, conversations.
2. I miss watching a herd of cross country runners, some of the best and fastest young athletes from across the country, stomp through mud at U SPORTS nationals.
3. I miss writing, deleting, writing, and deleting my story lede over and over again.
4. I miss the chaos, smiles, and jubilation of the faces of athletes and coaches holding the U SPORTS championship banner and the fact that fifth-year, graduating athletes won't get a chance to compete with their teammates for one final season.
Riley Pollock: Sportsnet 960 Calgary – Calgary Dinos MHKY Broadcaster
5. I miss the anticipation of a big game. Waking up and thinking about that night's game all day when I should be working is a regular occurrence.
6. I miss the pregame research. Finding interesting tidbits about players and teams is always something I look forward to.
7. I miss the smells of the rink. I could walk into a rink blindfolded not knowing where I am and immediately recognize that rink smell.
8. I miss the people I work with. The broadcast teams make what we do so much more fun. There is nothing like working with great people.
9. I miss the Crowchild Classic. There is no other event like it. 12,000 fans from Mount Royal and the University of Calgary packed into the Saddledome. It is a must see for U SPORTS hockey fans.
10. I miss watching students play for the love of the game. There is something special about sports that aren't quite professional. The mistakes that lead to heartbreak and the elite plays that lead to triumph, all done by people who might have to write a midterm the next day. It's amazing.
11. I miss all the fall tournaments to see other teams, like 15 games for a Naismith Classic weekend
12. I miss visiting the other gyms and seeing their supporters.
13. I miss face to face with the coaches, seeing the person behind the emails.
14. I miss the player parents, who come out to support the team and just miss basketball, about the only sport I do watch now.
Ben Steiner: Hockey Broadcaster/ 49 Sports Managing Editor (Ryerson/Vancouver)
15. I miss freezing my face off by not wearing enough warm layers to U of T's Varsity Arena and UBC's Thunderbird Stadium for winter/fall hockey and soccer games.
16. I miss trudging through the snow and sleet with a pressed suit getting wrinkled under winter clothes on my way to the arena.
17. I miss putting together my colourful research sheets for a night's broadcast. Example above.
18. I miss the pregame music that never changed from the first game to the last and I miss being annoyed at the music not changing
Justin Levine: 49 Sports Hockey Reporter and Editor (Wilfred Laurier University/Toronto)
19. I miss missing entire Laurier and Waterloo games because of Kitchener's transit service not running without notice.
20. I miss heading to Ryerson/Toronto games, getting off at the wrong stops, walking around the city, only to discover that I am lost and getting back on transit to find where I'm headed. Varsity Arena was challenging to get to.
21. I miss wanting to go cover Laurier Golden Hawks games, but being annoyed because no bus gets me close enough, hence the need to watch them on OUA.TV
22. I miss being in Toronto midseason to cover games at Ryerson while writing behind the broadcasts right in front of the camera setup.
23. I miss covering U SPORTS hockey, feeling life is normal with postgame press conferences with coaches and players.
Richard Coffey: Ryerson TV Broadcast Production Lead/ 49 Sports columnist (Ryerson)
24. As a Leafs fan, I miss walking into Mattamy Athletic Centre and reminding myself I get to broadcast hockey in Maple Leaf Gardens.
25. I miss teaching students how to use the broadcast equipment and seeing the moment where it "clicks" and you can tell they have got it, as well as the joy of seeing a nervous first-year rinkside or courtside reporter nail their on-air hit.
26. I miss endlessly searching for the right pun to put full-page graphic for the broadcast. I write "Monday Morning Coffey," what do you expect!
27. I miss having cameras look in the crowd for cute kids or funny signs, or even dogs. (the ultimate goal being a cute kid with a funny sign holding a dog).
Jasmine Yen: Ryerson Broadcaster, 49 Sports Toronto Hockey Correspondent (Ryerson)
28. I miss the rush of adrenaline once the game starts.
29. I miss the sigh of relief once the coverage is over and you can relax
Spencer Packalen: Sideline Hockey Reporter, 49 Sports Writer/Photographer (Ryerson)
30. I miss watching live hockey, hearing the chatter of players, the crunch of bodies as they slam into the boards, and the slapping sound the puck made as it is passed from player to player.
31. I miss hanging out with friends, chatting about school, life, and a multitude of other things going on in while watching sports.
32. I miss the "battle of the six" rivalry matchups, between Ryerson, U of T and York and the passion anticipation of a big game. Waking up and thinking about that night's game all day when I should be working is a regular occurrence.
Emile Riga: Ryerson Rams Athletics Social Media and Writer (Ryerson)
33. I miss the game day feeling, knowing you'll be at a field, rink or court later that night.
34. I miss writing post-game reports on the bus or train.
35. I miss catching up with the broadcast crew, and stealing a bit of their pizza.
36. I miss early fall wether at Downsview Park and Varsity Stadium and covering soccer all day.
Holly Morrison: The Brock Press, 49 Sports (Brock)
37. I miss seeing students walk out of class and joining the crowd of a night-time soccer game.
38. I miss when moments when that curiosity turned into a special moment like when Brock made history and won their first-ever playoff game on home turf, prompting the fans to rush the field.
39. I miss the coffee from the Tim Hortons beside the Seymour-Hannah centre where I waited for my bus after every single Brock Hockey home game last season
40. I miss being there when a team that's not supposed to win, beats the best team in the league.
41. I miss sitting down in a cold plastic seat and not knowing what was going to happen next, but knowing that in about two hours I'd have a story to write.
Emily Wilson: The Fulcrum/CBC Sports (uOttawa and Carleton)
42. I miss shedding light on a league that doesn't get much coverage but has some of the best athletes in the game. I miss feeling the internal drive to prove to readers that these teams are not only talented, but important.
43. I miss spending my weekends at MNP Park. No complaints there.
44. I miss being committed to watching the game outside (not the press box) and sitting on the ice-cold bleachers at MNP Park no matter the weather.
45. I miss how all the spectators collectively rush to grab Tim Hortons at half time.
46. I miss the savage energy coming from alumni as they chirp opponents to death.
47. I miss being able to watch players grow and develop their game from their first year all the way to their last.
Michael Sun: U SPORTS and 49 Sports correspondent/broadcaster (Carleton)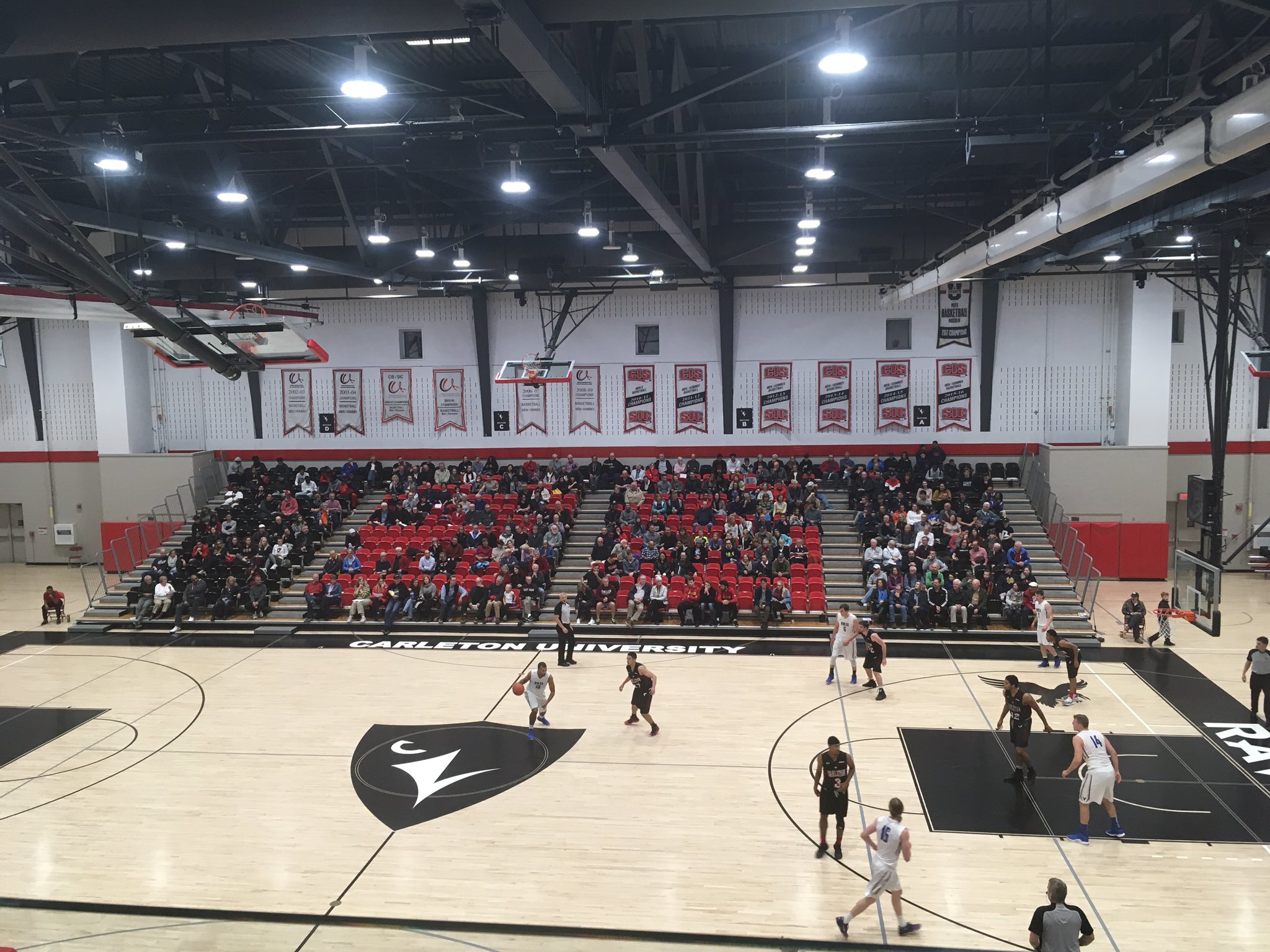 48. I miss the game-day atmosphere and exciting games at the Raven's Nest and Carleton Icehouse. For most of my sports writing career, being in the building always meant something special on game days – especially once I became more familiar with covering the teams. Being close to the action and the athletes as well as being around the spectators will always be memorable. 
49. I miss getting to know athletes and coaches as people and their stories: While the postgame interviews are great, I also miss talking with athletes and coaches at length for feature interviews.
50. I miss the thrill of finding and putting together great stories. With immersive interviews and research comes the opportunity for great in-depth stories that provide a lot of insight into different things.
51. I miss the thrill of calling games on OUA TV and even CBC Sports (for basketball nationals). Once I got over my on-camera nerves at first, the experience was a ton of fun as I was able to provide my insight and opinions on the games. There's no greater rush than reacting to great plays and the closing moments of close games, where emotions are high and raw.
Luke Dyment: 49 Sports AUS reporter (Dalhousie)
52. I miss when strangers came up to where I was sitting, asking if the seat next to me was taken.
53. I miss waiting for the bus back downtown after a game for 30 minutes in minus-20 at 11 pm
54. I miss strolling around the facility well before the game begins, whether to look for a good seat if I spotted something cool or to grab a snack
55. I miss the passion of the fans at the big games, regardless a flag-waver who hasn't missed a game in three decades, or a student who earned a free T-Shirt for sitting in the right section
56. I miss being worn down from covering weekend-long events, including 10-plus hour days and yes, the travel. The feeling of exhaustion tells me the job was well-done
Cover Photo: University of British Columbia