Vancouver, BC- For the first time in the 2020-21 IBSF World Cup skeleton season, a Canadian has a medal around their neck. North Vancouver's Jane Channell won the bronze medal in Königssee, Germany, while most of her hometown was asleep when crossed the finish line at 3:24 am Pacific Time.
Chanell, a former student-athlete at Simon Fraser University, finished third, tied with Austria's Jannine Flock. However, Flock has been racing the entire season, whereas Channell and her Canadian teammates sat out the first portion of the season due to COVID-19. Friday morning's race was Channell's return to the IBSF World Cup.
Before heading over to Europe at the beginning of January, Channel had split her training time between Calgary and Whistler, the only sliding facilities in Canada. In Calgary, she worked on her push-starts in the Ice House, a factor that paid of handsomely in Friday's race, where she had the second-fastest start in both heats.
The medal is Channell's first individual medal since 2017, when she finished second on her home track in Whistler, BC. However, she won silver at the 2020 World Championships in Altenberg, Germany, in a mixed team competition.
Germany's Jaqueline Loelling finished the day with the gold medal with the second heat's fastest time, jumping up two positions from her first heat finish. The win pushes her up to third in the World Cup standings with one race remaining. Anna Fernstaedt of the Czech Republic, a current student-athlete herself, finished second +0.47 behind Loelling through two runs.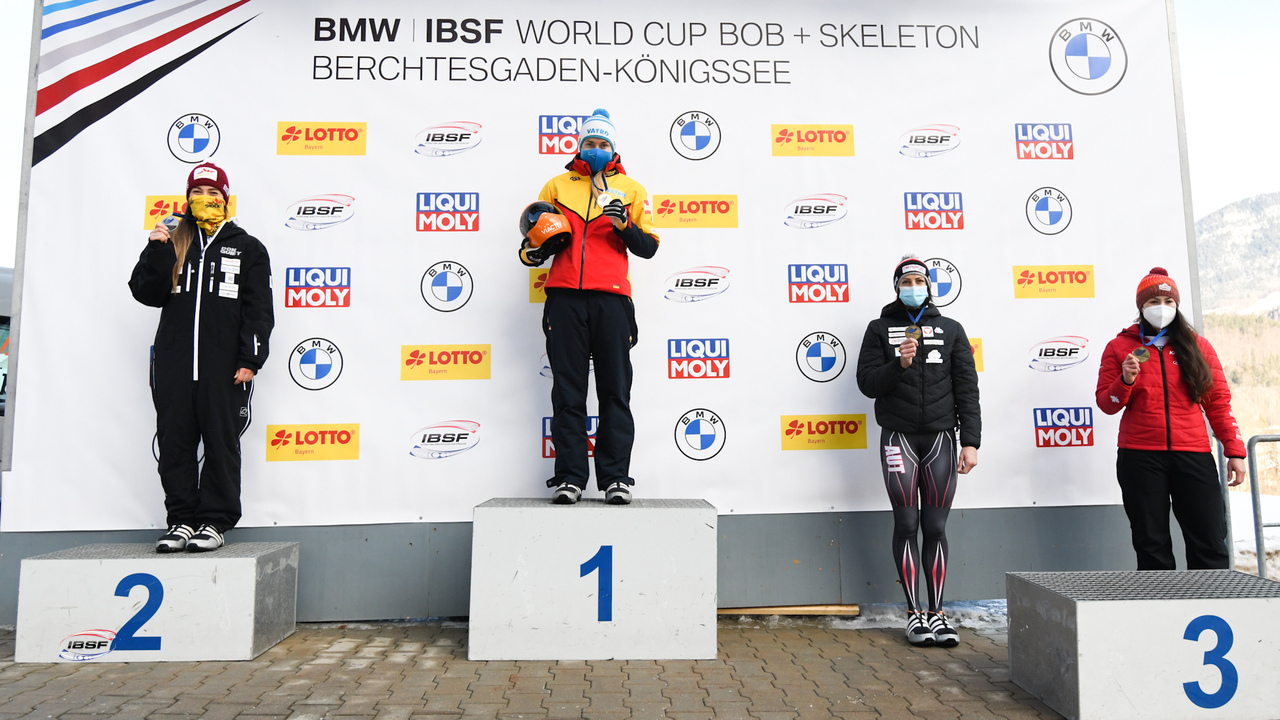 While all three on the podium will enjoy their new hardware, they needed a little bit of help from German slider Tina Hermann and Russia's Elena Nikitina. After setting track records in the first run, both had significant trouble on the track a second time, hitting walls and losing precious time on the Kreisel turn. Nikitina had the worst of it, briefly falling off her sled before holding on and finishing the run.
Hermann, a slider who has raced on the Königssee track since she was 12-years-old, was visibly disappointed in the finish area, knowing that she likely surrendered her shot at the World Cup title. The now 28-year-old sits second in the standings after seven of eight races, behind Flock, who leads by a sizeable margin. Barring a miracle for Hermann, the World Cup title will be Flock's if she finishes 9th or better on her home track in Igles, Austria, next weekend.
Elisabeth Maier, the second Canadian in Friday's race, finished 6th, the third time she has finished in that position in 2020-21. Maier has returned to the World Cup after becoming a mother and has been the lone Canadian to race from the season's start. After Friday's race, she sits 9th in the World Cup standings, one spot up from where she was before Königssee.
The final race of the 2020-21 skeleton season is next weekend in Igles, Austria. Canadian sliding fans can stream the race for free on cbcsports.ca, or catch highlights on "Road to the Olympic Games."