Today is Bell Let's Talk Day, the annual event where Bell telecommunications donates 5 cents to Canadian mental health programs for every applicable text, call, tweet or social media post using #BellLetsTalk,
Hamilton, ON- The COVID-19 pandemic has challenged the mental health and well-being of many athletes. The separation between student-athletes and their sport has been devastating, yet it has provided a valuable growth opportunity.
Typically, most varsity athletes' lives consist of balancing the grind of daily practices with a demanding class schedule while trying to find time for an interspersed social life. Being an elite athlete is tough; it requires extensive sacrifice to find success, but most of these athletes would not have it any other way.
The passion, joy, and pride that come with representing something larger than oneself through sport are irreplaceable feelings. Sport creates a sense of purpose, identity, objective and most importantly, community for all of those involved. Whether it be scoring a game-winning shot or cheering on teammates in the championship game, the whole experience of playing a university sport is beyond rewarding.
Nobody involved could have predicted that an entire U SPORTS season would be cancelled, but since it has, athletes have been forced to confront their lives without the sport that has defined them for years.
Most programs are currently unable to practice together and find themselves only connecting virtually. The Zoom sessions and self-guided workouts are draining, leaving athletes' long term motivation in doubt. Exhausted, tired and uncertain, student-athletes have had to take on lives that have been flipped upside down.
The conversation around mental health in athletics is growing as more respected competitors come forward with their experiences. Now more than ever, it is crucial to let these athletes know that they do not struggle alone.
My Life as a Ryerson Women's Basketball Student-Athlete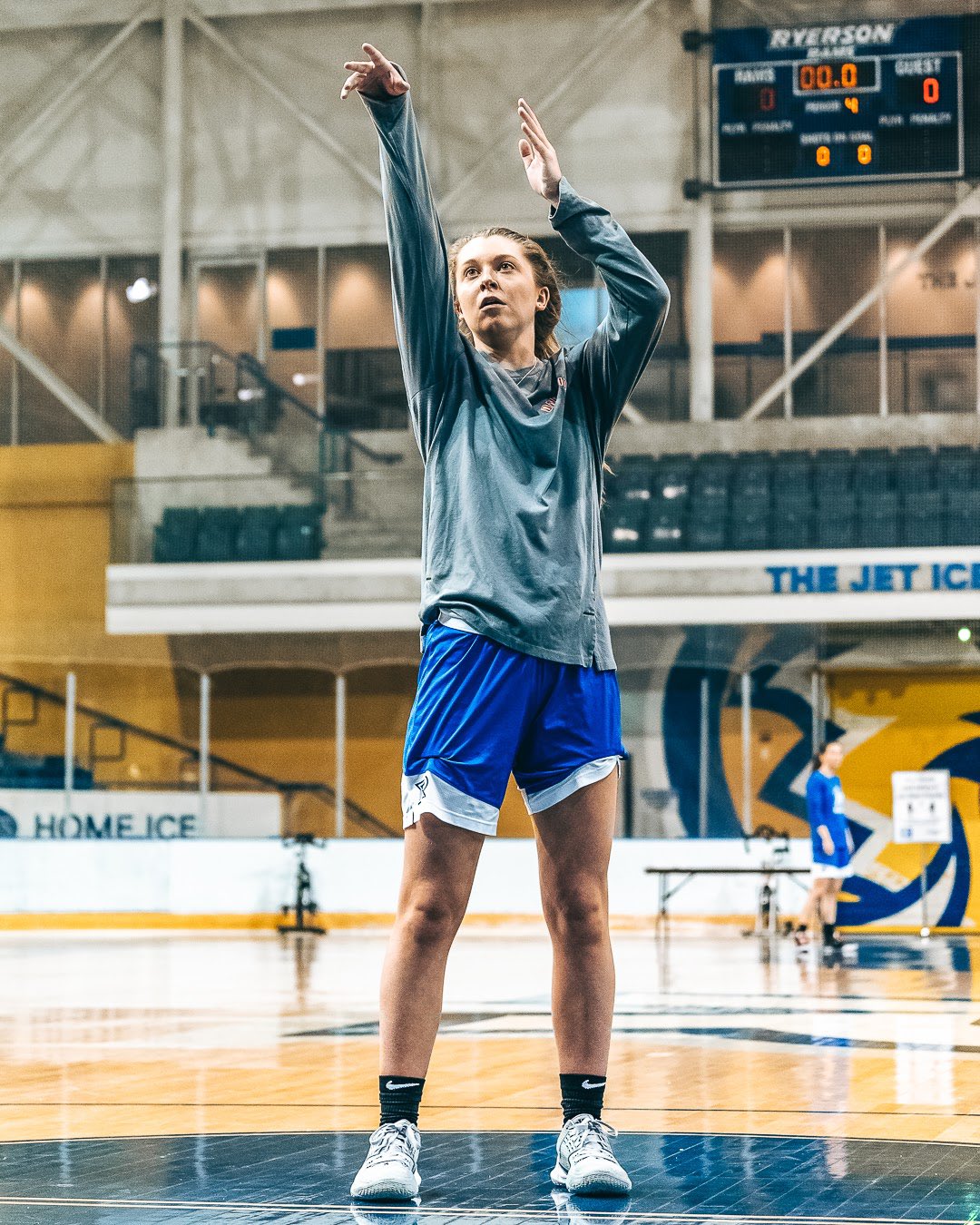 I committed to the Ryerson Rams this year after spending a season in the NCAA, and I was ecstatic to get my U SPORTS career underway. I had been looking forward to this season for a long time, and having that unexpected cancelled was a difficult pill to swallow.
The effects of COVID-19 on my life as a student-athlete have not been easy to handle. At times I find myself feeling lost in regards to my identity and self-worth. It has been challenging to understand who I am and how I define myself without basketball.
The pandemic has provided me with endless amounts of time. Some of this I've used to dwell on the past, while others I've used to find excitement for the future. The extra time has been invaluable, allowing me to step away from the game and reflect on everything I value in my life and my hopes for the future.
There is no guide to dealing with mental health as an athlete during a global pandemic, though it sure would help. Every day is like a rollercoaster; sometimes, I feel incredibly motivated to get outside to shoot in the cold, while others getting out of bed can be a challenge. I simply miss being immersed in the basketball environment and all that comes with playing the game. The surge of emotion when entering the locker room after a big win and even the sound of my shoes squeaking on the court are some of the moments I miss the most.
Despite all that, the pandemic has allowed me to grow in various ways. The separation from basketball has re-instilled my passion and love for the game. Stepping back from the sport has reminded me of all the incredible people I have met in the basketball community and the opportunities that the game has given me. Without the game, I rediscovered the joy that playing the game has brought me, a mindset I hope to carry into the future season.
Nikki McDonald: Injuries and then a pandemic with U of T WHKY
As a second-year forward on the U of T Women's Hockey Team, Nikki McDonald understands the hardships of being a student-athlete. In the fall of 2019, McDonald suffered multiple concussions during practices forcing her to forgo her entire OUA rookie season. "I was severely depressed, I wasn't on the ice or in school, I had no confidence – it felt like I had nothing left in my life."
The pandemic has been a mix of emotions for the second-year forward. This past summer McDonald dedicated her time to the weight room in preparation for her expected return to the ice – something that was evident and paid off when she was able to safely practice at the rink for a short time in the fall.
When the season was cancelled, and Toronto re-entered strict restrictions, everything changed. "With everything now being so difficult and prolonged, it is definitely hard to stay positive for such a long time; you get to the point where you are doing so much work but not getting much out of it."
Having to take now almost two years away from hockey, McDonald has gained some independence from the sport. "It's been hard being separated from hockey, but at the same time, I've grown a lot," she said. "When I first got injured, I struggled a lot with my identity because hockey has always defined me and I felt lost without it."
Without hockey, she has adapted to a lifestyle that does not entirely revolve around a stick and a puck. It was far from easy, but it has rekindled her love for the game.
The 20-year-old emphasizes the importance of talking about student-athlete well-being, especially when it comes to severe injuries and mental health. "The perception that athletes have to be tough and brave is false…many high-level athletes suffer from physical injuries that get treatment, yet mental health can be so highly stigmatized."
Although not currently on the ice, McDonald has a new appreciation for the sport and is looking forward to the next chance she gets to lace up her skates at the 95-year-old rink on Bloor Street.
Ryan Sims: Laurentian Voyageurs swimmer
Being separated from competition has been the most difficult challenge Laurentian Voyageurs swimmer Ryan Sims has faced as a student-athlete. "When you wake up in the morning and do the same thing for nine years and then all of the sudden it gets taken away, you think differently about your sport and what it means to you."  
Sims started 2020 with one of the most successful meets of his life, which was not as much time related but instead team-oriented. The sophomore freestyle sprinter finds it challenging to accept that he won't have a similar experience in 2021. "When there is nothing to look forward to for training, it's hard to keep a positive mindset in place." His message, although simple, resonates with many student-athletes.
COVID-19 has had the most substantial impacts on his desires as a swimmer. "All of my goals that I had set out for myself this year are completely thrown out the window because without any consistent training taking place, they would only haunt me."
Though Sims understands the pandemic's limitations have impacted his goals, he is confident that he will have a positive outlook on training when sport can safely resume.
Rachel Farwell: Ryerson Women's Basketball
Basketball has been a critical part of life for Ryerson Women's Basketball Player and Mechanical Engineering student, Rachel Farwell, and this unprecedented separation from the game has challenged her well-being.
Not only does basketball provide a sense of motivation and confidence for her, but it has also become a major aspect of her daily identity, which is now missing.
The uncertain future and maintaining training has affected Farwell and the majority of athletes. "There are definitely some days where putting in the work is extra hard because there's no telling when we might be back to see this work pay off," said Farwell.
While the pandemic has been tough on the third-year forward, she is taking this time to better herself in important areas off the court through mediation, yoga, and emotional awareness. "I've been working on being more aware of myself and my feelings and figuring out how to best deal with them – something I'd struggled with before the pandemic." Farwell is confident that athletes' competitive spirit and eagerness will be evident when sports can safely resume.
Many athletes, including myself, have struggled with the pandemic's limitations, but to those struggling silently, just know that you are far from alone. It's not easy to be a student-athlete right now, but there is hope for the future, and the current situation presents opportunities for growth off the field of play.