Toronto, ON- Sports are returning in Atlantic Canada once again, National Championship host discussion, and the NWHL is returning featuring U SPORTS alumni. That and more in this week's headlines from U SPORTS.
Sports return in Nova Scotia and New Brunswick
University sport was underway in Nova Scotia for a few weeks but had to stop under re-introduced COVID-19 regulations. Now, it's back, and you can add New Brunswick into the picture as well.
With restrictions reduced in both provinces, hockey, soccer and swimming are returning, albeit without fans. In Nova Scotia, St. FX, who did not allow athletes to compete in the previous return to sport, will hold intra-squad scrimmages and skills competitions, all streamed on austv.ca. St. FX gets started with a women's hockey scrimmage on Wednesday night at 6:30 ET. Friday will see the men's and women's basketball teams take to Coach K Court for a skills competition, while men's hockey hits the ice on March 18 for skills challenges and 3-on-3 hockey.
In New Brunswick, return to play gets underway on Thursday, when the Mount Allison Mounties and the Moncton Aigles Bleu drop the puck at 5:00 pm ET.
Women's hockey also resumes in Nova Scotia, with the Dalhousie Tigers visiting the SMU Huskies on March 13.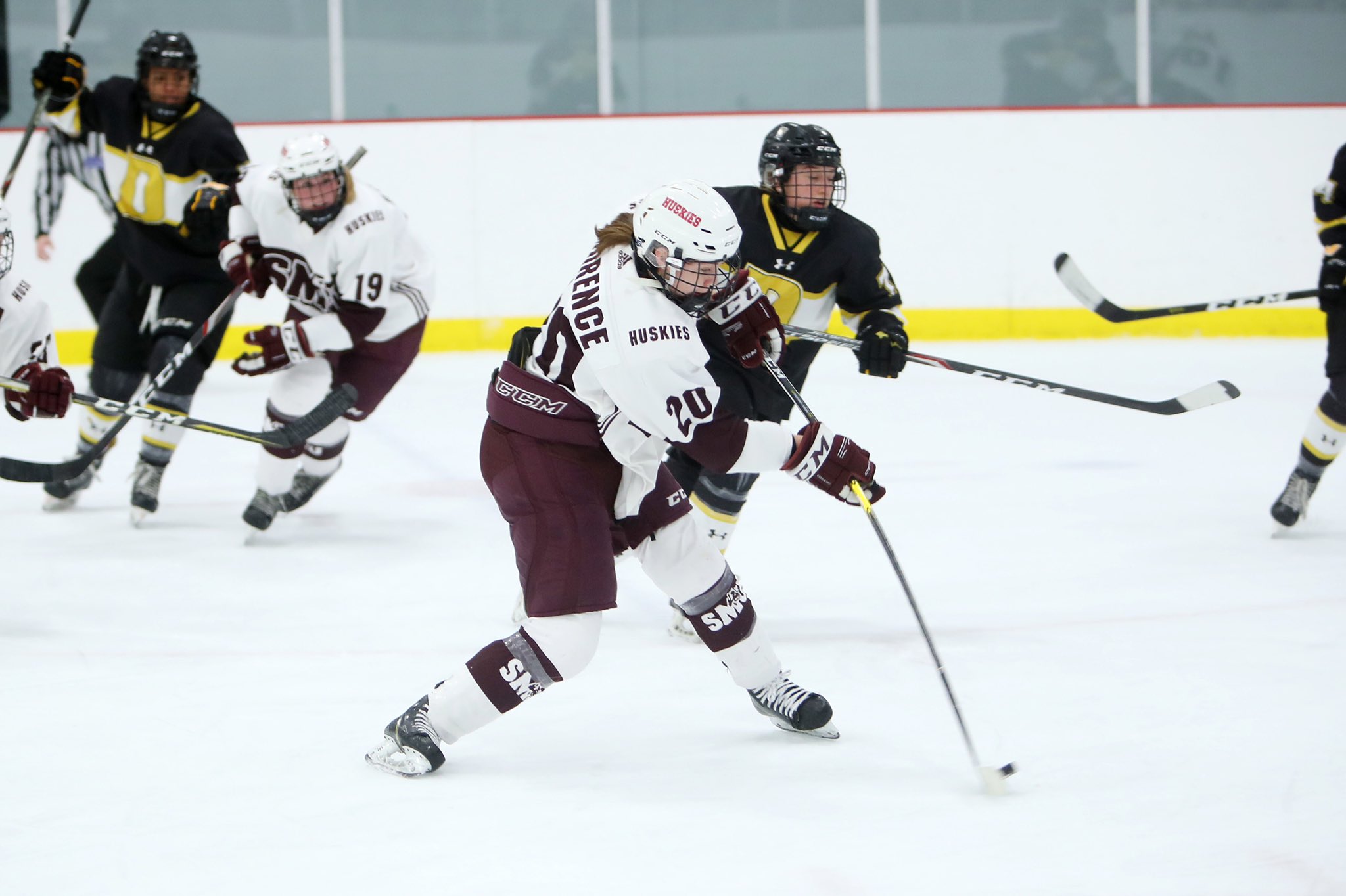 49 Sports reports that men's hockey will not be part of the return-to-play plan in Nova Scotia, while sources also say that more women's hockey and basketball teams could enter exhibition competitions.
U SPORTS Female Apprentice Coach Program
U SPORTS announced 18 former student-athletes that have been selected for the 2021-22 U SPORTS Female Apprentice Coach Program. The program enters its second year aiming to increase the number of women in coaching positions in Canadian university sports.
"We're excited to continue to build our Female Apprentice Coach Program," said U SPORTS Chief Sport Officer Lisette Johnson-Stapley in a release. "Despite the unprecedented challenges faced in the program's inaugural year, this initiative is already opening new doors, providing the tools for further coaching development and education in Canadian university sport and fostering success to our proud alumnae who aspire to become coaches themselves in the near future."
All four U SPORTS conferences are represented, and nine of the 11 U SPORTS-sanctioned sports are part of the program. Participants "will be a member of the coaching staff at their respective schools and, where possible, will provide feedback to colleagues as well as student-athletes, while taking part in team activities."
This year's program begins on April 1.
Coach K Retires from St. FX
After 46 years of coaching the St. FX men's basketball team, Head Coach Steve Konchalski is stepping away from the role. In celebration, the school hosted an exhibition game against Acadia last weekend, with Konchalski's X-Men coming out on top, 96-77.
With his family watching from Terrace, BC, Calgary, AB and Toronto, ON, "Coach K" led the X-Men out for his final time, facing his alma mater, Acadia University, where he played as a student-athlete. The game also launched the Coach K Challenge Trophy, a title that will be annually awarded at a single Acadia-St.FX men's basketball game in future seasons.
As for the X-Men, one of Konchalksi's former student-athletes, Tyrell Vernon, is set to take over as Head Coach.
NWHL returning for playoffs
The National Women's Hockey League is returning on March 26-27 to award the Isobel Cup. The league could not begin playoffs when COVID-19 ravaged their Lake Placid protected environment in February. They will finish off Season Six with games in Boston at Warrior Ice Arena, the home of the Boston Pride.
U SPORTS alumni Taytum Clairmont (Waterloo) and Kristen Barbara (York) will have a shot at the Isobel Cup with the Toronto Six, who enter the playoffs as the first overall seed. They will face the hometown Boston Pride in the semi-finals, while the Minnesota Whitecaps and Connecticut Whale face off in the other semi-final.
The NWHL will award the Isobel Cup on March 27. NBC Sports will broadcast all three games in the United States, while Twitch TV will provide the official international broadcast.
Winter National Championships
HOCKEY: Several reports and sources have stated that the 2022 U SPORTS National Men's Hockey Tournament will be hosted by Acadia University, which had its 2020 event cut short due to the start of the COVID-19 pandemic. UPEI will host the women's championship in 2022, before hosting the men's championship in 2023, a deferral from their scheduled hosting opportunity in 2021.
BASKETBALL: St. FX is slated to host the 2023 men's basketball championship at the Scotiabank Centre in Halifax. Although 2022 would have made sense to replace the 2021 tournament they were set to host, having two events at the Scotiabank Centre in a matter of weeks is near unfeasible.
---
The Wednesday wrap-up will be available weekly, highlighting the biggest stories in U SPORTS from the last seven days. To keep up with men's hockey recruits, make sure to follow us on Twitter @49SPORTNET.